Keppel Corp (KepCorp) is among the Singapore Blue Chips which was highlighted in my previous post on good valued stocks to keep a watch out during this financial volatility.
Keppel Corp is a Singapore-based conglomerate with businesses engaged in rig-building, utility operation, and property development/investment. The company is one of the world's largest rig-builders in terms of global market share.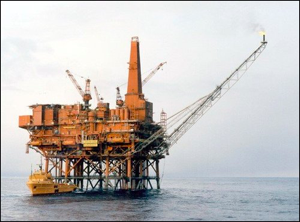 The company also operates electricity and waste treatment facilities worldwide. Keppel's property holdings are primarily through its holding of Keppel Land (KPLD SP) and K-REIT (KREIT SP).
The group's Offshore & Marine net order book reached S$9.1bn year to date, with deliveries extending into 2014. New orders secured year to date stands at a record S$7.4bn (same as in 2007), and its highest secured in a half year. Again, this excludes an estimated S$3.5-3.8bn in options yet to be exercised.
With close to 80% of the order value anticipated by market analysts already in the bag, even if the orders slowed to a halt for the entire FY 2011, $9 will still be a reasonable valuation stock price floor.
Fundamentally within the Offshore & Marine (O&M) sector, its valuation is undemanding. At last closing price ($9.18), its PE is at 10x, slightly lesser than its competitor's 10.6x. Its dividend is also reasonable at 4%+.

Technical chart for KepCorp is very interesting. KepCorp has last turn bearish towards end Jul 2011 with a gap down at $10.5 on large volumes. However, during last week, there is a decent formation of a distinctive hammer which is a price reversal candlestick pattern. Its challenge is to hold its prices above $8.8. Strong resistance will be at $9.5 and $10. Oversold indicators are poised to turn up. If the closing price for the upcoming week can maintain a close above $9, we should be seeing a comfortable bottom consolidation.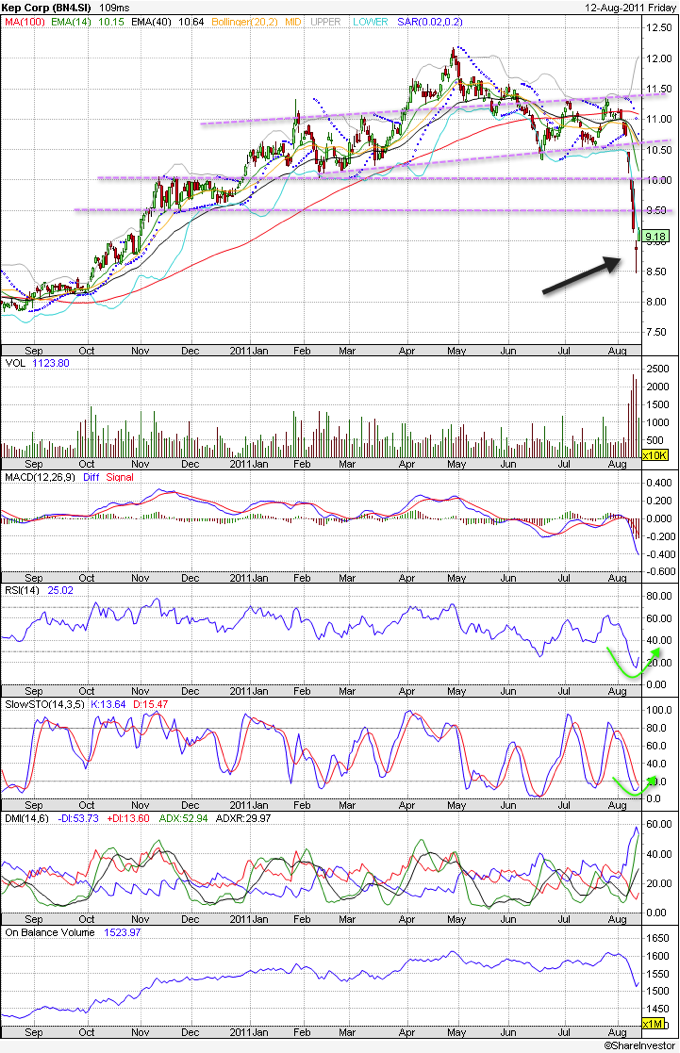 Trade volume wise, we are seeing an improved buying by funds with smaller retailers still at sidelines. Until we see significant shift into buying, it is still premature at current stage to qualify long term buying interest. Nevertheless, the current stability is already a good comfort for all.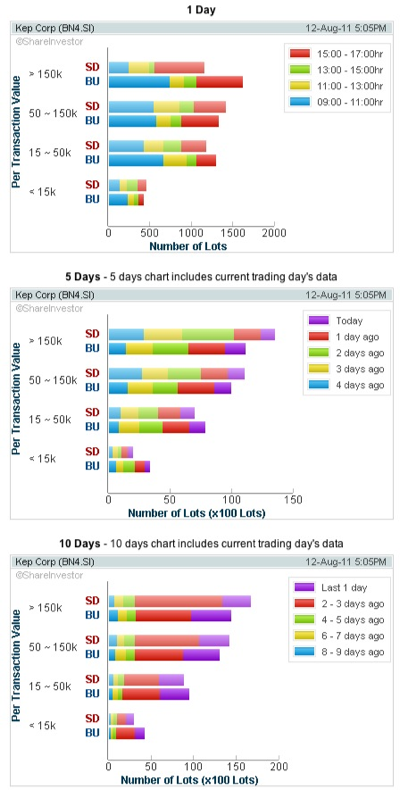 Keep a vigilant watch and you might be rewarded once the greater macroeconomics improves.
Written by Alan Soon
General disclaimer : The author has based this post on information obtained from sources which he believes to be reliable. He does not make any representation or warranty nor accept any responsibility or liability as to its accuracy, completeness or correctness. This post is not intended to be an offer, or the solicitation of any offer, to buy or sell the securities referred to herein.
Read other related posts:
Follow us on:



Share this article on: