One of Japan's largest wireless carriers, SoftBank Corp is spending $20.1 billion to gain a foothold in one of the world's biggest and most lucrative mobile markets.
SoftBank Corp., Japan's third-largest carrier, is taking a 70% stake in struggling U.S. carrier Sprint Nextel Corp. It would mark the largest-ever overseas acquisition by a Japanese company.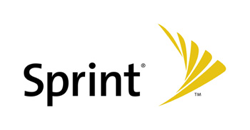 Softbank Corp.'s $20 billion takeover of Sprint Nextel Corp. is a calculated bet that the Japanese company can once again fix up a troubled mobile carrier and use it to rattle the industry's leaders.
Sprint shares fell 4 cents Monday to $5.69.
Let me try to unveil some valuation around this structured M&A.

Assuming the last market price of $5.69 at Tuesday closing:
Scenario A (all transactions are done) i.e. s/n #1-4
Estimated share price value = $6.13
Scenario B (after new shares issued – max dilution) i.e. s/n #3 & #4
Estimated share price value = $5.54
Fundamentally, that should provide an indicative price range during this period based on simple calculation assuming all else equal (e.g. EPS, operating margin etc). However, in reality, Sprint would get $8 billion to pay down debt and build out its high-speed LTE network so it could better compete with its bigger rivals, Verizon Wireless and AT&T Inc.
On technical front, the key resistance will be at $6.40 and near term support at $5.10.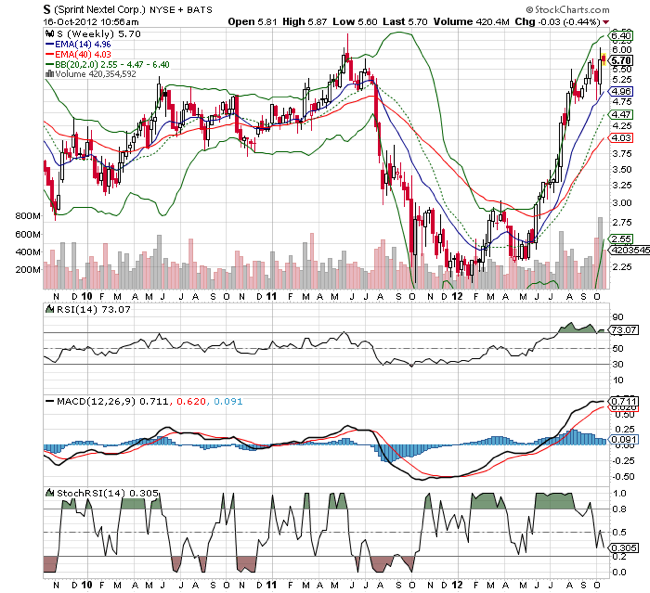 Overall, Softbank-Sprint ranks as the 128th-largest global M&A deal of all time, according to Thomson Reuters.
In terms of telecom transactions, Softbank-Sprint ranks #27, and is the largest such deal since Mexico's Carso Global Telecom bought America Movil for over $27 billion in 2010. Below is a list of the all-time top telecom M&A deals, courtesy of Thomson Reuters: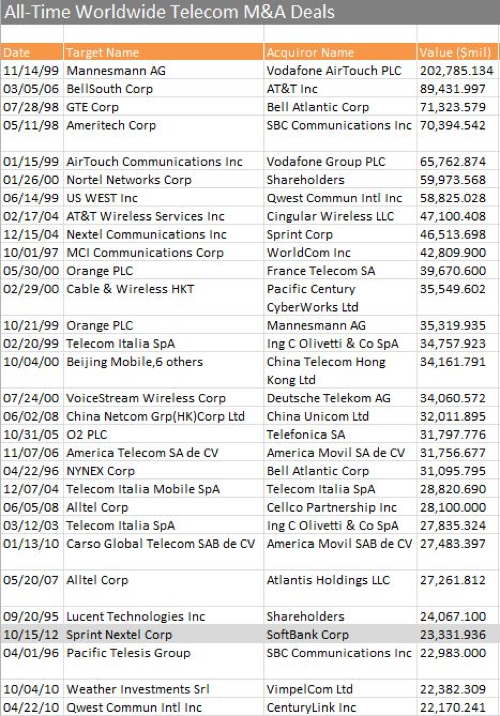 Read other related posts:
General disclaimer : The author has based this post on information obtained from sources which he believes to be reliable. He does not make any representation or warranty nor accept any responsibility or liability as to its accuracy, completeness or correctness. This post is not intended to be an offer, or the solicitation of any offer, to buy or sell the securities referred to herein.
Follow us on:



Share this article on: