US stocks climbed and treasuries tumbled on last Thursday after the second EU summit in six days of talks ended in Brussels with European governments boosting their rescue fund to 1 trillion euros. Europe's latest effort to contain the euro zone's two-year-old debt crisis won applause from financial markets.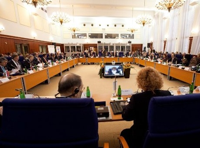 It includes a commitment by banks and other private bondholders to accept a voluntary 50% writedown on Greek government debt, a boost in the lending power of the euro-zone bailout fund and a 106 billion euro ($148 billion) recapitalization of European banks.
However, economists fear the plan still lacks the heft and detail needed to ensure the debt crisis won't again surface to threaten major euro-zone economies, such as Italy, and the region's banking sector.
The writedowns aim to bring Greece's public debt down to 120% of gross domestic product by 2020. It also forms part of a €100 billion rescue plan for Greece that aims to keep the country funded through 2014.
The US market reacts positively for the week:
S&P 500 Index SPX – the index gained 3.8% for the week
Dow Jones Industrial Average DJIA – the index was up 3.6% for the week
Nasdaq Composite Index COMP – the index rose 3.8% for the week.
Next week, investors will embrace a week of important economic data releases:
31st Oct, Monday – Chicago PMI
1st Nov, Tuesday – ISM Mfg Index
2nd Nov, Wednesday – ADP Employment Report
3rd Nov, Thursday – FOMC meeting minutes, Jobless Claims, Factory Orders, ISM Non-Mfg Index
On the technical front,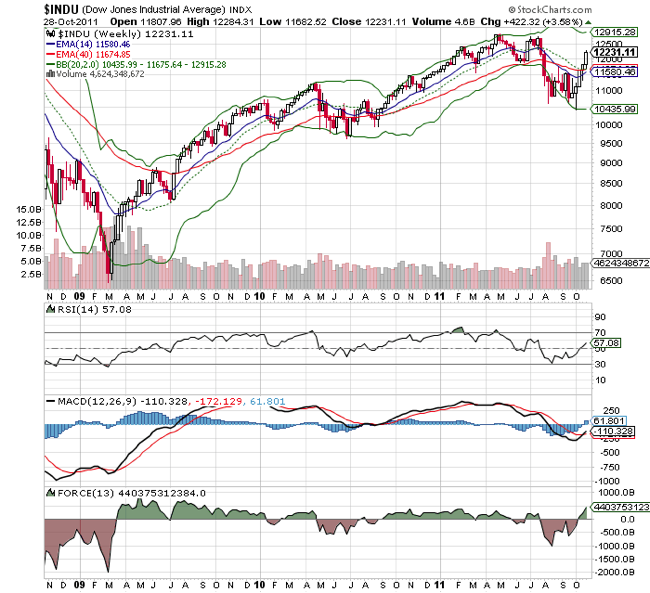 Force index is usually a good indication of early trend reversal. The bullish reversal is aided by positive indications from MACD and RSI. Near term upwards consolidation should persist unless 11600 is breached. Strong resistance should be towards 12650. Nevertheless, the near term volatility should persist for awhile although the range should be narrower compared to the early days when the EU crisis started.
Let's keep a close watch on the developments in the coming week.
Written by Alan Soon
General disclaimer : The author has based this post on information obtained from sources which he believes to be reliable. He does not make any representation or warranty nor accept any responsibility or liability as to its accuracy, completeness or correctness. This post is not intended to be an offer, or the solicitation of any offer, to buy or sell the securities referred to herein.
Read other related posts:
Follow us on:



Share this article on: