Apple (AAPL) just announced their fiscal 2013 Q1 results which came in 'unspectacular' against what traders were anticipating. Nevertheless, it is still a very decent report card if we do look into the details.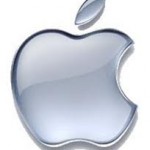 Key performance summary:
Revenue: $54.5 billion versus $54.58 billion expected
EPS: $13.81 versus $13.34 expected
Gross Margin: 38.6% versus 39.5% expected
iPhone: 47.8 million versus 50 million expected
iPad: 22.9 million versus 23 million expected
Mac: 4.1 million versus 5 million expected
iPod: 12.7 million versus 12 million expected
March quarter revenue: $42 billion versus $41 billion
Apple's cash pile is up $39.5 billion in the past year.
Apple has also started to share the good revenue growth in Greater China – including Taiwan and Hong Kong – revenues were $6.83 billion, up from $5.43 billion in the previous quarter and $4.08 billion a year ago. That represents growth of 26 percent and 67 percent, respectively.
Q1 Performance comparison to previous years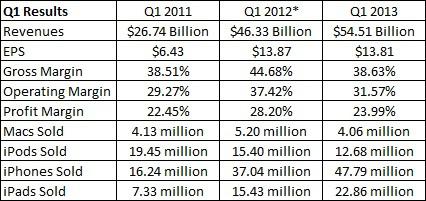 It is a definite conclusion that the stellar growth in EPS is gone though the absolute EPS for Q1 2013 is still very decent. Apple expects revenue to rise about 7% in the current period after reporting an 18% gain in the holiday quarter. Earnings per share rose 7.23% when adjusting for the missing 14th week in Dec 2012 vs Dec 2011.
Performance breakdown for various product items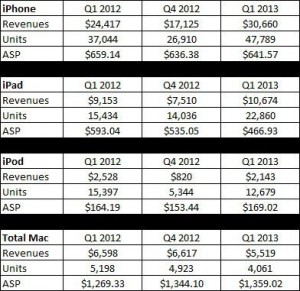 a. Mac – sales were extremely disappointing. In addition to being a weak overall PC market, Apple appeared to have some supply constraints. Thus, it was not able to get its new line totally out for the holiday season.
b. iPhone – ASP is halting around $645 though unit growth was up nearly 39%.
c. iPad – 59.5% growth over last year's period when you factor in the extra week. But ASP fell as expected with the new iPad mini but this has definitely help to boost the overall sales volume.
d. iPod – unit sales came in slightly above expectations.
Apple provided the following guidance for its fiscal 2013 second quarter:
revenue – between $41 billion and $43 billion
gross margin – between 37.5 percent and 38.5 percent
operating expenses – between $3.8 billion and $3.9 billion
other income/(expense) – $350 million
tax rate – 26%
In summary, the market has not been very rational w.r.t. AAPL.
Google (GOOG) last announced 5% profit growth and the stock went up 5%.
Apple (AAPL) announced 13.5% profit growth and its stock was sold off, after hours, by -10%.
Google sells for 31 times trailing earnings and has declining average click prices.
Apple sells for less than 12 times earnings and average selling prices are stable or increasing across their product lines.
The hanging sentiments from all traders/investors which Apple (AAPL) will need to resolve are:
a. How to maintain the iOS market share, esp iPhone (accounts for 50% of the revenue) if there is no new product lines
b. Any new innovations to bring in new money on the table to pad the eroding ASP of the existing product lines
c. Positive works from the recent organisation change – Apple's iOS chief Scott Forstall and retail chief John Browett who last left the company
Till then, there may not be a good catalyst to reverse the price downtrend even though the fundamental support price of Apple is very near.
Follow us on:



Share this article on: