It is the last day of a dreaded month of May for 2011. Historically, this month is avoided by retail investors as it is a month of volatility and consolidation. Not aided by the undesirable impact of series of downgrades in various faltering European countries e.g. Spain and a slowdown in greater China market and Singapore latest GDP results do not motivate GSS buying mood in the local bourse.
A) Straits Times Index (STI) Technical Chart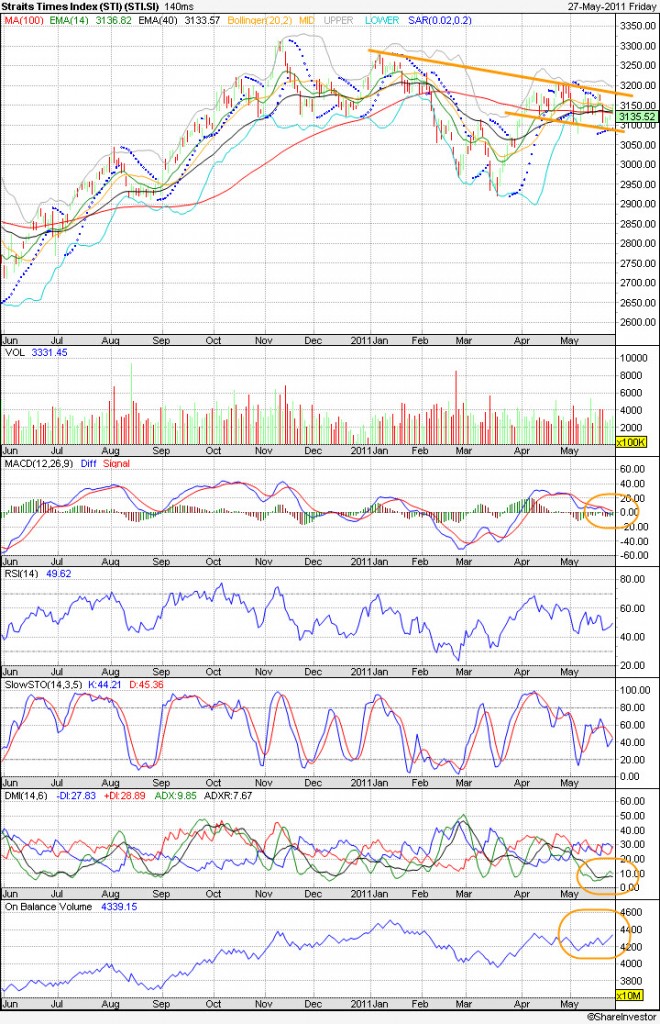 Straits Times Index (STI) has been seen consistently flirting between the downward channel bands and it would need to take a convincing leap above 3180 to garner much buying interest from Fund managers. What is more important, is to be ready to jump onto the bandwagon when the time is riped.
B) FTSE ST Maritime Index Technical Chart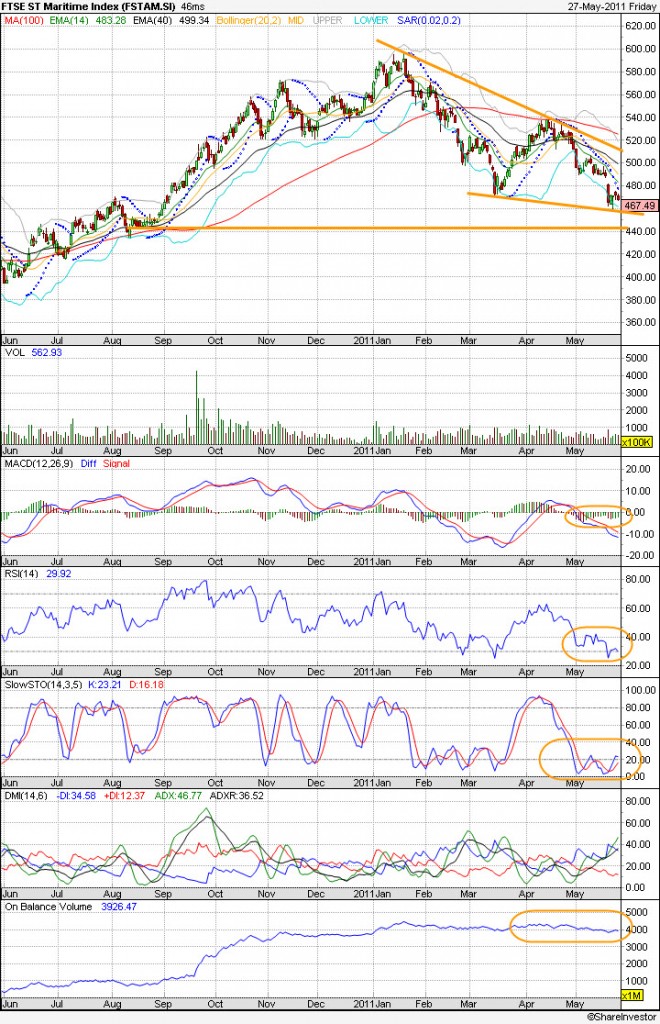 Looking at valued stocks, we need to look at the bigger macro-dynamics. Personally, the global demand for oil rigs, ship buildings, shipping & transportation will be intact especially we are on the brink of economic U-turn.
Gauging on the lacklustre under-performance of FTSE ST Maritime Index, it has corrected about 25% from peaks, nearing the 30% Fibonacci retreat. Very strong oversold state seen in RSI & STO. OBV is still very healthy with MACD ready for a good reversal. The chances of a decent recovery will be there once the greater macroeconomics improves in the next few weeks/months.
C) Trading Statistics for Component stocks of FTSE ST Maritime Index

That said, which particular stock components in FTSE ST Maritime Index should we be focusing on?
My important rule of thumb is to dabble in stocks with decent daily trading volumes & strong financials. The above 15 component stocks are worth looking:
– Cosco
– Yangzijiang
– NOL (Most corrected – 23% from peak)
– KepCorp (least corrected – only 6.24% from peak)
– SembMar
– SembCorp
D) Financial fundamentals for Component stocks of FTSE ST Maritime Index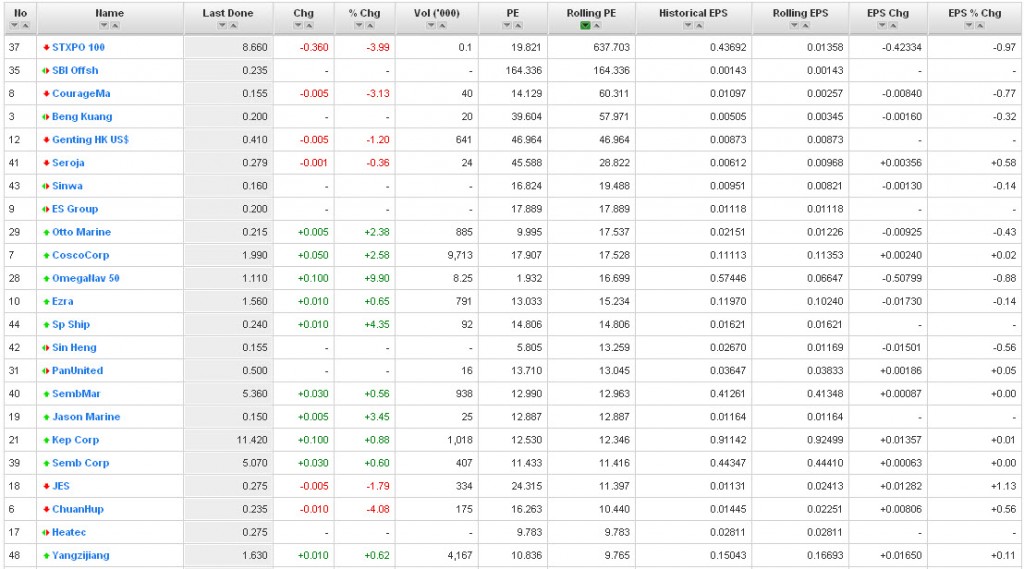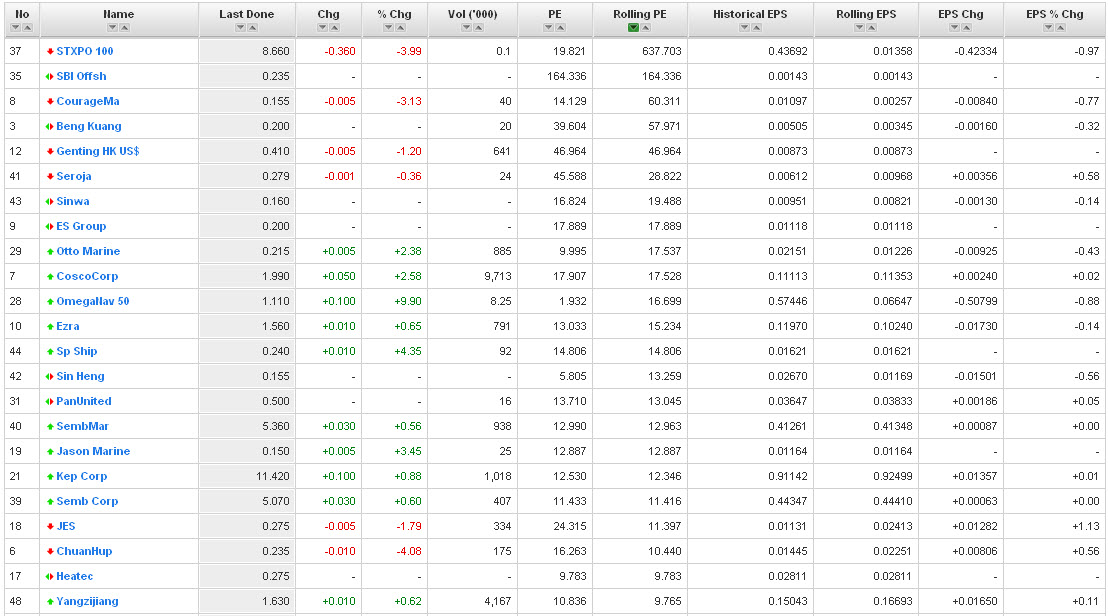 Looking at projected rolling PEs, the stronger component stocks (in decending order of PEs, Highest price valuation to Smallest):
– Cosco
– SembMar
– KepCorp
– SembCorp
– Yangzijiang
Thus, the ones worth focusing on are KepCorp, SembCorp and Yangzijiang.
I will have subsequent posts to cover the Technical Analysis of these stocks in detail.
Read other related posts:
Follow us on:



Share this article on: