China MinZhong (K2N.SI) is one China based company listed in SGX which underwent such tremendous change of events in just one week. It all started on 26th Aug 2013 when Glaucus issued a report on suspicious operations within the company.
It is also noticeable that the coverage by analyst steadily declined over the years even though the reported revenue is increasing.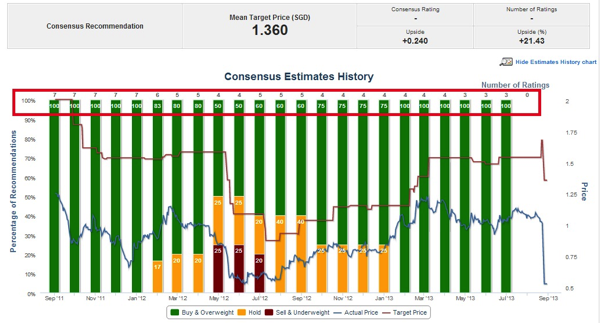 In fact, the stock price has been up 3 folds within the span of 6 months. Moments within the trading halt, its share price plummeted 50% and when the trading resumed (with takeover news), its share price surged 110%. Such great volatility poses much questions on how S-chip companies fair in terms of accounting practices, corporate governance and transparency in business operations. This definitely puts the local retail investors at much higher risks when such price sensitive information are not made readily available nor explained in a way easily understood by the trading community.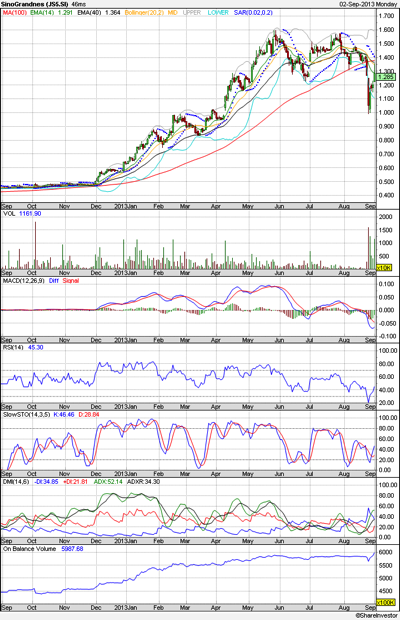 Key chain of events:
02 Sep 2013 15:31 China Minzhong Rises 114% to S$1.135 as Trading Resumes After Indofood Cash Offer
02 Sep 2013 15:10 China Minzhong to Resume Trading at 0730 GMT Monday 01 Sep 2013 20:39 MoreDJ China Minzhong Denies Short Seller's Allegations of Financial Impropriety 
29 Aug 2013 08:20 China Minzhong: Financials Are Sound, No Fabricated Sales or Cover-Up Dow Jones News
27 Aug 2013 11:21 CIMB Ceases Coverage On China Minzhong After Short-Seller Attack Dow Jones News
26 Aug 2013 11:17 China Minzhong: Trading Halted After Plunging 47.78% To S$0.53. ShareInvestor Express
26 Aug 2013 11:06 China Minzhong: Glaucus Research Strong Sell TP: S$0.00. ShareInvestor Express
KEY DEBATE #1: AUTHENCITY OF CUSTOMERS
Glaucus Research (26th Aug 2013):
Fabricated its sales to two of its biggest customers ó Hong Kong Yifenli Trading and Putian Daziran Vegetable Produce
China Minzhong (2nd Sept 2013):
Sales were supported by export sales and custom documents from the relevant Chinese authorities and VAT invoices.
Glaucus Research (2nd Sept 2013):
"Hong Kong Yifenliî, which was supposedly Minzhongís largest customer during the track record period, was only incorporated on November 6, 2009.
Company is telling investors that it was doing business with an individual who was operating an unincorporated entity during (2006-2009)
The invoices provided only substantiate a small fraction of 1% of the reported sales to its
supposed best customer. 
KEY DEBATE #2 : ACCOUNTING IRREGULARITIES
Glaucus Research (26th Aug 2013):
Overstated its capital expenditures to mask fake sales on its balance sheet.
China Minzhong (2nd Sept 2013):
Has documents and photographs to prove that the expenditure was incurred.
Released scans of the relevant invoices and balance sheets to support these points.
Glaucus Research (2nd Sept 2013):
In fiscal years 2011 and 2012, Minzhong claims to have spent RMB 1.2 billion on the construction of the Putian.
New Industrial Park (ìPutian Industrial Parkî). Yet SAIC filings show an increase of only RMB 203 million in PP&E during the same period.
Vast majority of its capital expenditures on the Putian Industrial Park were classified on the balance sheet of its subsidiary Fujian Minzhong Organic Food Co., Ltd. (ìFujian Minzhongî) as prepayments and deferred expenses
Prepayment balance did not change at all from 2009 to 2010, after which it increased RMB 1.3 billion in a span of 2 years.
 KEY DEBATE #3 : INFLATED / FAKE REVENUES
Glaucus Research (26th Aug 2013):
Exceptionally high performance against its negative cash flow
China Minzhong (2nd Sept 2013):
Its calculation of Earnings Before Interest, Taxes, Depreciation, and Amortisation (EBITDA) differed from that of Glaucus. It also stated that its cash flows had been positive from operating and investing activities for FY2013.
Glaucus Research (2nd Sept 2013):
With the gains on the fair value of biological assets excluded, EBITDA margins on fresh produce for FY 2007 to FY 2013 are 71.4%, 64.1%, 54.9%, 62.2%, 66.3%, 62.9% and 58.8% respectively.
Pretax margins on fresh vegetables should be inherently low because:
a) unprocessed vegetables are the ultimate commodity
b) according to the Prospectus, Minzhong's fresh vegetables are sold exclusively within the PRC, where vegetables are generally cheap and plentiful
c) Minzhong appears to have several middlemen between their fresh vegetables and the end consumer
Persistent and unexplained growth in receivables is caused by the need to account for fake income on the balance sheet.
In summary, it is recommended for those who trade into S-Chips to exercise great prudence. You would not like to be stung with such price volatility.
Read other related posts:
Follow us on:



Share this article on: