Last Friday (19th Aug 11), the technology giant, HP (HPQ) shed about $12 billion of its market value as more than half a dozen Wall Street analysts downgraded its stock, citing a litany of concerns over the company's ability to reinvent itself.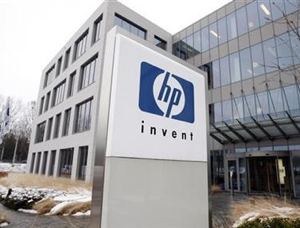 Friday's drop of $5.91, to $23.60 a share, came a day after HP said it would seek to spin off or otherwise divest itself of its personal computer division, which had made it the world's largest PC maker and had provided 30% of its revenue in its latest quarter.
The combination of H-P's reduced outlook and the uncertainty over its pending transformation is causing investors to bail on a company perceived to be in a multiyear restructuring.
Hewlett Packard (HP) also said it would halt production of its TouchPad tablet and line of smartphones and, as one key to its reshaping. It was abandoning efforts to sell tablets and smartphones that challenged Apple Inc.'s (AAPL) iPad and iPhone – read more on HP's diversification of webOS device production.
Furthermore, HP announced it would pay about $10.3 billion for British business software company Autonomy Corp to focus on B2B enterprise software and consultancy businesses. With the future of HP's computer division up in the air, Noland said, larger customers may turn to established computer vendors such as Dell Inc. HP said it could take up to 18 months to sell or spin off its PC unit.

Autonomy has developed a fundamental piece of technology that allows computers to understand the meaning of unstructured information and process it automatically. That technology is the Intelligent Data Operating Layer (IDOL).The proliferation of unstructured information is occurring in every industry from manufacturing to financial services, and so the IDOL platform is a truly horizontal technology that is used across every vertical.
Analysts also fretted that the effect of radical adjustments to three of its major business lines — computers, software and mobile devices — might upset the balance of its tightly choreographed global operations.
But it was the Autonomy deal, which had many analysts questioning whether buying the British software company made the best use of H-P's cash.
The company reported on Thursday that it ended its fiscal third-quarter with more than $12 billion in cash and cash equivalents. The deal, which values Autonomy at $42.11 a share, or a 58% premium over its average stock price during the last month. Effectively, H-P is paying $10 billion for a business that will represent 1% of its revenue and 5% of its operating profit
Dell Inc. DELL +1.74%  edged up by 24 cents, or 1.7%, to close at $14 on general expectation that the company will be able to capitalize on the uncertainty surrounding H-P's plans for its PC business.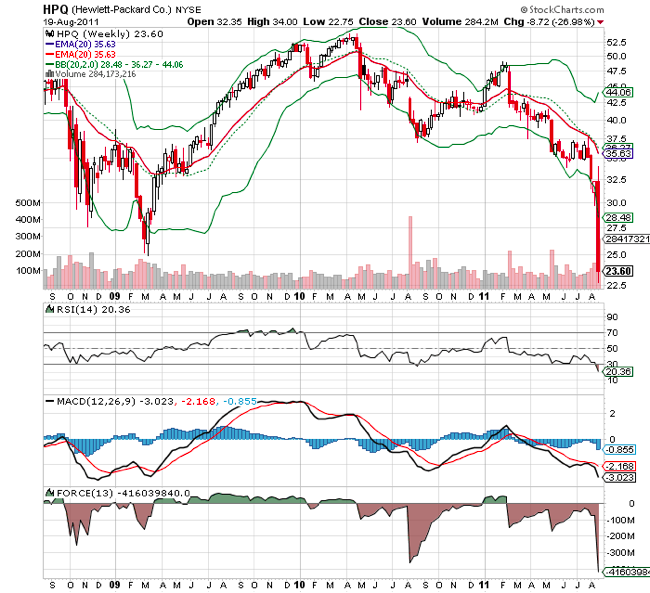 From the weekly technical charts, HP stock price has plunged near to early 2009 stock price level. Though it is now on strong oversold level with Force Index a spike down, the long down candlestick is a very big concern. It has breeched the key support at $25 and should head for uncharted price levels beyond these recent years. Now the major resistance will be at $25 and $30. This will be one stock to drop out of my radar and will shift focus on HP's other competitors in coming weeks e.g. Dell.
Written by Alan Soon
General disclaimer : The author has based this post on information obtained from sources which he believes to be reliable. He does not make any representation or warranty nor accept any responsibility or liability as to its accuracy, completeness or correctness. This post is not intended to be an offer, or the solicitation of any offer, to buy or sell the securities referred to herein.
Read other related posts:
Follow us on:



Share this article on: