On 23rd March 2012, Jim Skinner was set to retire from McDonald's (MCD) after 41 years with the fast food giant, the last seven and a half as CEO. Skinner will be handing off to Don Thompson, the chief operating officer and former head of McDonald's USA, on June 30.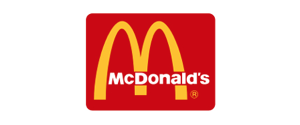 Thompson moved from engineering to operations after just a few years at McDonald's. He rose quickly through the ranks, holding key roles in the company's West and Midwest divisions before being named McDonald's USA president in 2006. Four years later, he was promoted to chief operating officer — a position seen as a stepping stone to the top job. Sticking to McDonald's current business strategy will be crucial to maintaining the chain's lead over fast-food competitors and supporting the company's stock price, which is trading near record levels.
Like other companies, McDonald's is again facing rising commodities costs. In 2011, shares of McDonald's were the best performing stock in the Dow Jones Industrial Average, with shares rising 31 percent.  However, since hitting a 52-week high of $102.22 in January, the company's stock has been trending lower.
Its PE is at x18 which is not demanding, with a decent Div yield of 2.8%. Total assets esp current assets are strong even throughout these few volatile years.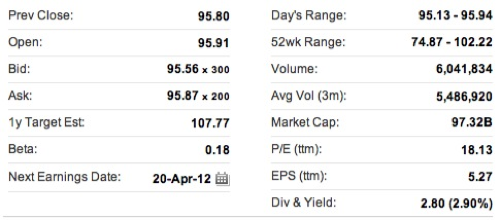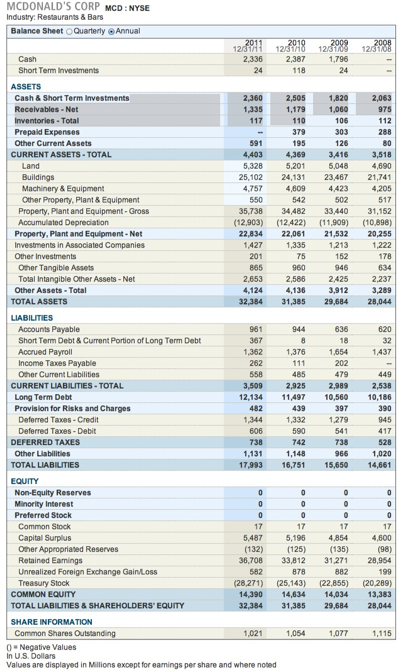 On short term technical front, MCD is readily in oversold region with short term support at $93 while downward resistance at S$100.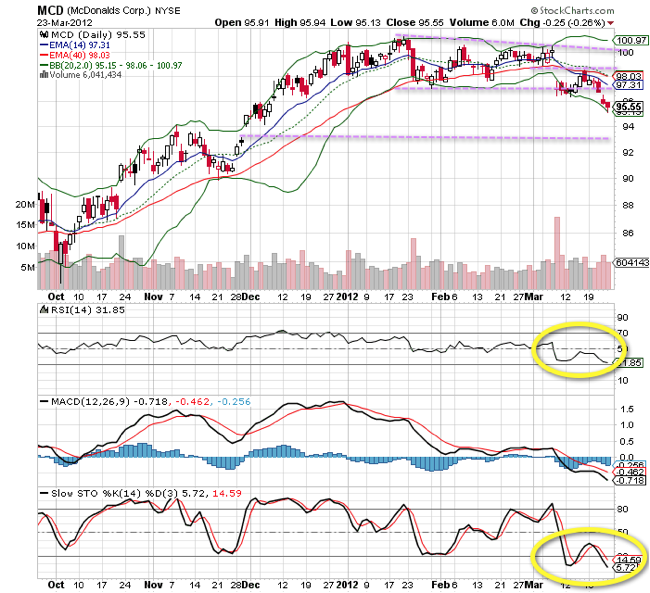 MCD has last broken out from consolidation in 2010 and since then, its stock price has risen within an upward channel. Strong support should be towards S$90 and S$80. With strong business model and financial standings, one should look at current stock price consolidation as a fine opportunity to accumulate long term holdings for good forward yields.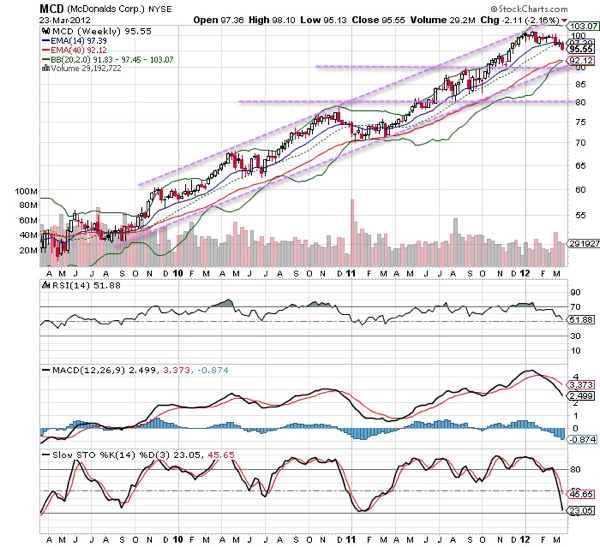 Read other related posts:
General disclaimer : The author has based this post on information obtained from sources which he believes to be reliable. He does not make any representation or warranty nor accept any responsibility or liability as to its accuracy, completeness or correctness. This post is not intended to be an offer, or the solicitation of any offer, to buy or sell the securities referred to herein.
Follow us on:



Share this article on: