On 22nd July 2014, Apple (AAPL) announced their latest Q3 2014 results.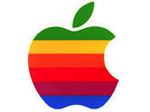 Comparatively, the results are impressive considering the margins are largely maintained yet on a growing quarterly revenue Y-on-Y.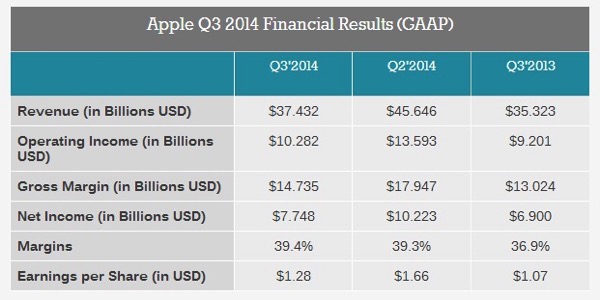 Undeniably, iPhone is still the main revenue generator for Apple (AAPL) followed by iPad.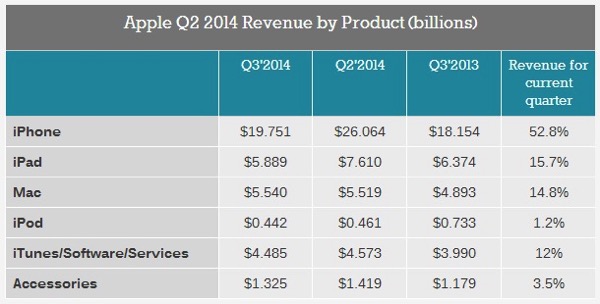 Though for the sales volume for iPad has dipped Y-on-Y.

With the upcoming refresh for iPhone & iPad product lines, there should be significant boost to the topline. Moreover, this time round, it is largely anticipated to be an overall re-design & make for the iPhone 6.
Apple has also consistently ensure the all the devices work seamlessly and the upcoming releases for iOS8 & Yosemite should be able to promise better user experience & adoption.
Looking closer at the Thomson Reuters consensus estimates, there is an overall improvement in analysts' recommendation for the stocks. Almost 80% of the analysts are making at least a outperform call, which is very impressive.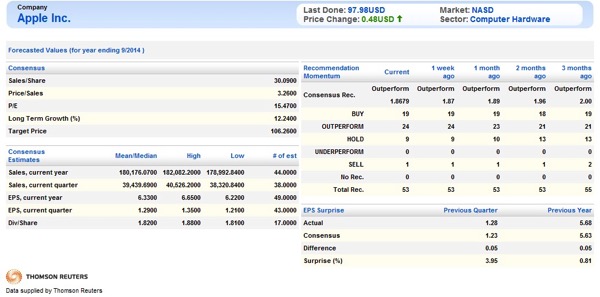 P/E is also hovering at an undemanding level of ~15.
On the technical front,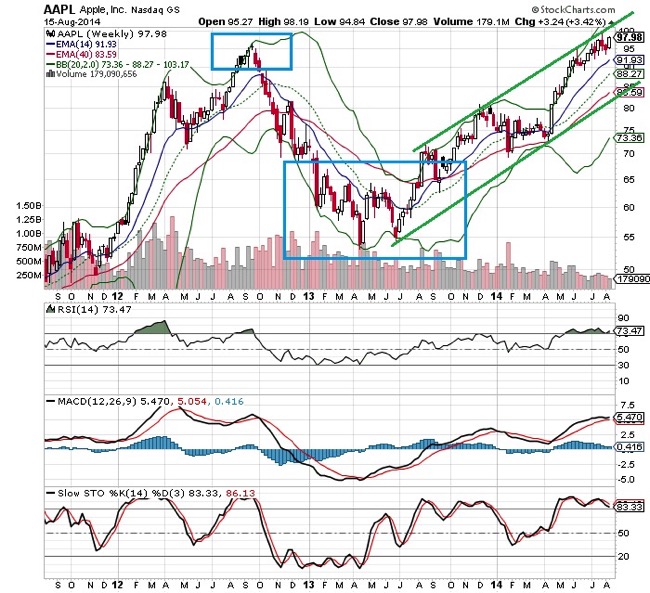 AAPL is testing to break its recent 52 weeks high. No doubt, after the double bottom reversal during the mid 2013, it has staged an impressive recovery within an upward channel.
With the current conjestion with support at $92, any substained breakout at $100 should see the counter resuming its climb within the upward channel.
With the upcoming product launches & possibly a new product line, one should consider accumulating the counter on any weakness in price.
Stop loss at price below $88.
General disclaimer : The author has based this post on information obtained from sources which he believes to be reliable. He does not make any representation or warranty nor accept any responsibility or liability as to its accuracy, completeness or correctness. This post is not intended to be an offer, or the solicitation of any offer, to buy or sell the securities referred to herein.
Read other related posts:
Follow us on:



Share this article on: