Across the globe, U.S. economic data released in the past week were mostly upbeat – increases in sales of new and existing homes, an unexpected rise in durable-goods orders and a climb in the consumer sentiment index to its highest level since October 2007.
Now the focus of weary eyes are on these key macroeconomics developments:
a) The risk of Greece leaving the euro zone which would erode confidence and lead to bank runs in Greece, Spain and Italy, creating a domino effect around the world.
b) Cooling of the China economy – Bloomberg News reported Thursday that the nation's biggest banks may fall short of loan targets this year for the first time in at least seven years.
c) More bank failures in Europe – Bankia asked for a higher-than-expected 19 billion euros in government help on Friday, in addition to 4.5 billion the state has already pumped in, to cover possible losses on repossessed property and loans, in the biggest bank rescue ever in Spain.
Sentiments have took a 180 turnaround since March 2012 and have dented the performance of global markets with Dow Jones Industrial and S&P down from the March peak by approximately 7-8%. Not surprisingly, the cyclical stocks are heavily penalized too, with bank stocks falling as much as 32% in same period.
Valuation do look attractive at this point but subjected to the needed stability in the macro fronts. 
Of consolation is that the VIX has not peaked to the levels seen in the past recent 2 periods of "market despair" and possibly poised to take a quick breather in coming weeks.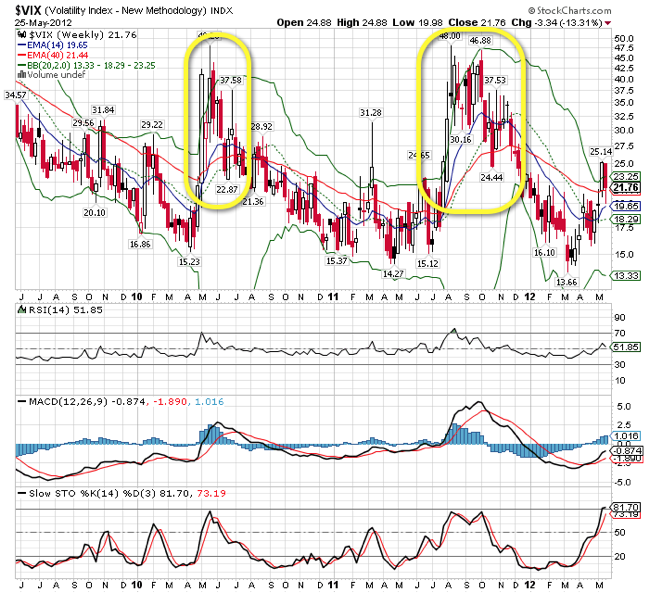 Both bank stocks – Citigroup (C) and Bank of America (BAC) have hit the lower Bollinger band and passing through most of the MAs – signaling short term down trend. However, the indicators are seen to be oversold which could see some quick price rebounds here.
For Citigroup, the next key support price will be at $25.5 and next at $23.0.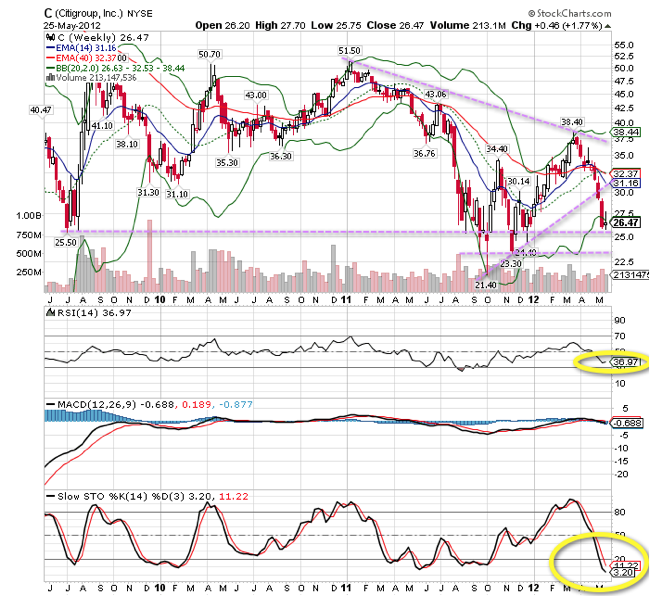 For BAC, the next key support price will be at $6.0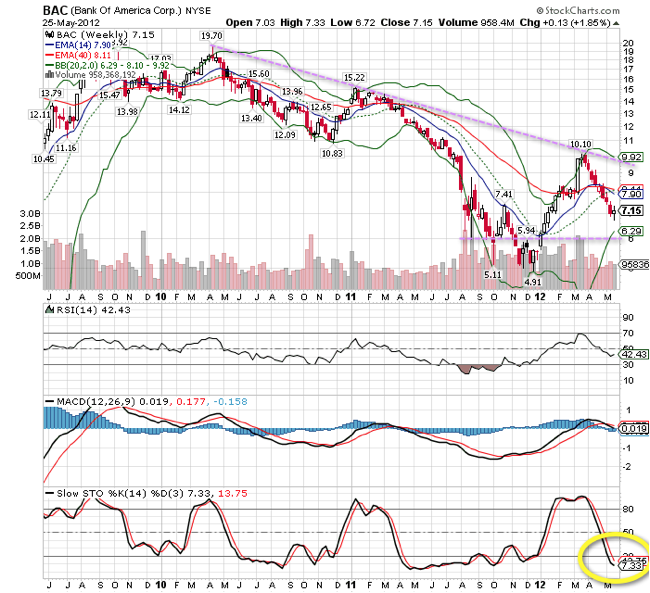 General disclaimer : The author has based this post on information obtained from sources which he believes to be reliable. He does not make any representation or warranty nor accept any responsibility or liability as to its accuracy, completeness or correctness. This post is not intended to be an offer, or the solicitation of any offer, to buy or sell the securities referred to herein.
Read other related posts:
Follow us on:



Share this article on: