Shares in Research In Motion Ltd (RIM) tumbled late Thursday 9th Jun 2011 after the BlackBerry maker posted fourth-quarter earnings in line with forecasts, but said costs to launch the PlayBook tablet would drive future profits lower in the near term.
RIM said its gross margin, or the percentage of sales left after production costs, will be about 41.5 per cent this quarter. Analysts had predicted 42.7%. RIM stock price has fallen from 52 week high during Feb 2011 at $69.30 to a 52 week low last Mon (13th Jun 2011) at $25.28. This is a stunning 64% wipe of its market capitalization in a period of 4 months.
Most brokers covering RIM cut back their price targets on the stock following the report, pushing the Street's median target to $35 from $45. RIM stock is now trading at P/E ratio of 4.02.
Looking at overall Nasdaq 100 Composite Index:
Since start of Jun, there are major corrections all major indices including most Tech Stocks. Nasdaq 100 Composite Index has managed to rebound at critical support at 2600 strongly, resulting in a 2 points inflexion. This is further encouraged with bullish divergence in RSI and STO. The index must clear 2660 convincingly to head towards next resistances of 2700 and 2730 to resume a sustainable reversal.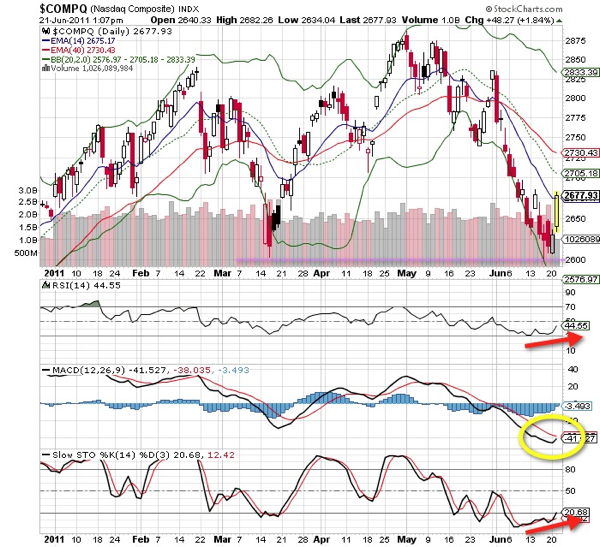 Focusing on RIM stock technical chart:
Conversely, there is no clear indication of any near term reprieve. The stock needs to regain ground by closing up the last gap down at $30 resistance level.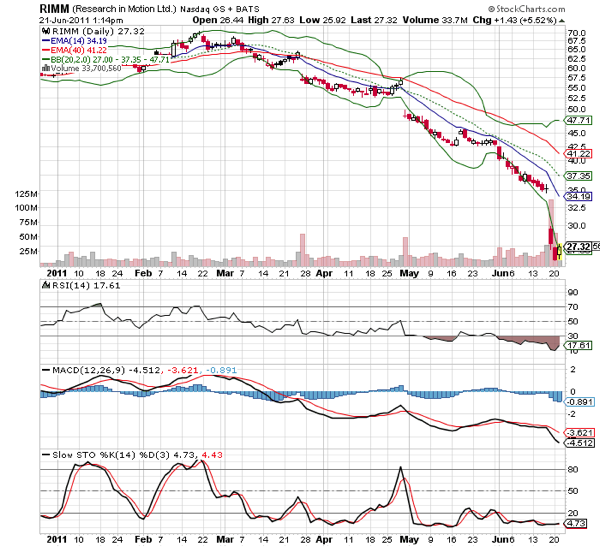 It would be more meaningful to reassess some of the competitors' stock prices. For instance, Apple AAPL has formed a distinct hammer formation with series of bullish divergence among its indicators. Next resistance will be at $329 if $320 stays firm.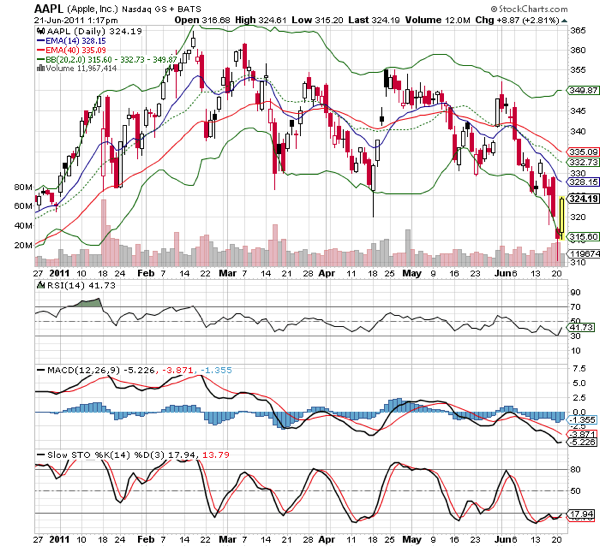 For the moment, RIM will need to show an improvement in book orders for its newly launched Playbook and upcoming handsets operating on Blackberry OS 7 before investors are going to cast renewed confidences.
Read other related posts:
Follow us on:



Share this article on: