On the previous 20th April 2011, Apple released their Q2 2011 financial results. They report that Q2 revenue was $24.67 billion with a net profit of $5.99 billion. In addition, Apple sold 3.67 million Macs (28% increase from last year Q2), 18.65 million iPhones, (113 increase), 9.02 million iPods (17% decline) and 4.69 iPads.
Financial Analysis of Apple Stock AAPL Inc
Since 2003 Apple has beat on every single earnings report and today the streak continues. Estimates are putting some softening of Apple's earnings Q3 & Q4 but overall Y-on-Y will be still favorable.
2011's estimated earnings are projected to grow substantially over 2010 which is already a 400% above 2009.

Looking at Q2 revenue composition, iPhone sales remain the most favorable while the next substantial pie comes from Mac desktop/notebook sales. Interestingly, iTunes-related revenue has inched more than the iPod sales. There are 350,000 apps for iPhone and 60,000 iPad specific. Till date, Apple has paid out $2 billion to developers with an estimated 10 billion apps downloaded.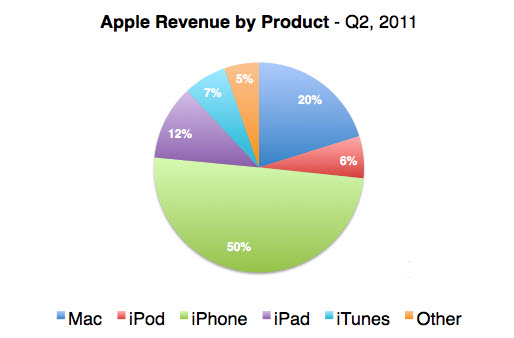 Growth of iPhone Sales is very impressive in 2011 with the introduction of iPhone 4 for both GSM and CDMA networks.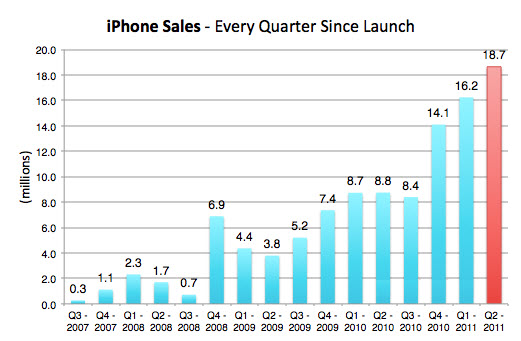 Mac related sales have been pretty consistent with signs of flattening across past few quarters even with the introduction of new macbook models.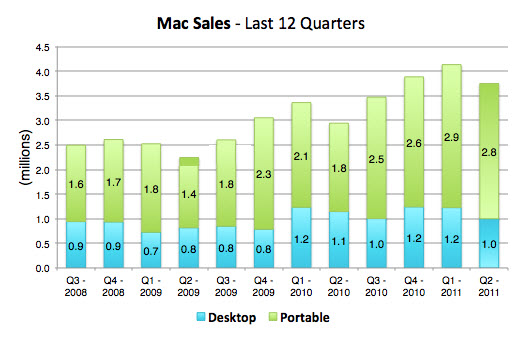 iPad sales are very promising with growth in IPad Sales eating into the market share of the PCs and notebooks.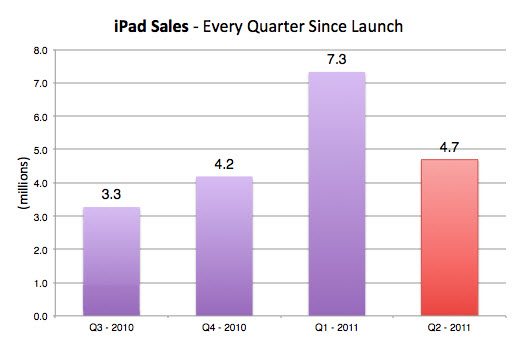 We are definitely seeing slowdown in iPod Sales though very slowly. Hopefully, we will see increased interest & sudden quarter revenue surge when the iPod refreshes come, which we do see in past years.
Technical Analysis of Apple Stock AAPL Inc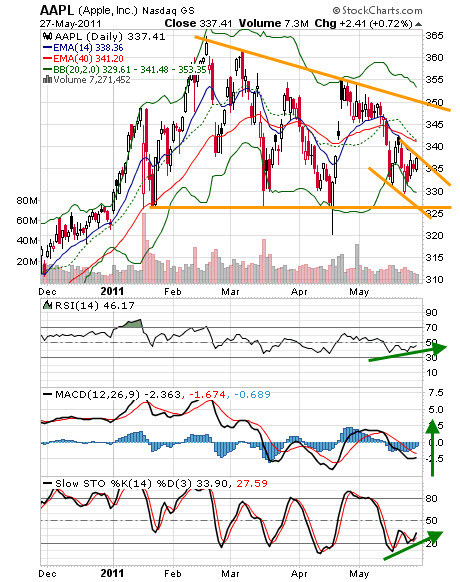 Very strong support at $326 which were tested 3 instances within this year 2011. A nice declining wedge is established for a resistance at $350 with immediate resistance to clear at $340. There is also a bullish divergence forming (STO/RSI) against the backdrop of U turning from oversold levels. MACD histogram is attempting to cross back to the positive zone.
There should be a near term reprieve in Apple Inc stock price.
Future sales induced by upcoming Apple Product refreshes:
Rumors hold for these grapevine expectations:
– Mac OS X, Lion [June 2011, Q3 2011]
– Macbook Air [July 2011, Q3 2011]
– iPod Touch [Aug/Sept 2011, Q4 2011]
– iPhone 4S or 5 [Dec 2011, Q4 2011]
The product delivery pipelines are encouraging and should provide comfort to those who have vested interest in Apple Inc. stocks.
Good luck!
Read other related posts:
Follow us on:



Share this article on: