On Tues 17th May 2011, Hewlett-Packard Co. reported a small increase in Q1 profit after a leak of a memo from the company's CEO warning management of "another tough quarter."
The results for the quarter ended April 30 came in slightly above Wall Street's expectations despite weakness in the company's PC business and a slowdown in services.
The shares had dropped more than 20% since the company's last earnings report in mid-February when it first warned of a slowdown in its PC and services businesses. They dropped further in after-hours trades on Monday after Bloomberg reported the leaked memo.
By the time the Tuesday's market closed, H-P's HPQ -1.14%   shares had fallen 1.1%, to close at $36.49 and add to the previous day's decline of more than 7%. H-P's shares have plunged by 25% since the company's last earnings report in February.
Over the last two sessions since H-P reported its fiscal second-quarter results, analysts at Credit Suisse, J.P. Morgan, Barclays Capital, Susquehanna, Stifel Nicolaus, Collins Stewart, ISI Group and Brean Murray removed their buy ratings, downgrading the shares to neutral. A few others made less drastic adjustments, moving from "strong buy" to buy ratings.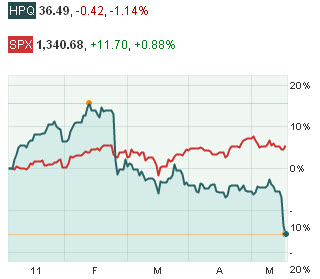 It is no surprise that now HP stock price has greatly underperformed the overall S&P indices.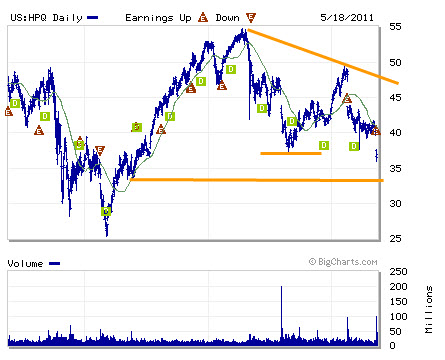 Key long term support of $36 should hold some grounds and if that fails,  the next support line will be at $34. Though record earnings will not be the primary attraction now, HP would be able to turn table around by implementing cost control measures and building up investors' confidence in the upcoming tablet (HP Slate, webOS)  introduction.
At this juncture, it pays to be prudent and careful to accumulate for long term recovery in midst of this knee jerk price actions. But watch out if key support is further breached.
Read other related posts:
Follow us on:



Share this article on: