On last Thursday (19th May 2011), LinkedIn's shares more than doubled in their first day of trading, setting the stage for debuts from other Internet companies such as Facebook Inc. and Groupon Inc.The outsize demand for the stock of an Internet company that is growing rapidly but had a profit of $15.4 million last year is the latest sign of the surge—some say bubble—in Web valuations even as the broader U.S. economy struggles to rebound from the recession.
LinkedIn revealed previously that its "proposed maximum aggregate offering price" — the amount it is hoping to raise — is $175 million. Morgan Stanley & Co. was the lead underwriter for the IPO together with Merrill Lynch, Allen & Company and UBS Securities.

A) LINKEDIN FINANCIAL SUMMARY
Year 2010 is the first year LinkedIn was profitable. But income of $10.1 million is not an impressive number for a multi-billion dollar company.
A quick look at its financials:
Net revenue, Jan-Sept 2010: $161.4 million (vs Net revenue, 2009: $80.8 million)
Total expenses, Jan-Sept 2010: $148.9 million (vs Total expenses, 2009: $84.1 million)
Net income (after tax), Jan-Sept 2010: $10.1 million (vs Net income (after tax), 2009: -$3.4 million)
Cash on hand (as of Sept 30, 2010): $89.6 million
Total assets (as of Sept 30, 2010): $197 million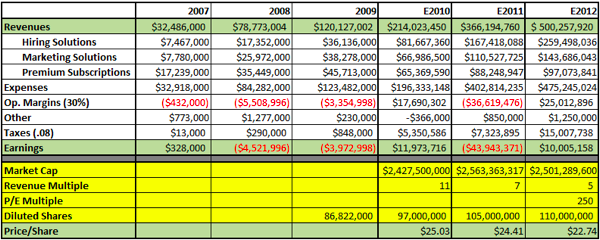 And the revenue breakdown by major components:
Job listings, Jan-Sept 2010: $65.9 million (41% of revenue)  [vs Job listings, 2009: $23.75 million (29% of revenue)]
Advertising, Jan-Sept 2010:$51.37 million (32% of revenue) [vs Advertising, 2009: $23.8 million (30% of revenue)]
Premium subscriptions, Jan-Sept 2010: $44.1 million (27% of revenue) [vs Premium subscriptions, 2009: $33.2 million (41% of revenue)]
LinkedIn's management team has impressive depth. Reid Hoffman, its chair, was an executive at PayPal and its CEO, Jeffrey Weiner, was an executive at Yahoo (NASDAQ: YHOO). Its other executives and board members reads like a who's who of 1990s Internet stars. Bringing LinkedIn to the stage of issuing public shares suggests that they were not content to rest on their previous laurels and that their prior public company success may help them manage LinkedIn.
B. LINKEDIN TRAFFIC STATISTIC
Registered users: 90 million (as of December 31, 2010)
Unique visitors: 65 million (average of Oct, Nov and Dec)
Pageviews: 5.5 billion (average of Oct, Nov and Dec)
Employees: 990 (as of December 31, 2010)
Daily page view has been growing since 2009 till date. But growth has been stagnated for 2010-2011 and the grow is not spectacular vs that of Facebook.com.

In fact, Monthly GLobal Visits per person has been on decline in recent months.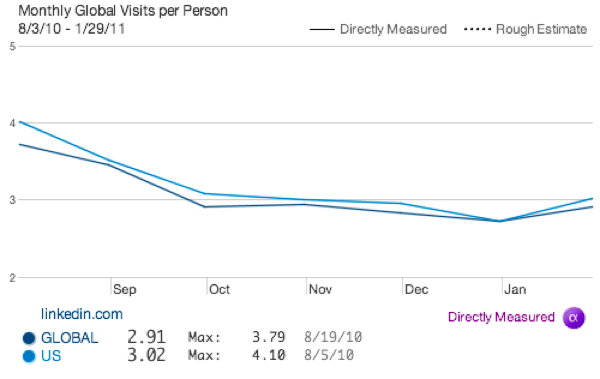 C. LINKEDIN JOURNEY TO IPO [by Credit Score Blog]

D) LINKEDIN IPO STOCK PRICE PERFORMANCE
LinkedIn stock opened at $80 and soared as high as $122.70 within the first day and closes for the week at $94.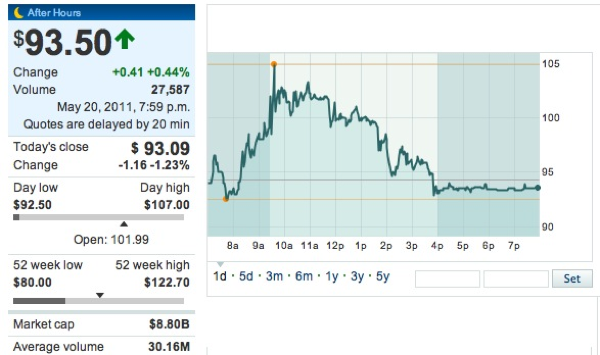 The average tech company in the Standard & Poor's 500 index has a price-to-earnings ratio of 15. By comparison, LinkedIn finished its first day on the stock market with a P/E ratio of 554.
Is all this a start of an Internet Bubble? Your guess is as good as mine.
Read other related posts:
Follow us on:



Share this article on: