On Fri (4th May), the US Bureau of Labor Statistics showed that the U.S. economy created just 115,000 jobs in April as hiring slacked off for a second straight month.
Job growth in the last two months has been cut almost in half compared to the winter months of December through February, suggesting businesses may have turned cautious again
The unemployment rate in the United States was last reported at 8.1 percent in April of 2012. The number of long-term unemployed (those jobless for 27 weeks and over) was little changed at 5.1 million in April.
The participation rate – the percentage of the population currently in work – slipped from 63.8pc to 63.6pc last month, a 30-year low. The number of "discouraged workers" – those who are not actively looking for work because they believe there are no available jobs – reached 968,000.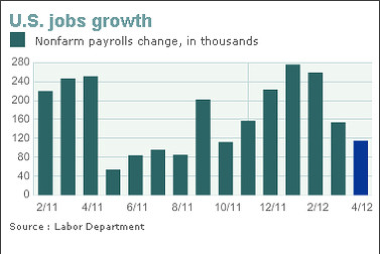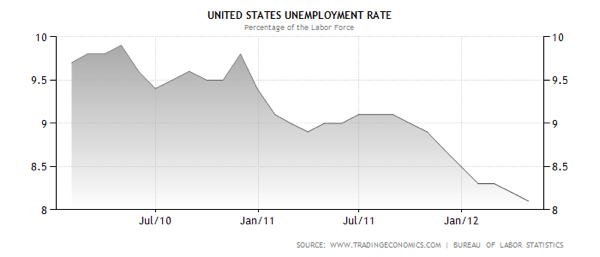 On the bigger perspective, we can only see genuine economy recovery when jobs growth resume uptrend with continued fall in unemployment rate.
The lackluster economy statistics sent Dow Jones Industrial and Nasdaq to their worst performing week in this year.
The Dow Jones Industrial Average DJIA -1.27% closed down 168.32 points or 1.3%, to 13,038.27.
The S&P 500 Index SPX -1.61% lost 22.47 points, or 1.6%, to 1,369.10
The Nasdaq Composite COMP -2.25% declined 67.96 points, or 2.3%, to 2,956.34.
On technical front, The DJI is still within the consolidation band but now crossed is 14 & 40 days moving average for short term correction to 12800. Indicators are pointing to weaker prices ahead. Index must hold above 12730 else DJI will suffer deeper corrections.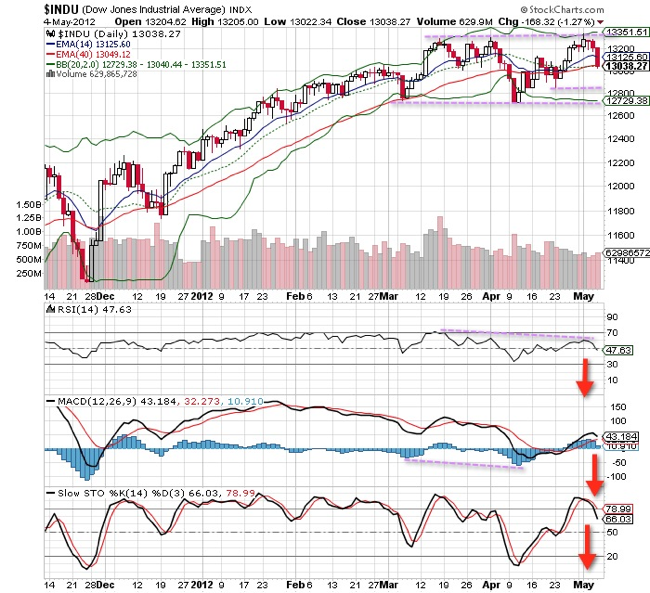 On the other hand, Nasdaq has approached dangerously to a potential breakout to a deeper correction to 2500 level unless prices can close above 2650 in coming days.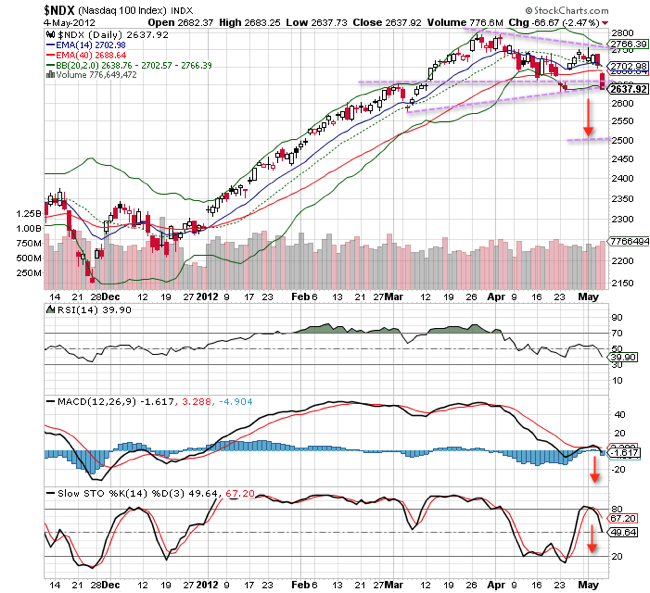 Read other related posts:
General disclaimer : The author has based this post on information obtained from sources which he believes to be reliable. He does not make any representation or warranty nor accept any responsibility or liability as to its accuracy, completeness or correctness. This post is not intended to be an offer, or the solicitation of any offer, to buy or sell the securities referred to herein.
Follow us on:



Share this article on: