Amazon (AMZN) has released its new tablet reader – Kindle Fire, bringing a new competitor to a market that has so far been dominated by Apple.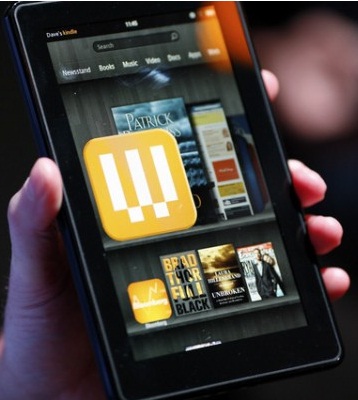 Based on a quick comparison charting on the various ket tablets available in the market, Amazon Fire has some competitive edge in terms of pricing with core decent specifications & mobility.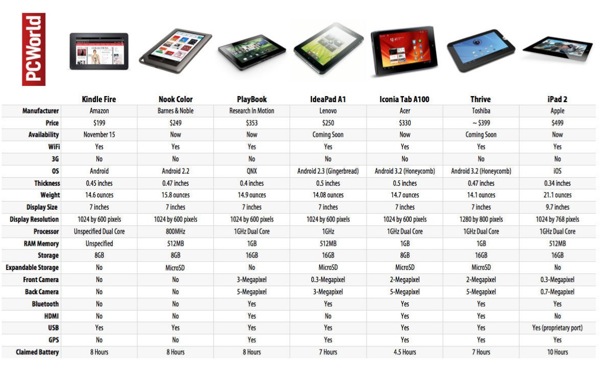 More importantly, it is well supported by a good ecosystem – online books, appstore, streaming music/videos and lifestyle shopping. Some parts of these the other reputable competitors do not have adequetly.
This is on mass market retail front. Amazon has a whole slew of enterprise solution business which is equally profitable.
Gauging on the fundamental valuation of Amazon stock, current PE ratio is not cheap vs 63.5x (52 weeks ago) or 71.2x (26 weeks ago) or 68.4x (5year average).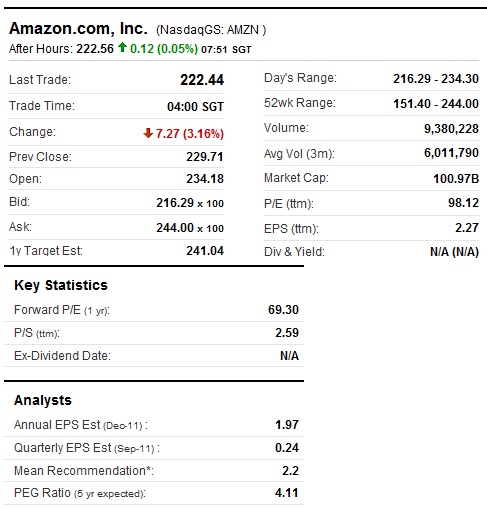 However, it should be a resilient company with good cashflow per share at $4.95, Debt/Equity at 0.27.
On a macro view of the weekly technical chart, Amazon stock has been on a steady price appreciation since early 2009.Very strong support should be present at $160 which is derived from a good 6months price consolidation starting from early 2010.

Indicators are having slight divergence with the rising stock price. That should indicate some pressure to cap any further massive stock price rises.
Looking more detail in this 1 yr performance: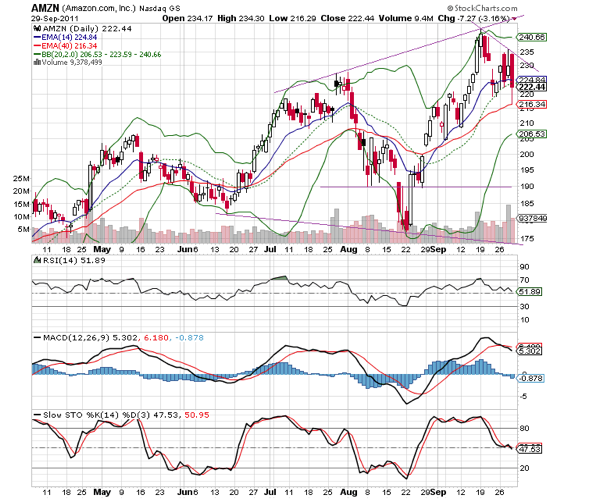 Short term price consolidation is taking place. Good accumulation range should be between $210 – $224.Stop loss will be below $205.
That said, it could be still premature to gauge how successful Amazon can regain some market share in its digital reader business but surely the probability has improved. Lets await the official launch in mid Nov 2011.
Written by Alan Soon
General disclaimer : The author has based this post on information obtained from sources which he believes to be reliable. He does not make any representation or warranty nor accept any responsibility or liability as to its accuracy, completeness or correctness. This post is not intended to be an offer, or the solicitation of any offer, to buy or sell the securities referred to herein.
Read other related posts:
Follow us on:



Share this article on: