During the Apple (AAPL) Q2 2012 earnings call yesterday, Apple announced that it sold 35.1 million iPhones, 11.8 million iPads, 7.7 million iPods and 4 million Macs. During the same period, its earnings also saw similar massive growth of 92% in Q1 2011 and that of Q1 2012 growth of 94%.
The iPad is growing at a faster rate than the iPhone and has achieved in two years what the iPhone took four.The iPhone grew units at nearly 90% and revenues at 85%. This is slightly below the quarterly average over the last two years of 99%.The Mac showed significant weakness though the previous year's Q1 had exceptionally high growth of 32%. The Mac still grew faster than the market and therefore gained shareThe iPod is declining consistently. 
Units showed a lesser decline than revenues as the average price dropped from $164 to $157.The iTunes store continues to grow very rapidly, reaching a new record level above $2.1 billion revenuesPeripherals were weak with 11% growth but that may have something to do with lowered Mac sales 

After a meteoric rise of the stock prices from the $350 range, Apple stock price climb to $640 range in a matter of 6 months. Investors were worried of Apple not able to deliver within market expectation. This has resulted a significant top correction amid the revival of European debt concerns.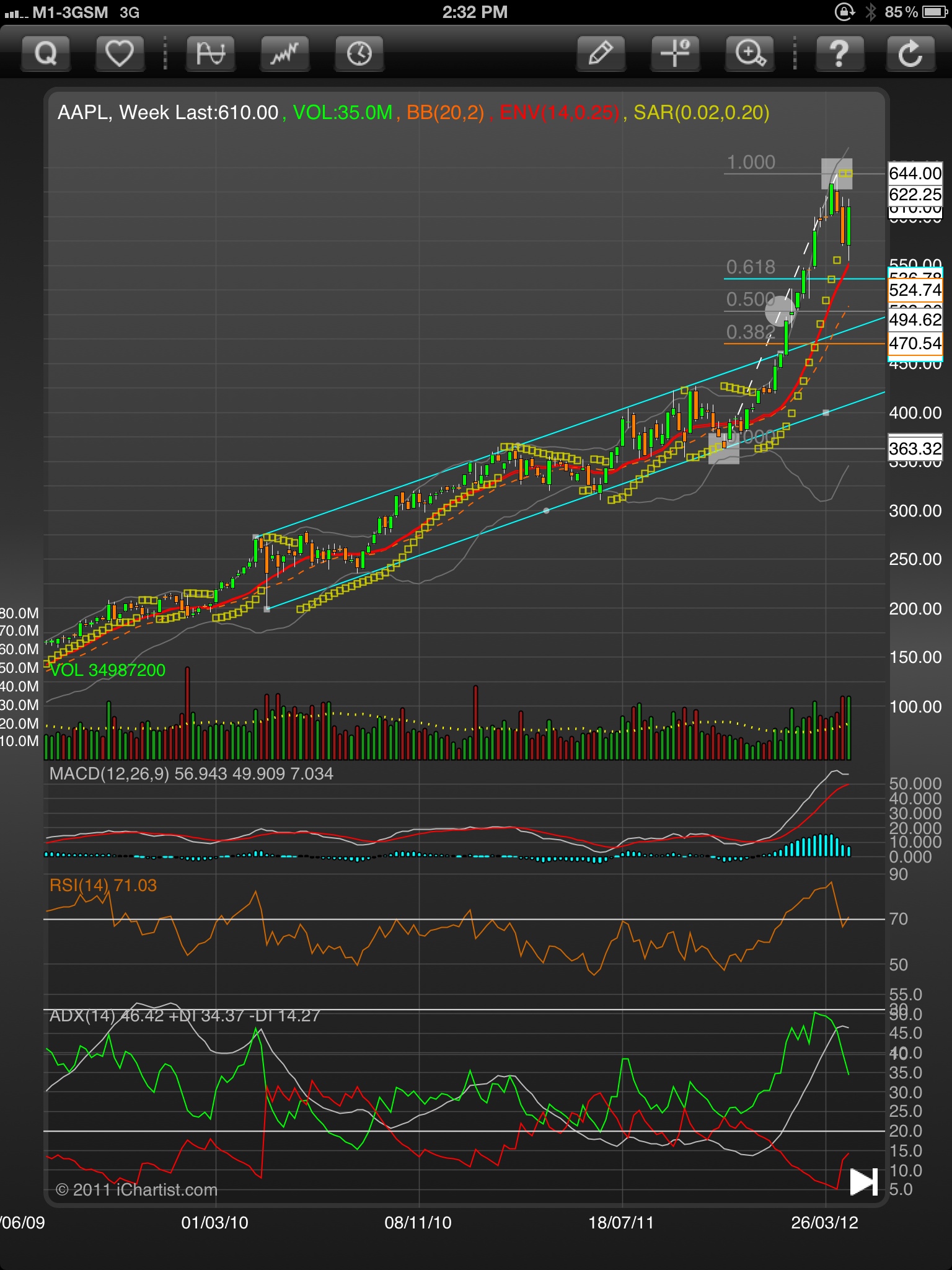 Ever since the breakout from the upward channel at $460, it created an historical high of $644. Upward trend should be intact if prices stay above $550, well within 61.8% retracement point.
Indicators have came off high over bought region with ADX easing but still showing upward momentum.
For Apple to do equally well in subsequent quarters, introduction of new refreshes or products is key. With an upcoming refresh of MacBook Pro series and the greatly anticipated launch of iPhone 5, would be key in ensuring performing Q2 and Q3. If prices hold well above $600, it could potentially retest the historical high once again.
Read other related posts:
General disclaimer : The author has based this post on information obtained from sources which he believes to be reliable. He does not make any representation or warranty nor accept any responsibility or liability as to its accuracy, completeness or correctness. This post is not intended to be an offer, or the solicitation of any offer, to buy or sell the securities referred to herein.
Follow us on:



Share this article on: