Apple (AAPL) stock, which had gone nearly straight up since hitting new all-time highs last month, finished down on Monday market close at more than 2% – just two days before Apple is expected to unveil a new iPhone. 
Not bearing the fact that less than one month ago, shares of Apple plunged after the company's third-quarter earnings "disappointed" the bean counters on Wall Street. Less than a month later, shares of Apple are up more than 12 percent and are again trading towards & testing all-time highs.
The stock has reached its overbought levels from the rise on its new upward channel since April this year. Bearish divergence is predominant in chart oscillators signalling that the market may turn anytime if there is significant bearish developments. Support is seen strong at $601. However, a breakout from the all new high should send the price towards $710.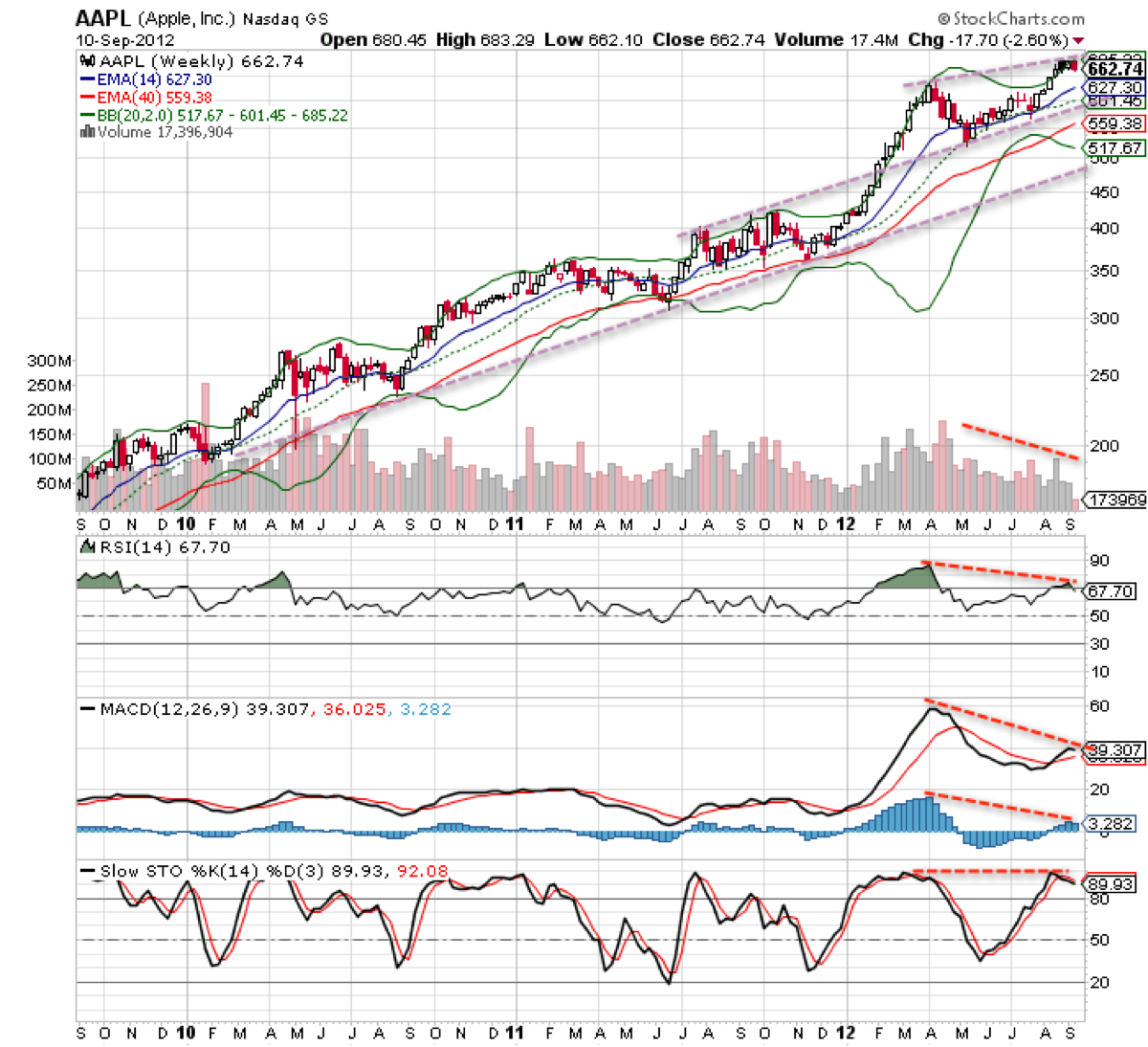 With the crucial announcement on Wednesday on the new iPhone release, the market expects the sales to be very favourable:
– The phone should sell between 1.3 billion and 1.5 billion pre-orders in 24 hours (iPhone 4S's figure of 1 million)
– Between 5 million and 5.5 million iPhone 5's will be sold in the first three days it's available in stores,
Fundamentally, the unlock value for the stock will be significant if the initial sales are as projected.
Apple's EPS for the trailing twelve months is $42.55. For simplicity's sake, let's say exactly half that, $21.27, came from the iPhone. A 70% increase would add $14.89 to Apple's EPS, pushing it to $57.44 for the coming twelve months.
That EPS, it should be noted, does not include any increases whatsoever in Apple's other businesses, such as the iPad, the Mac and the iTunes Store. It represents only the impact of the iPhone 5.
To estimate how far that EPS might take Apple's stock price, we can apply the price/earnings ratio, which as of now is just under 16. AAPL is trading at about $676 per share.
A conservative calculation using a P/E of 14 and an EPS of $57.44 would put Apple stock at $804.16. (At a P/E of 16, the price hits – gulp — $919.)
It would also be interesting to note the historical trends on stock prices against the company announcement of major product lines. It would be no surprise for iPhone as a significant contribution to AAPL revenue to render significant push of its stock prices post announcement.

Read other related posts:
General disclaimer : The author has based this post on information obtained from sources which he believes to be reliable. He does not make any representation or warranty nor accept any responsibility or liability as to its accuracy, completeness or correctness. This post is not intended to be an offer, or the solicitation of any offer, to buy or sell the securities referred to herein.
Follow us on:



Share this article on: