Stock market crashed multiple times in entire history and being humans we are always affected by fear & anxiety. We will ask the same question whenever it happens – "Will it go lower?", "It is only the start…?", "What's wring with everyone?", "When can we enter?" …
Like any other technical and fundamental (2in1) analyst, we have the advantage to identify stocks with good valuations and await the correct timing to enter/exit the market. Earlier on in my previous post, I briefly talk about how Straits Times Index valuation has improved over the past weeks of massive correction. Today, I am going to briefly touch on the means of identifying stocks with ripe valuation or prospects. This is to prepare for entry when the time is ripe (governed by the Technical Analysis charts, which will be covered in subsequent posts).
In any trading environment, there are broadly 2 basic appoaches. One is to go for safe investment (yield stocks, lesser beta) or growth investment (decent capital gains). Above all, we need to first identify targets who have been battered badly (sold down) against historical prices. For greater liquidity, we should be looking at the blue chips or component stocks to FSSTI (Straits Times Index)
A) Stocks with the largest price corrections
– Price / 52 weeks high is the smallest (significantly off from the peaks)
– Price / 52 weeks low is the smallest (very close to the lows)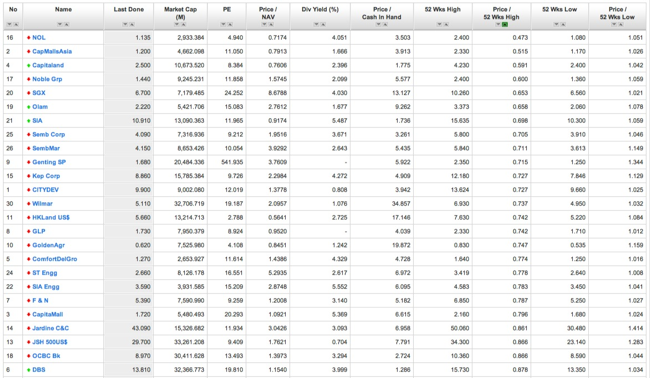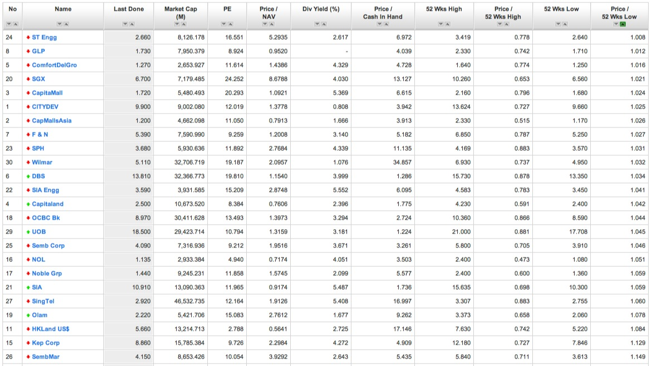 The shortlisted ones in common classifications (not in any order):
Bank/Financials – OCBC, DBS, UOB
REITS/Property – CapMallAsia, CapitaLand, CapitalMall
Transportation – NOL, GLP, SIA
Commodities – Noble Group, Olam
Offshore & Marine (O&M) – KepCorp, Sembcorp
B) Safe stocks in times of volatility
– Highest Dividend yield
– Lowest Debt to Equity ratio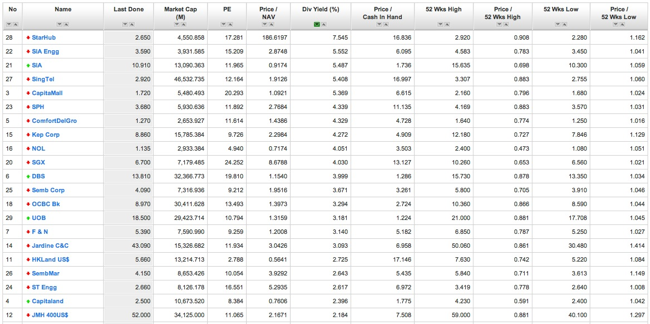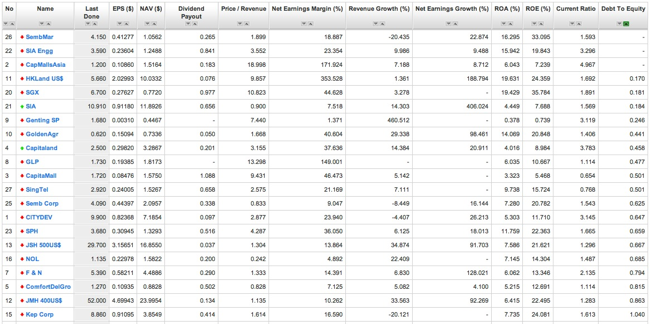 SIA Engineering & SIA are 2 better bets while on highest dividend play, Starhub will be most ideal.
C) Stocks with good opportunity for capital appreciation
– Cheap PEs
– Highest rolling EPS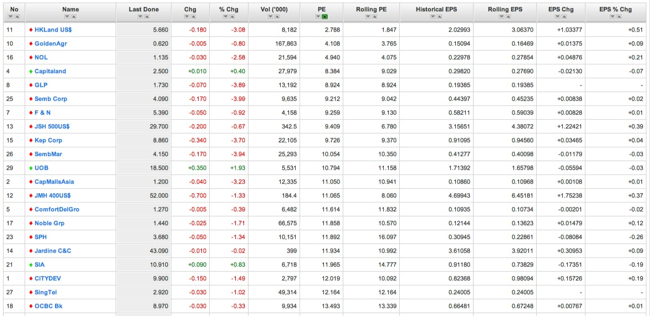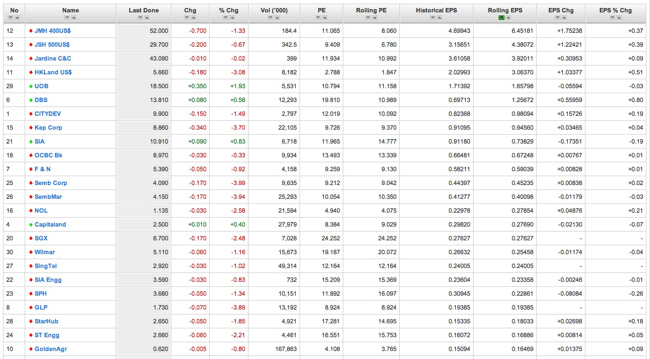 In combination against (A), these stocks offer good valuation and largest growth potentials:
Bank/Financials – OCBC, UOB
REITS/Property – CapitaLand
Transportation – GLP, SIA
Offshore & Marine (O&M) – KepCorp, Sembcorp
That said, one has to get to the correct timing to enter and this will be greatly governed by Technical charts which I will share more in subsequent blog posts. Stay tuned & good luck!
Written by Alan Soon
General disclaimer : The author has based this post on information obtained from sources which he believes to be reliable. He does not make any representation or warranty nor accept any responsibility or liability as to its accuracy, completeness or correctness. This post is not intended to be an offer, or the solicitation of any offer, to buy or sell the securities referred to herein.
Read other related posts:
Follow us on:



Share this article on: