After the gap down for Singapore Straits Times Index in August 2011, the index underwent series of sideway consolidation.
Support will be at 2600 and resistance will be at 2900. Mid term wise, the index is poised up though MFI shows that funds are not driving the recent gains. The index should continue its sideway consolidation with positive bias until 2900 is convincingly breached.
We still have the overhang of Europe, but the people are increasingly feeling that at least things are moving in the right direction. The index should also face some pressure during this period of Q1 reporting for most listed companies.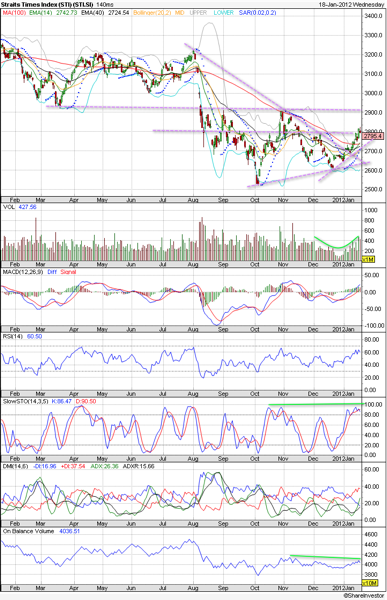 Read other related posts:
General disclaimer : The author has based this post on information obtained from sources which he believes to be reliable. He does not make any representation or warranty nor accept any responsibility or liability as to its accuracy, completeness or correctness. This post is not intended to be an offer, or the solicitation of any offer, to buy or sell the securities referred to herein.
Follow us on:



Share this article on: