Ever since Jun 2012, our local Singapore bourse has been out performing vs the foreign markets despite lack of concrete improvement of the Euro crisis. Series of lackluster US economic data further add to the risk of a near term correction in the Singapore stock market.
Looking at the STI technicals. it is now testing the very key resistance at 3030 before making its way up to the next level at 3120. However, there are bearish divergences in volume & RSI and overbought levels. The transaction volumes are also not near the levels when STI attempted its climb above 3000 back in early 2012, signaling that the main buyers are not fully back yet.
Nevertheless, the upcoming IHH IPO listing may add some catalyst for STI to hold above 2900 for time being. In near term, one can consider taking some profit off the table and await another valued entry towards 2900.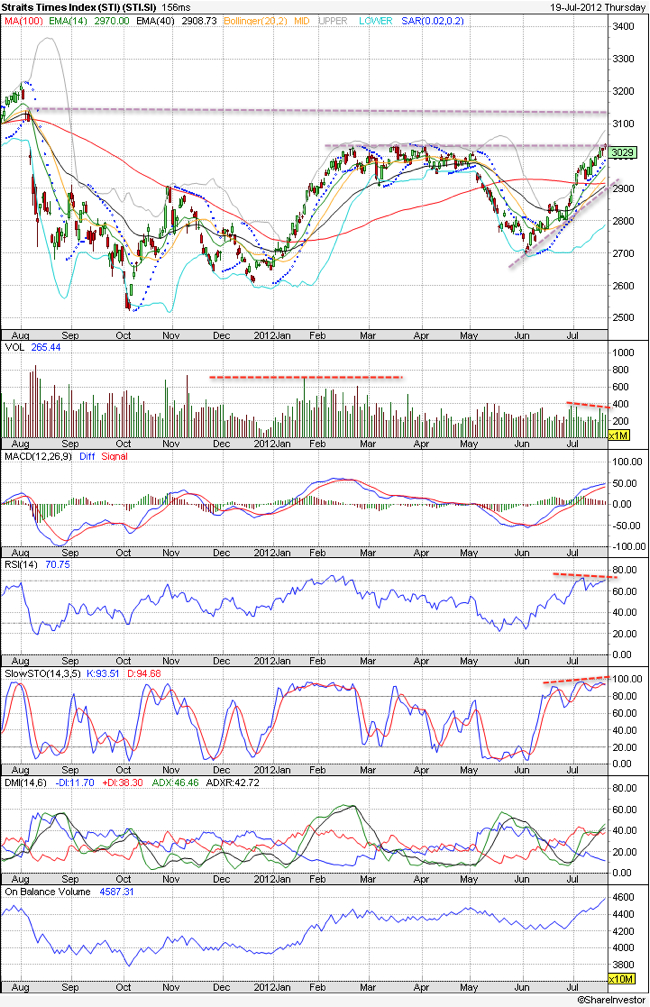 Read other related posts:
General disclaimer : The author has based this post on information obtained from sources which he believes to be reliable. He does not make any representation or warranty nor accept any responsibility or liability as to its accuracy, completeness or correctness. This post is not intended to be an offer, or the solicitation of any offer, to buy or sell the securities referred to herein.
Follow us on:



Share this article on: