As expected after the S&P downgrade of US debt long term from AAA to AA+ over the weekend, all Asian markets crashed on Mon (8th August 2011). At one stage, the Straits Times Index tanked as much as 5%+ but recovered to 2884 at end of day session.
It brings us to the million-dollar question : how long will the decline continue and how much lower will Straits Times Index fall further? Lets take a quick look at PE ratio and some technical charts.
The Price-to-Earnings ("PE") ratio is the price paid for a share relative to the annual earnings per share of a company, and is a measure of how expensive a share is. At the start of 2009, the historical PE ratio of the STI, measured using historical earnings, was 6.2X, which is lower than the lowest PE ratio during the Asian Financial Crisis of 11.0X. At today's closing, PE ratio of the STI (FSSTI:IND from Bloomberg) is at 8.284.Thus valuation is definitely getting cheaper and more attractive, but there is still some room to the lowest PE pts which translate to levels at 2200 if situation goes out of hand akin to the previous crisis.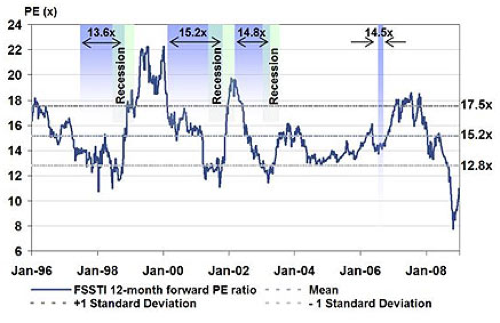 Source: Citi Investment Research, November 2008
But will we hit those STI levels?
On technical front, STI has gapped down, breaking key support levels. Next target will be at 2800 followed by 2640 which should be a strong one considering a double bottom achieved during Q12010. Taking a more closer look at indicators, we should see price bottoming during a months time with strong oversold signals for RSI and STO. Past reversals did occur at extreme oversold levels.
Any short term sale on recovery should readily happen at 3050 level.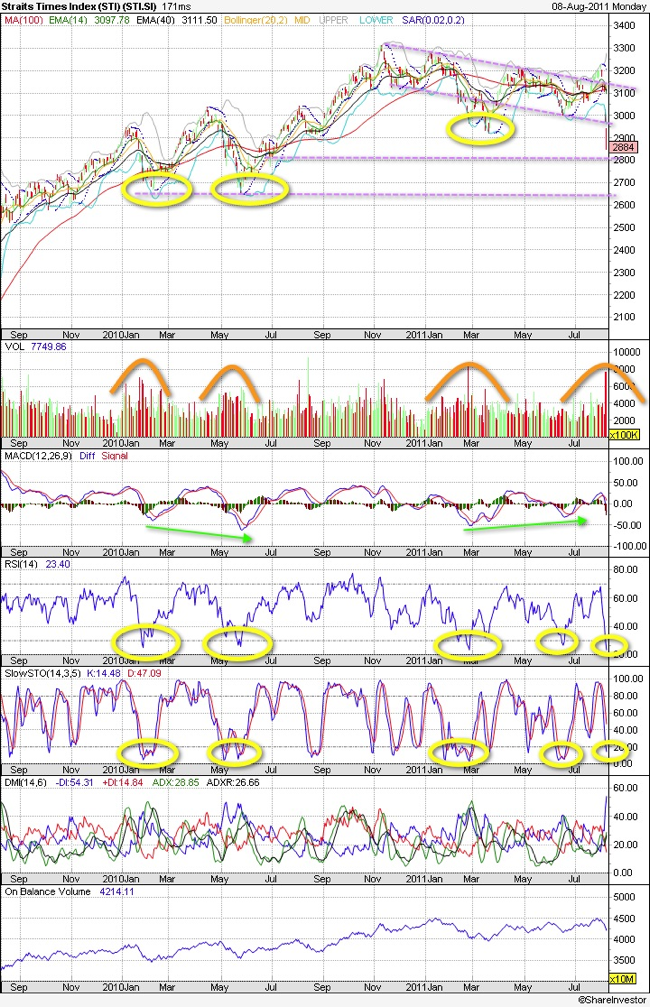 In tough times, investor sentiment may be consumed by fear and uncertainty with the equity markets. But if viewed from
a different angle, such attractive valuations could signal the potential buying opportunities in the Singapore equity market
to position for the market's recovery from the crisis.
At this juncture, it will be prudent to invest only in stocks which can ride out the storm (good order books, hugh cash-flow, stable business model with external & domestic demands, good dividend yields etc)
As said before, do trade with big caution as there are always ample opportunities for the sharp and decisive investors.
Read other related posts:
Follow us on:



Share this article on: