Last Friday (27th May 2011), I last attended the official launch of Adobe Creative Suite CS 5.5 in Singapore together with 300+ enthusiasts and industry players. It was then, Adobe announced the new versions of Adobe's creative programs (within Adobe CS 5.5), which reflects the full-scale integration of tablet authoring into the creative workflow.
This is definitely in response to the transition away from paper-based publications to editorial and artistic content that is created and consumed on electronic devices such as smart phones and tablets. The proliferation of mobile apps, browser content, and digital magazines has inspired the company's accelerated concentration on HTML 5, video, mobile, and digital publishing tools.
Different from its traditional 18-month upgrade cycle, Adobe has announced Creative Suite 5.5, a new mid-cycle update of its major creative applications.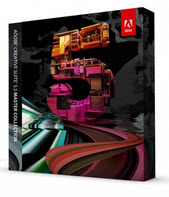 Adobe CS 5.5 has substantial upgrades to Photoshop, InDesign, Dreamweaver, Flash Professional, After Effects and Premiere Pro.
A) Adobe Photoshop CS 5.5 – new features
Photoshop CS5.5 can communicate with other devices over a network. Adobe has presented 3 new iPad apps to showcase implementations using the new Adobe Photoshop SDK:
Adobe Color Lava
Adobe Color Lava lets you use your fingertips to mix colors on your iPad to create custom swatches and color themes for use with Photoshop artwork and designs. Dab, smudge, and swirl to create unique individual color swatches and five-swatch color themes. You can access your color swatches within Photoshop CS5 via a network connection between your iPad and your computer.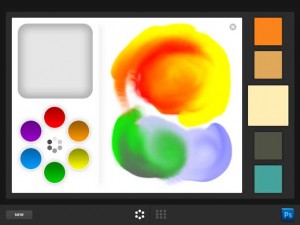 Adobe Easel
Easel is a painting app similar to Brushes, from which you can send 'sketches' directly to Photoshop.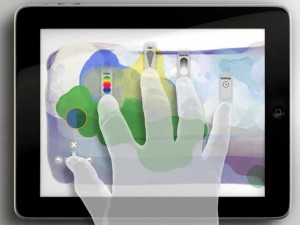 Adobe Nav
Adobe Nav allows one to customize the Photoshop toolbar on your iPad, browse and select open Photoshop files, and carry your files with you. Nav also allows the use of fingertips to select Photoshop tools from your iPad screen.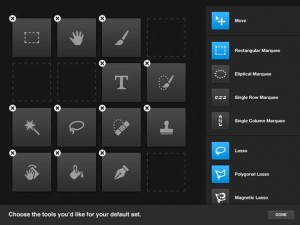 B) Adobe InDesign CS 5.5 – new features
InDesign CS5.5 has officially launched the Folio Producer tools for creating interactive publications.It's already been used for digital editions of magazines such as Wired.
The Interactive Overlay Creator has become a panel within InDesign – making creating and adding elements like controllable video, slideshows and web content much easier.
Adobe has also attempted to make creating ePub-format ebooks easier. A new Articles panel allows you to place elements from a layout in the order you want them to appear when exported as a single-threaded ePub file. Some of the cool new functionalities related to publishing an ePub:
– Controlling Order of Content Export from InDesign CS5.5 to Epub Without Changing Your Layout
– Using Object Export Options to Customize How Objects and Images Export to ePub
– New Export Options for ePub in InDesign CS5.5 – Adding Audio and Video Content to ePub from InDesign
– Creating Covers And Title Pages for ePub in InDesign CS5.5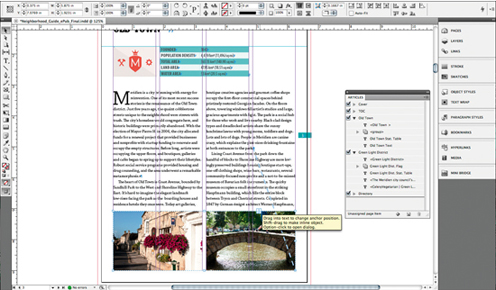 Other features that were added to InDesign are designed to upsell users to Adobe's Digital Publishing Suite, a platform where Adobe wants publishers to pay them a fee every time a reader views a digital file created using their tools and distributed using their platform. The Digital Publishing Suite is nothing short of Adobe using their monopoly power in the design software business to extract additional revenue from publishers that are already struggling to adapt to the changing face of publishing.
C) Adobe Dreamweaver CS 5.5 – new features
Rendering and preview
Fully compliant with HTML5 and CSS3, Dreamweaver CS 5.5 Live View and Design View have both been updated to take advantage of the most current builds of Webkit, the rendering engine powering both the Safari and Chrome desktop browsers, as well as the lion's share of mobile browsers to boot. Dreamweaver CS 5.5 uses media queries to let any HTML-based content quickly and easily specify a particular CSS file for display, based on the form factor of the device that's browsing it.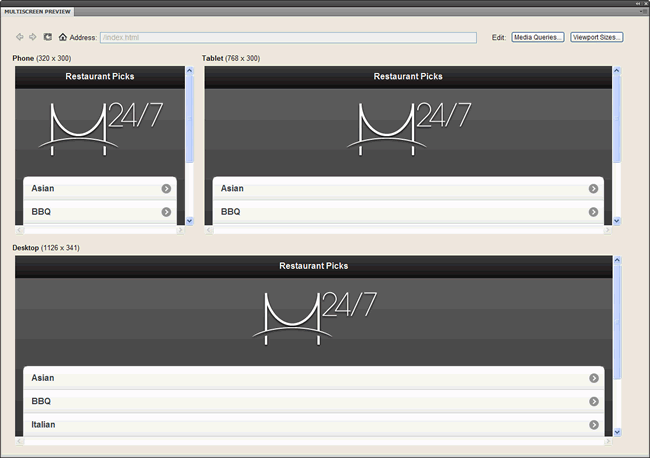 CSS inspection to ease CSS coding, support for popular CMS platforms like WordPress, Joomla! and Drupal, integration with Adobe BrowserLab to preview dynamic web pages and local content, PHP custom class code hinting, and more.
jQuery Mobile integration
For mobile-specific projects, Dreamweaver CS5.5 integrates the new jQuery Mobile framework to allow rapid development and design of a mobile-specific interface with the minimum amount of hassle.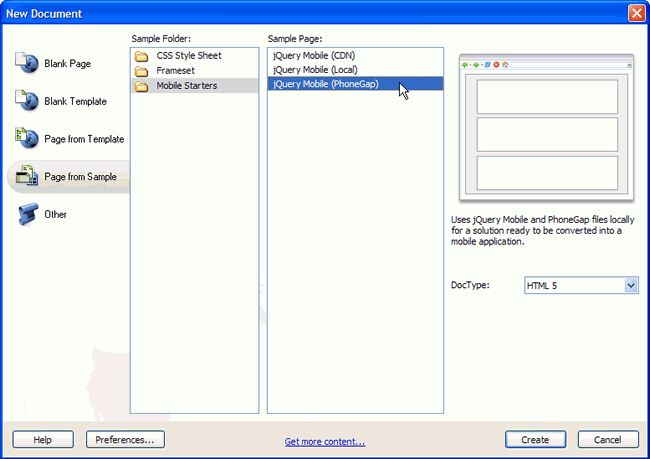 One can now build applications for iOS and Android using HTML, CSS and JavaScript that you are allready using every day. The PhoneGap framework is a way to package HTML-based applications into native application instead of building them from scratch, and now you can easily make the transition of your existing HTML projects into native applications.
D) Adobe Flash CS 5.5 – new features
New tooling and framework support in Adobe Flash Builder 4.5 software enables developing, testing and deploying mobile applications on Android, BlackBerry Tablet OS and iOS platforms. Flash Builder 4.5 accelerates the development of Flex and ActionScript projects, including new round-trip workflows with Adobe Flash Catalyst CS 5.5 software that allow designers and developers to work in parallel throughout application development.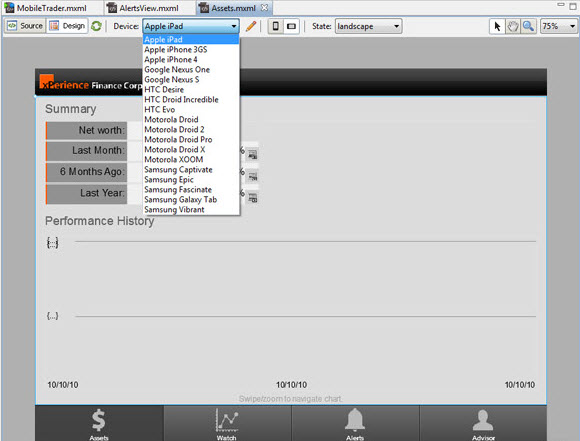 Flex 4.5, an open-source framework, includes new support for building mobile applications for Android with support for BlackBerry Tablet OS and iOS platforms. Together, Flex 4.5 and Flash Builder 4.5 enable developers to leverage one consistent programming language and code base to easily create highly expressive applications across leading mobile platforms.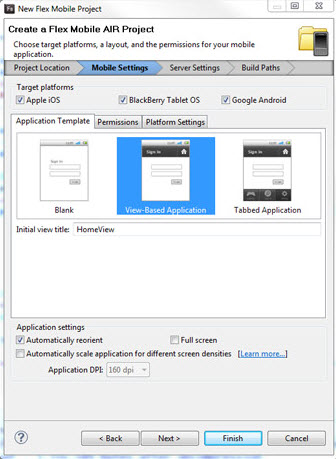 By selecting the Scale Content with Stage option in Flash Professional CS5.5, users can easily and quickly resize artwork and timeline data to adapt to different screens, saving time and multiple iterations.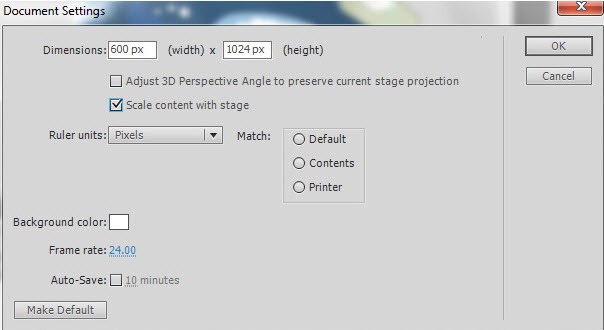 E) Adobe AfterEffects CS 5.5 – new features
After Effects sees the greatest number of new creative tools.
The Warp Stabilizer filter offers image stabilisation without having to manually select tracking points. For areas that are missing at the end of frames, the filter can either zoom in to crop these out, or recreate the areas based on other frames. The Warp Stabilizer can also remove motion artifacts.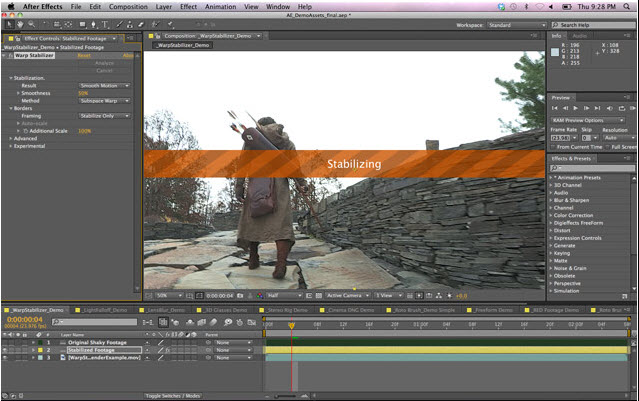 Depth-of-field effects can be created using the new Camera Lens blur filter. Cameras can be turned into stereoscopic 3D rigs – which creates nested compositions of left and right eyes (so you can output left and right videos separately) with controls over stereo depth and distance. You can also view stereoscopic content using the 3D Glasses effect.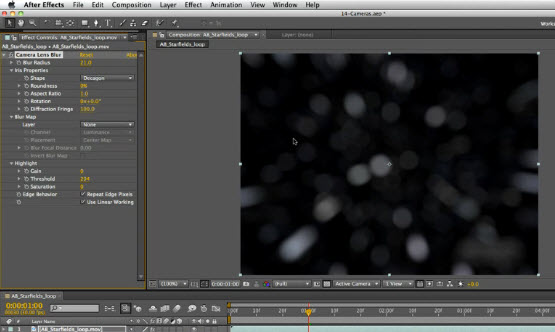 After Effects 5.5 gains better controls for lighting falloff, support for time codes, more video formats, including native footage from Red cameras, and more LUTs.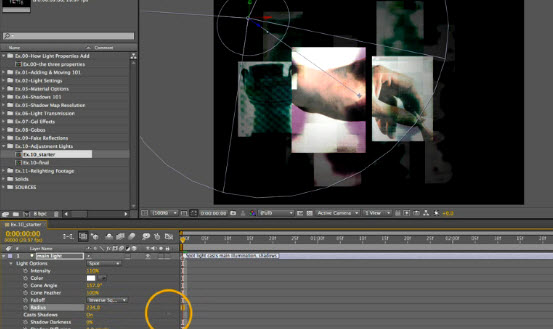 F) Adobe Premiere Pro CS 5.5 – new features
Premiere Pro 5.5 gains support for keyboard shortcuts from other editing tools such as Final Cut Pro and Media Composer, to make moving from those programs easier.
Adobe Premiere Pro CS5.5 features dual-system sound support from the new Merge Clips command in Adobe Premiere Pro CS5.5, which lets users quickly sync video with high-quality audio recorded on separate devices like location recorders, ideal for Digital Single-Lens Reflex (DSLR) or RED workflows.
The Media Encoder has been give a 64bit makeover for better performance, can act as a central renderer for video including rendering AE comps.
Soundbooth CS5 has been discontinued in favour of adding many of its key features to the more full-featured audio editor Audition – now available for the Mac – which also gains a new playback engine, multichannel support and more.
In addition, the powerful Adobe Mercury Playback Engine, introduced in Adobe Premiere Pro CS5, broadens its graphics processing unit (GPU) hardware support to include laptops and more supported cards, allowing users to open projects faster, get real-time feedback and work more smoothly at higher resolutions.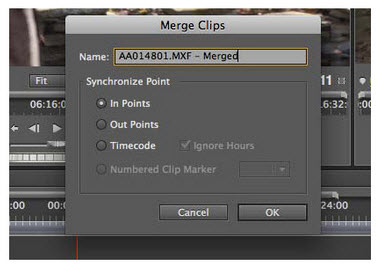 Lastly, there are different products among the various Editions of Adobe Creative Suite CS 5.5 as depicted below: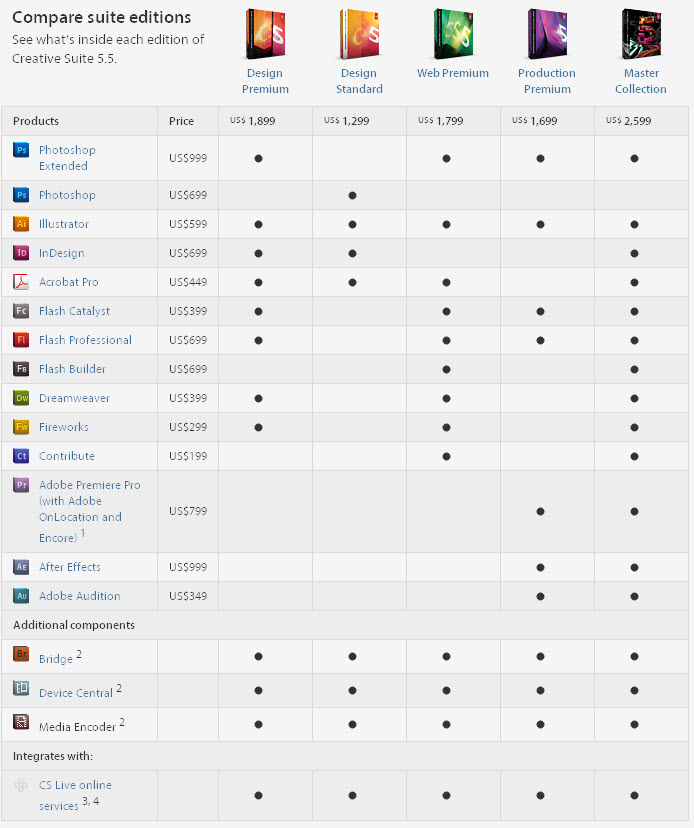 A simple rule of thumb on the choice of edition with reference to your current role:
i) Print designer – Design Standard
ii) Online web designer with mobile needs – Web Premium
iii) Broadcast editing crew – Production Premium
iv) All rounded – Master Collection
In conclusion, Adobe has once again set us to re-think how an organisation can reshape its resources and competencies to handle changing digital publishing landscape.
Read other related posts:
Follow us on:



Share this article on: