This week is fraught will series of uncertainties – Greece default issues, S&P's downgrade of Italy credit ratings, strengthening of USD as a safe haven etc. This has resulted an increased volatility in stock prices. But are we at the bottom of the movements for some bargain hunting? Or its the calm before another storm?
Dow Jones Industrial Average
The trench consolidation has been happening since early Aug 11 but it seems that the channel has changed to a short term negative bias. Divergence is showing up in key indicators (RSI, MACD, STO), some of which are at significant overbought levels.
Key resistance will be at 11550, 11700 and 11950. Failure to hold the support at 10950 will spell short term continuation towards 10800.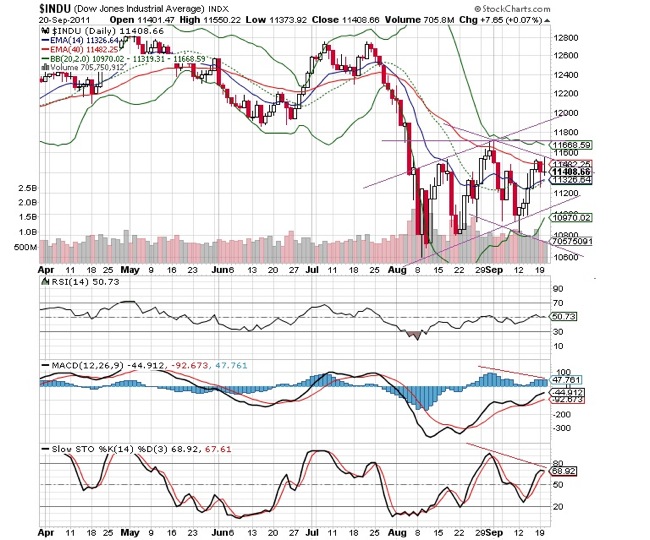 Nasdaq Composite
Tech stocks are in better luck but strong resistance are forming at 2600. The next resistance will be at 2700. Similarly, there is near term downside bias towards key support level at 2550 and 2500. Failure to hold those levels, the index will be prone for correction towards 2410.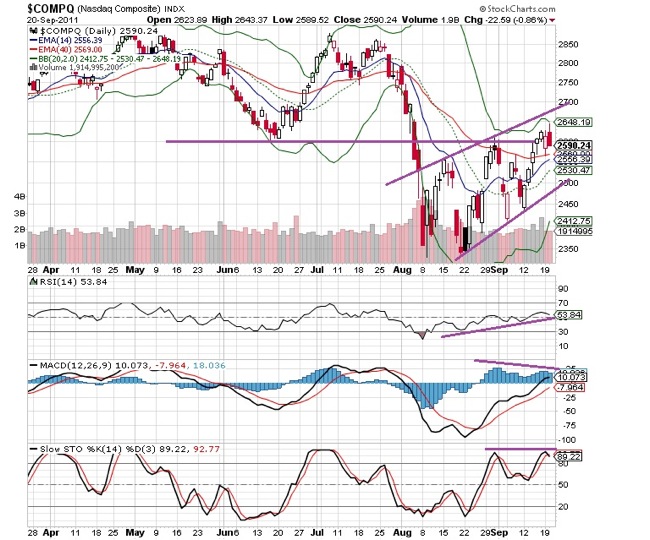 Riding on Nasdaq strength, Apple (AAPL) stock has touched a record high of 422.86 to become the world's biggest by market capitalization. This is a significant target price after its pennant breakout at $390. With accompanying divergence forming in its indicators, there will be short term pressures for profit taking. A good accumulation point will be towards $394.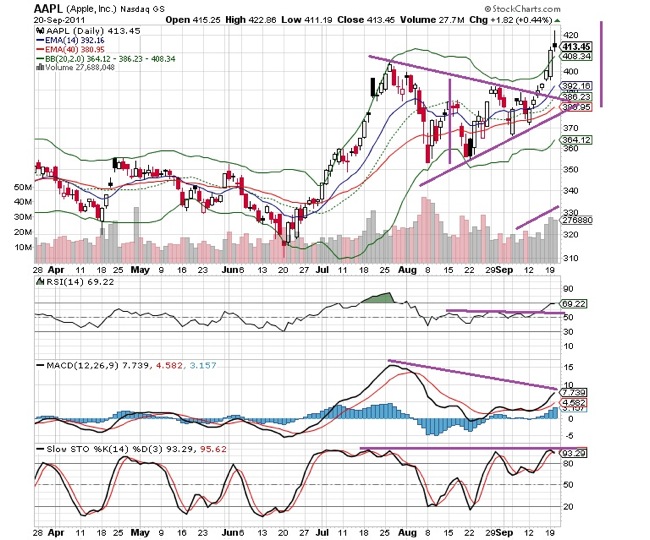 However, the macro price movements will still very much depend on the economic developments in Euro zone and upcoming decisions by Fed and the US president. Till then, volatility is here to stay which warrant for greater caution and tight stop loss levels.
Written by Alan Soon
General disclaimer : The author has based this post on information obtained from sources which he believes to be reliable. He does not make any representation or warranty nor accept any responsibility or liability as to its accuracy, completeness or correctness. This post is not intended to be an offer, or the solicitation of any offer, to buy or sell the securities referred to herein.
Read other related posts:
Follow us on:



Share this article on: