Ever since Dec 2011, Singapore Straits Times Index (STI) has managed to U-turn from the lows of 2600 to the current consolidation at 2900-3000. Cyclical sectors are typically the first ti be deeply corrected but also the few which will rally once the market has consolidated our of its bottom.
In the 3 part series, lets take a quick overview of the 3 popular cyclical sectors – Banking, Offshore & Marine and Commodity related stocks.
For the banking sector. the 3 highest cap stocks are DBS, OCBC, UOB.
1) Price/NAV : OCBC > UOB > DBS [Premium to business assets – lower better]
2) PE : DBS > OCBC > UOB [Premium to earnings – lower better]
3) Price/52 weeks low : DBS > UOB > OCBC [Extent of recovery from its low – lower better]
4) Price/52 weeks high : OCBC > DBS > UOB [Extent of correction from its high lower better]

Fundamentally, UOB looks to be a more valued play.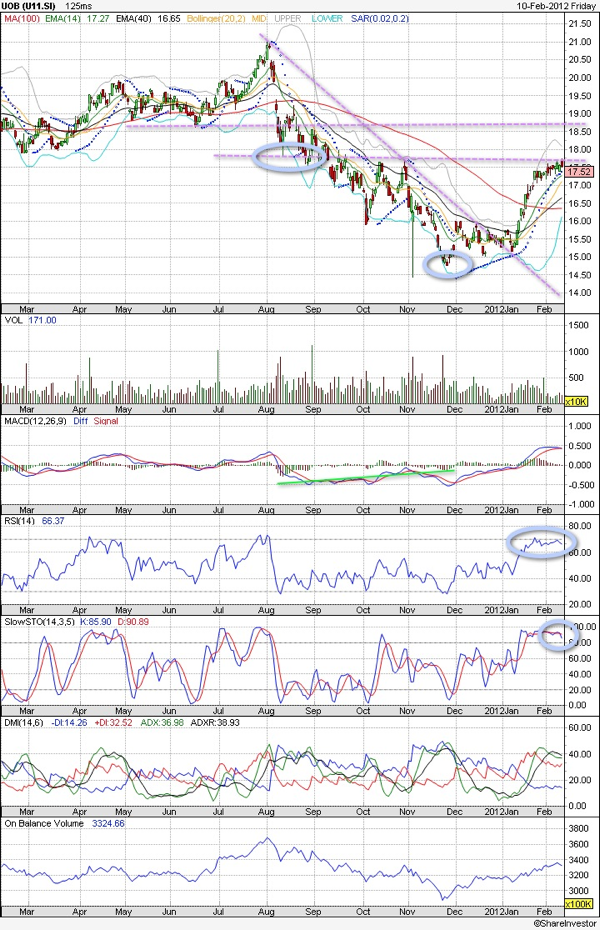 Bullish divergence was seen in UOB at Aug 2011 & Dec 2011. Prices were seen consolidating at current $17.6, of which, overbought levels are seen for all the indicators. The next significant resistance will be at $18.60 and short-term price pullback will be towards $16.6.
Read other related posts:
General disclaimer : The author has based this post on information obtained from sources which he believes to be reliable. He does not make any representation or warranty nor accept any responsibility or liability as to its accuracy, completeness or correctness. This post is not intended to be an offer, or the solicitation of any offer, to buy or sell the securities referred to herein.
Follow us on:



Share this article on: