In my last trip to Thailand (Bangkok), I was surprised to discover that the micro sim version of the pre-paid data card is not readily available at the Bangkok Airport. Added to the frustration is the lack of free wireless in the airport as the local regulations require all visitors to obtain login user ID & password by registering their details with key information counters within the departure or arrival areas.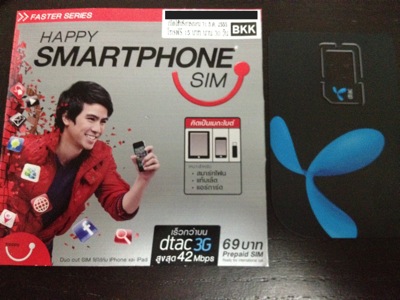 After much sourcing, I managed to find out that though the 24 hours 7-eleven stores along the street do sell pre-paid mobile data card, they are the regular sim versions. For the well connected Bangkok, I finally got my prepaid mobile data card from the DTAC telco outlet within Siam Paragon shopping mall which is within minutes walking distance from Siam BTS station.
DTAC 3G prepaid mobile card (Happy Smartphone Sim) costs THB 69 which can provide 3G internet surfing up to 42 Mbps speed. User can top it up in denomination of THB 50, 100, 200, 300. For me, a THB 100 top up, with free THB 15 for the first time) is good for 10 full days. This works out to be S$5.5 per day – not a bad deal.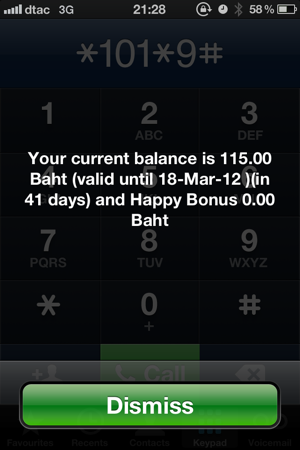 Basic operations for the DTAC 3G prepaid card is straightforward:
1) First time activation
– Insert sim card
– Turn on phone
– Await confirmation SMS
– Start using
2) Top up sim card
– Buy top up card from regular 7-Eleven stores
– Dial *100*[SERIAL NO]*9#
3) Check value balance
– Dial *101*9#
4) Get the phone number of prepaid card
– Dial *102*9#
Each prepaid card comes with a fixed local number 08-XXXX-XXXX which needs to be replaced with country code when you need an overseas caller to get through your mobile line – +668-XXXX-XXXX.
Read other related posts:
Follow us on:



Share this article on: