On August 18, 2011, HP announced that it would discontinue production of all webOS devices. This came as a major surprise for most market players considering HP recently launched the new HP TouchPad.
WebOS was introduced by Palm in January 2009 as the successor to Palm OS with Web 2.0 technologies, open architecture, and multitasking capabilities. It is only recently, in February 2011, HP announced several new webOS devices, with various versions of the operating system, including the HP Veer and HP Pre 3 smartphones, running webOS 2.2, and the HP TouchPad, a tablet computer released in July 2011 that runs webOS 3.0

The first webOS device was the original Palm Pre, released on Sprint in June 2009. In 2010, HP acquired Palm. During then, H.P. has agreed to pay $5.70 a share for Palm. The total value of the deal, which includes investments made by Elevation Partners, is $1.4 billion, although H.P. is paying about $1.2 billion after factoring in Palm's cash and debt.
After the acquisition announcement, investors pushed the Palm shares higher by 27 percent to $5.89 in after-hours trading. Shares of Palm had fallen from a 52-week high of $18.09 a share.
Back then, Palm has 452 patents and another 406 applications on file valued at approximately $1.4 billion.
One obvious rationale is the growing market share owned by the 3 main OS platform – Blackberry (RIM), iOS (Apple) and Android (Google) which HP naturally felt a strong uphill challenge to overcome. Added to the fact of diminishing yields of consumer electronics in the face of recent competitive pricing of iPad 2 and Honeycomb tablets.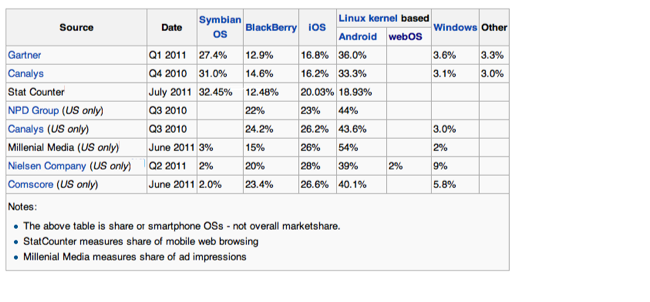 HP's exit is definitely welcomed by the existing giants but could be a dampener for IT enthusiasts like me out there who are anticipating more innovative products to further excite the mobile market. And already there are reported news of stock clearance for all existing inventories of HP Touchpad, way below costs. Well, will you still get one?
Written by Alan Soon
Read other related posts:
Follow us on:



Share this article on: