Among all the theme-based restaurants which we have visited in Resort World Sentosa, this is by far the most interesting and enjoyable one – Ocean Restaurant.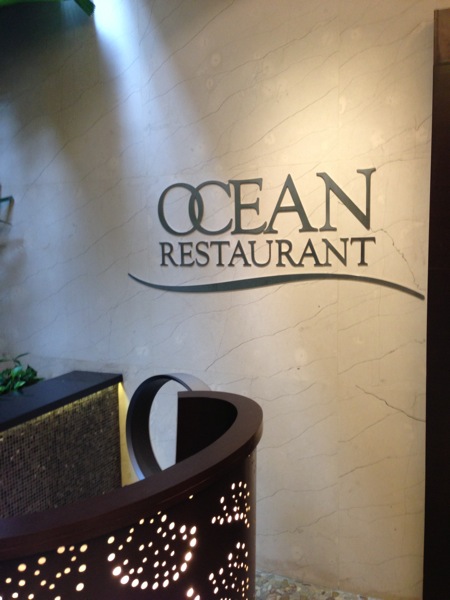 Clearly illustrated by its name, it is pretty straightforward to assume one can savor a good variety of seafood pieces. Except that one can also enjoy the splendid view of the ocean while dining underwater.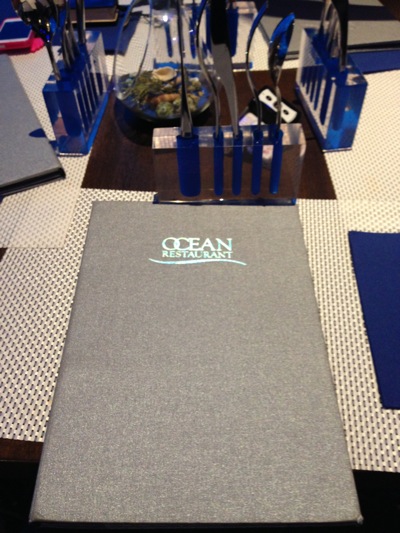 Ocean Restaurant is operated by Resorts World Sentosa in partnership with Cat Cora – the renowned Iron Chef and the only female celebrity chef in Singapore. She is also the first and only female Iron Chef in America.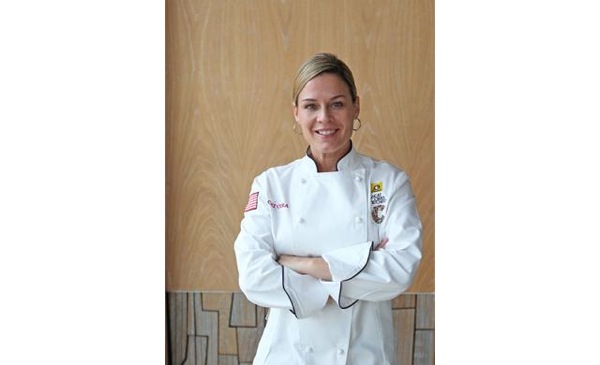 The restaurant holds approximately 18 tables for in-dining. It would definitely be wise to do advanced booking especially during peak seasons or weekends.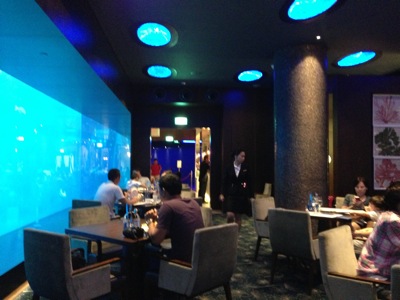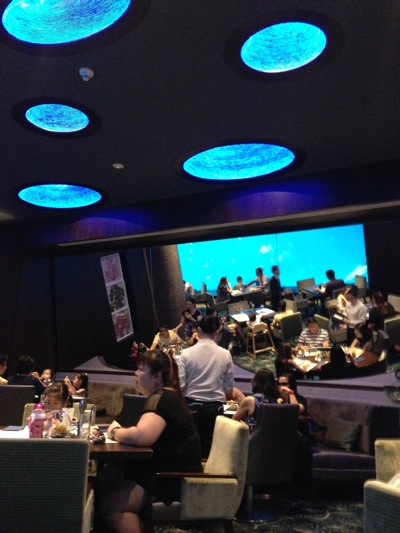 Me and my family were fortunate to have a table just next to the ocean viewing glass wall. We enjoyed the splendid view of fishes swimming leisurely past us while savoring the award winning dishes from Cat.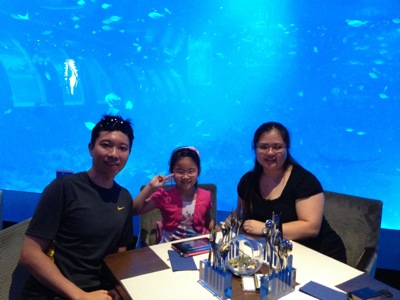 Though I must say, it was wierd munching on cooked fishes while the live ones were watching closely over us.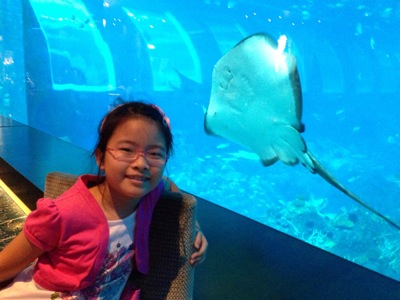 We ordered a few of their signature dishes and I must say we are very impressed with the taste and unique presentation of the dishes.
A) Sous Vide 48 degree King Salmon
Slab of excellent cooked salmon which instantly melts in the mouth.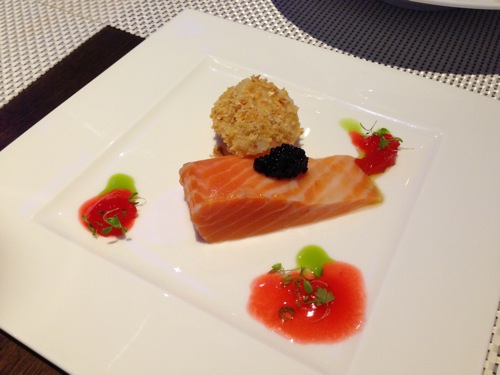 B) Locally farmed seabass
Just right texture to enjoy its sweetness, together with vegetables infused with soup stock.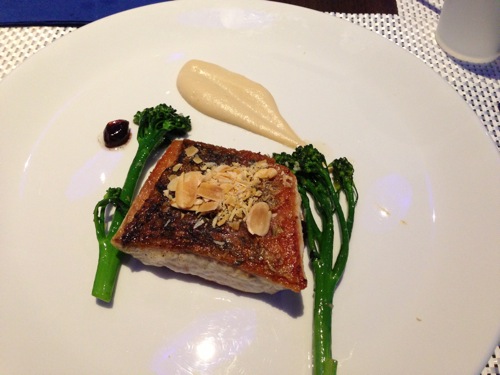 C) Ocean sashimi in bouillabaisse
D) Sauted black Oyster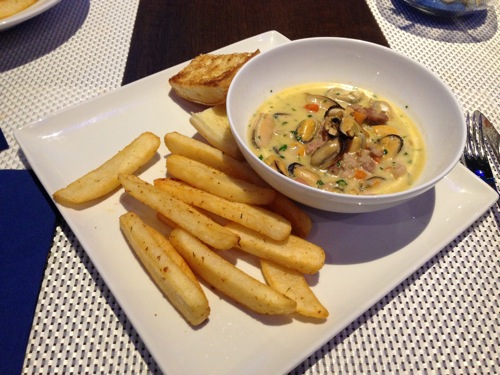 E) Desert – Almond and Chcolate Fondant tart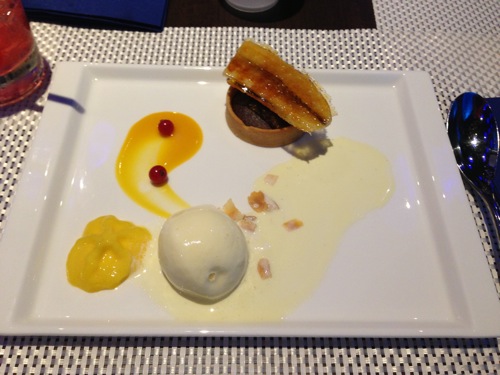 F) Desert – Raspberry and Yogurt Pearl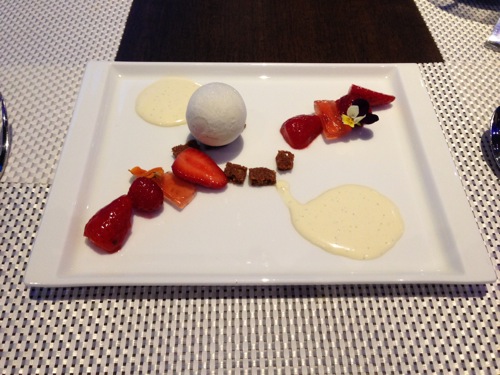 There are 2 ways to get to the Ocean Restaurant:
1. The main entrance at West Zone Carpark, B1M, near Equarius Hotel. Thereafter, you can still purchase the tickets to the SEA Aquarium if you wish to tour round after your meal.
OR
2. Within the SEA Aquarium towards the centre of the regular tour route. That said, it will be a long queue before you can head into the Aquarium during a peak day. However, RWSInvite members will get priority entrance.
Details for booking the Ocean Restaurant:
Daily Operating hours: 11am – 10.30pm(Last order 10pm)
Tel No: +65 6577 6869
Email: ocean@rwsentosa.com
The Southeast Asia Aquarium (S.E.A. Aquarium) is the largest in the world, housing 100, 000 marine animals from 800 species. There are 10 zones, according to the geographic locations where the animals are found.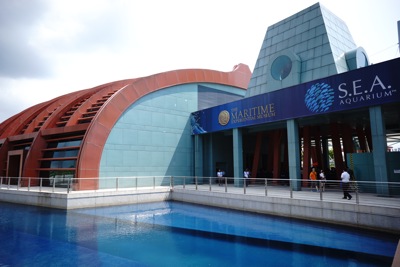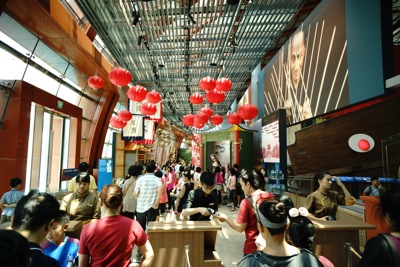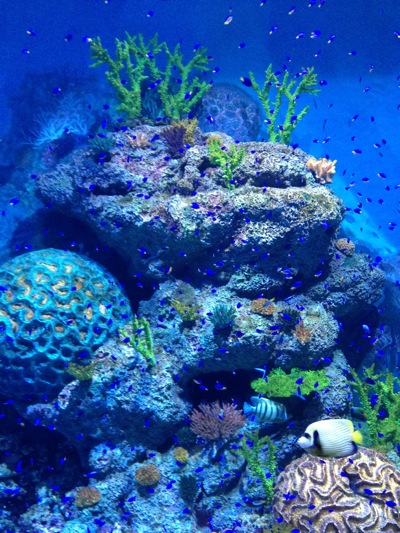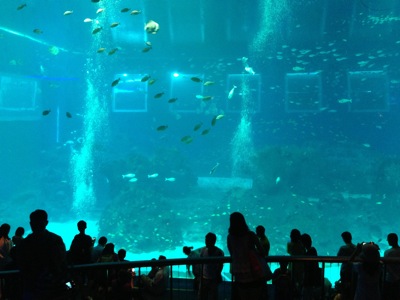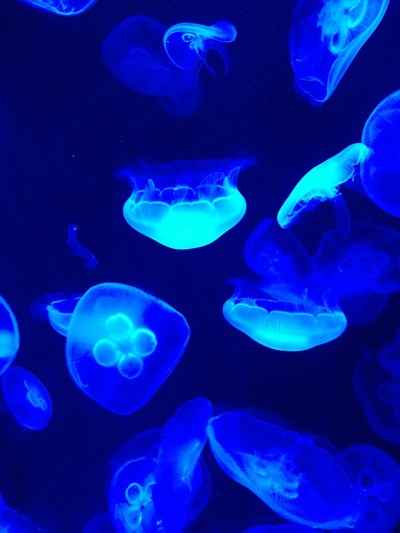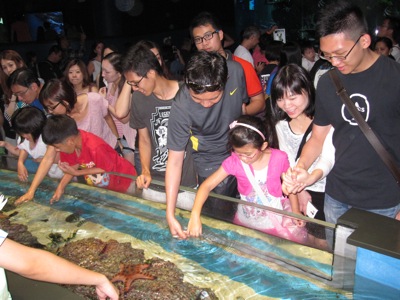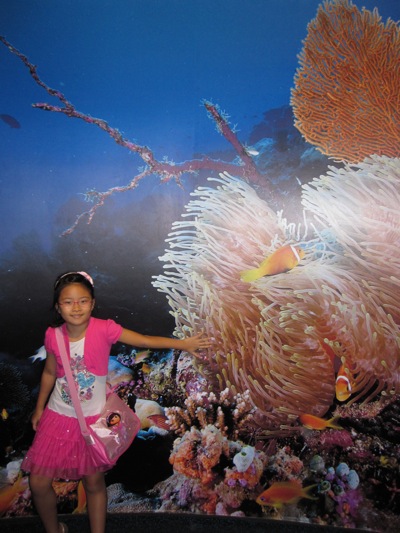 S.E.A. Aquarium (includes Maritime Museum) Ticket Prices
One-day pass : Adult $29; Child $20; Senior $20
Annual pass : Adult $88; Child $58; Senior $58
Read other related posts:
Follow us on:



Share this article on: