Although Microsoft has released their all new Windows 8 powered tablet back in Q4 2012, the stocks were quite limited in availability within US & Europe. It is only recently I have managed to laid my hands on the new Microsoft Surface Pro loaded with Windows 8 Professional OS.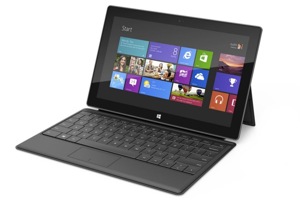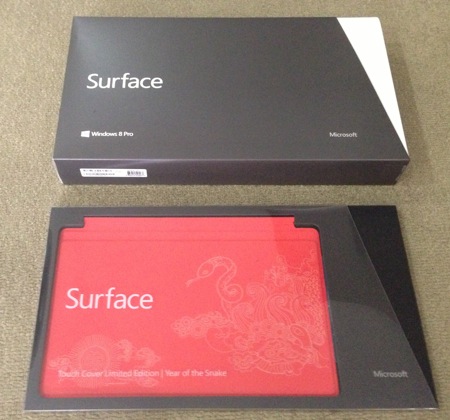 I even got a nice red limited edition Touch keyboard cover to go with the main set. Packaging is quite decent and simple.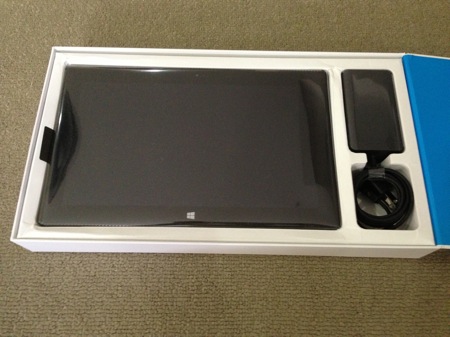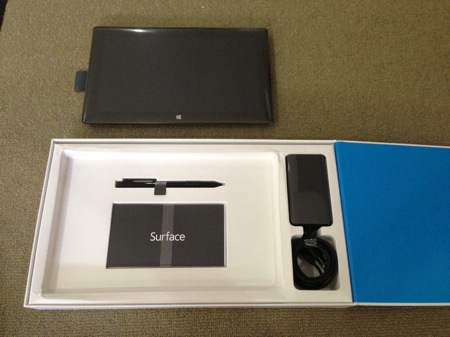 It comes with the power kit and the accompanying stylus. Similar to approach by the Amazon, Google & Apple, it does not load in tons of user guide and it assumes that the Surface is pretty user friendly enough for the average individual.
I have decided to go straight for the Windows Pro Surface purely on the assumption that Windows usually requires fairly decent specifications to perform optimally. The other key reason is that Windows 8 will promise compatibility with all existing and past regular desktop softwares. Having an i5 processor and Intel HD 4000 GPU (+HD screen panel) definitely puts this tablet as a worth desktop replacement. The compromise for the added performance is the overall increase in thickness & weight for the Surface Pro.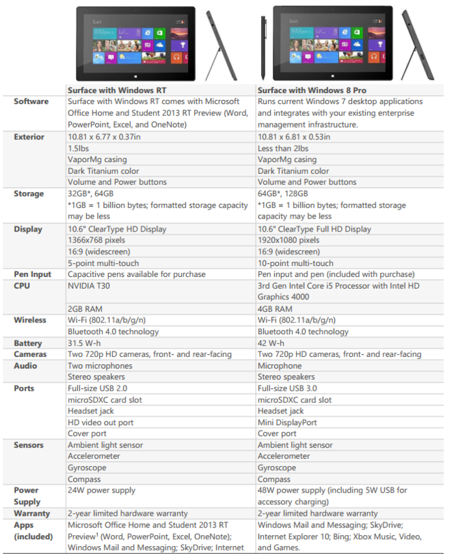 Below are some photos taken to illustrate the various perspectives of the Microsoft Surface (against my current Macbook Air & Apple iPad Mini):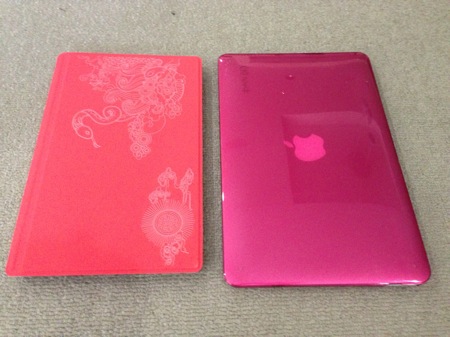 Though the Microsoft Surface Pro is slightly smaller than Macbook Air, it is slightly thicker.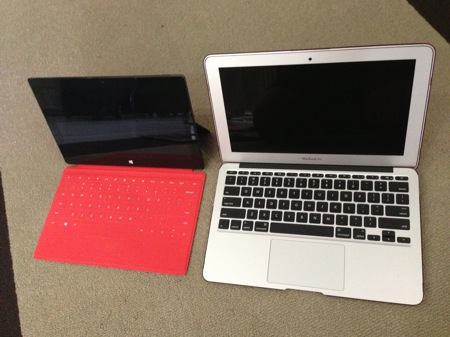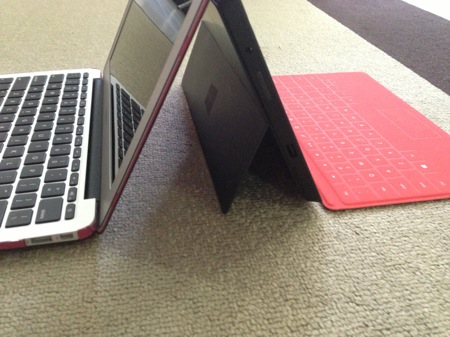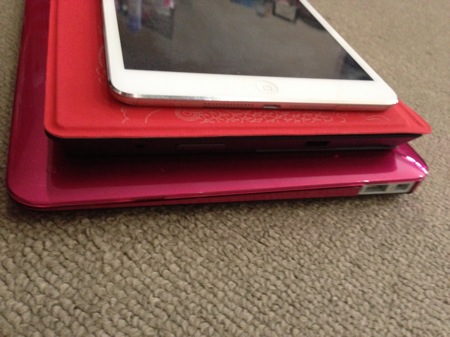 Under the Windows 8 environment, one can easily toggle between the new Metro desktop or the Classic Windows desktop.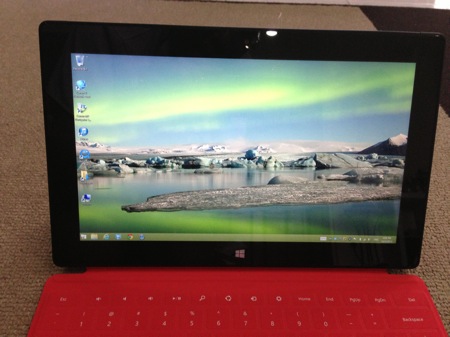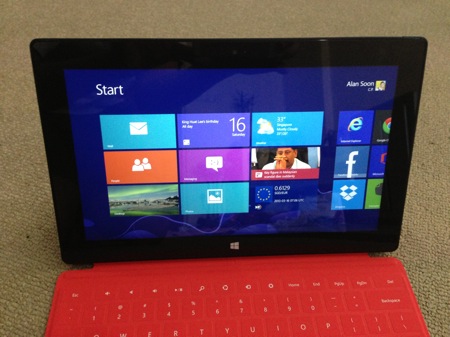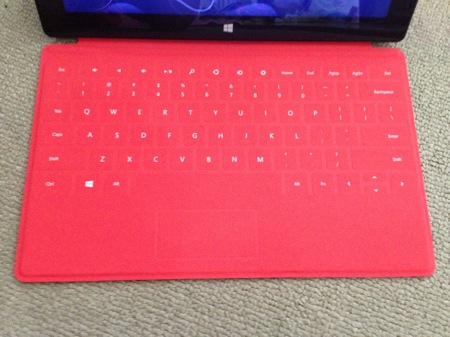 Having the chance to seriously use the Microsoft Surface Pro for more than a week, my personal assessment is that Microsoft still has a mile before she can convince the consumer of a winning case in the tablet space.
The Surface is too heavy and thick to compete directly with the Samsung's Note series nor the Apple's iPads. With an i5 processor and still a heavy Windows Pro OS, battery life is still a constrain for a typical mobility. The Surface RT has too weak a specification to ensure decent user experience.
However, the Surface Pro still has an edge to be a decent desktop replacement with mobility. This places it a good contender with the ultra laptops or the Macbook Air.
Still, it does comes with a package of both good & not so desirable points.
Pros
– Touch is responsive
– Decent battery life (~ 5hrs)
– Touch keyboard is of a good built and attaches very securely to the Surface body.
– Sufficient ports for needed connectivity (e.g. x1 USB 3.0 port, display port video out for presentation
– Wake up in ~1-2 seconds
– Brilliant HD screen panel for browsing & video replays
– All existing desktop Windows apps works well (esp Microsoft Office)
– Able to login to work domains (comply with network security compliance requirements) 
Cons
– Limited apps from the Microsoft Store (to operate in Windows 8 Metro mode)
– Inter operability between Metro & Classic  mode can be quite confusing for new comers or hard core users in previous desktop Windows editions
– May not be pleasant for extended mobility due to its weight. It is definitely not suitable for one hand operation (like a regular tablet)
– On screen keyboard UI needs to be improved (size)
In short, the Microsoft Surface Pro is still a good consideration if you are keen to use it more for business mobility rather than for leisure.
Read other related posts:
Follow us on:



Share this article on: