Hai Di Lao Hot Pot (海底捞火锅) is a highly popular restaurant chain in China, with origins in Sichuan province, established since 1994. After 19 years and numerous outlets, it ventured out of Mainland China to setup the first overseas branch in Singapore in 2013. Clarke Quay is their anchor branch which is not a surprise since having a hotpot after night activities in the same area is such a match.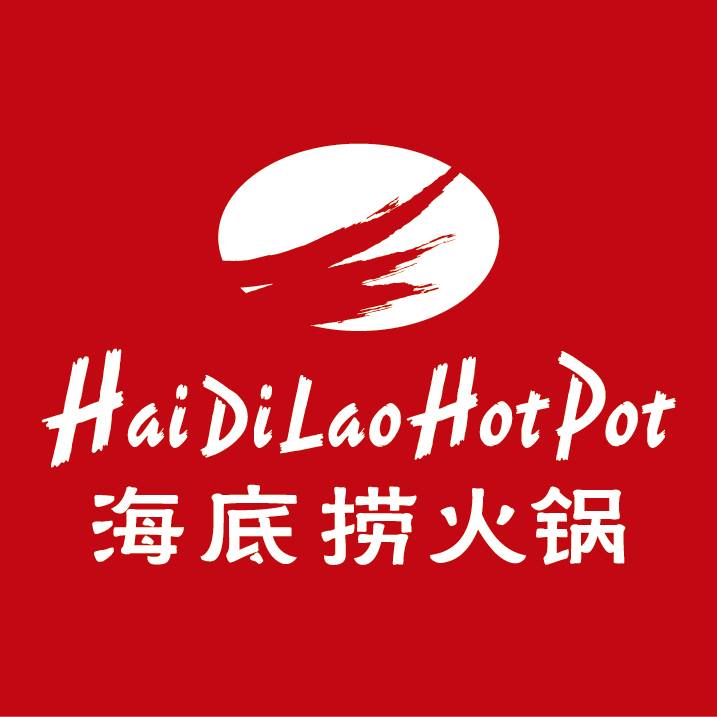 We had some initial difficulty in finding the Clark Quay outlet since it is located at level two and only accessible by a lift. It is not unusual to be faced with a huge waiting crowd once you enter their level 2 entrance. The customers are seen holding their queue number in the designated waiting area.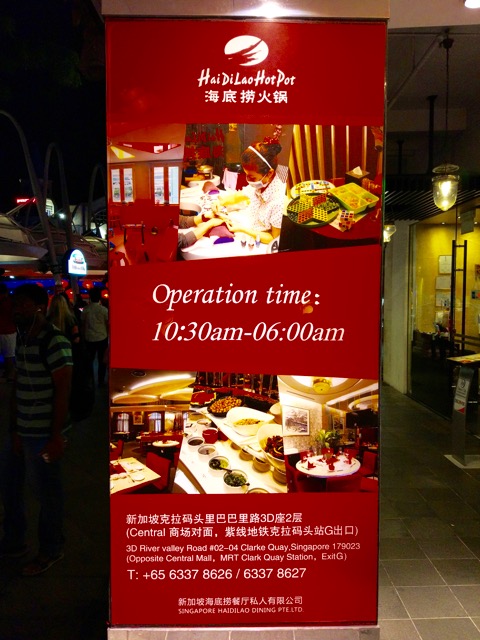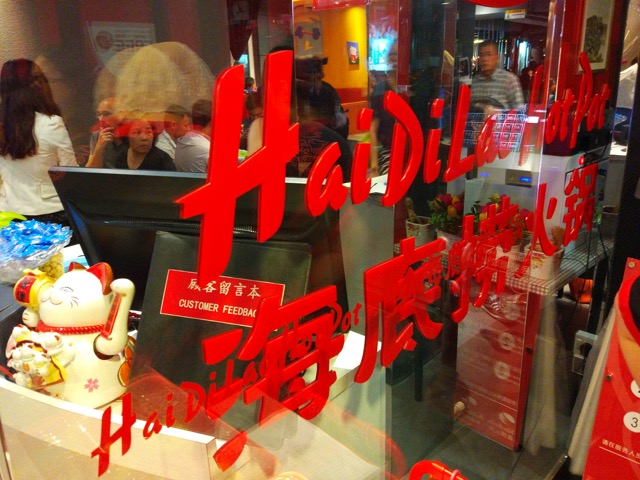 Fortunately, there is a whole slew of free activities to keep those waiting customers occupied. Above the standard of providing beverages to queuing customers, Hai Di Lao went on further to provide manicure service, refreshments such as fruits, chips, popcorn and tea, to boardgames, crane-folding challenge and even a entertainment area for the kids. All these, beautifully, are free of charge.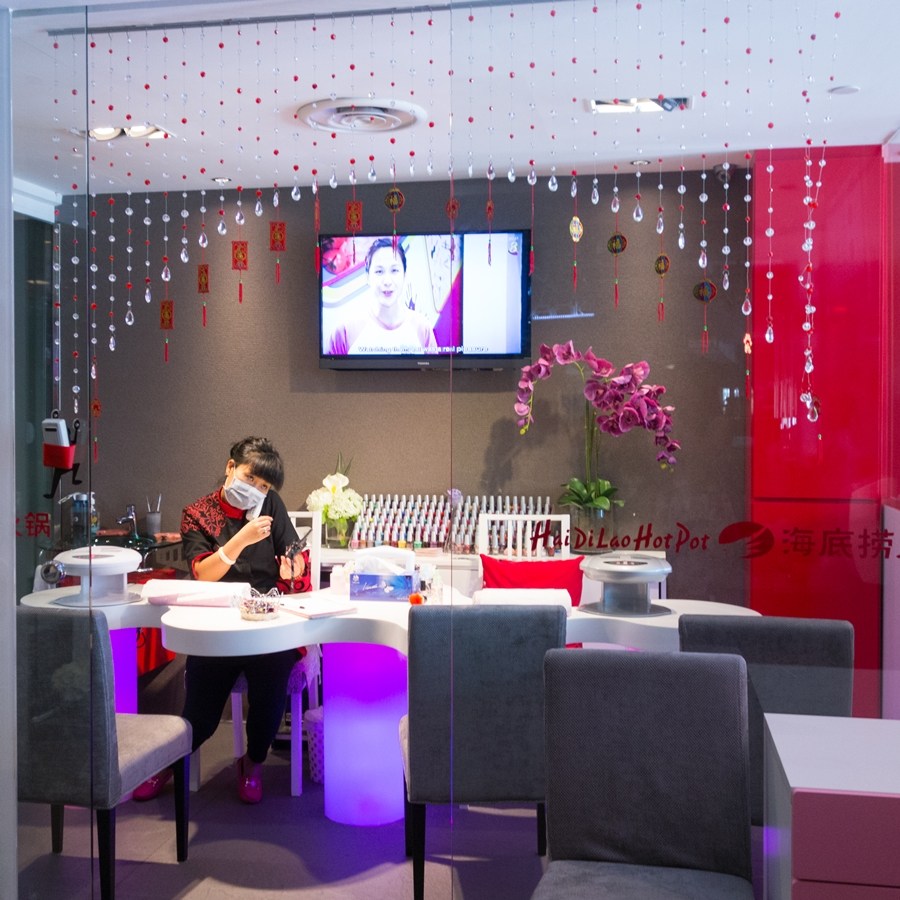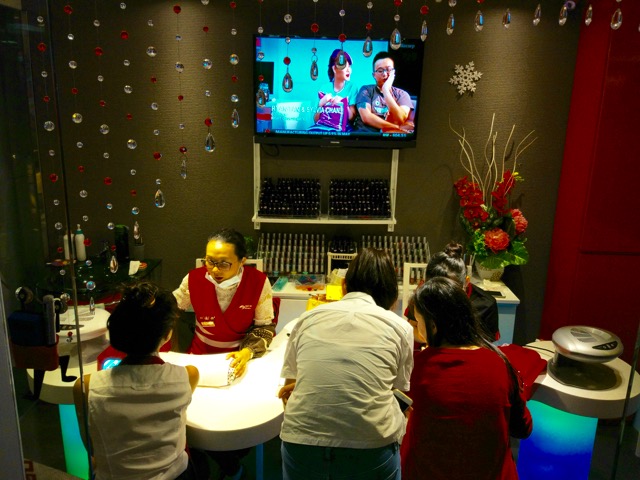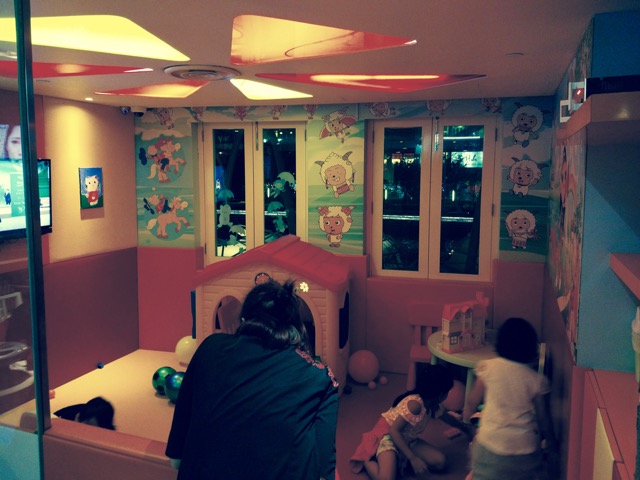 Entering the restaurant table areas, one can see numerous rows to receive customers in various group combinations. There is even special function rooms to hold special gathering events.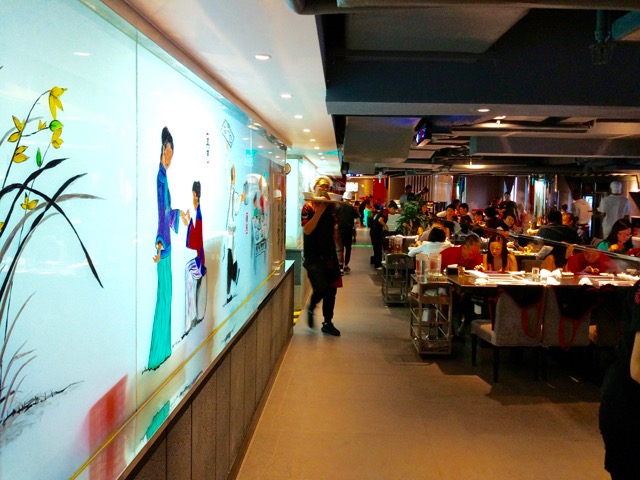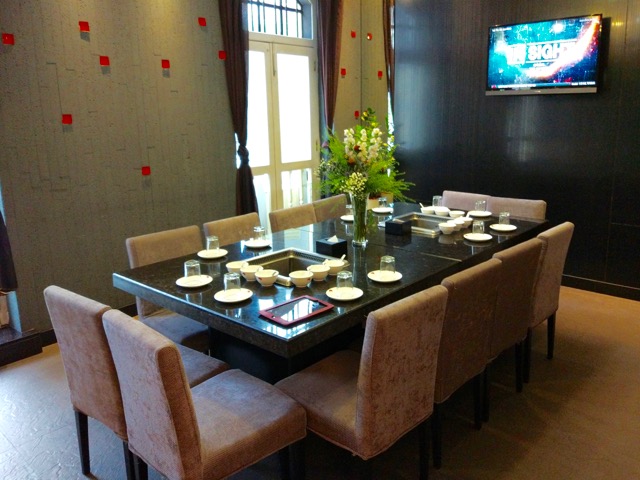 Once we are sitted on the table, we are provided with lens tissue to wipe specs. Aprons are also provided to prevent our clothes from getting splash stains from the steamboat. Ziploc bags are provided to protect our mobile phones. One can also request for hair tie to tie up their beautiful long hair away from the perils of out boiling soup.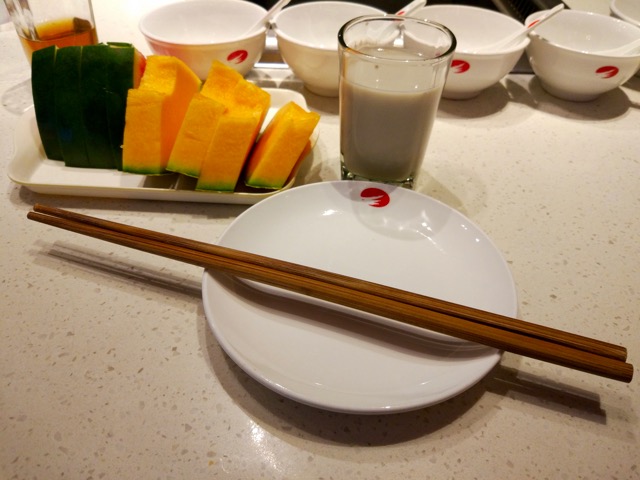 Before the start of the meal and order taking, we were provided with a drink of our choice.
Orders can be made through the iPad or through those every ready waitresses.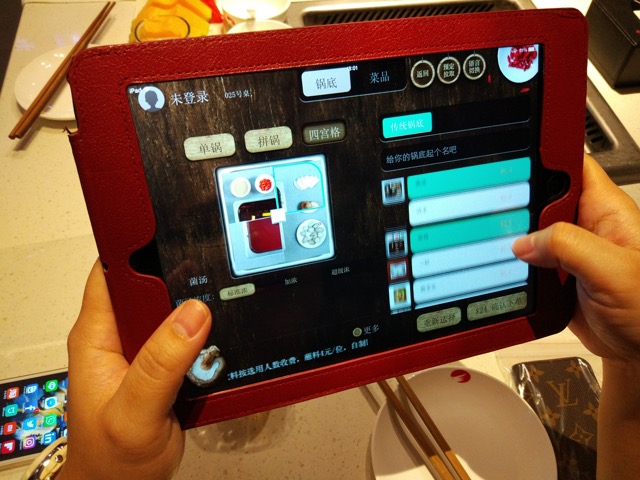 There are a total of seven savory soup options including the popular yuan-yang double flavor. We went for the four flavours in a pot.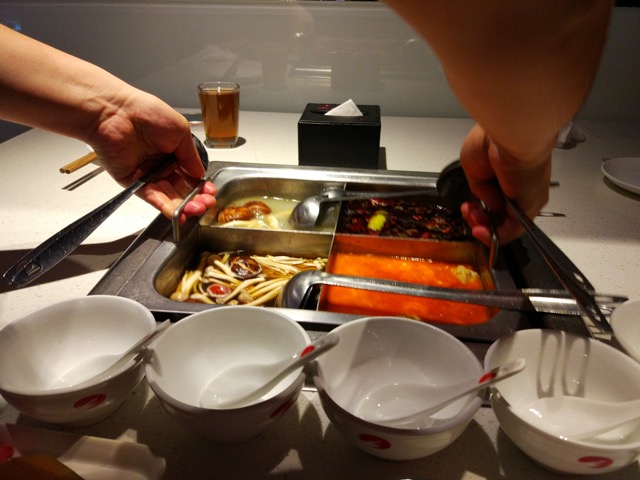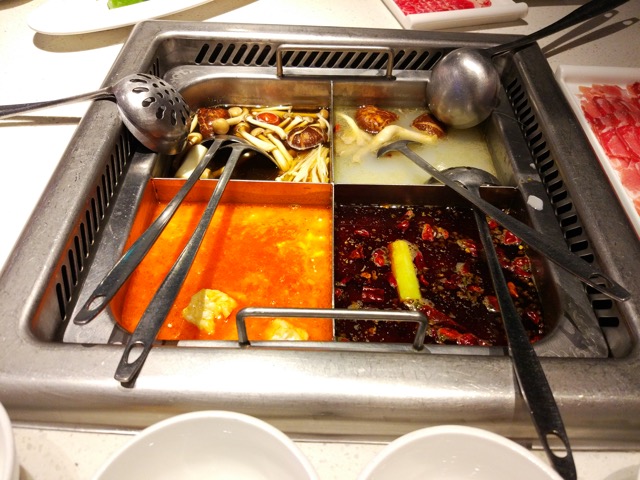 The ingredient list is very extensive with a good variety of meats, vegetables, seafood and noodles to dunk into the boiling broth for a satisfying meal.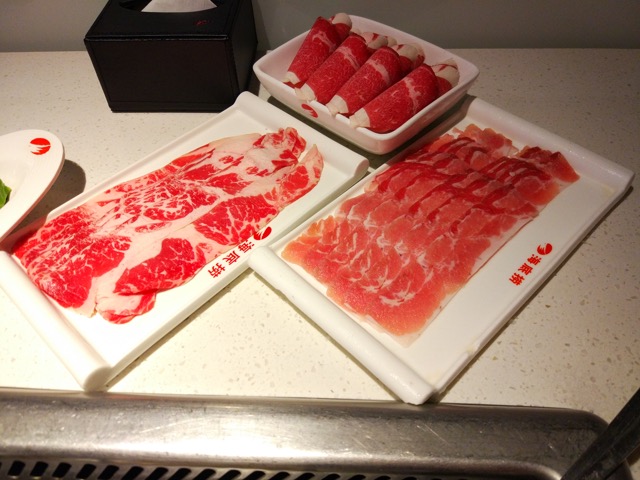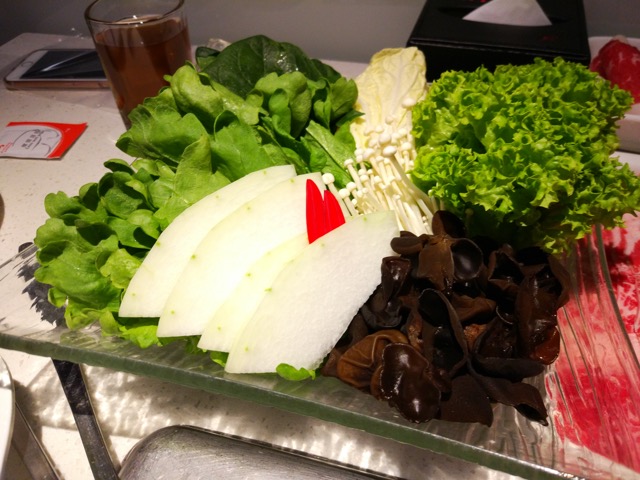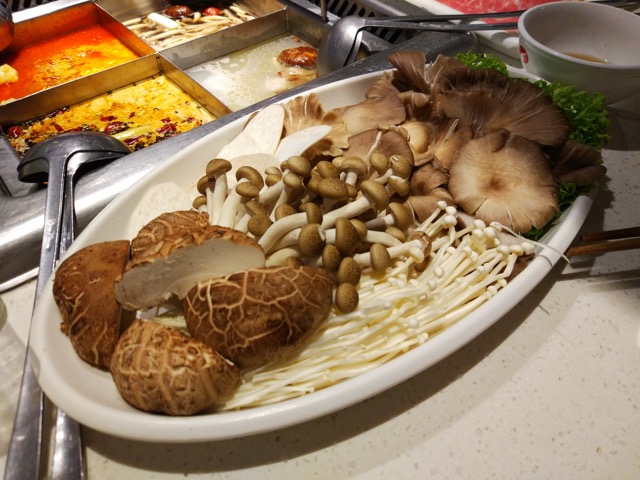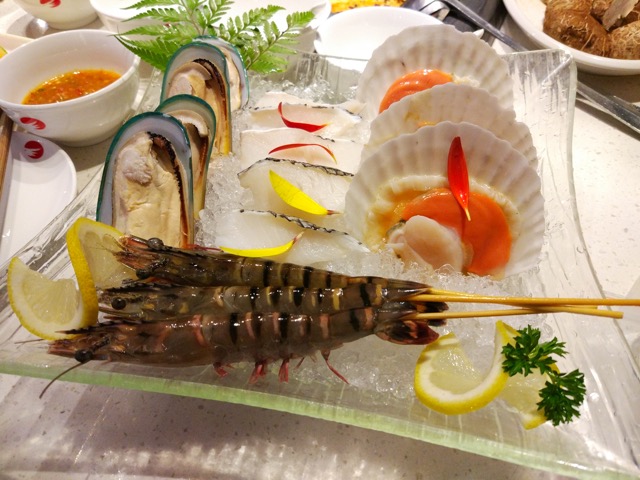 Our glasses of water, herbal tea and black soya milk were topped up regularly. While waiting for the soup to be heated up, one can head to the condiments section to mix your own sauces and have some appetizers. There are a variety of sauces to choose from and you can pick the best one that suit your preference. Apart from the thirty kinds of sauces, there were also free flow of fruits like water melon and honey dew and the Lao Ban Style Bean Curd Dessert.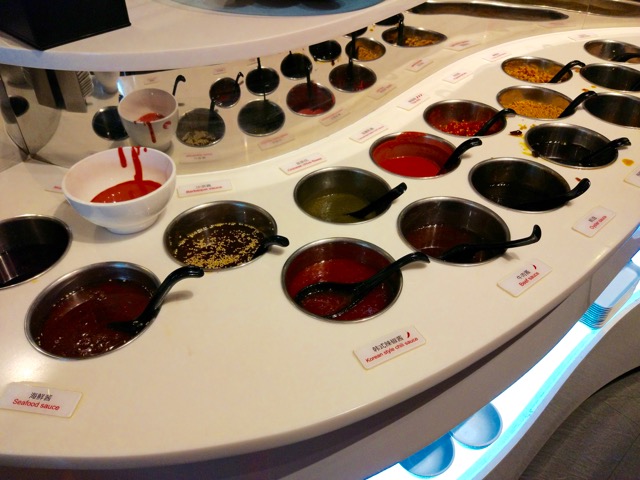 Service was extremely efficient and the ingredients were brought to our table in no time. The dishes were also presented beautifully more importantly, they were all very fresh.
Handmade Noodles which was made right before our eyes. The noodle master came up to our table and started performing his 'noodle dance' much like a smooth gymnastic ribbon routine, flowing with grace as he stretched and twirled the dough into noodles.
In summary, the steamboat price is pricy compared to regular steamboat. For our meal, it costed approximately S$40-50 per adult pax. But the price is well worth considering the excellent customer service and good quality of the food. Perhaps the only slight complain for most is the waiting time (~1-1.5hours), but heck, there will always be good long queue for good food.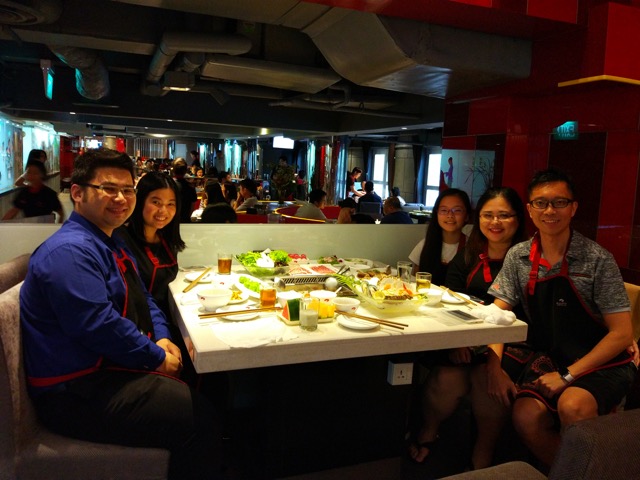 Overall Rating (1 – lowest/worst, 5 – highest/very good):
a. Location : 4 (Located at Clark Quay, easily accessible by train or taxi)
b. Food : 4 (Nice presentation and fresh. Ample variety)
c. Service : 4 (Excellent service from the staff, the only complain is the long waiting time)
d. Ambience & Setup : 5 (Nice ambience and classy interior setup. A view out into the brilliant Clark Quay during the night will be excellent)
e. Price : 3 (Pricy when compared to other restaurant steamboat or hot pot)
Branch Locations:
1. 313 Somerset
#04-23/24
313 Orchard Road
Singapore 238895
Tel: +65 6835 7227 | 6835 7337
Opening Hours: Daily 10:00AM – 3:00AM
2. Clark Quay
3D River Valley Road
#02-02 Clarke Quay
Singapore 179023
Tel: +65 6337 8626 | 6337 8627
Opening Hours: Daily 10:30AM – 3:00AM
Website: http://www.haidilao.com/sg/index.html
Facebook: https://www.facebook.com/HaiDiLaoHotPot
Read other related posts:
Follow us on:



Share this article on: