A couple of weeks, Philips has been very aggressive in promoting their new product – Philips AirFryer in major shopping malls. Initially, I view those on-site demo with some skepticism. It's only last weekend, I have managed to get myself the black model of Philips Airfryer HD9220 to give a good try.
The first look at it, it reminded me of the traditional heater-fan device which my mum & my grandparents used before in the past to roast chicken enclosed in a big pot. Conceptually, it makes use of the same theory of heated air to cook the food. However, this Philips Airfryer HD9220 has several key benefits:
a) Airfryer's patented Rapid Air technology enables you to fry the tastiest crispy fries that contain up to 80% less fat than a conventional fryer,
b) Food separator to fry different dishes at the same time,
c) It's fully adjustable temperature control allows you to pre-set the best cooking temperature for your food up to 200 degrees,
d) The integrated air filter prevents unwanted cooking smells and vapours and keeps your kitchen fresh and clean,
e) Removable drawer and food basket feature a non-stick coating and are dishwasher safe for easy cleaning.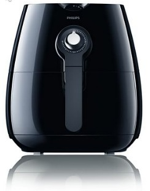 I have decided for the black model as it is much easier to clean and maintain. As the stock is pretty limited, most of the malls are out of stocks for the black Philips Airfryer HD9220.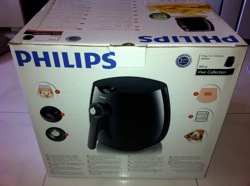 Unpacking the Philips Airfryer HD9220 is very straightforward. It does comes with a well-illustrated cook book, full of recipes to test & try on your new Philips Airfryer HD9220.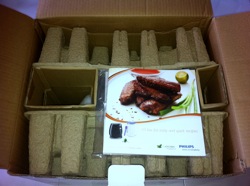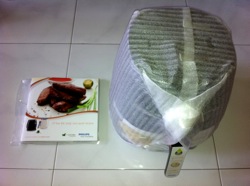 The removable parts are only those depicted in below picture. Both the tray and the base holder needs to be cleanse after each cooking. As you can see the base holder is not flat & even but consist of several grooves. They are created to facilitate the hot air aerodynamics to even out the hot air circulations.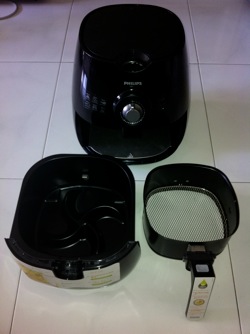 Within the top enclosure lies the heated coil and a variable speed fan to circulate the air through the heated coil when its in operation.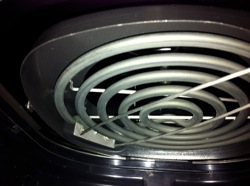 The other important observation is when the Philips Airfryer HD9220 is in operation, apart from the hot vent outlet, the rest of the body has very negligible heat emission. Thus its very safe to operate near other devices or kids. I have also tried to AirFry frozen spring rolls and nuggets and they came out crispy & nice! (very close to frying them in cooking oil). For a launch price of S$345, Philips Airfryer HD9220 is definitely worth a long way to have easy, quick and healthy cooking.
Read other related posts:
Follow us on:



Share this article on: