Finally, the new iMacs have arrived in town. It is such a craze here in Singapore where Apple launched 3 new products in one single week duration – iPhone 4 white, iPad 2 and now iMac.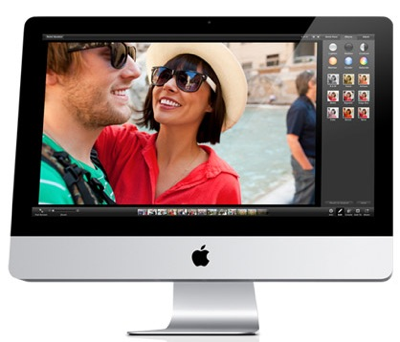 So, what is the key differences between the current new iMac vs the last release in July 2010?
A) Form Factor
Now it comes in 2 screen size – 27″ and 21.5″. Similar to the older builts, though we have more alternative in the past – 20″ & 24″
B) Processor / CPU

As with any product refreshes, the obvious improvement is the use of higher speed processors.The new iMacs uses a series (sorted from entry level to advanced models):- 2.5GHz Quad-Core Intel Core i5 (for 21.5″ only)- 2.7GHz Quad-Core Intel Core i5 – 2.8GHz Quad-Core Intel Core i5 – 3.1GHz Quad-Core Intel Core i5 (for 27″ only)- 3.4GHz Quad-Core Intel Core i7 (for 27″ only)
This is a huge improvement against the dual core i3 to quad core i5 (first generation) used in earlier built.
C) Memory
The new iMacs will support the fastest memory speed of 1333MHz. Like the older series, it can support up to a max of 16Gb DDR3 1333MHz SDRAM.
D) Graphics Card / GPU


With the greatly improved dedicated graphics card for the top end iMac which uses AMD Radeon HD 6970M supporting a max of 2GB GDDR5 memory, it does promises graphics performance of up to 3x faster. Aganist the older series which uses ATI Radeon HD 5670 graphics with up to 1GB memory, it is no brainer to expected much smoother rendering and HD displays.The new IMac comes with a FaceTime HD camera and it also simultaneously supports full native resolution on the built-in display and up to a 30-inch display (2560×1600 pixels) on an external display. This cannot be achieved in the older series.
E) Storage / HDD
Compared to the older series, the new iMac can be customised to include a regular 2TB SATA harddisk and a 256GB SSD (Solid State Drive). The Mac OSX and the standard Mac applications will be installed in the SSD while you can load all 3rd party applications in the regular 2TB HDD (7200rpm). One can expected that the booting time will be much faster than Macbook Air and will be as swift as matter of 10-15s.
F) Other differences


The exciting features in all the upcoming Mac refreshes including this new iMac is the Thunderbolt I/O.There will be x1 Thunderbolt port in 21.5-inch iMac and x2 Thunderbolt ports in 27-inch iMac.
The Thunderbolt port features two 10-Gbps data channels for data transfer that°Øs up to 12 times faster than FireWire 800 and up to 20 times faster than USB 2.0. And it offers unprecedented expansion capabilities for a new generation of high-performance peripherals.
G) LED backlighting

The more pixels a display has, the more light those pixels need to achieve the best picture possible. And that's exactly what the LED backlighting in iMac does: It pushes light through each pixel with remarkable brightness and efficiency. Because the LED backlight doesn't take up much space, the iMac enclosure stays thin even with all the high-performance components inside. Personally, after my experience with the older iMac 27″, I have yet seen another PC Monitor which is able to replicate the great clarity, brightness & contrast which iMac is able to achieve.
The new iMacs are now available in Apple online stores from the entry model of S$1648 to the most customised top end model of $5011. Will you make your choice & switch?
* Pictures are extracted from Apple Online Store, Singapore.
Read other related posts:
Follow us on:



Share this article on: