Doing regular household chores such as vacuuming the entire home has become one of the least enjoyable but yet necessary weekly routine for most working professionals. The trick is to utilise technology to be more effective and time saving to perform the same tasks.
Kasher has just launched their new series of steam vacuum cleaners such as this Karcher SV7 Steam Vacuum Cleaner which is an update to the earlier version (SV 1920). As its name suggests, this is one power workhorse which allows both steaming cleaning and vacuum cleaning at the same time.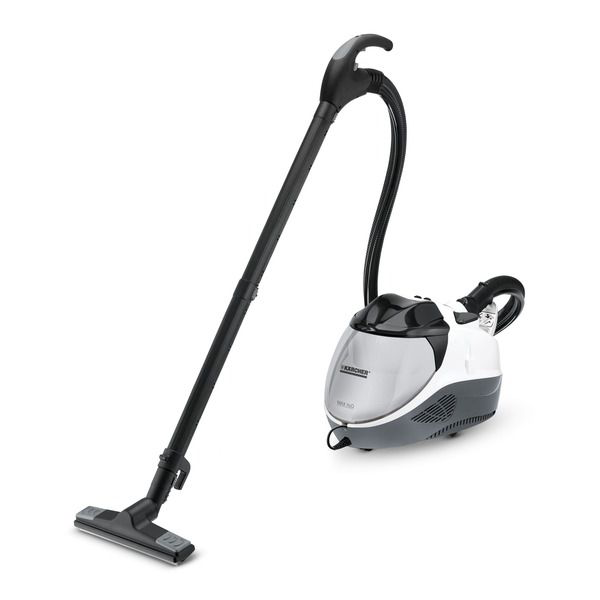 Benefits of Steam Cleaning
Steam cleaning is not new in the market. Pressured thick jets of steam at the cleaning nozzle along with the usual air suction device is deployed to clean surfaces like hard floors and carpets.
A heat of 120 degrees is produced when the steam is used in the cleaner. At this temperature, the steam can easily kill almost 99% of commonly found household germs and dust mites. The steam even sanitises the debris sucked up by the vacuums. The carpets, floors and other surfaces which are vacuumed by steam cleaner are disinfected and cleansed of germs as well, leaving them absolutely germ free and healthy to use.
The steam which cleanses surfaces is also hot enough to wipe out ants, mites, fleas and other pests usually found in the houses. This is one of the main reasons steam vacuum cleaners are becoming increasingly popular because a conventional vacuums cannot do such jobs. A steam cleaner first kills them with jets of high temperature steam jets then sucks up their corpses leaving your carpets and floors totally free of harmful insects and germs.
Another benefit of these cleaners is that the superheated waters they employ in their cleaning softens those hard-to-wash, stubborn stains on floors and carpets.
Since these cleaners use only steam and heat in vacuuming, one do not need to buy hazardous chemicals which you will need to for conventional vacuum cleaner.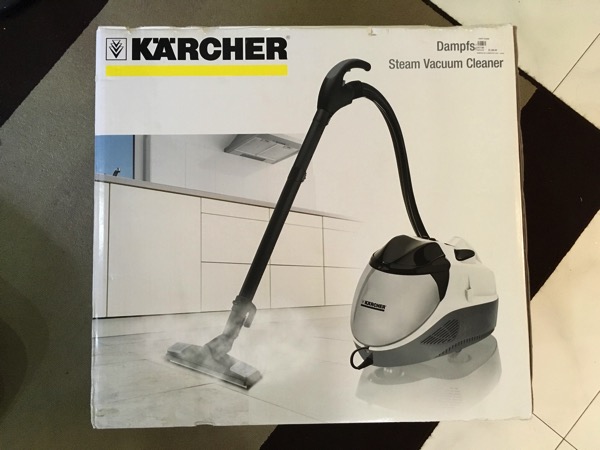 Beware of huge packaging which is not at all light. It includes the main vacuum unit, an accompanying box of standard accessories and one thick user manual.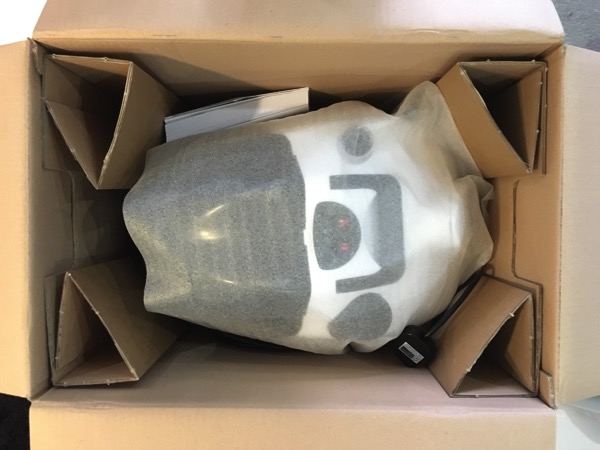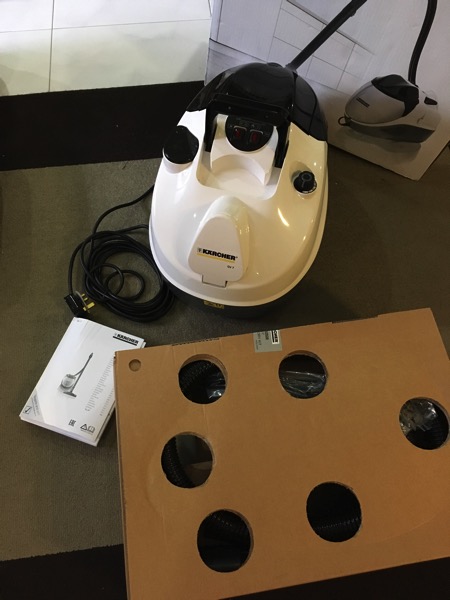 The design bears a very close resemblance to OSIM iEcology which has phased out for a couple of years back. It was also known that Karcher was previously providing similar product for OSIM to market to the consumer market.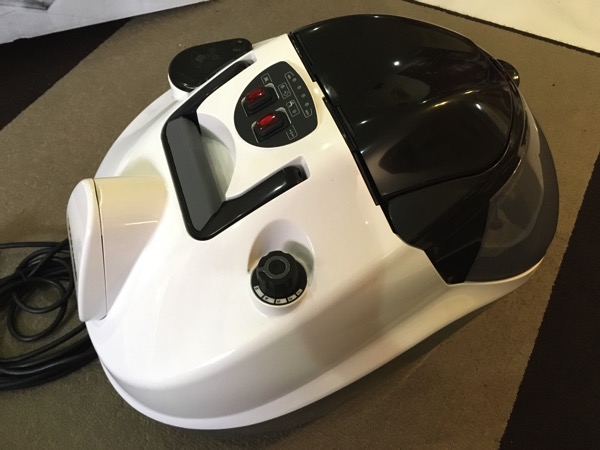 The design of SV7 has not changed much from their earlier versions – simple and functional. The top comprises of a knob to control the pressure of the hot steam and an inlet to the heating tank which produces the steam used during the vacuuming process.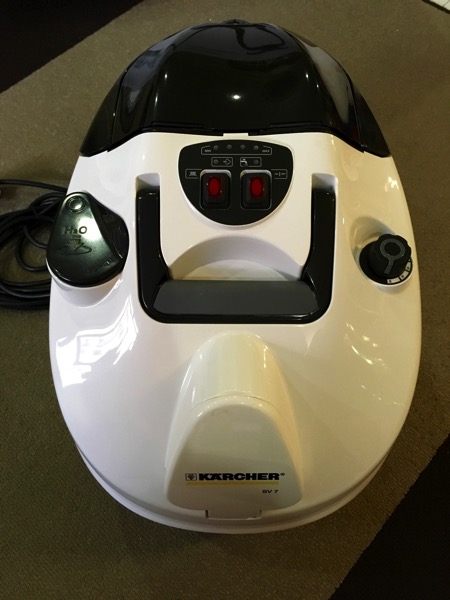 With separate switches on the control panel, one can choose to operate the vacuum cleaner with or without the steam cleaning function. There are 4 strength settings to choose for the vacuuming function.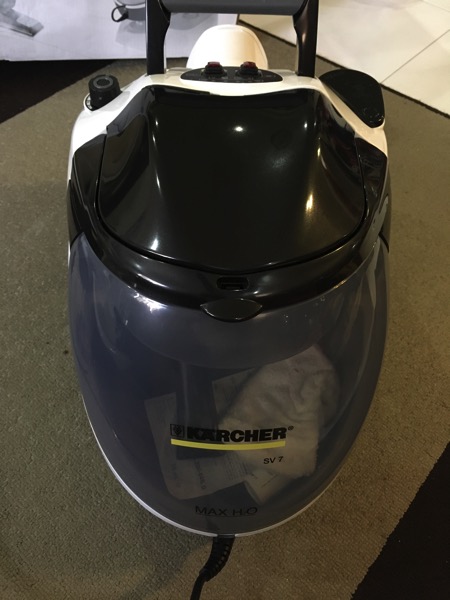 The water tank to store the vacuum debris and dirt can be dislodged from the main vacuum unit for cleaning after the whole vacuum process. No extra cleaning is needed elsewhere apart from this water tank before the set is stored for the next household vacuuming.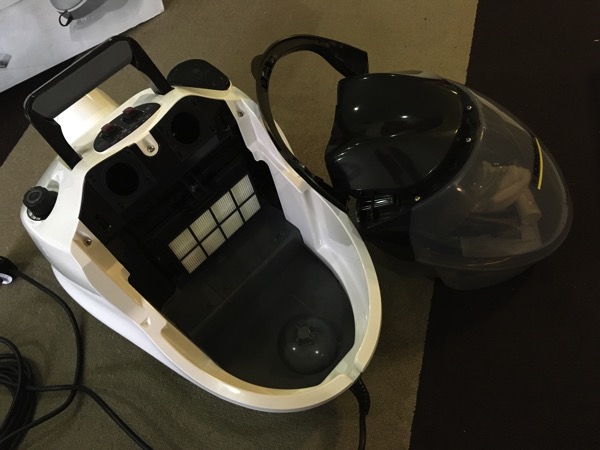 One full top up of the water allows steam vacuuming for at least 4 rooms, which is pretty remarkable. This could be due to the fact that the steam is released through those small nozzles at high pressure thus it has quite an efficient usage of water to produce the steam use during the cleaning.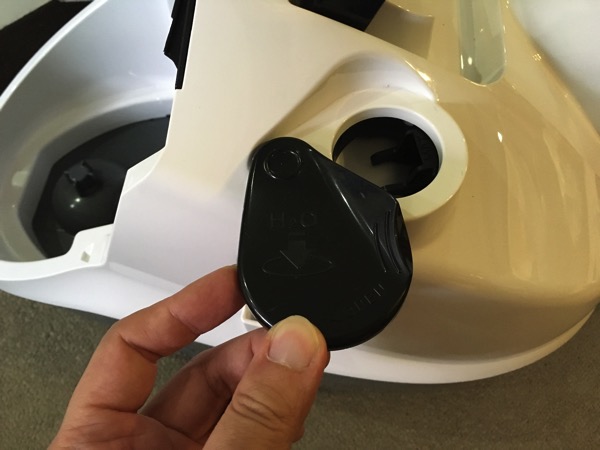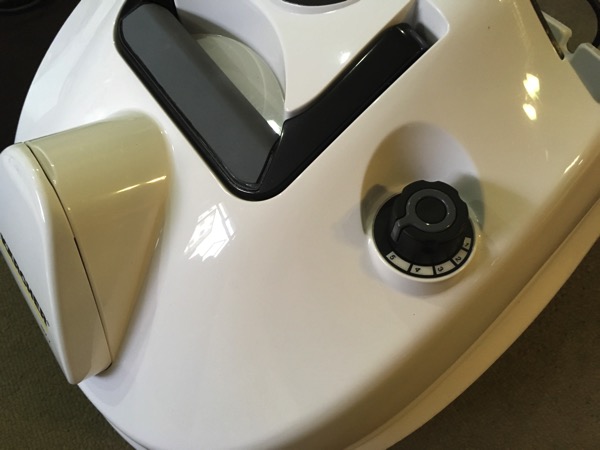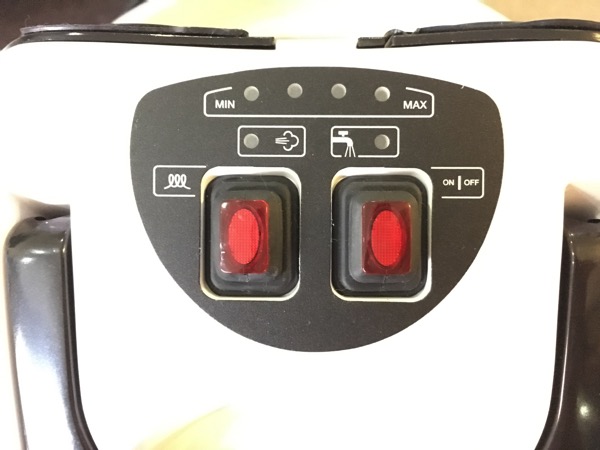 At the front of the main unit lies the inlet for the vacuum pipes. One good safety feature is the vacuum function will be stopped whenever the connecting pipes are dislodged from this inlet especially during situations when one is dragging the vacuum along tight corners or heavily carpeted areas using the vacuum pipes.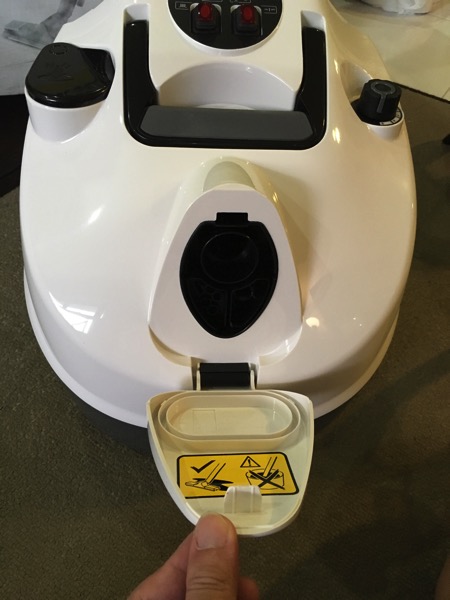 The hepa filter helps to keep the exhaust air clean during the vacuum process. It is advisable to change this once every 6 months.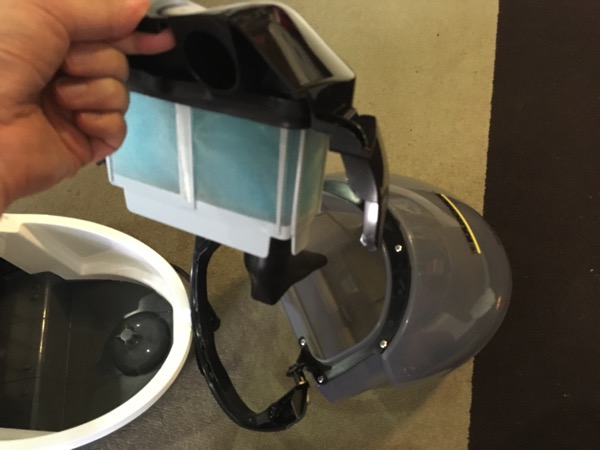 There are quite aplenty of accessories included in the standard kit. These allow the SV7 to be used throughout the whole house – from stubborn grease stains in the kitchen and moody tiles in the bathroom, to the upholstery in the living room and mattresses and bedding in the bedroom. The result is a clean and safe home environment without the use of harmful chemical cleaning agents that may trigger skin allergies.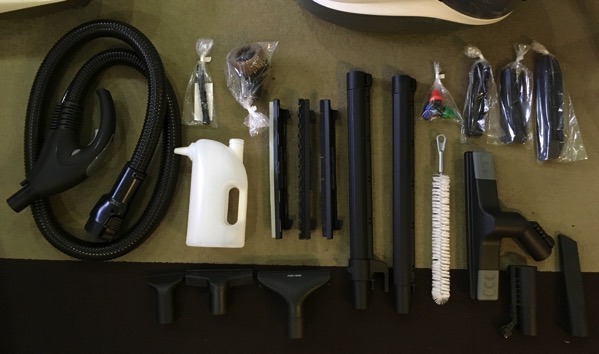 The beauty of all these is each of these spare parts can be replaced whenever they are worn off through prolonged usage.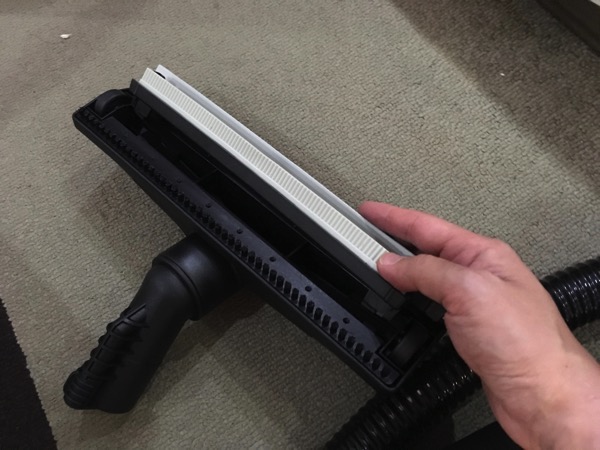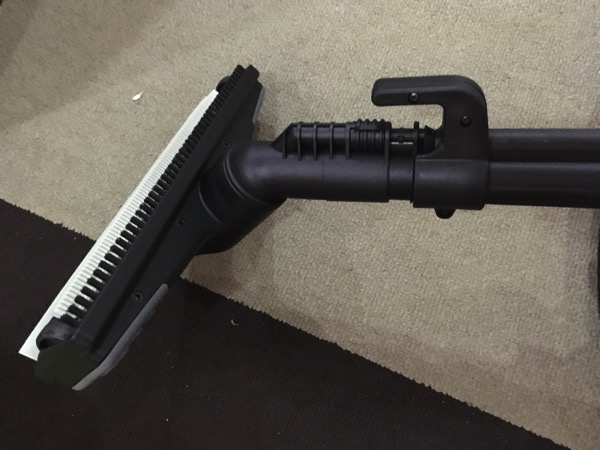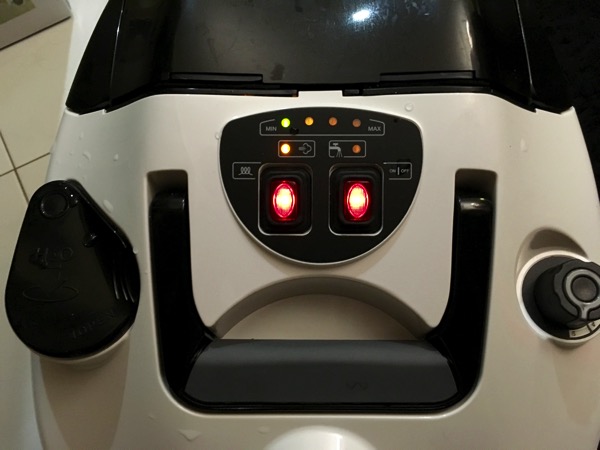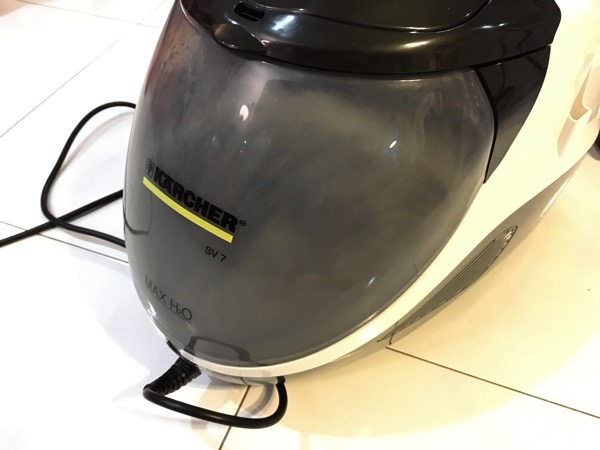 Putting the set to some test, one can see how dust can be dislodged from crevices along tiles and be removed in just one simple steam-vacuum operation. This is definitely one time saver considering there is no need to do additional mop, wipe and dry activities with those traditional vacuum cleaners.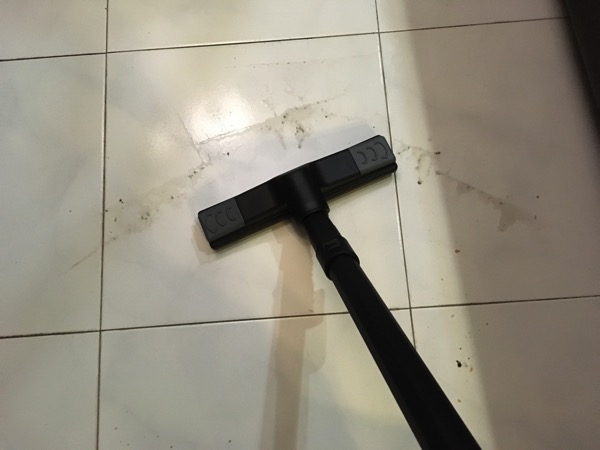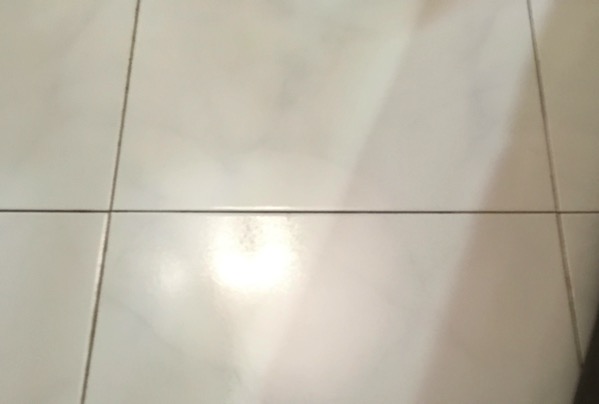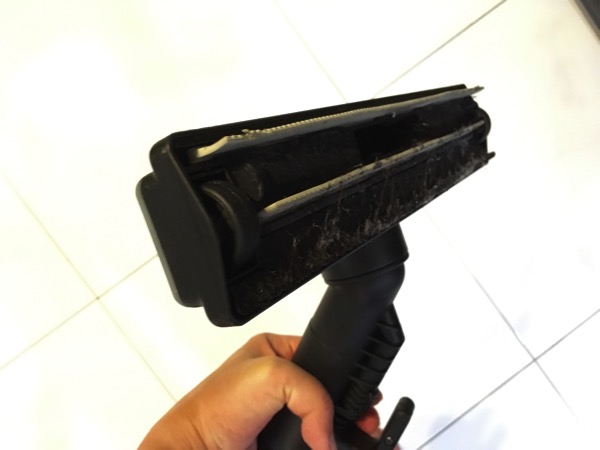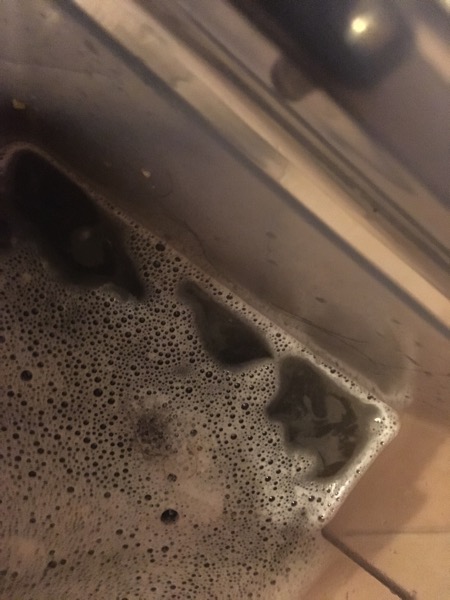 SV7 Product Specifications: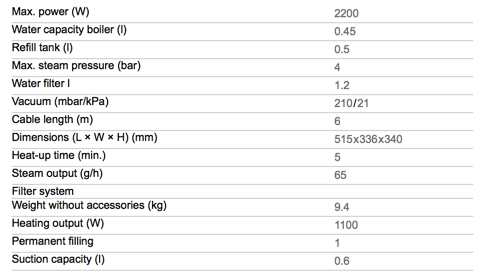 PROS
a. Save time – one action does it all (Steam Cleaning, Vacuum and sanitise surface)
b. Multiple applications – with the various accessories included to do cleaning on different kinds of surfaces (carpets, tiles, bed, glass panels etc)
c. Clean air during vacuuming – filtered via Hepa filter
d. Easy to operate – no complicated parts or assembly. One single control using the vacuum handle (for both speed and steam release)
e. Environmental friendly – no need to use detergents or strong chemicals
f. Low maintenance – minimal cleaning after each operation
CONS
a. A little pricey (~S$1200) but a worthwhile investment to save time and detergents in the long run
b. Heavy to carry around (due to steam tank) but manageable to manoeuvre during vacuum operation
In short, normal vacuum cleaners leak fine dust particles and become inefficient over time and, like the brooms they replaced, dirt is not fully eradicated. Steam cleaners replaced mops, which are also an inefficient cleaning tool as they spread dirty water – to clean thoroughly, one has to make a several water changes and mop as many times. In the old days, people used the broom and mop. Modern homes replaced them with the vacuum and steam cleaner. The Karcher SV7 now does it all at one go. If you need to save time and still keep the cleanliness especially with young kids around the house, this is one investment you need to consider seriously for.
Read other related posts:
Follow us on:



Share this article on: