It was a very interesting outcome for the Singapore Elections 2011. As anticipated, the ruling party PAP still hold the winning majority of the parliament seats. But what creates uncertainty among the Singapore population is the decreasing winning proportion of the valid votes casted. It has declined from 2006 (66%) to 2011 (60.1%). The opposition party, WP, managed to seize 6 parliament seats from 1 GRC and 1 SMC.
Of most importance, the lost of Ajunied GRC has contributed to a loss of significant Member of The Parliament. One important person is George Yeo who handles The portfolio of Foreign Affairs, whom has also gained significant relationships with Singapore economic and political partners.
This is definitely not very welcoming news in the eyes of retail and fund investors as part of Singapore economic progress depends on good tie ups and FTAs with key economic giants.
Near term, there will be a knee jerk reaction in Singapore stock markets until the full impact of the news is totally digested by investors and analysts. We should also take note of some industries which are more sensitive to external economic tie ups and export fluctuations. Some of which we should monitor closely:
a) Banking (proxy of business loans and GDP)
b) Manufacturing (costs of business and net exporting businesses)
c) Logistics
d) Shipping and Marine
Back to the technical analysis of Straits Times Index (STI):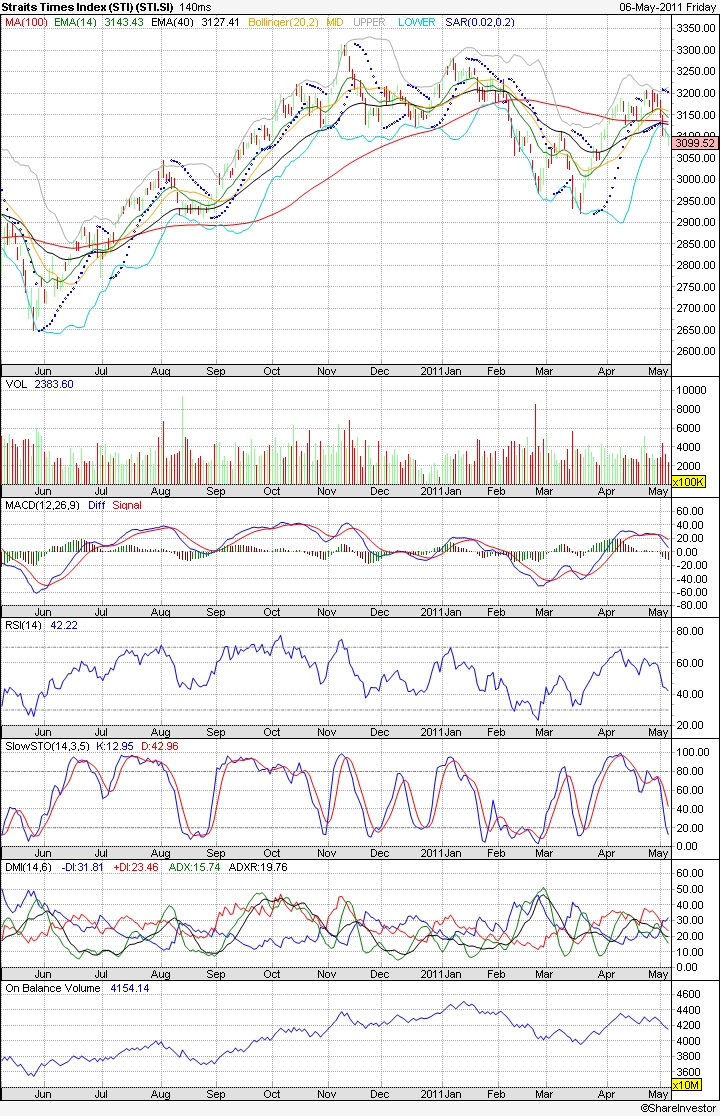 STI is now undergoing a short term correction with all indicators heading southwards. Though, initial OBV did not show funds exit. It would be interesting to see the market initial reaction of the news and likely the key support will be tested : 3040 and 2960.
However, for long term investor like us, it will be good to take some calculated positions in key blue chips.
Stay tight!
Read other related posts:
Follow us on:



Share this article on: