As a business traveller, one of the basic requirement for smartphones is to be able to plug in the local data sim cards, interchangeably with the sim card from home country. For the new Mi Note, it would be even more advantageous with the Dual Sim (4G LTE support) – i.e one sim to hold the home country sim card while the other holds the data sim card offered by the visiting country telco.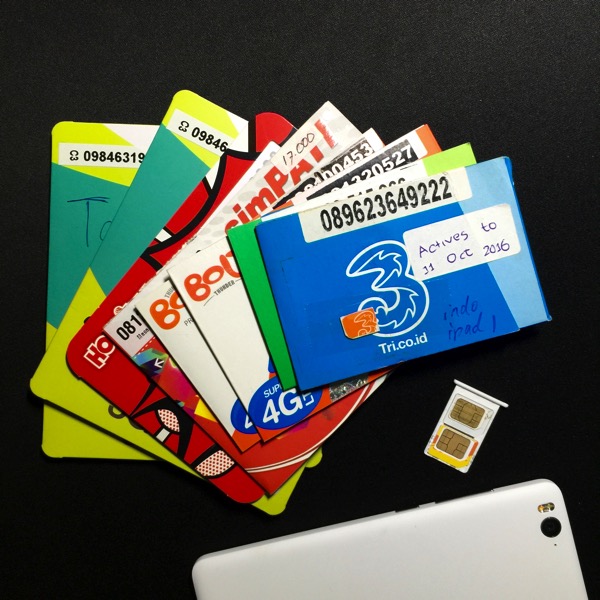 I have taken the chance to update the LTE coverage table (first featured in my earlier post) to include the few newer phones e.g. Mi Note, Mi4i, Redmi 2 and Oneplus Two:
A) ASEAN LTE Coverage: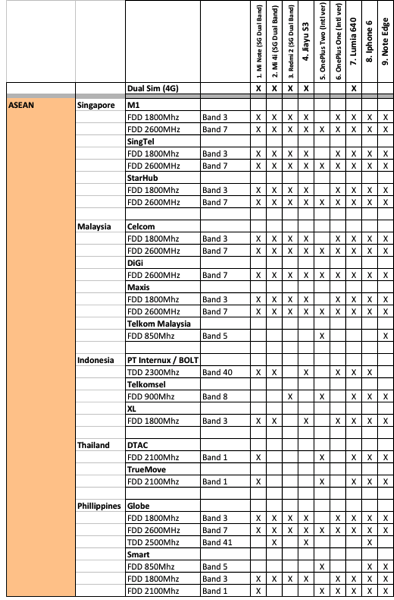 B) ASIA excluding ASEAN countries LTE coverage: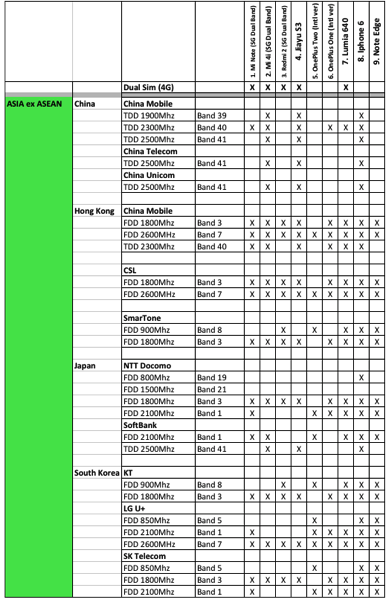 C) EUROPE LTE Coverage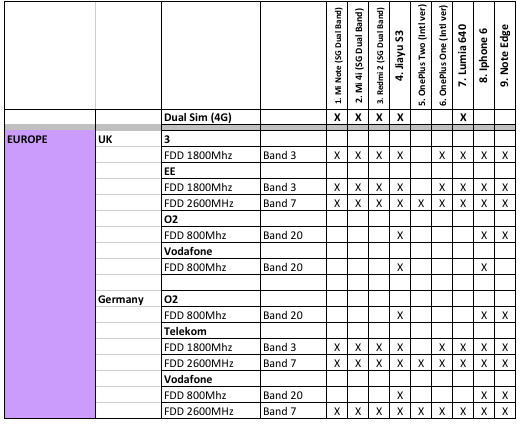 D) AMERICAS LTE Coverage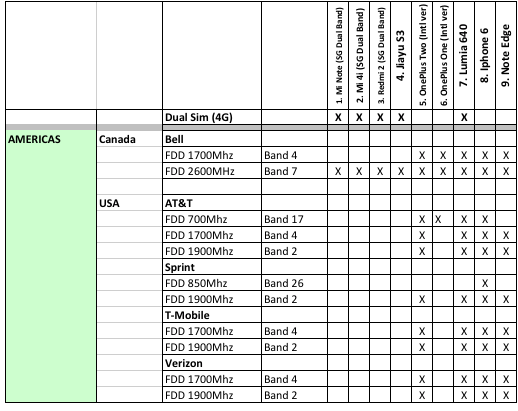 I am surprised that Oneplus Two (International) drops TDD-LTE support as such some important countries LTE bands will not be supported e.g. Indonesia & China. The new Mi Note has added one more LTE Band (Band 1) and thus it will be supported in Thailand where previously Mi4i and Redmi 2 performed badly even though all 3 have dual sim card support. However, if you are planning to bring Xiaomi to US, you will be in tough luck as those US LTE frequencies are not readily supported yet, with exception in Canada.
It will be useful to do your homework first before you roam in your next travel plan. Bookmark this for your future reference. If you have any smartphones to be added into this comparison list, feel free to approach me.
Legend for LTE Bands supportability:
OnePlus Two Bands: 1/2/4/5/7/8/12/17
OnePlus One Bands: 1/3/4/7/17/38/40
Samsung Note Edge Bands: 1/2/3/4/5/7/8/20
Apple iPhone6 Bands:
1/2/3/4/5/7/8/13/17/18/19/20/25/26/28/29/38/39/40/41
Xiaomi Mi Note Bands: 1,3,7,40
Xiaomi Mi4i Bands: 3,7,38,39,40,41
Xiaomi Redmi2 Bands: 3/7/8
Prolink PRT7005L Bands : 1/2/3/5/7/8/20, 38/40
Microsoft Lumia 640 Bands : 1/2/3/4/5/7/8/12/17/28, 38/40
Read other related posts:
Follow us on:



Share this article on: