Following the great success of OnePlus One which was first launched on 23rd April 2014, one year later on 27th July 2014, the new OnePlus Two (OnePlus 2) was launched in a much hyped Virtual Reality (VR) event.
OnePlus company was founded on 16 Dec 2013 by former Oppo vice president Pete Lau and Carl Pei. Following the lawsuit on the use of CyanogenMod OS, OnePlus has since then developed their own OS – Oxygen OS which is now the heart of OnePlus Two. Similar to before, the purchase can only be made with an 'Invite' (redemption code) online. Apart from the new Oxygen OS 2.0, the OnePlus Two does comes with some interesting changes both on its hardware & design from the earlier predecessor.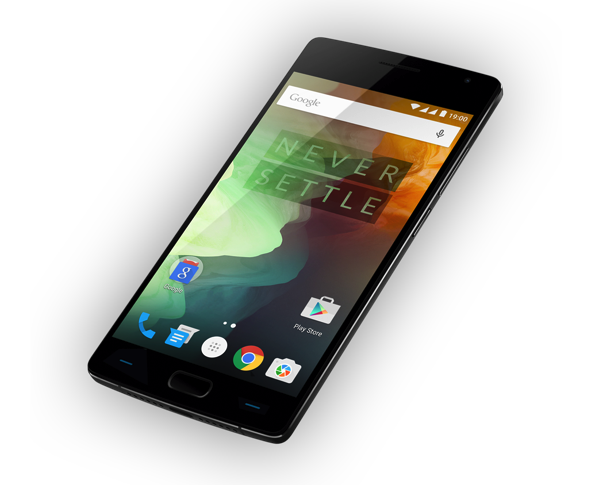 The new handset comes in one brilliant red packaging closer, adopting the simplistic approach similar to the other mainstream competitors.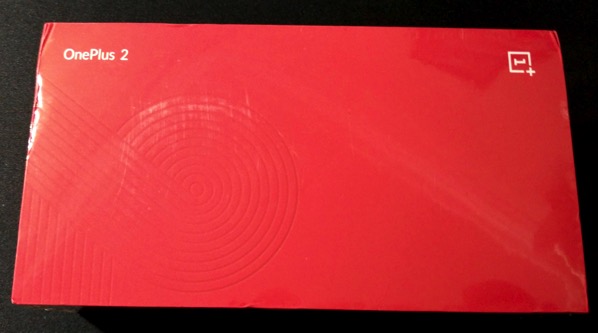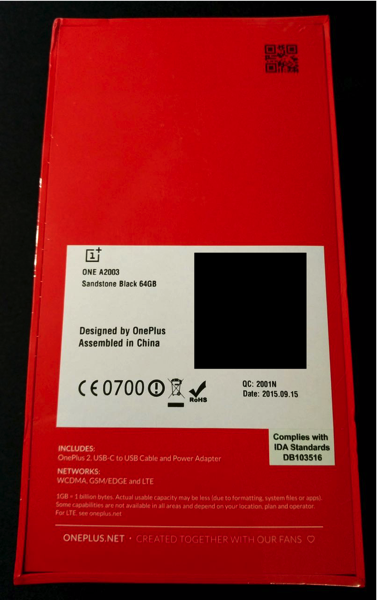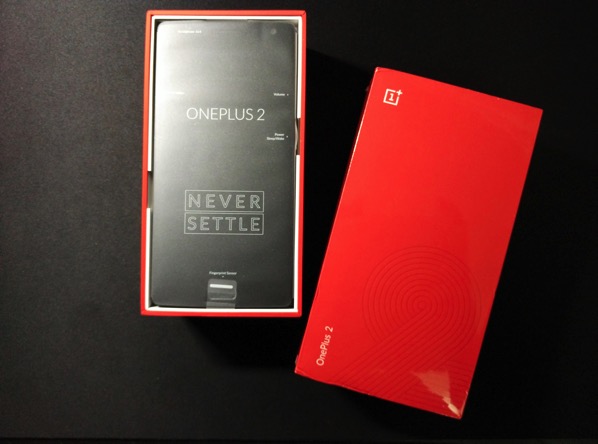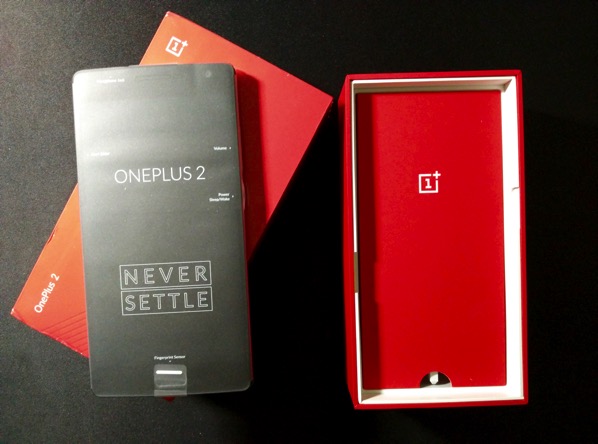 Underneath the Oneplus Two handset lies the instruction manual and the accessories – Charging adaptor and USB Type C cable. The cable still comes in the distinctive red and flat cables aimed to eliminate those frustrating cable tangles.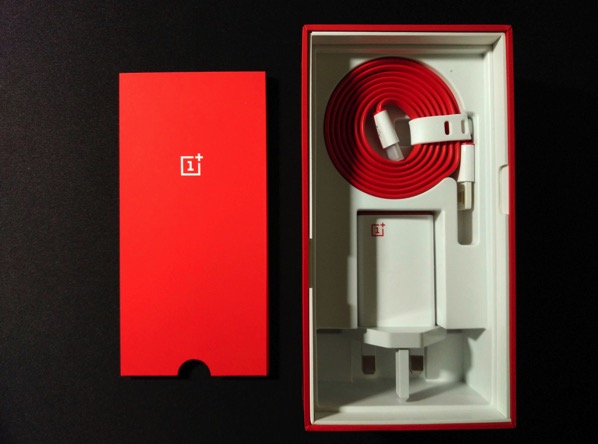 A quick comparison with the OnePlus One adaptor (Left), the OnePlus Two charging adaptor has a smaller form factor which is a good news for greater portability.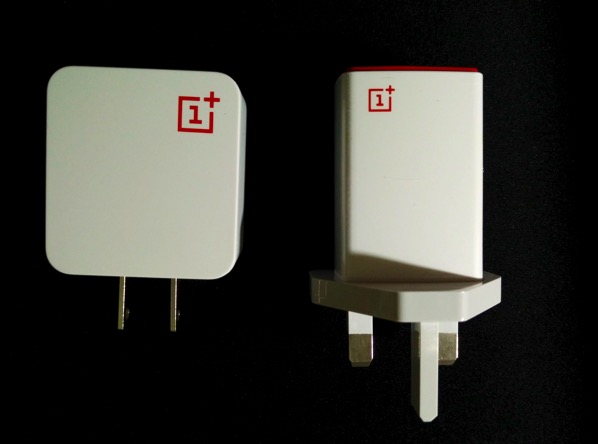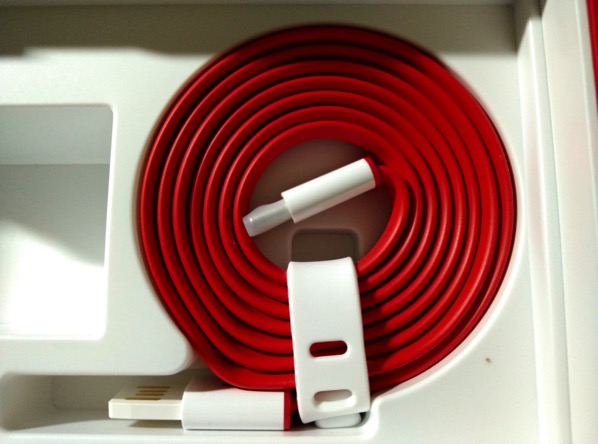 For the main handset, it comes with few basic controls and inputs aiming to be no frills for any average consumers. The headphone jack is located on the top left section, the volume control & power button are on the right, alert selector is on the left and the new fingerprint sensor is located at the bottom.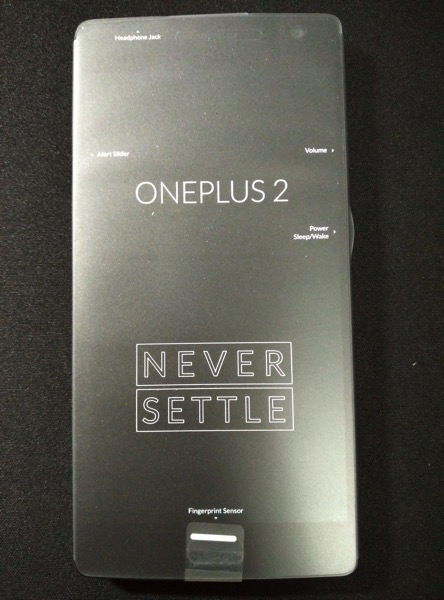 The standard model comes in Sandstone Black though there are also other back case (i.e. StyleSwap cover) designs – Bamboo, Rosewood, Black Apricot and Kevlar Kevlar (if you're concerned about stopping bullets with your OnePlus 2, I guess). The OnePlus 2 has a good camera on paper: it's a 13-megapixel sensor behind a six-element f/2.0 lens with optical image stabilization and laser-assisted autofocus. In good lighting, it can take really great photos, even providing a shallow depth of field effect in close ups.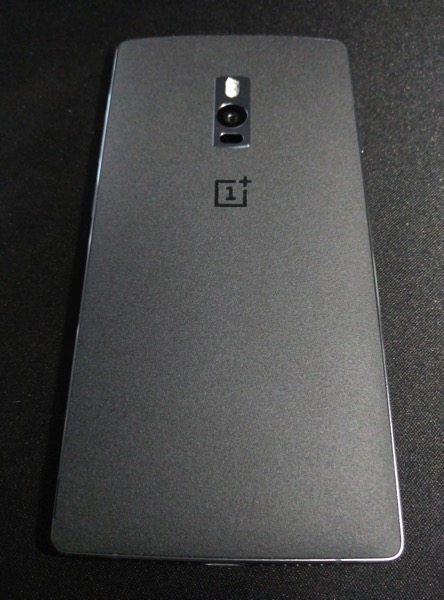 One plus point of the new OnePlus 2 design is the outer frame crafted from a resilient alloy of aluminium and magnesium.  This provide a much improved premium feel to the grip and yet the design still ensures ideal antenna reception. The style swap cover can be easily removed with a simple pry into the bottom left notch as seen below: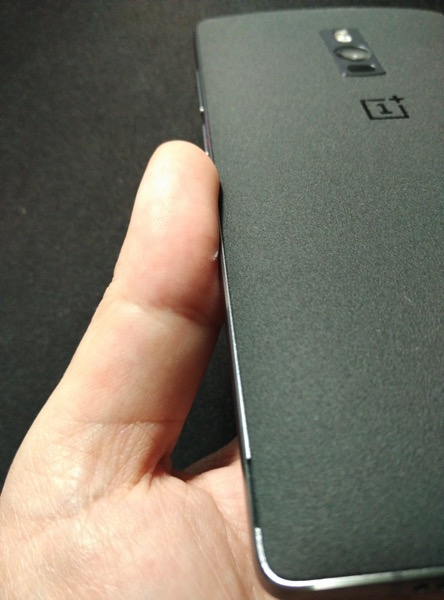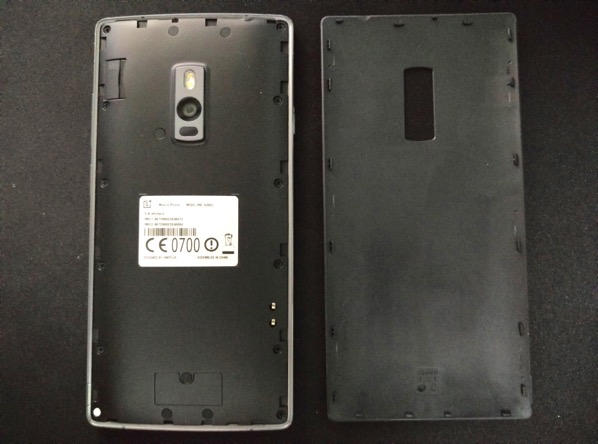 One of the key highlights is the support for dual sim card (both active at cellular calls and 4G data connectivity). Unfortunately, the dual sim cards tray only support nano sim version. With both SIMs on standby, you'll be able to answer calls and receive texts on either number, but only one number can accept a call at once.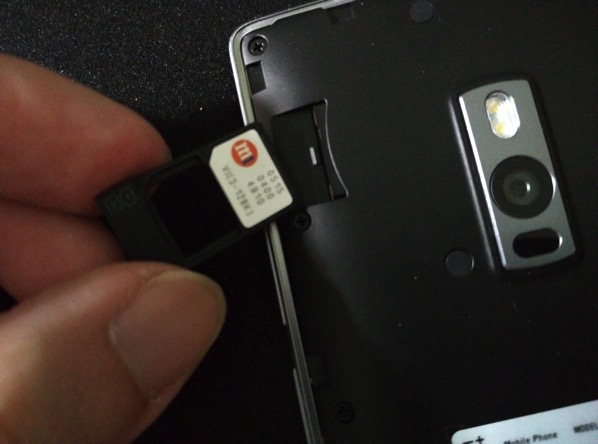 The rest of the phone internals are kept from the normal eyes with the corner screw access sealed. Understandably, the internal battery and storage are all sealed onboard, leaving the user not much flexibility to change or upgrade them.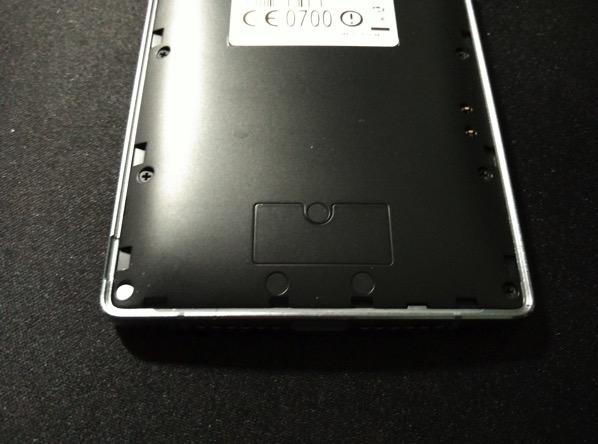 On the right side of OnePlus 2 : Volume buttons and Power button.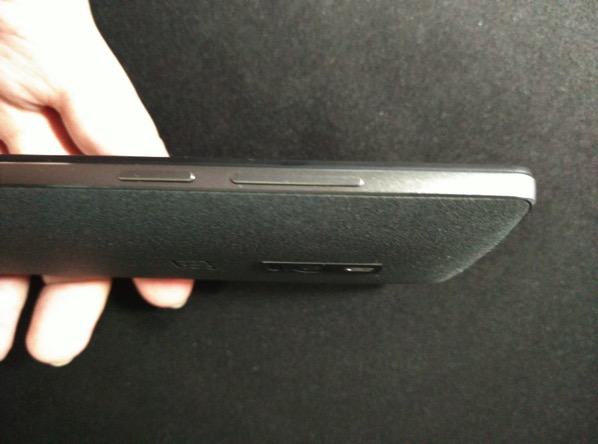 The phone has a slider right on the side of the phone to switch between three alert settings: None, Priority, and All, so you can choose what your OnePlus 2 phone alerts you for without taking it out of your pocket.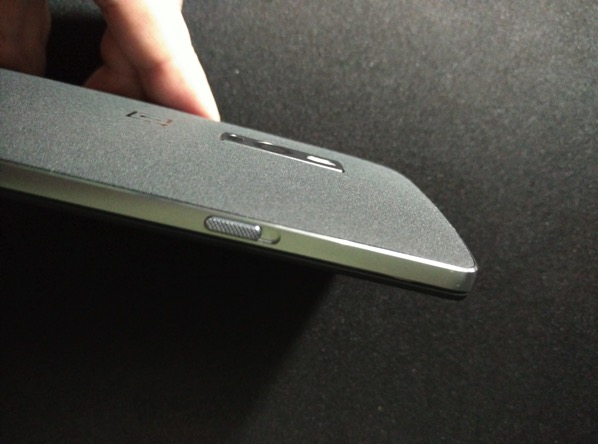 The introduction of the new USB Type C is indeed quite bold taking step forward for OnePlus. No need to figure out the top/bottom orientation to insert into the port but that will also mean that all the micro-usb cable or OTG devices are rendered useless unless you get the Micro USB to Type C adaptor. Fortunately, OnePlus do sell this adaptor at a pretty nominal price.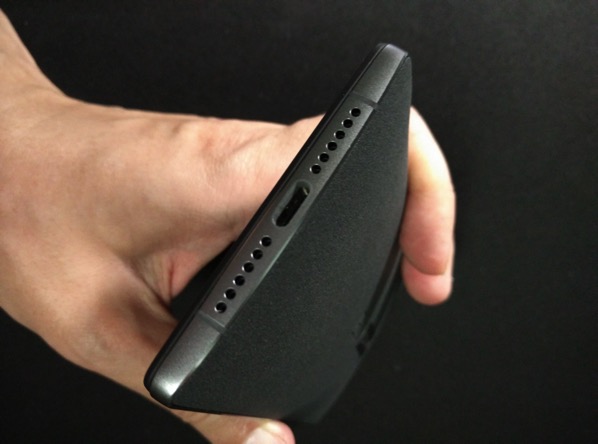 At the top, there is the headphone jack port and the input microphone for noise cancellation purposes.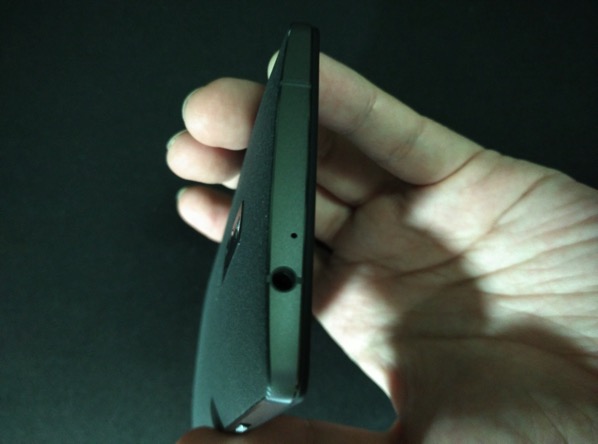 Setting up the OnePlus Two is pretty straightforward and similar to that of the standard Lollipop Nexus phone.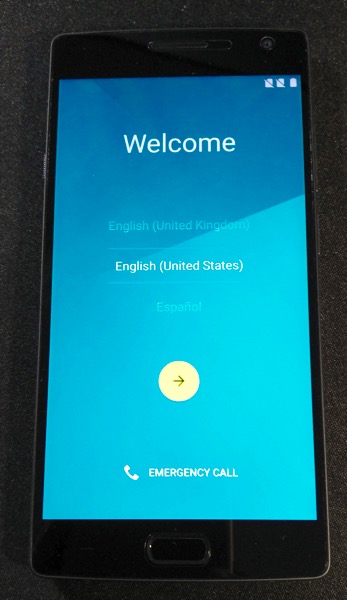 The OnePlus Two's Snapdragon 810 processor and 4GB of RAM handled anything I needed, and the near-stock software didn't bog the system down with unnecessary interface features. The phone can get warm under stress, like when playing a game, but it never gets uncomfortable to hold.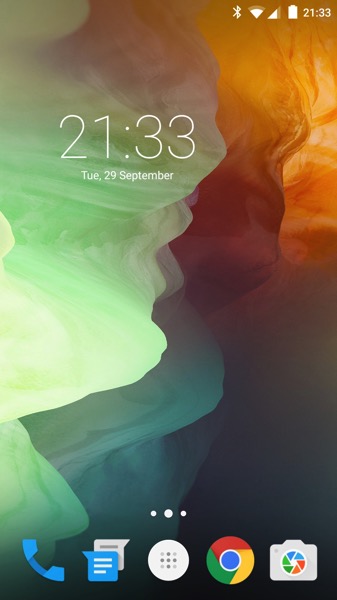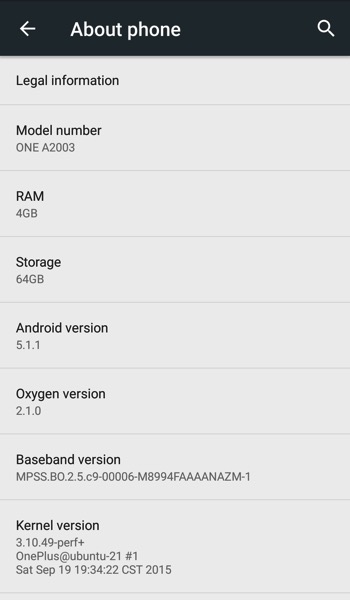 Model A2003 denotes OnePlus Two 64gb variant while A2001 denotes OnePlus Two 16gb variant. Some stock models would come loaded with Oxygen OS 2.0.2 but should be able to OTA update to the latest stable version 2.1.0. Lets also take a closer took into some of the key interesting software features customised into OnePlus Two's Oxygen OS.
Fingerprint Security
The fingerprint scanner, in common with that of the Samsung Galaxy S6 and iPhone 6, uses touch- rather than swipe-based input. You can configure up to five fingerprints to work with the OnePlus 2, allowing you to also set up a fingerprint for use with a Guest account. Even better, the fingerprint scanner is operational even when the screen is inactive. The fingerprint scanner doubles as a home button and lets you unlock the phone without typing in a PIN code, but it doesn't depress in the way the iPhone or Galaxy S6 fingerprint home buttons do. Getting the fingerprint registered is quite speedy, much faster than iPhone or Samsung. But in terms of security accuracy, it has yet to be compared across those three.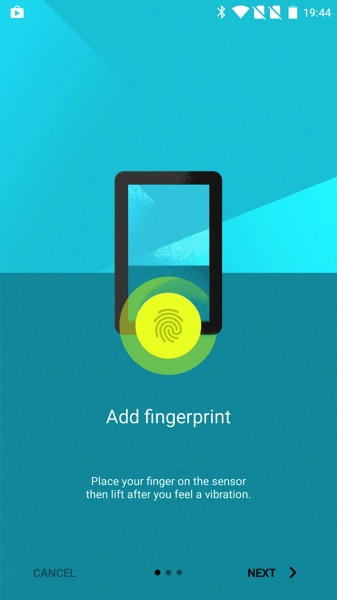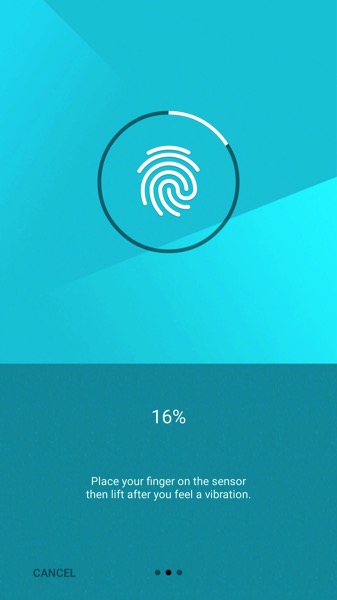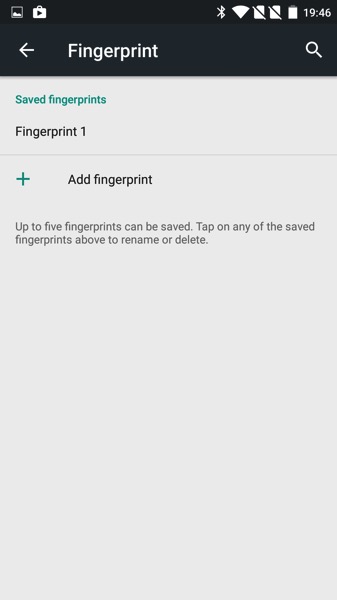 Shelf
Shelf is accessible by swiping to left from the main home screen. Shelf provides quick access to important information, such as frequently used apps, contacts and other widgets in a single page. It's no Google Now, but it's a great place to quickly access your apps and contacts.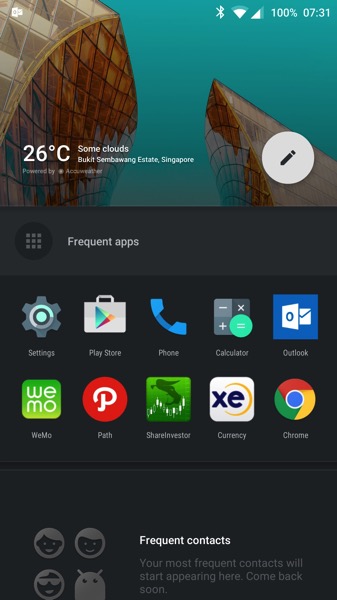 Priority Alert control
The decision to include a three-position slider on the OnePlus 2 and use that switch to control notifications is a stroke of genius. Not only is the button satisfying to use as it click into place and doesn't wiggle around, but the instant flip to priority or mute with alarms is the best implementation of Google's new notification system.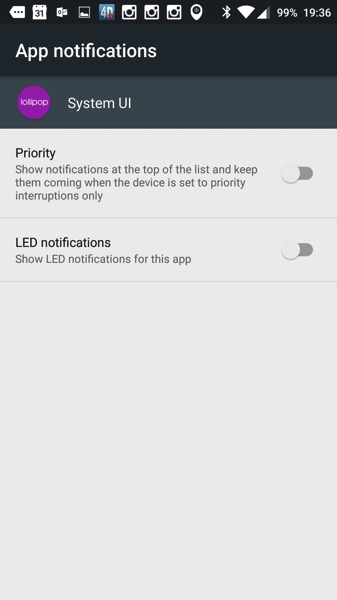 Configurable control buttons
The OnePlus 2 has hardware buttons, but rather than pick a side, it remains neutral and goes with unlabelled hardware buttons—to the left and right of the home button there are illuminated white dash marks indicating where the button is, but not what it does. You can easily reassign those buttons according to your own preference. you can opt to keep the default layout of "Back, Home, Overview" or check the "swap buttons" option to switch to "Overview, Home, Back."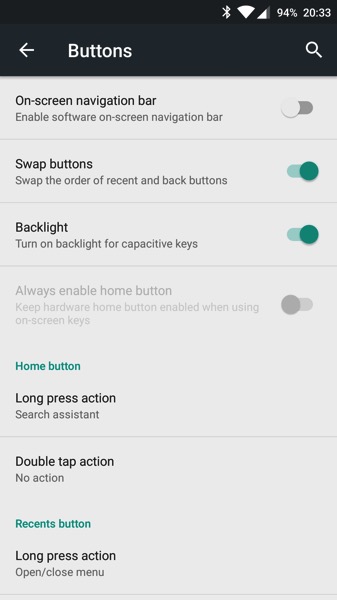 Dark Mode
It takes all the brightly colored and white elements of the Android UI and darkens them, making the device easier to use at night and presumably helping battery life. Users can even change the accent color from green, to blue, to orange, to red. You can pick from eight different accent colors to express your personal style.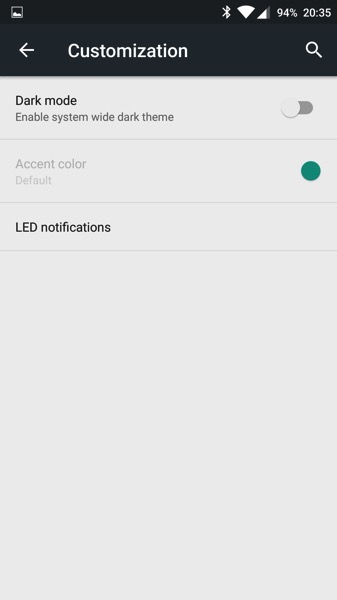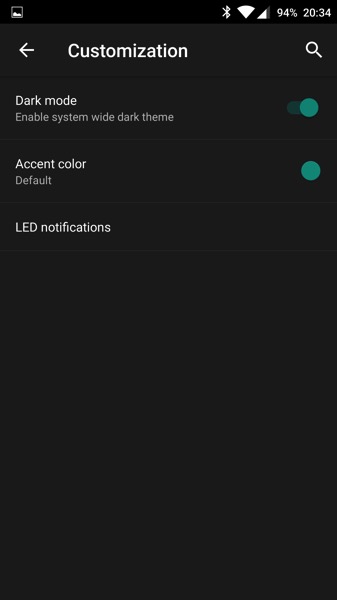 Gesture Controls
Oxygen 2.0 also supports a few gestures when the phone is locked. For example, drawing a 'V' on the display will turn on the flashlight on the back of the device. Drawing an 'O' will invoke the camera. Double tapping on the display will wake it from sleep, and swiping two fingers down will play and pause your media.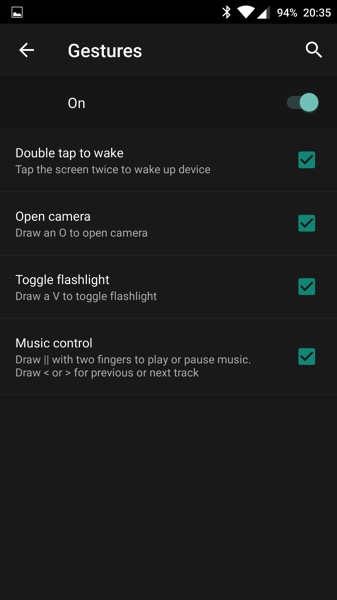 Apps Permission Controls
One of the more technical features available is direct access to permissions for each app. You can go through and disable each permission individually, and create exactly the kind of experience you want.There isn't much stopping you from breaking things here if you turn off the wrong permission, save for a warning as you enter the permissions section of Settings telling you almost exactly that.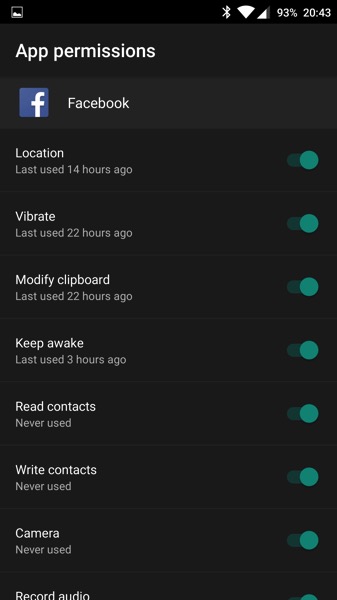 Dual Sim support
One can easily define the actual Sim Card to be used for Cellular data connection and the default one to make cellular calls or messages. That said, one can still receive calls or messages from both sim cards.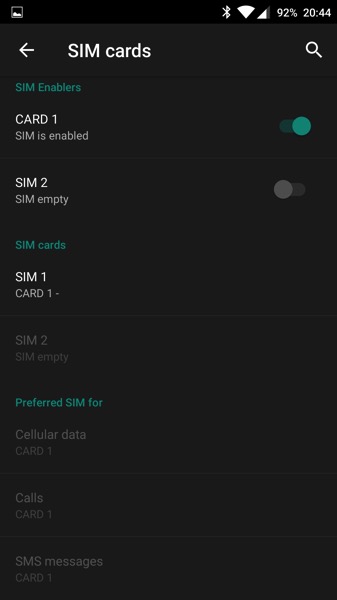 Comparisons between OnePlus Two / OnePlus One
a. Faster processor – using latest Qualcomm Snapdragon 810 which offers the 64-bit architecture with 2GHz quad-core Cortex A57 and a low-power quad-core 1.5GHz Cortex A53 in one. The added ram (4gb for the 64gb variant will be very useful for multitasking activities and high resolution rendering required in complex game apps.
b. Faster graphics processing – using latest Adreno 430 GPU that's built into the Qualcomm SoC (System on a Chip).
c. Greater LTE/4G coverage – with additional bands (5,8,20,41) for the EU version.
d. Heavier – Slightly thicker too. But the Oneplus 2 does feel solid and premium.
e. Tougher screen – now made with Gorilla Glass 4.
f. Sharper & faster shots – aided by Optical Image Stabilisation and laser autofocus.
g. Future proof connection – included the USB Type C connectivity.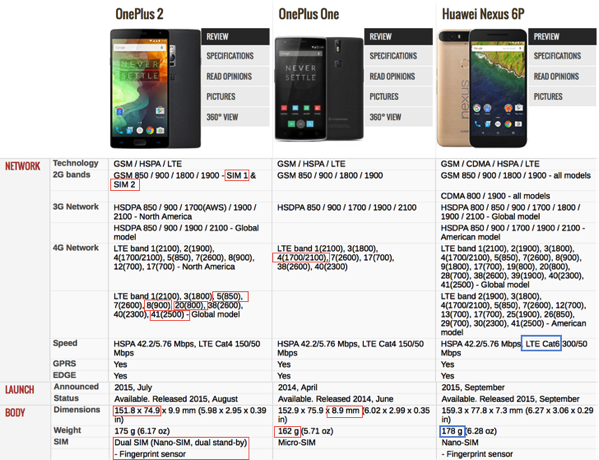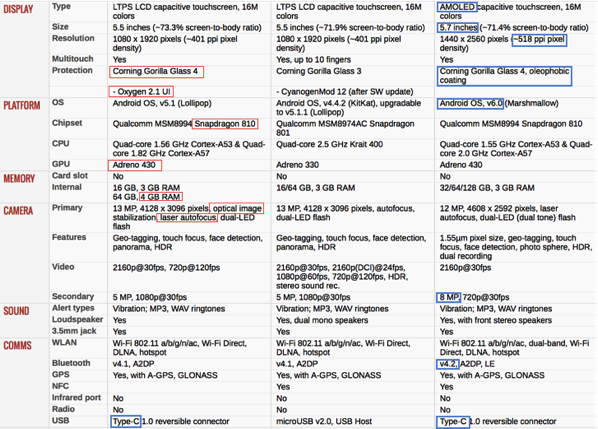 However, if you speak about the aim to be the Flagship android phone for this year (2015), it may not be able to match some of the better specifications for the upcoming Google Nexus 6P e.g. LTE Cat 6 (greater LTE speeds), AMOLED display (sharper even under sunlight), sharper display (higher PPI) and more secured Bluetooth connectivity (with BT 4.2). That said, the OnePlus Two is still a steal for most of its top notch hardware at USD 389 (64gb) vs Nexus 6P at USD 549 (64gb).
Now putting both the OnePlus One (White – on left) and the OnePlus Two (right – Sandstone Black) together for physical comparisons: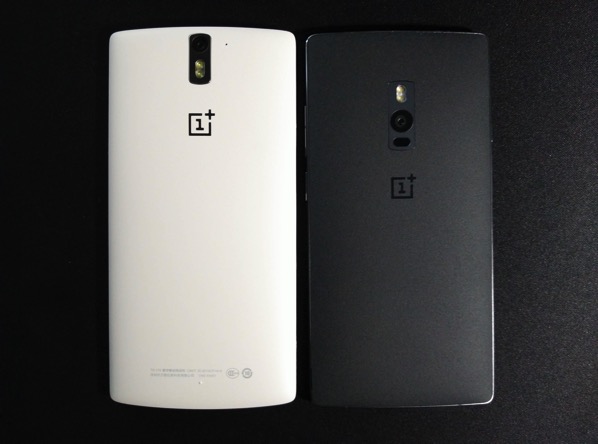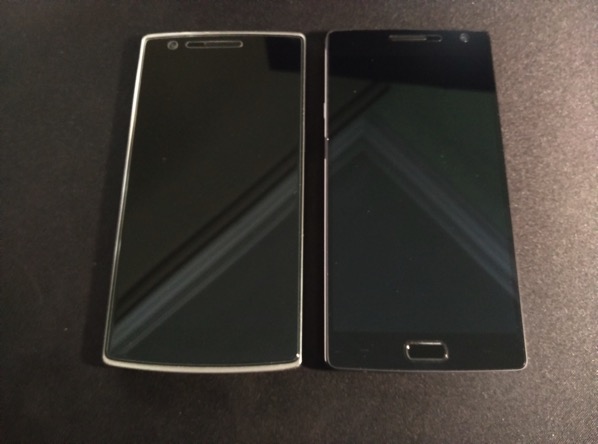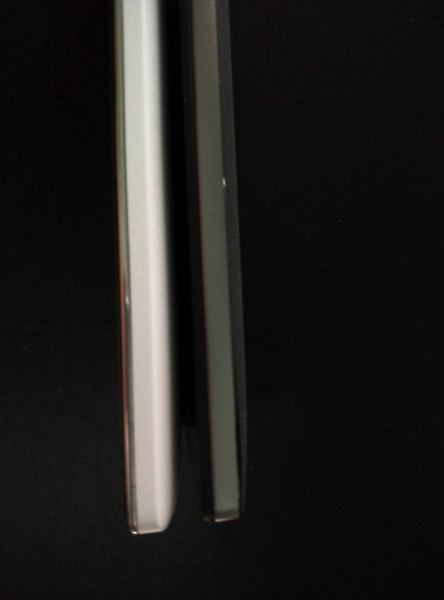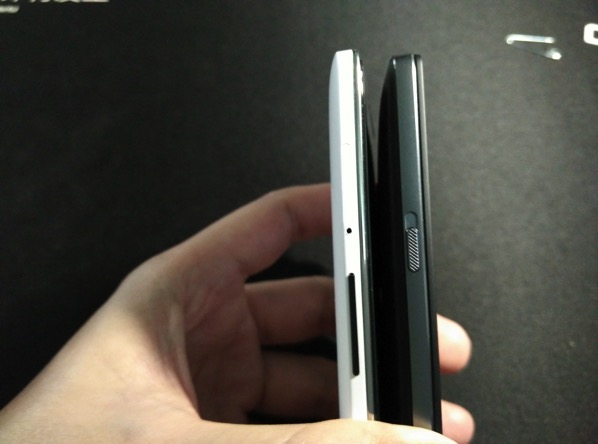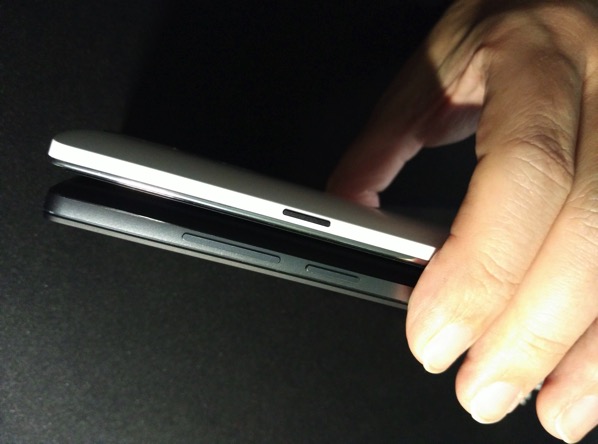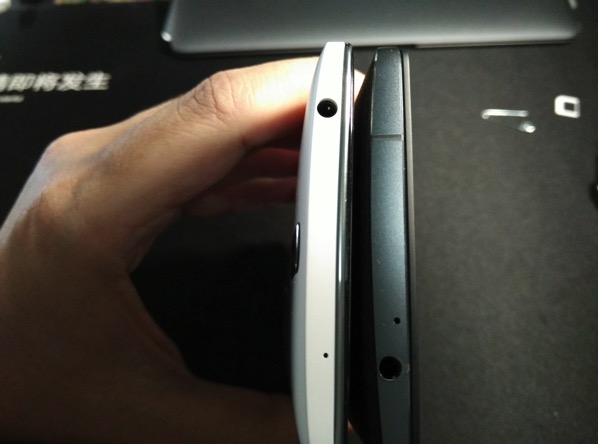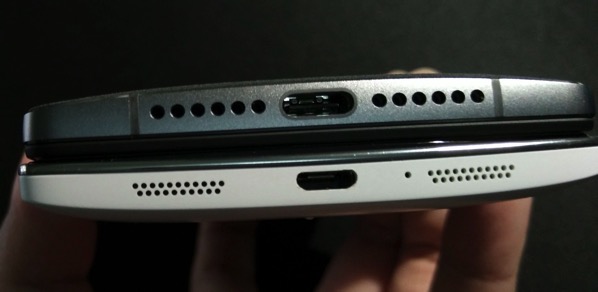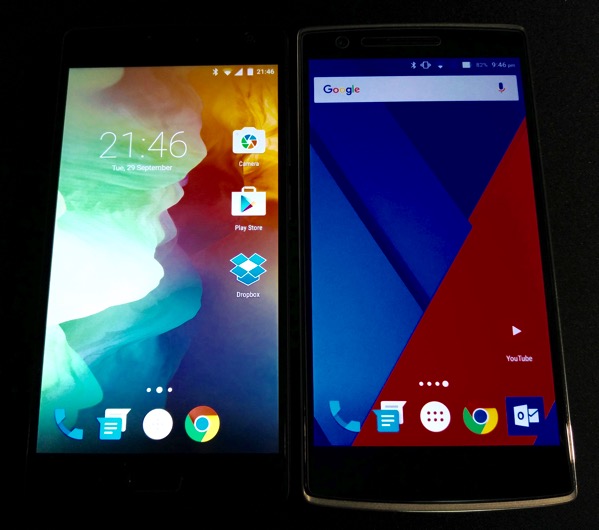 Comparison on the photos taken by various smartphones
A1) Macro shot using OnePlus One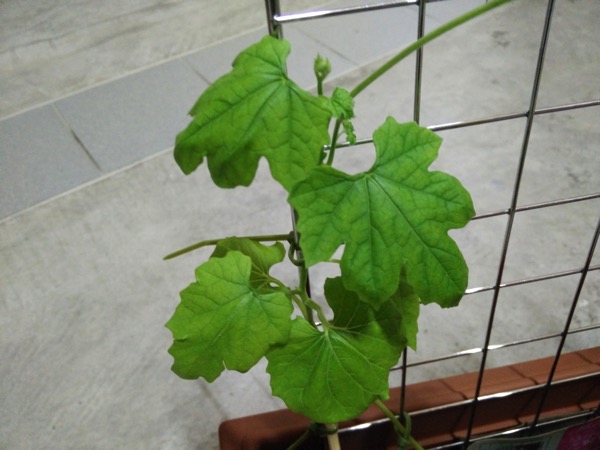 A2) Macro shot using OnePlus Two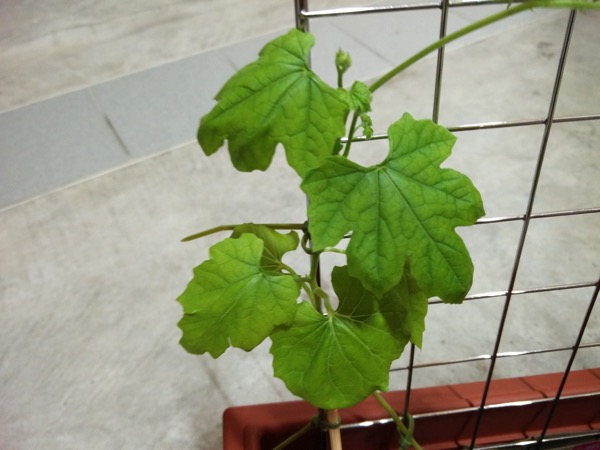 A3) Macro shot using Xiaomi Mi Note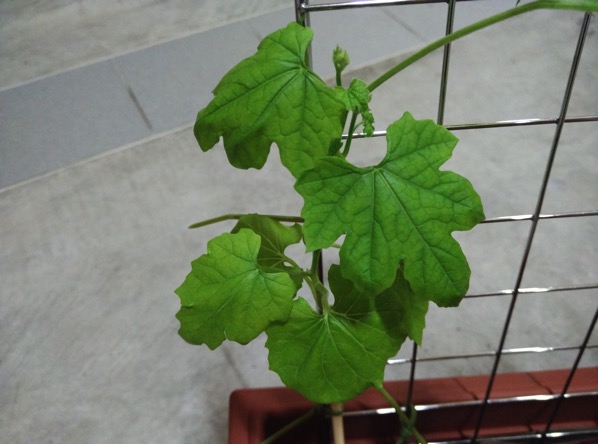 B1) Outdoor shot using OnePlus One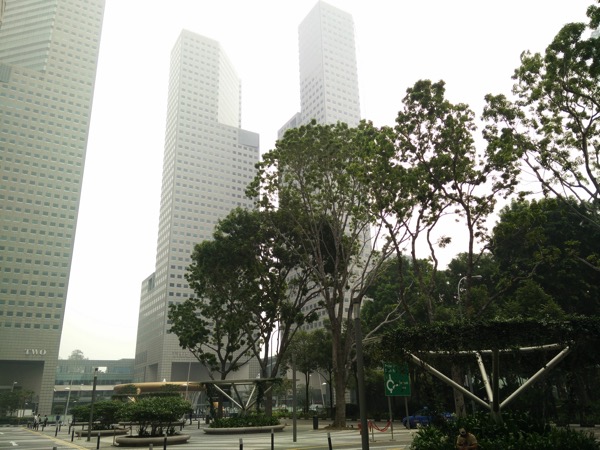 B2) Outdoor shot using OnePlus Two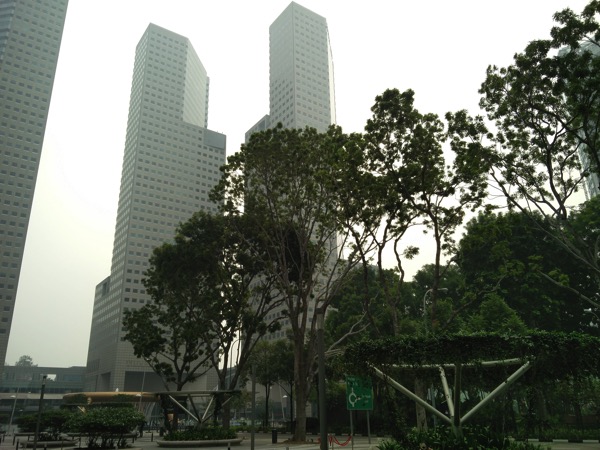 B3) Outdoor shot using Xiaomi Mi Note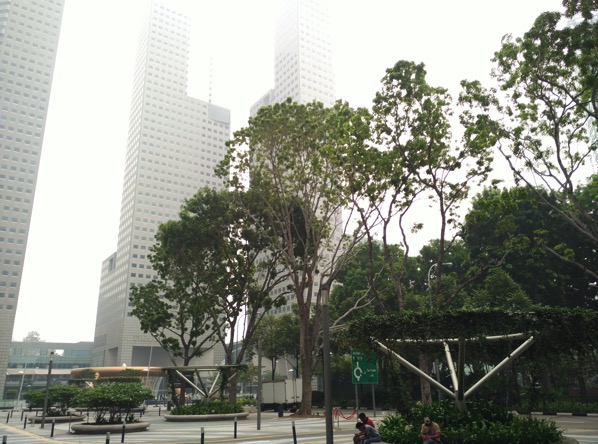 C1) Night shot using OnePlus One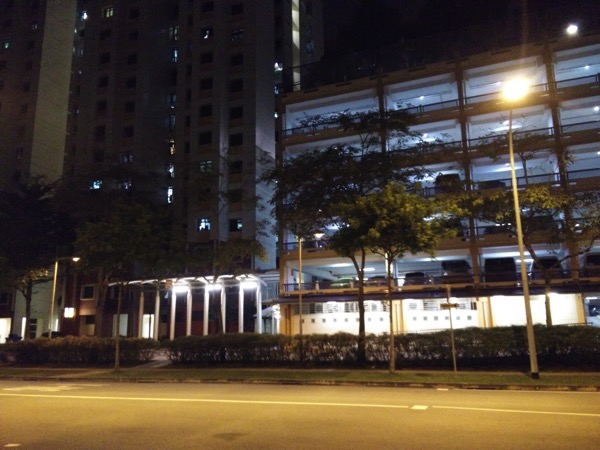 C2) Night shot using OnePlus Two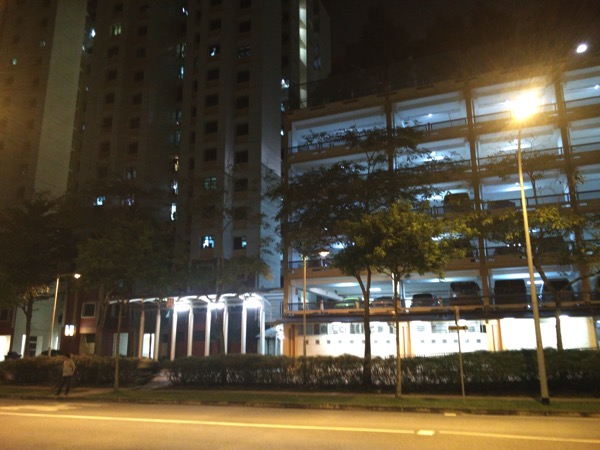 C1) Night shot using Xiaomi Mi Note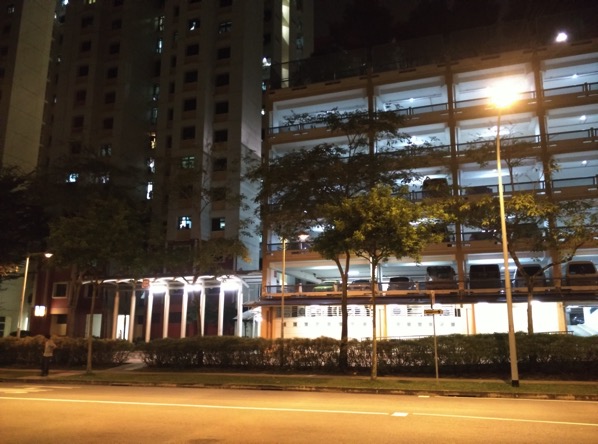 Key highlights:
PROS:
a. An unlocked boot loader, which makes it easy to root the phone or flash whatever you want. Warranty is not voided with rooted OnePlus Two.
b. Value for money. With a USD 320-390 for a Snapdragon 810 is one of the best deals out there.
c. Lean Oxygen OS preserves most parts of Google stock but with extra useful features and hardware support.
d. Great battery life – fully charged OnePlus Two can easily last for the full day.
e. Very useful fingerprint unlock – fast, accurate fingerprint sensor that works as well as the iPhone 6 or Galaxy S6 and yet even faster.
f. Improved built and has premium taste to it.
CONS:
a. Camera software is the native Google camera. The quality of the shots is average even though it is armed with OIS and fast focusing technology. Colours appeared to be more washed out.
b. No quick charging or wireless charging.
c. No NFC.
d. Supply will be limited by the OnePlus' invite system.
e. Good to have Type C USB connectivity but it is still not widely adopted.
If you are currently holding on the OnePlus One, it is definitely worth the upgrade. Not unless you are previously on CynogenMod OS 11 or 12, as the Oxygen OS still has quite some way from it in terms of power user customisations and controls.
For now, those who are interested will need to head over to OnePlus website and register their interest for the invites.
Sample of a typical OnePlus Global Invite: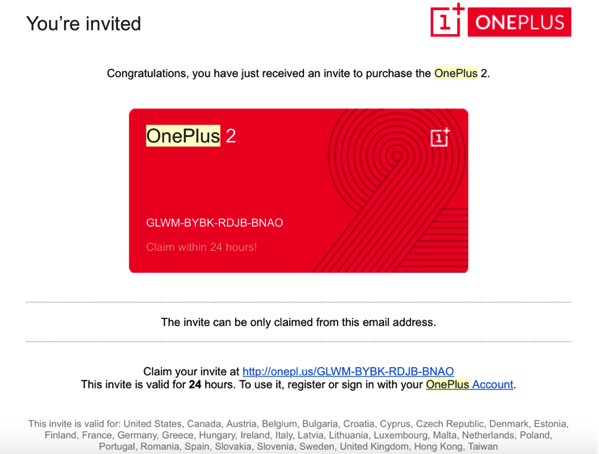 Sample of a typical OnePlus SG Invite: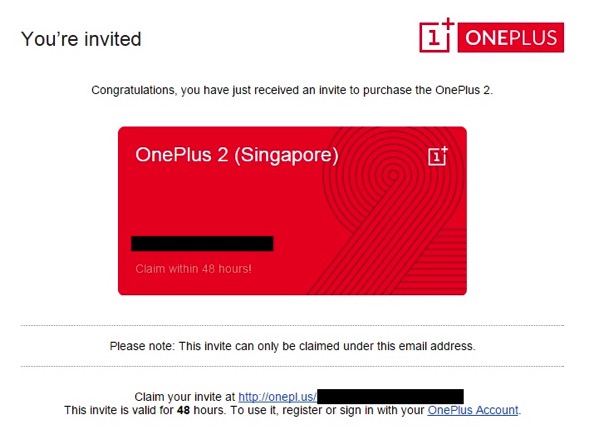 Folks within Singapore can now purchase the OnePlus Two handset via Lazada SG and it is commendable for the set to be delivered well within 1 working week. In addition, the warranty will be covered locally at OnePlus service location at Central Mall.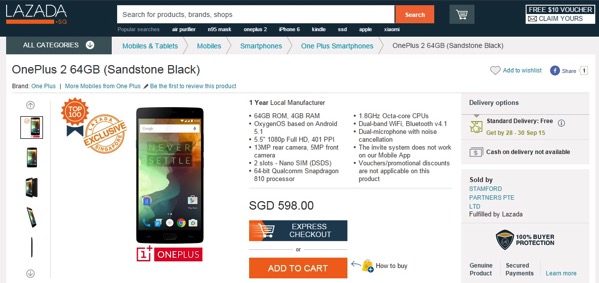 For those who have had their hands on the new phone, do share your experience with the readers too!
Read other related posts:
Follow us on:



Share this article on: