LG has just announced a whole new line of home appliances for 2015 in Singapore such as new Washer Machines, Refrigerators and CordZero™ home cleaning devices.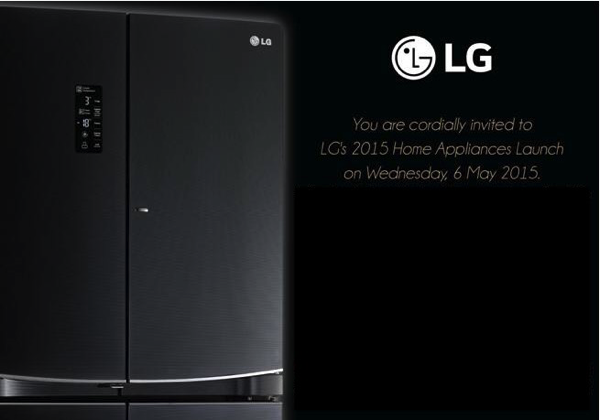 During the event, LG spokesperson has managed to share some of the very interesting technologies behind the new products – not just making the product more functional but also intelligent to solve some of our hated daily household chores.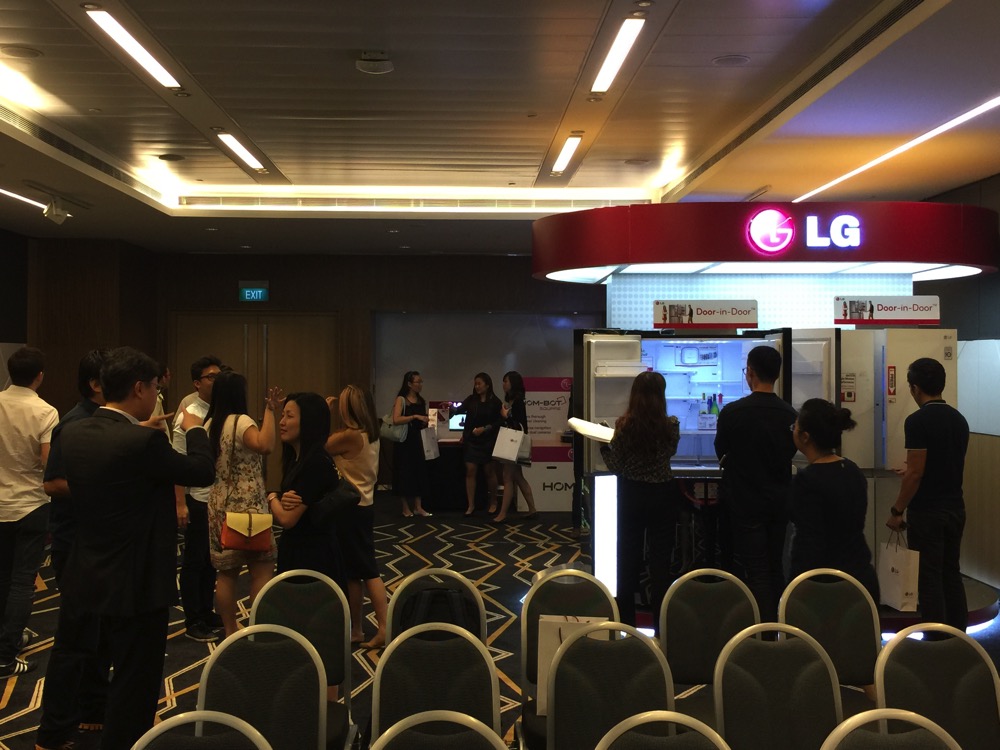 LG WASHER MACHINES
Doing laundry is perhaps one of the essential weekly household affairs yet it could be the most frustrating one! Choosing an ideal washer machine should be centred around:
a. Spatial availability – how much space is available or allocated to the washer machine. Top Load is helpful for those who prefer handling the laundry from the top and have sufficient handling space above the machine. While front load ones will be useful if you are stacking a separate dryer above it.
b. Essential functionalities – Cleanliness of the wash, the range of materials it can handle,
c. Eco considerations – Energy saving (inverter technology), Water Saving (amount of water used in a single wash cycle, number of wash-rinse cycles etc)
d. Cost – Initial investment and warranty coverage (typically 5-7 years for the washing machine drum and 1-2 years for the other parts of the machine)
With a vision to make life easier and homes smarter, LG designed washing machines such as
a. LG Top Load Warm Wash Machine (WFT1571DD)
b. Front Load Washing Machine with TurboWashTM (WD-1410TS)
c. Larger capacity 12/8 kilogram washer-dryer (WD-1628RDS)
Some of the key highlights of LG technology developed for their Washer Machines includes:
a. LG's 6 Motion Wash Direct Drive
At the core of LG's washing machines is 6 Motion Direct Drive technology. Using a combination of six different motions, this innovative system helps to deliver a customized washing performance for a wide variety of fabrics. The motions help to dissolve detergent faster and even minimize wrinkles and tangles. 6 Motion Direct Drive emulates hand-washing techniques, combines optimized motions for each fabric type and delivers a powerful washing performance that is gentle on the fabrics. The Direct Drive motor also provides greater durability backed by a 10-year warranty.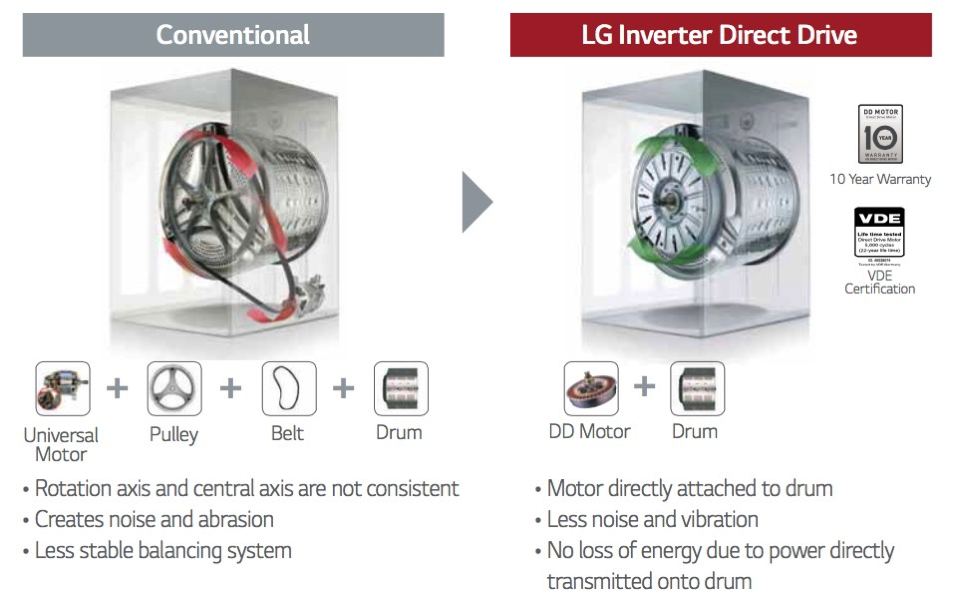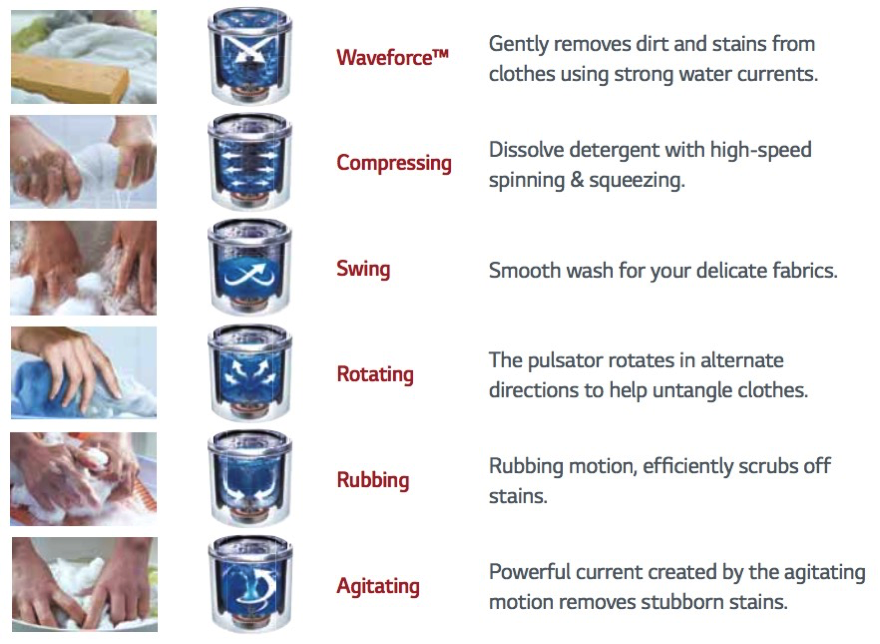 b. TurboWash™
The Efficient and Energy-Saving Feature The TurboWash™ — a feature based on 6 Motion Direct Drive technology — boasts an A+++ energy rating and the ability to reduce energy consumption by as much as 40 percent .

c. Jet Spray™
This feature cleans clothes at a faster speed. Spraying water directly onto the load for a period of 120 seconds, Jet Spray™ enables TurboWash™ to fast forward an entire rinse cycle. With Jet SprayTM, the machine is able to bypass the lengthy rinsing stage that conventional machines rely on to get the job done.
This means lower water and electricity bills.
By combining spin and rinse cycles, the most commonly used washing cycles including Cotton, Cotton Large, Mix and Easy Care take only around 59 minutes to complete.
d. TrueSteam™
This technology, which enables Steam Refresh, Allergy Care, and the new Steam Softener feature. Steam Refresh employs steam instead of water to help facilitate a deep clean. It also removes wrinkles and odors from delicate clothes. By injecting steam into the washer's drum for 20 minutes, the Steam Softener feature works as an effective alternative to conventional fabric softeners, resulting in softer laundry without the use of harsh chemicals.
LG's TrueSteam™ technology also works to eliminate allergens, mites and residual detergent.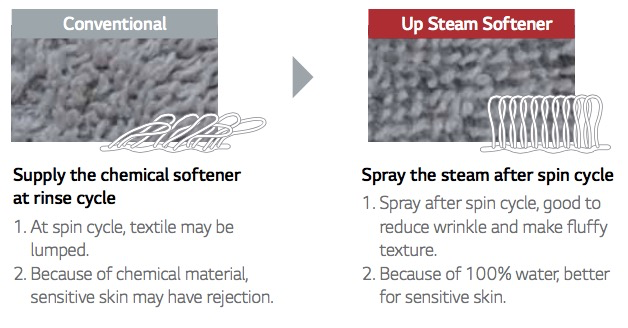 LG Washer Machine – Front Load Combo – WD 1628RDS (Larger capacity)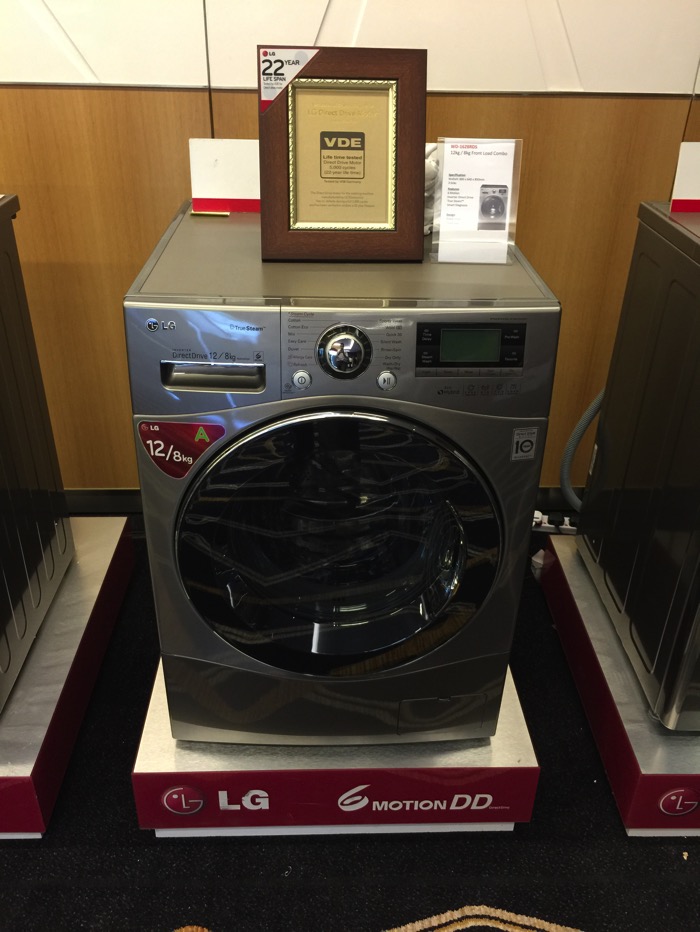 LG Washer Machine – Front Load – WD 1410TS
This set particularly captured my attention. Apart having the cool latest LG technologies mentioned above, it includes NFC function user to load in new washing programmes designed by LG from time to time.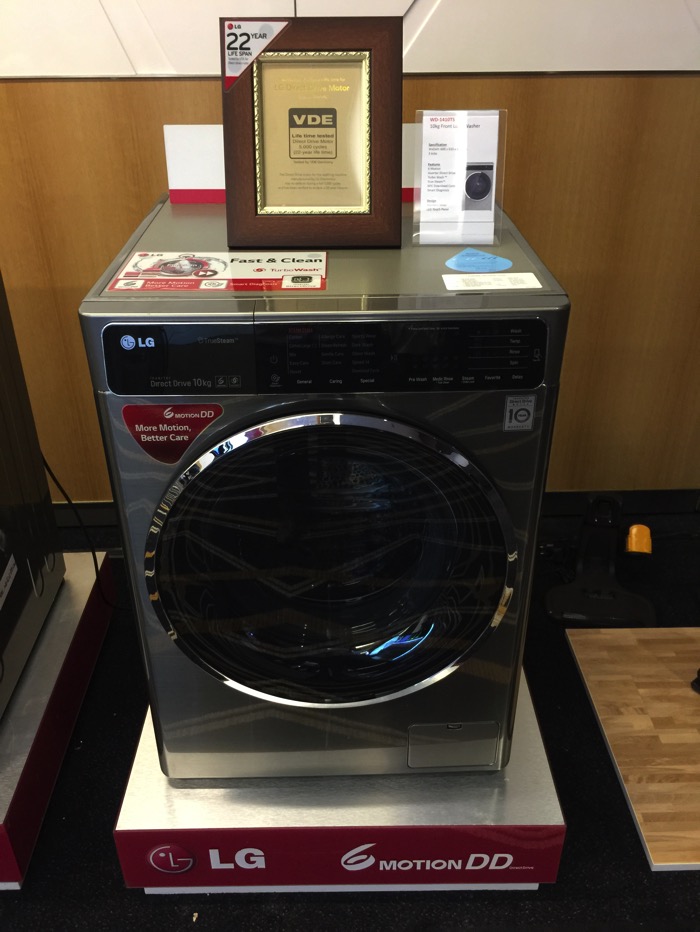 LG Top Load Warm Wash Machine (WFT1571DD)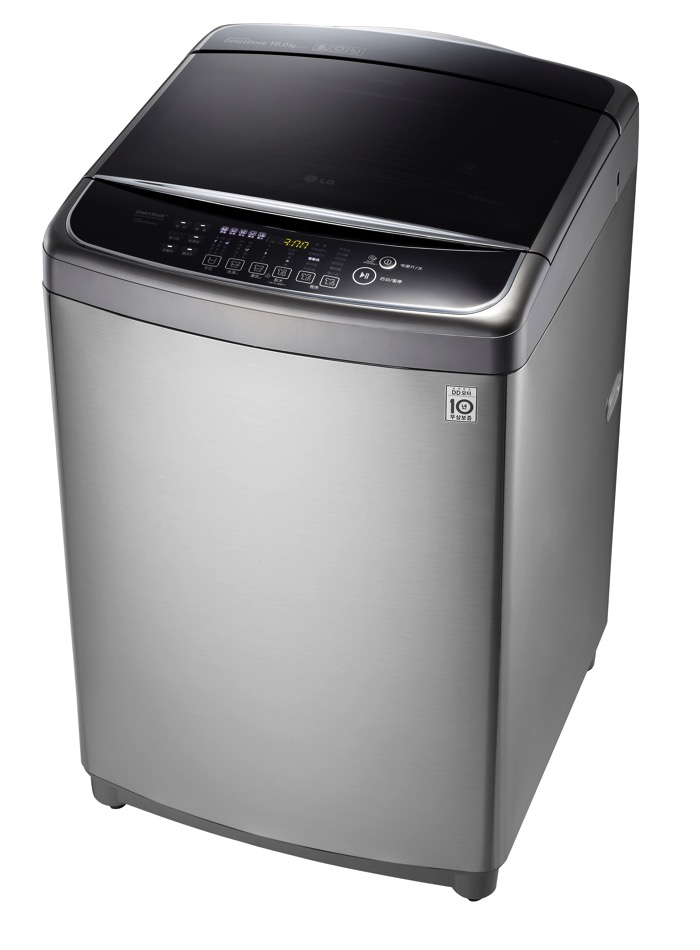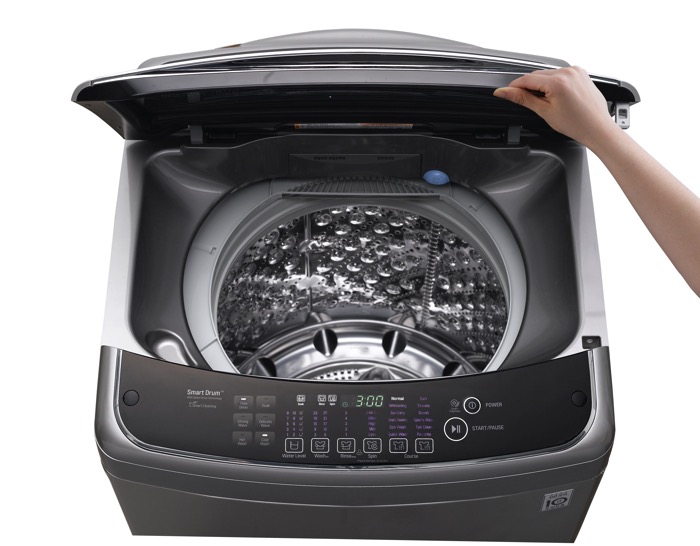 A quick comparison table for the various new models of washer machine in 2015: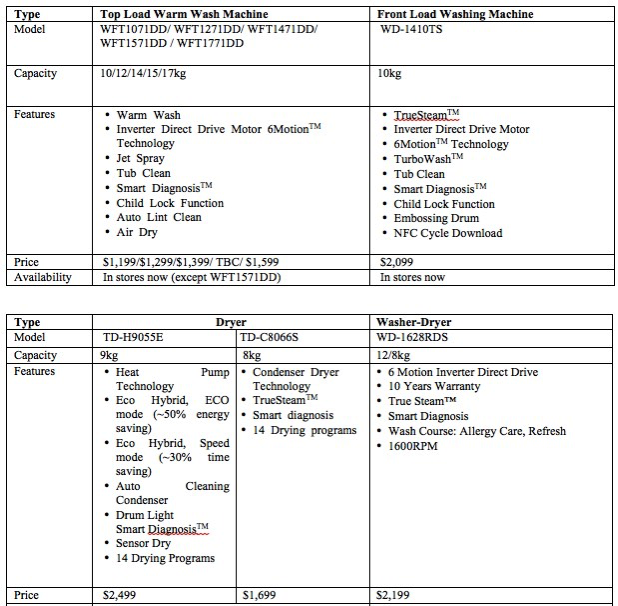 LG Washer Machine – FH21VB1
This model is still not released in Singapore but it is one of the coolest futuristic look during the event.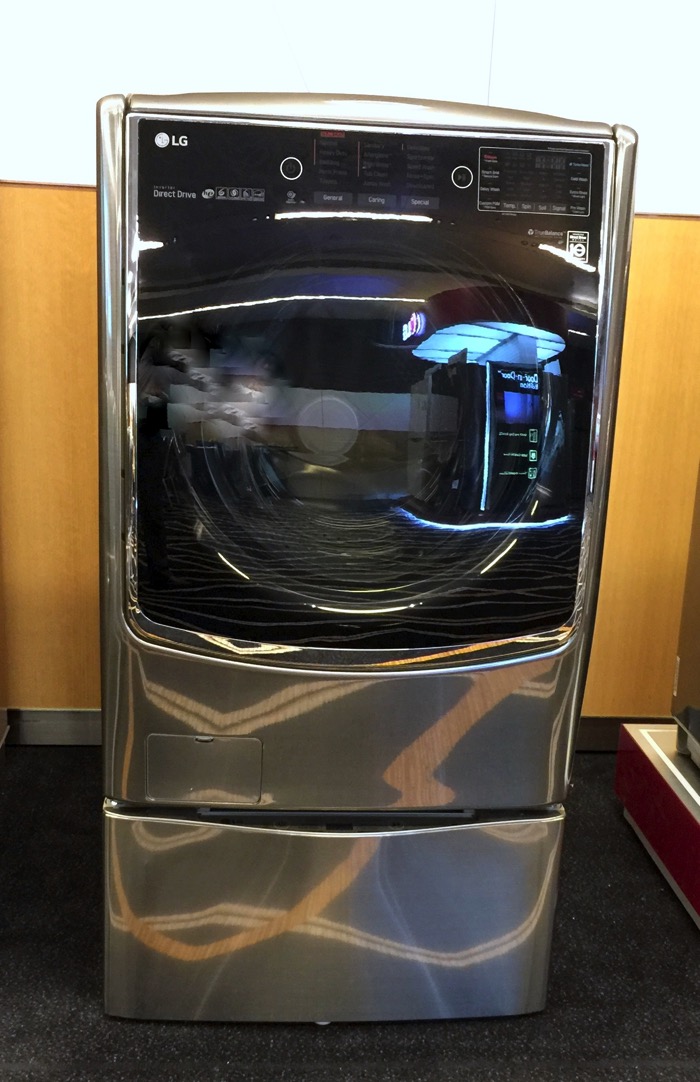 It comes with both the regular front load washing (at the top portion) and bottom tray top loading compartment. This will be useful to handle the heavily soiled clothing or inner wears separately from the main load. One can also operate the individual washing compartment individually or in combination. I will be keeping watch of this model once it is available.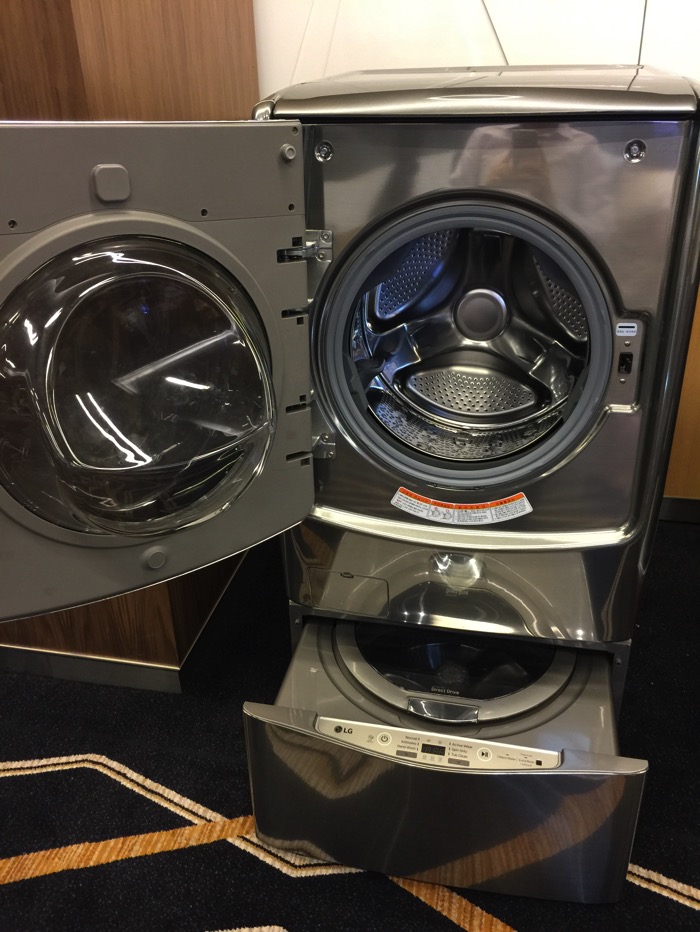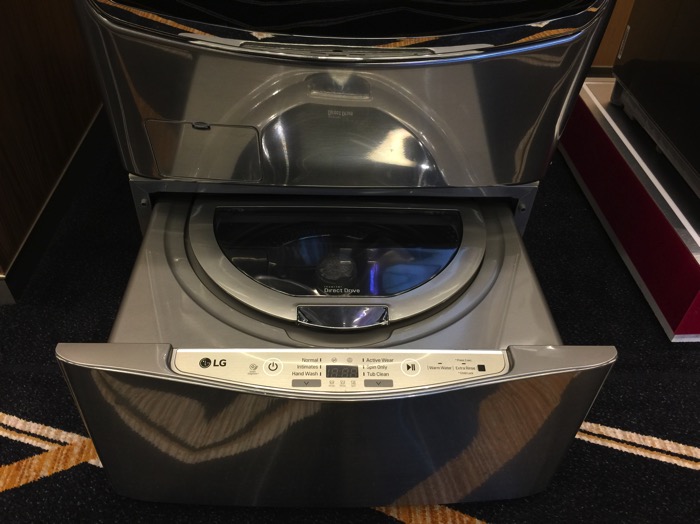 LG washing machines are available at Audio House, Best Denki, Courts, Gain City, Harvey Norman, Mega Discount Store and other LG authorized retailers.
LG REFRIDGERATORS
The highlight of today's showcase was LG's complete collection of Door-in-Door™ refrigerators, ranging from Multi-Door to Top Freezers. LG expanded the Door-in-Door™ series to satisfy the market demand for more convenience in their home appliances. With the simple push of a button, the Door-in-Door™ lets consumers quickly and easily access their favorite snacks and drinks.
A summary of some LG's innovative features in their refrigerators:
a. Door-in-Door™
LG's Door-in-Door™ enables users to quickly and conveniently access favorite treats and commonly used ingredients without having to open the main refrigerator compartment. This innovative feature makes it easy to organize items such as canned or bottled drinks, sweets and condiments. The Door-in-Door™ also reduces the escape of cold air by up to 41 percent compared to opening the fridge door . Temperature rising (in the main compartment) is also cut by up to 47.8 percent , ensuring greater efficiency and allowing food to be kept fresher for a longer period of time.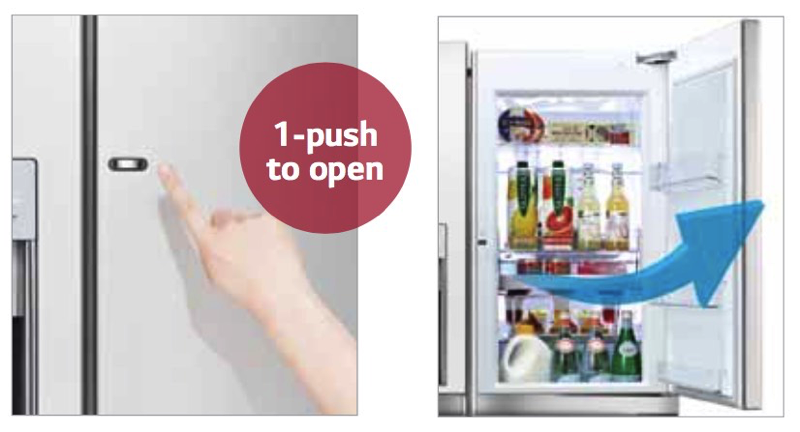 Pic – LG Refrigerator – Side by Side – GS M6262KR – Door In Door opened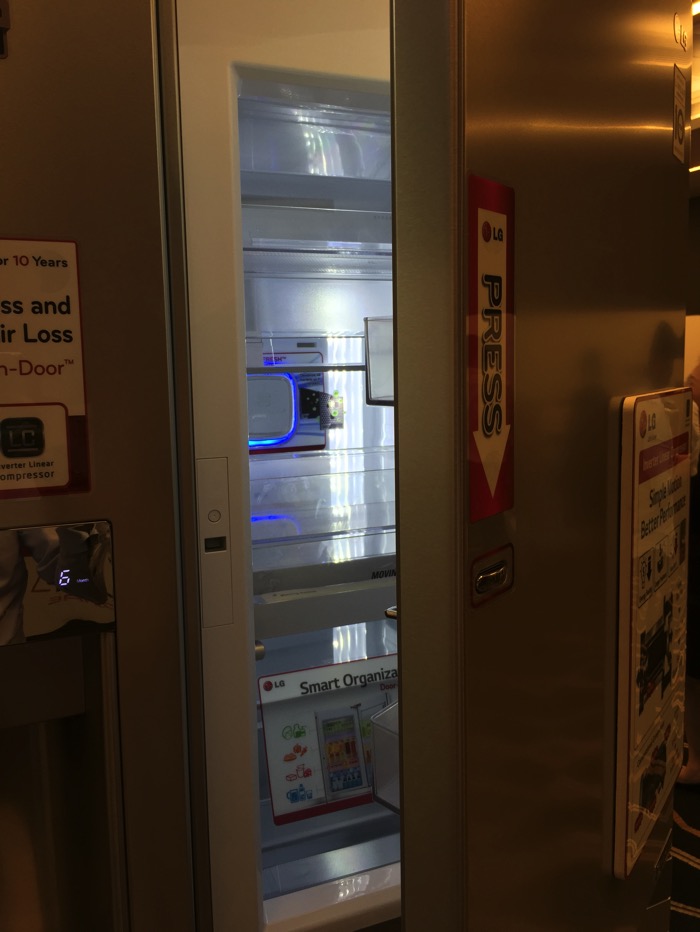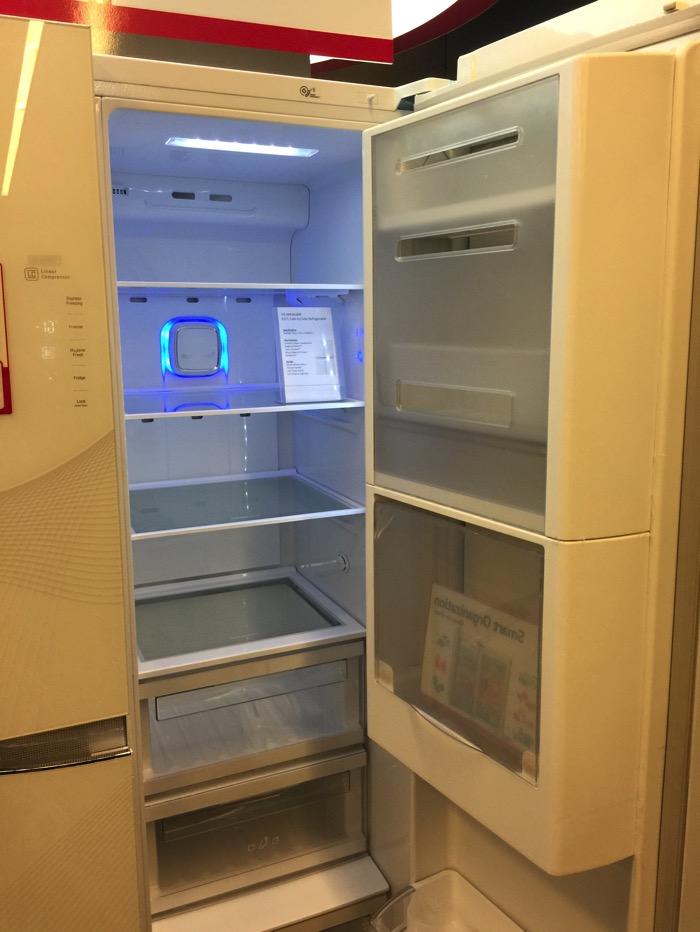 Pic – Door In Door – Multi Door Refrigerator (GF D6011LB)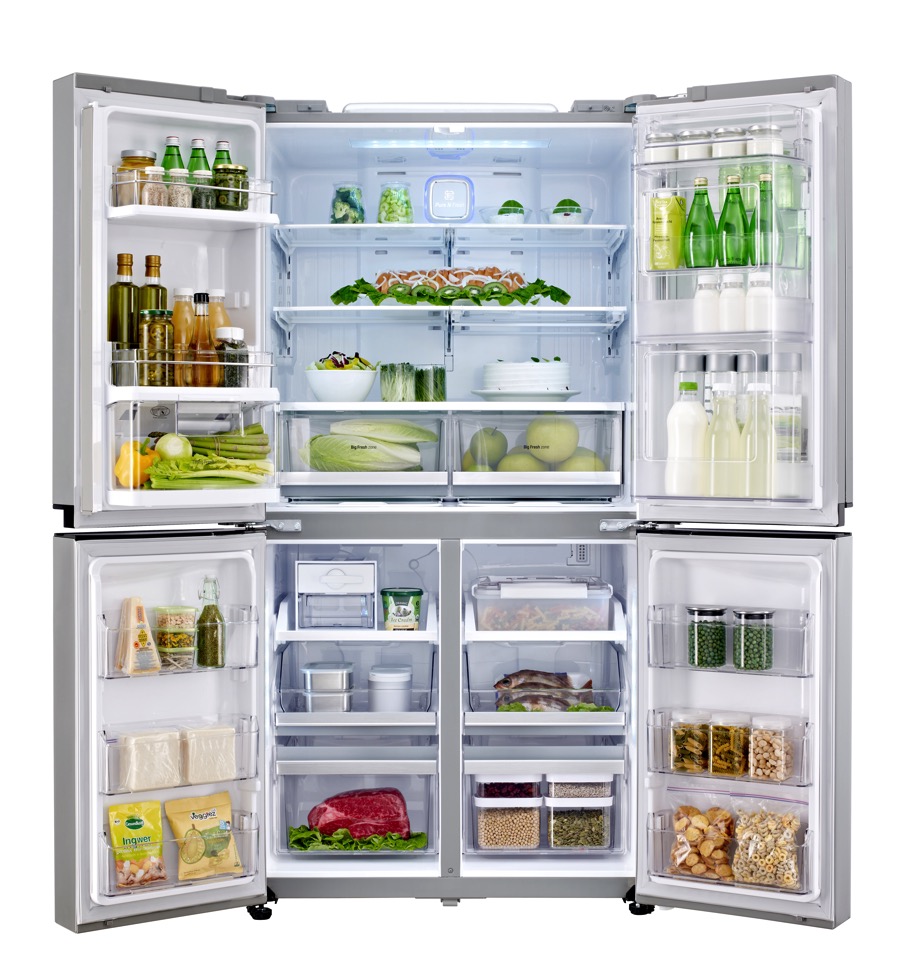 Pic – Door In Door – Side By Side Refrigerator (GS J5961NS, GS M6261NS)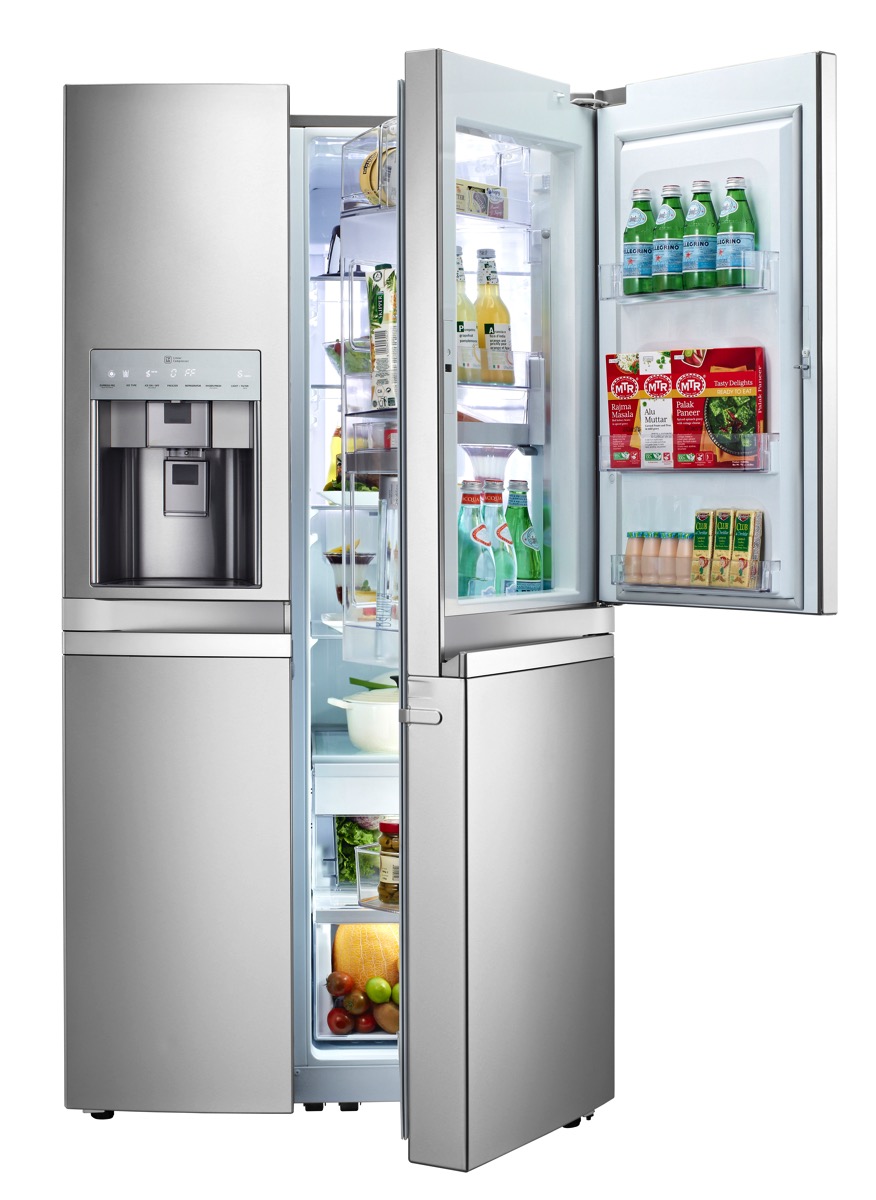 Pic – Door In Door – Top Freezer (GTD4111PZ, GTD4411PZ, GT D5101NS)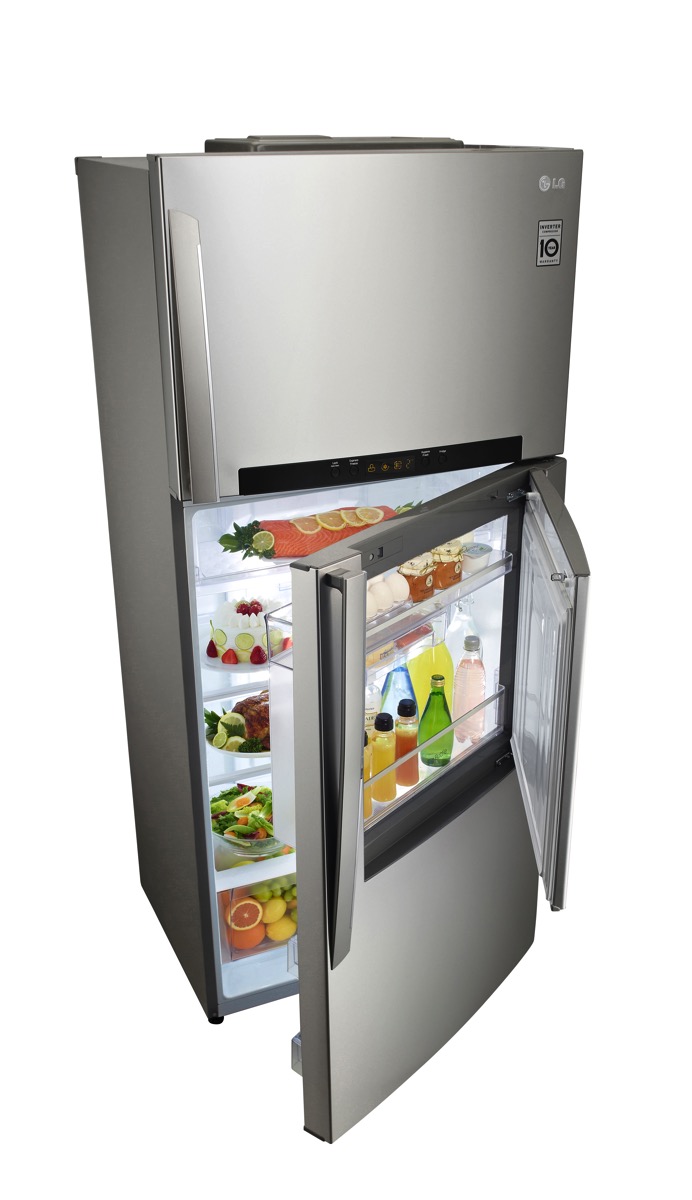 b. LG Compressors
The side by side and the multi-door refrigerators come equipped with LG's revolutionary Inverter Linear Compressor. LG's refrigerators provide up to 32 percent in energy savings and 25 percent less noise . Employing a linear piston drive instead of a conventional reciprocating drive, LG's advanced Inverter Linear Compressor generates less internal friction resulting in lower energy requirements and noise. Greater reliability and durability are achieved due to the reduction of friction points.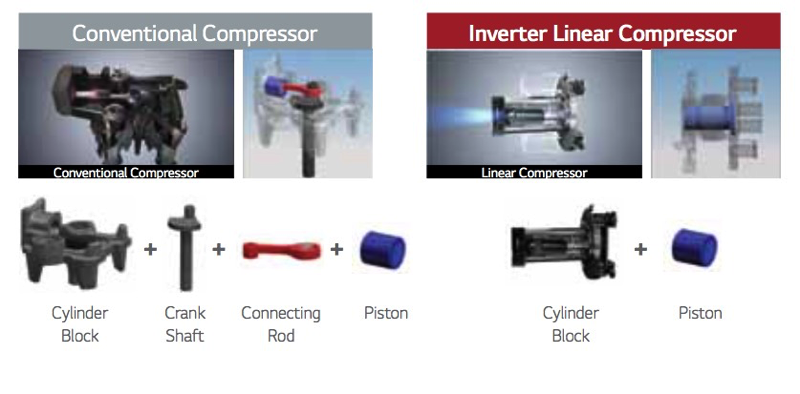 On top of that, it also helps food stay fresher with an optimal temperature balance. The new top freezers employ LG's Inverter Compressor, which helps to lower energy consumption by 36 percent and lower noise levels by 2dB. The quality of the compressors is guaranteed as both come with a 10-year warranty.
c. LG Hygiene Fresh+™
The upgraded Hygiene Fresh+™ air purification system employs multi-layer filters and a proprietary fan to help sterilize and remove bacteria, viruses, mold spores and odors from the fridge's interior.
LG's advanced system performs a highly effective five-step process. The double photocatalyst and UV LED help to eliminate 99.999 percent of bacteria while the double carbon deodorizers reduce the presence of acidic and alkaline odors emitted by rotten vegetables and fish.
The filters implemented in Hygiene Fresh+™ have a longer lifespan, and would not need replacement for several years. This means more convenience and less maintenance cost for the consumer.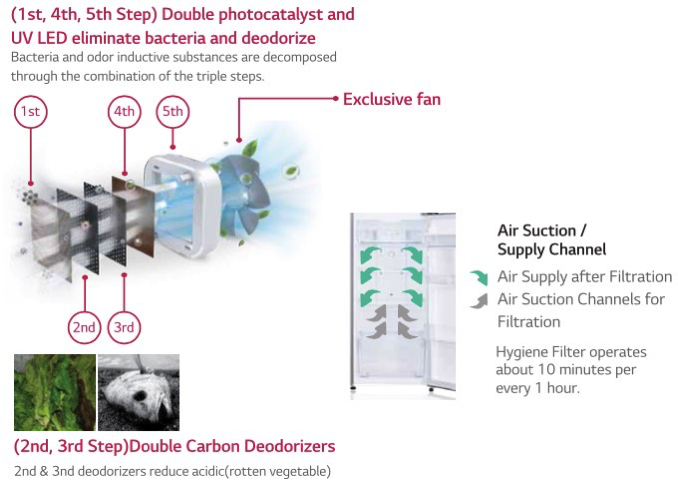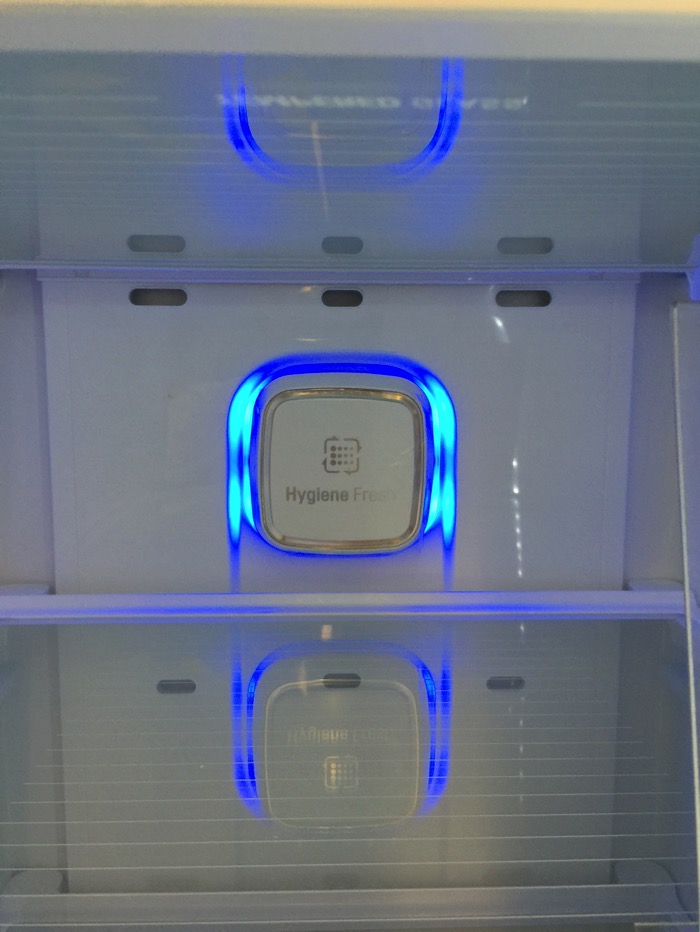 d. Smart Storage System
The Smart Storage System in LG's multi-door refrigerator improves food organization and maximizes convenience. Meanwhile, the new Extra Space, a recessed area at the bottom of the main compartment, opens up new space in the fridge ideal for storing eggs and small food items such as cheese and sliced deli meats among others.
The Smart Storage System also incorporates the Folding Shelf, which conveniently folds away to make room for larger items like tall bottles or soup tureens. LG's comprehensive organization system also extends to the freezer section's Multi Drawer Freezer and Sliding Shelf. On top of providing plenty of storage, the Sliding Shelf is easy to open and can safely support heavy items.
Longer Freshness LG's top freezer Fresh 0 Zone is an enclosed space that prevents the smell of strongly scented foods from mingling with other items. As the temperature is relatively cooler than other compartments in the refrigerator, the Fresh 0 Zone minimizes temperature fluctuations, enabling food to retain its freshness for a longer period. The sealed section maintains a temperature of around zero degrees Celsius — cold enough to keep food perfectly preserved without requiring the need for defrosting before cooking. In addition, the Multi Air Flow feature distributes cool air evenly throughout the refrigerator to further ensure food is kept as fresh as possible for as long as possible.

Pic – LG Refrigerator – Smart Organisation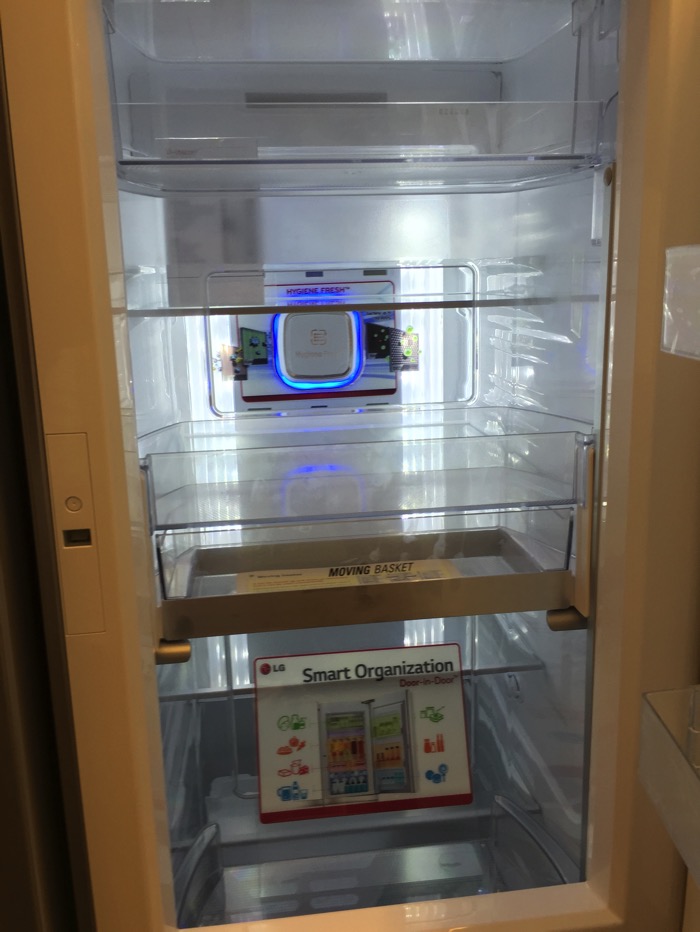 Pic – LG Refrigerator – Easy Access Drawer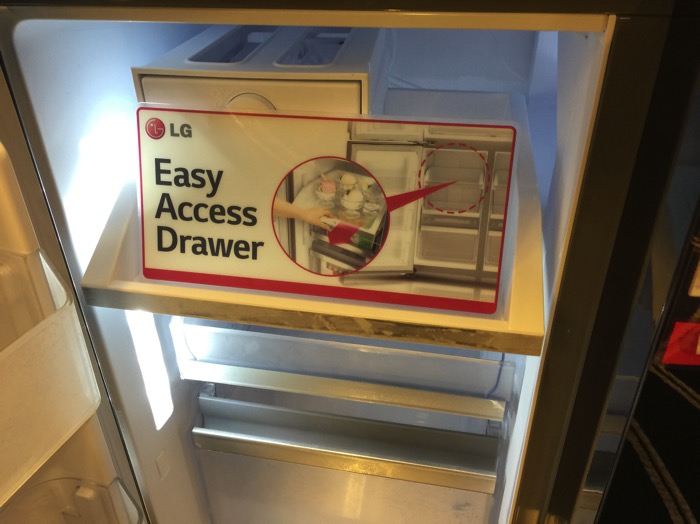 Pic – LG Refrigerator – Smart Storage Freezer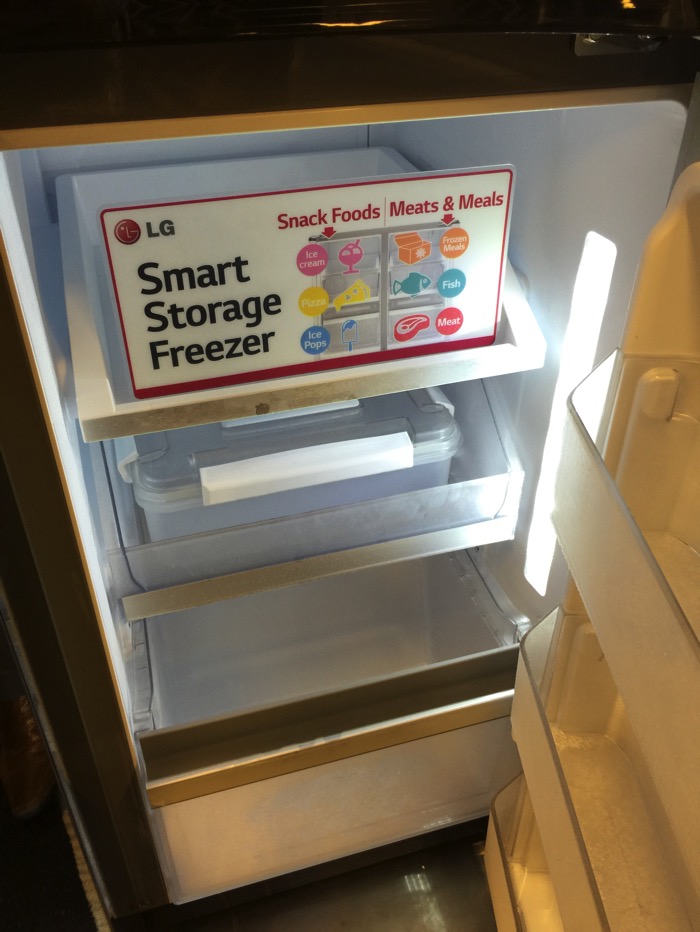 A quick comparison table for the various new models of refrigerator in 2015: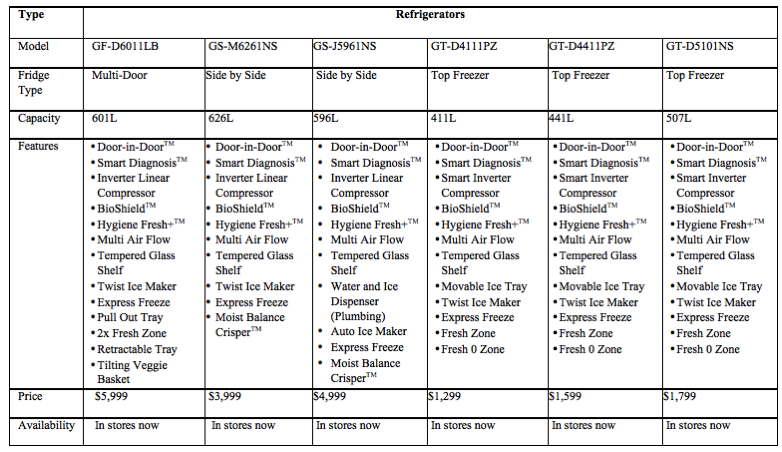 In particular, I saw and fancied this full beauty of the 4 doors Side by Side (GS M6262KR) LG Refrigerator. The glossy white does bring out the clean & classic ambience for a modern kitchen.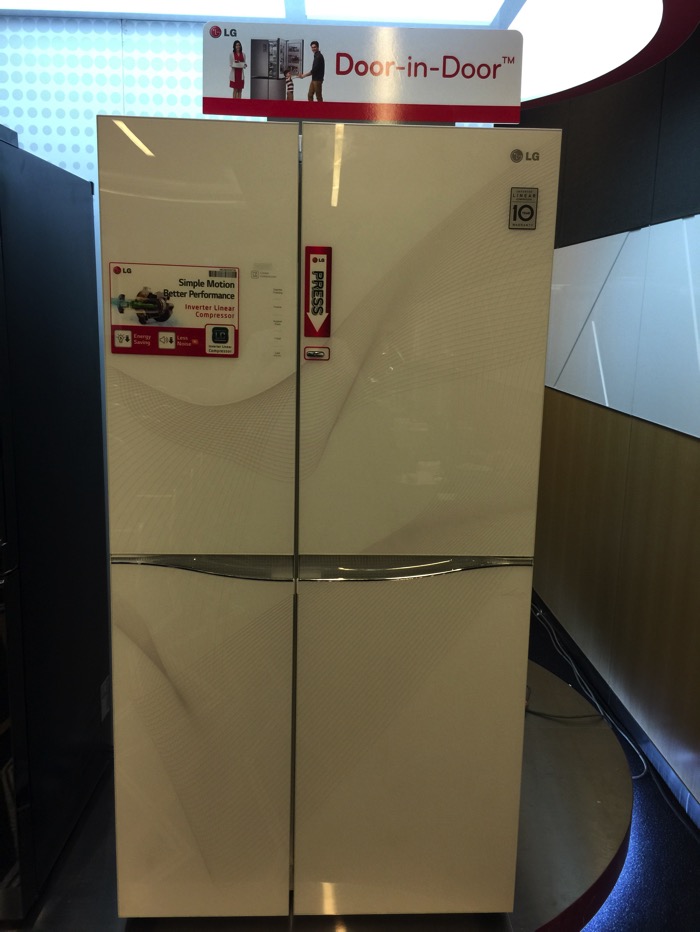 The final attraction for the event is the CordZero™ Canister. It features the RoboSense™ Technology which will allow the CordZero™ Canister to follow the trajectory of the user's movements while it is in use. The Automatic Location Recognition technology and Active Following Wheel technology incorporate four interconnected sensors on the body and a handle to monitor and maintain a distance of 100cm from the user. This is smart living at its best.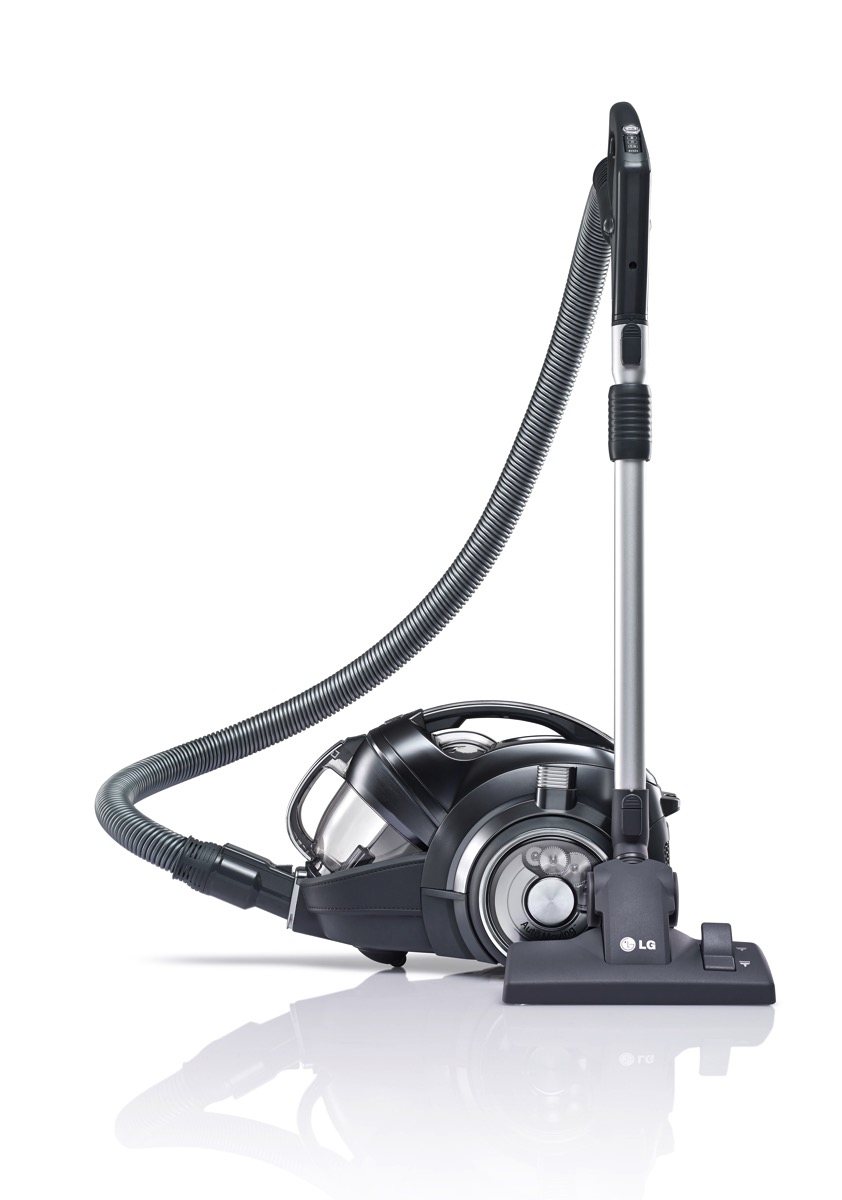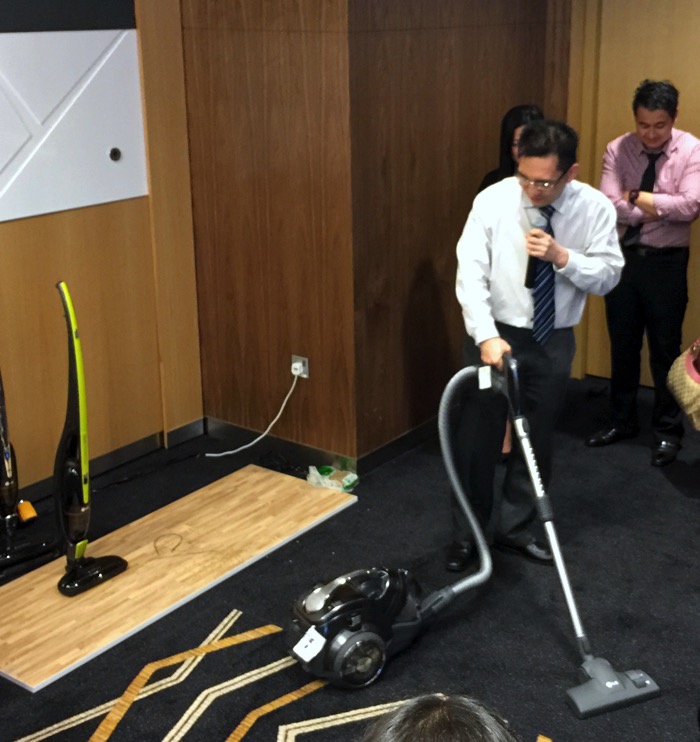 Other home vacuum cleaners by LG include: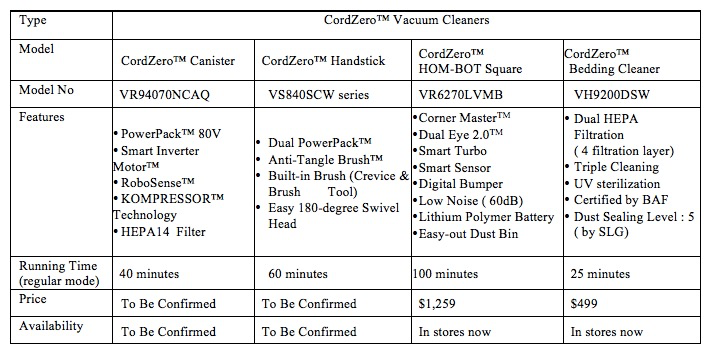 For more information, please visit LG Singapore website.
Read other related posts:
Follow us on:



Share this article on: