Finally, the customed to order (CTO) set for the new Apple Macbook Air mid 2011 arrived in the most simplistic parcel. The new Apple Macbook Air mid 2011 is one of the latest Macbook edition in year 2011. The refresh is considered faster than the regular cycle of 1 year. Nevertheless, the refresh is well anticipated especially with the new inbuilt generation processors.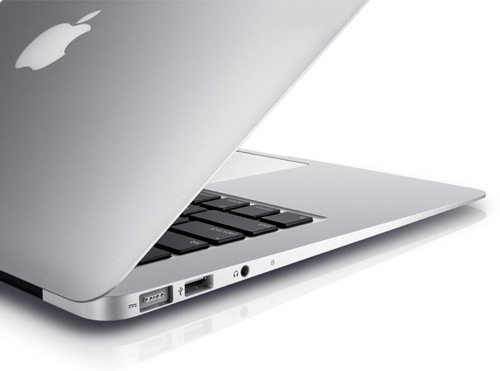 The packaging is the same as the older Mackbook Air models. Except this time round, there is no recovery USB thumbdrive since the there is a recovery partition which will reinstall Lion from the cloud.
Key Unchanged Features are:
– Unibody shell, 0.3cm at its thinnest
– Ports type & location
– Overall dimension and weight
Largely the external case and its look and feel is not changed.
Key New Features are:
– Faster CPU
off-the-shelf – 2nd Gen Core i5 1.6 or 1.7 Ghz 
CTO – 1.8GHz Core i7
– Intel Thunderbolt technology made in a DisplayPort connection
– Intel's HD 3000 graphics
– Fast SSD which supports better re-writing algo:  11-inch comes with 64GB or 128GB  13-inch comes with 128GB or 256GB
– Faster onboard ram : 2-4GB of DDR3 memory
– Backlit keyboard
– glass Multi-Touch trackpad that supports Lion's multi-touch gestures
– Low powered Bluetooth 4.0
The first Geekbench scores benchmarks for the MacBook Air 2011 refresh showed that the Intel Core i5 processor in both the 13″ and 11″ variation are extremely unbelievable.
In fact, the new MacBook Airís are so fast that the speed of the new 1.7GHz Core i5 13? model is faster than the 2010 MacBook Pro 17? that was a 2.6GHz Core i7.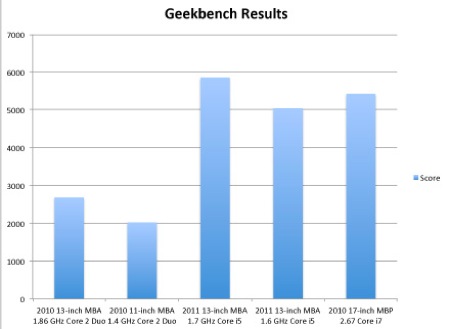 MacWorld showcased their preliminary results of the 2011 MacBook Air 13? Core i5 (times in seconds):


BareFeats also showcased their results related to CPU & GPU processing. Noticebly, the new Mackbook Air can never outperform the true gaming capability of the Macbook Pro Series.



Personally, even as a regular user with usage patterns such as [50% surfing/multimedia consumption related, 30% word/image processing, 10% video processing, 5% programming, 5% hard core games], this new Macbook Air is already considered a good giant performer especially with the pre-installed Lion.
Read other related posts:
Follow us on:



Share this article on: