Apple Watch is the latest product line Apple (AAPL) has created in addition to the existing iPhone, iPods, Mac, iCloud and iTunes services. For the smartwatch industry, Apple is not the pioneer and incumbent unlike the better known brands – Samsung Gear, LG G, Pebble, Moto 360. Not to mention the whole slew of Fitness trackers e.g. Garmin Vivoactive, Tom Tom Run Cardio, Fitbit Charge HR, Jawbone UP, Microsoft Band.
How does Apple Watch compare against these competitors' products and is it a late entrant or a new industry trend setter?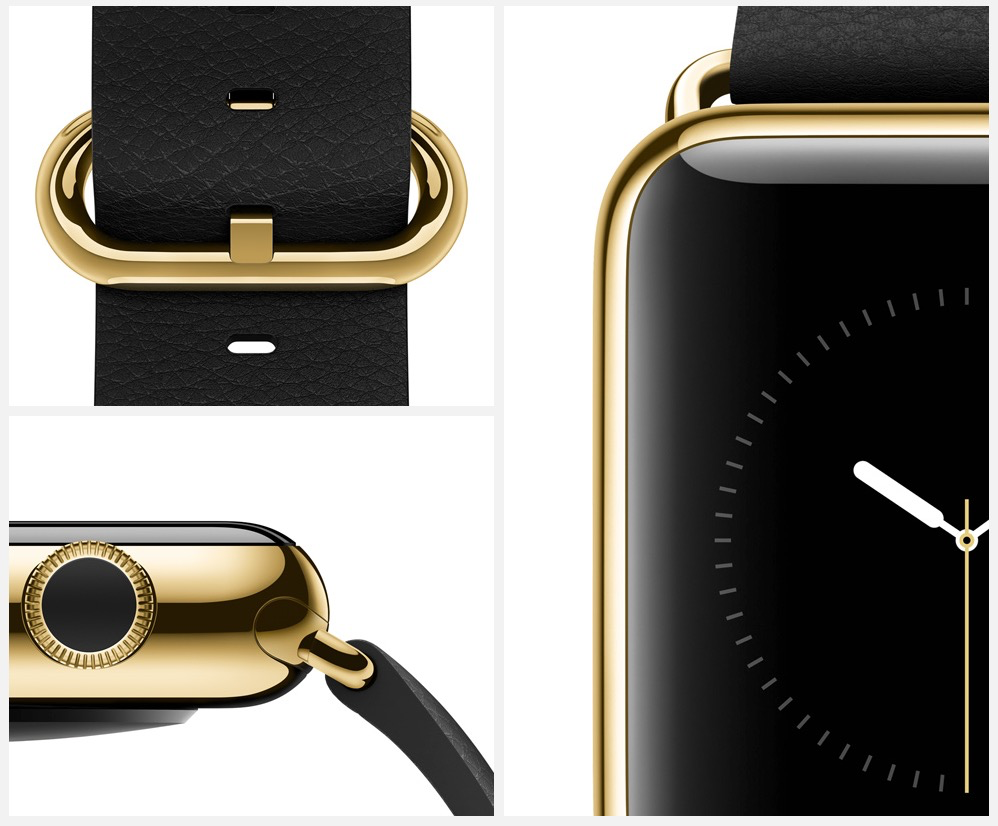 Generally, the core functions for a wrist wearable can be briefly summarised as such:
1. FUNCTIONAL UTILITY
a. Basic date & time tracking
b. Notifications / Alerts
c. Information display (realtime / delayed / static)
d. Fitness tracking (distance, steps, heartbeat, calories, movement, sleep quality etc)
2. AESTHETIC APPAREL
a. Daily driver (day to day routine)
b. Event specific (e.g. ceremonies, business functions, sports etc)
c. Community inclusion / peer recognition
3. INVESTMENT
a. good resale or price appreciation opportunity
b. limited edition exclusivity
I must say for most of the common electronic smart watches, they have created their own niche for parts or combination of the above categories. It will be interesting to see how Apple positions & develops her Apple Watch to set out her own unique value proposition to the already huge community of iDevices fans.
UNBOXING THE APPLE WATCH
Personally, I have managed to get my hands on the Apple Watch (Stainless Steel) which came in a white cubic box – pretty similar to the some of the traditional luxury watches packaging.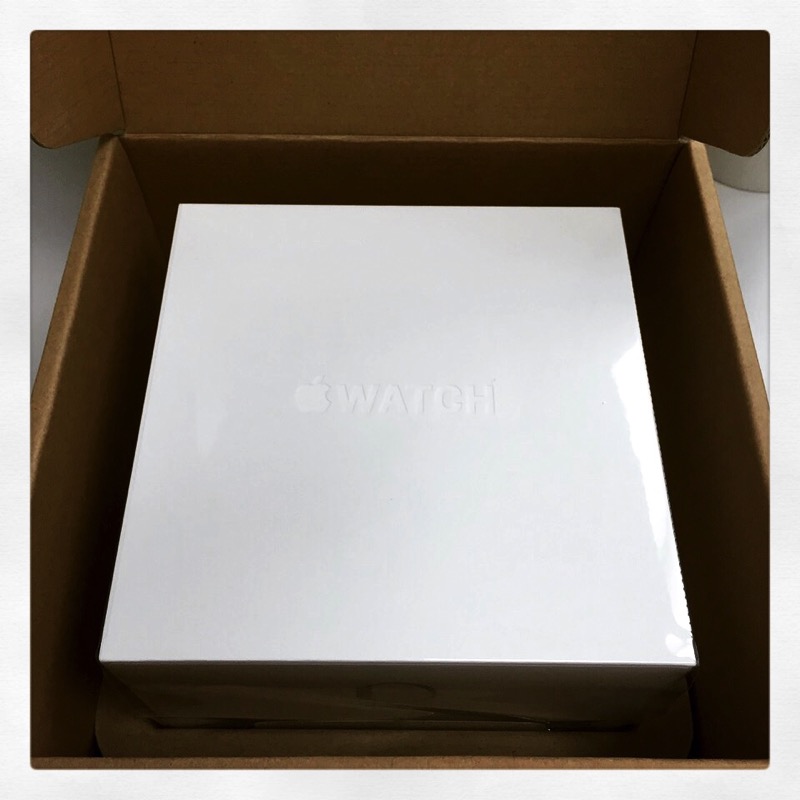 Overall, it is pretty clean and neat. Although, through many reviews out there for the early batch of adopters, there are some differences in the packaging for the other variants of Apple Watch e.g.:
1) Apple Sport Watch – long flat case with the whole length of watch laid out flat within it.
2) Apple Watch Edition – better words embossing on the exterior of the similar cubic box. The make & inner linings are much more elegant (velvet material, leather watch case etc)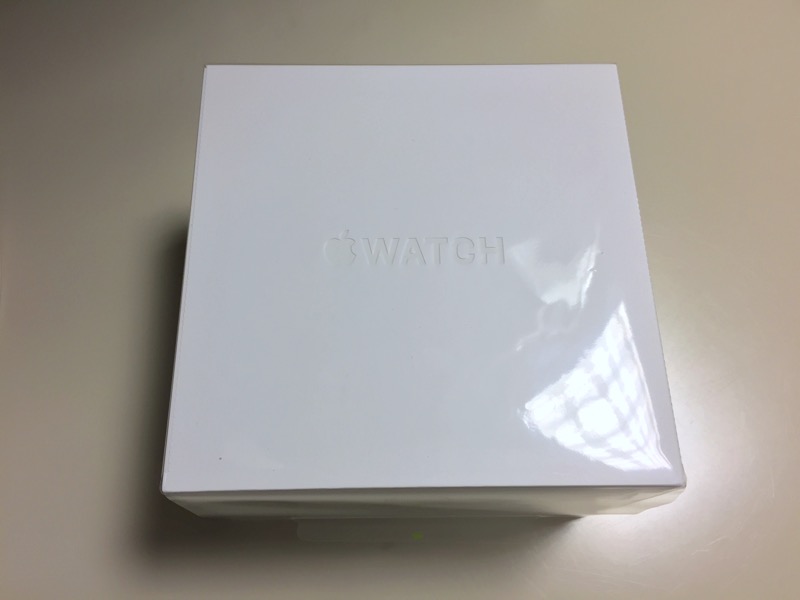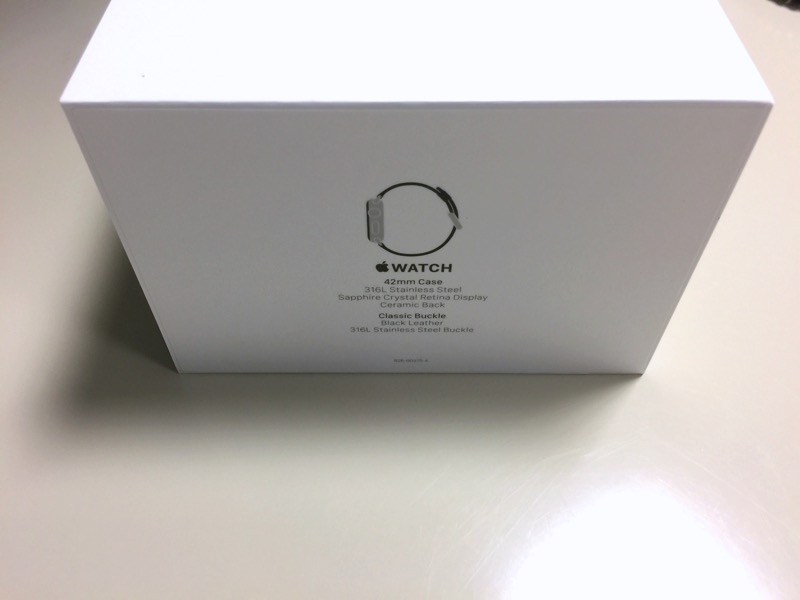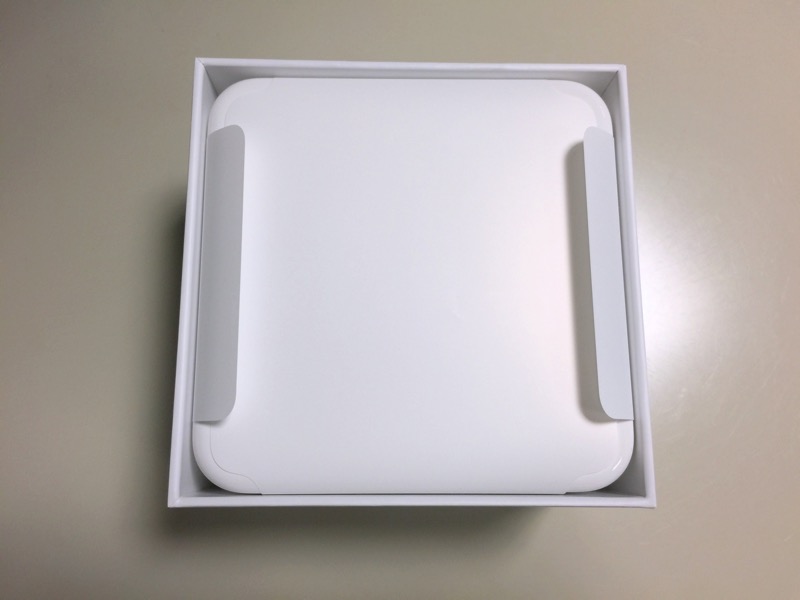 Opening up the acrylic watch case reveals the strapped on Apple Watch in its full beauty, resting nicely on the interior cushion. Apple has lived up to its name of designing a good unboxing experience down to the very make of the packaging.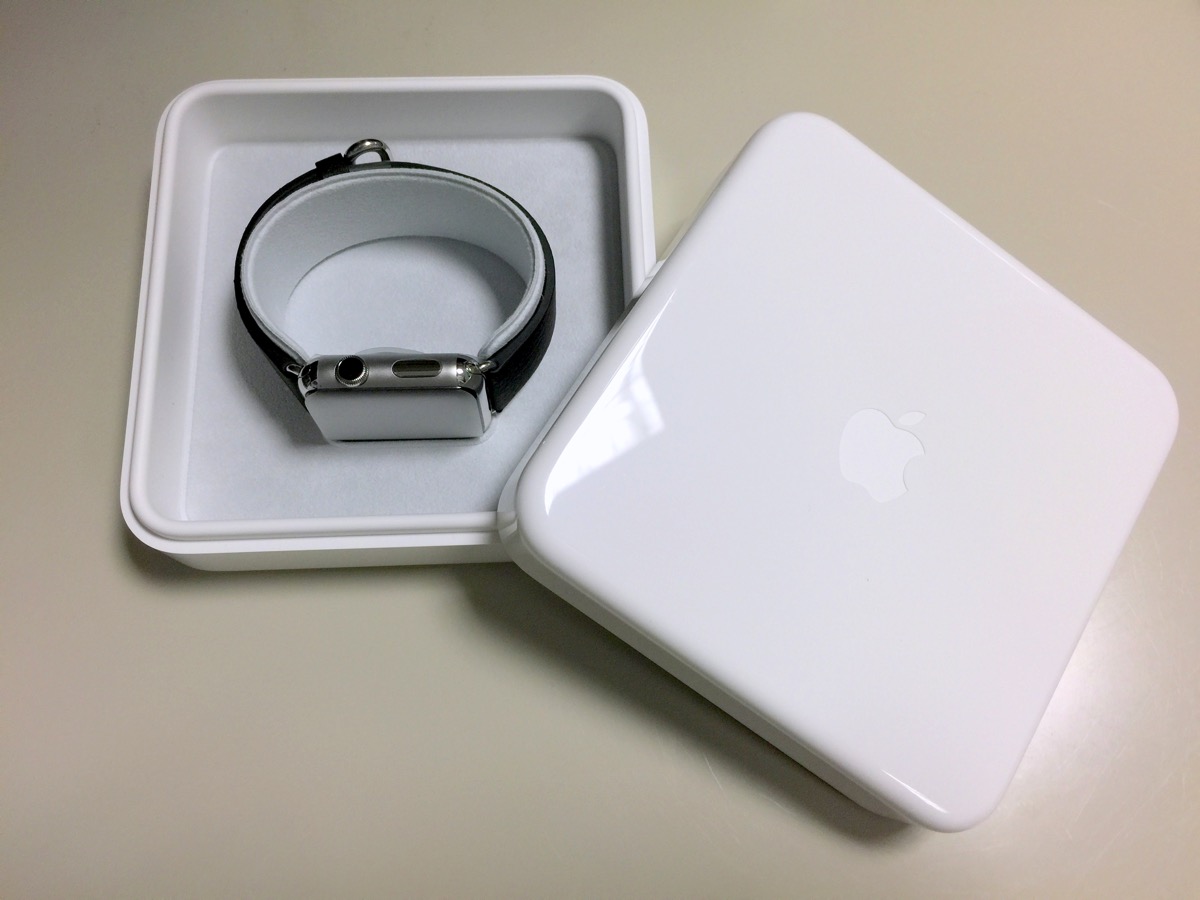 Together with the new Watch, Apple has designed & created new accessories to go well with it.
Firstly, there is the new MagSafe induction charging cable: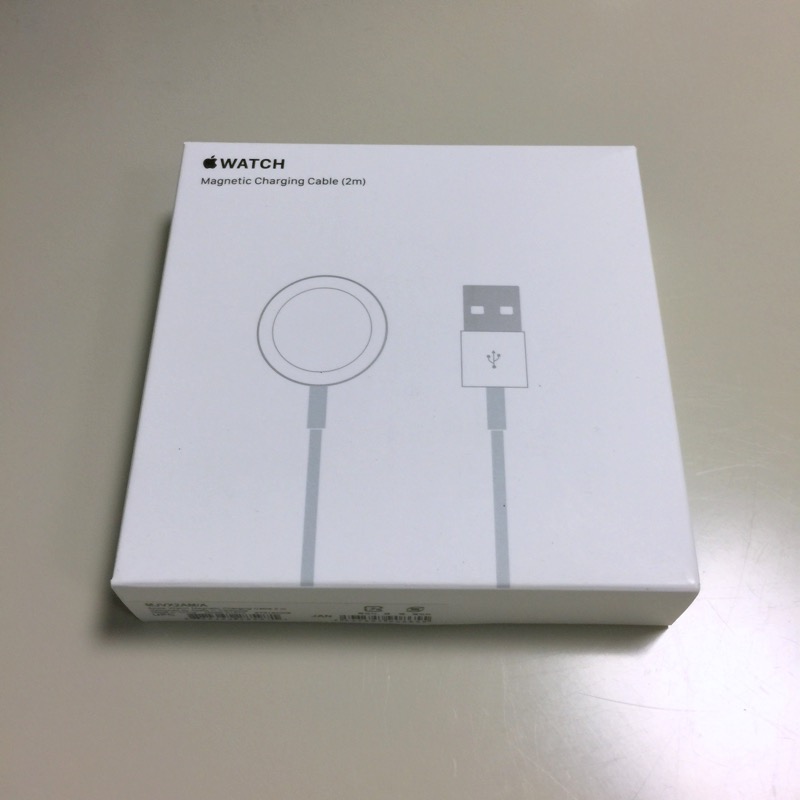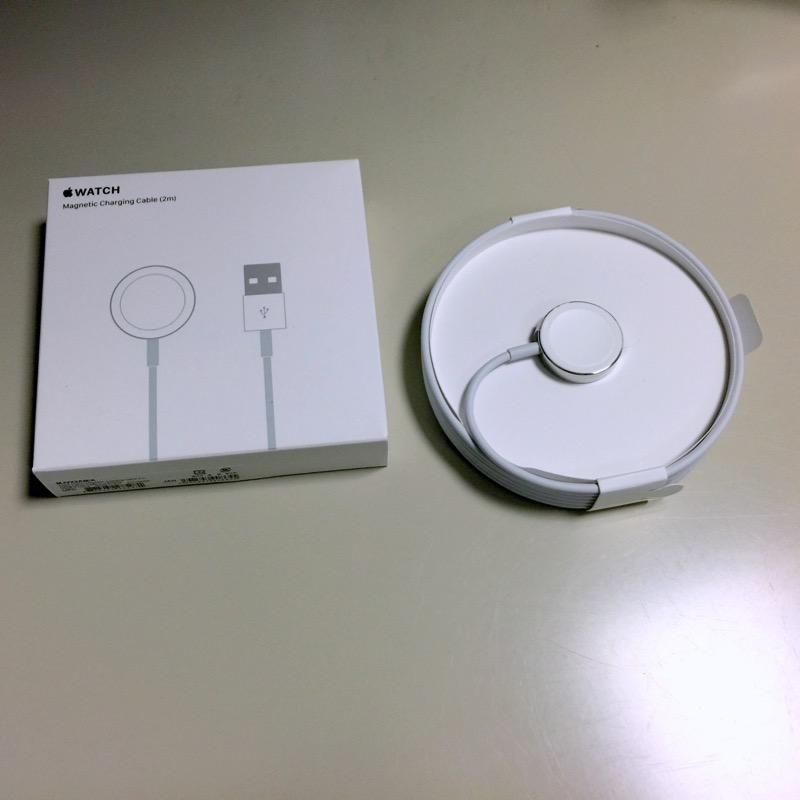 The matt side of the circular magnetic pad attaches itself nicely to the inner back of the Apple Watch.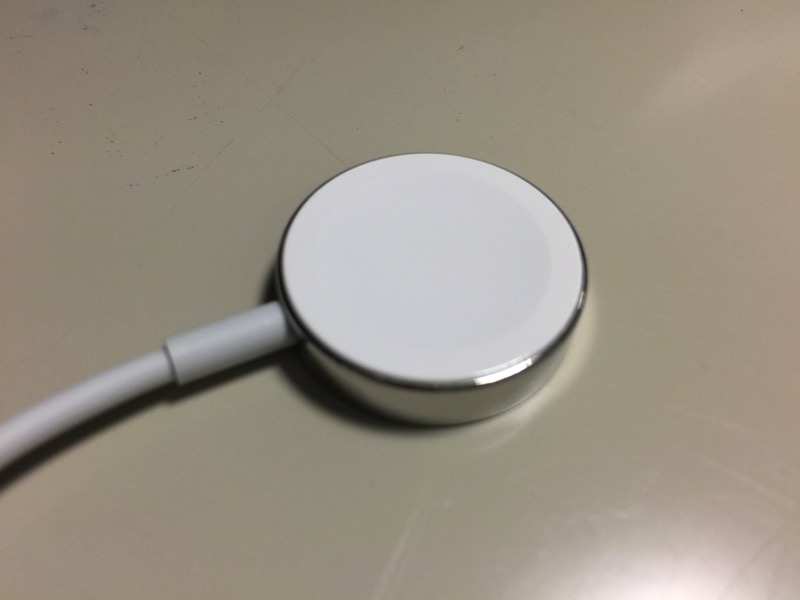 Personally, I felt that the magnetic strength is just right without much hassle to separate it from the watch after charging and yet it is strong enough to ensure the charging 'connectivity' is not disrupted with any slightest movement of the cable.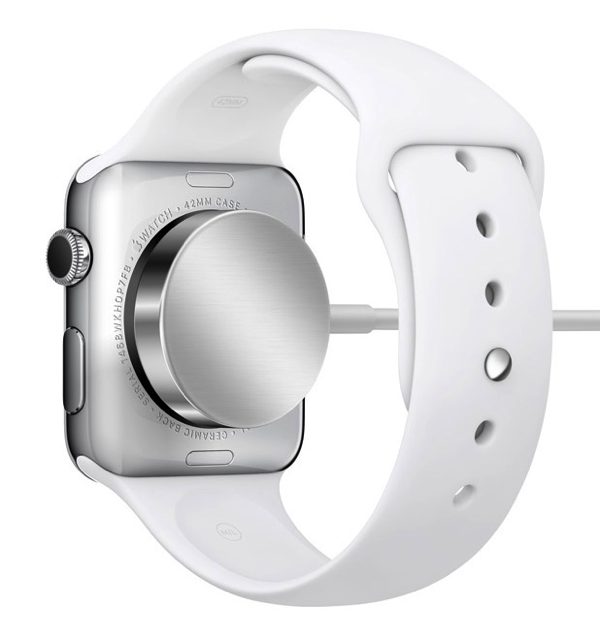 The 5W charging adaptor also underwent significant re-design. Even though the charging and power specifications are largely unchanged.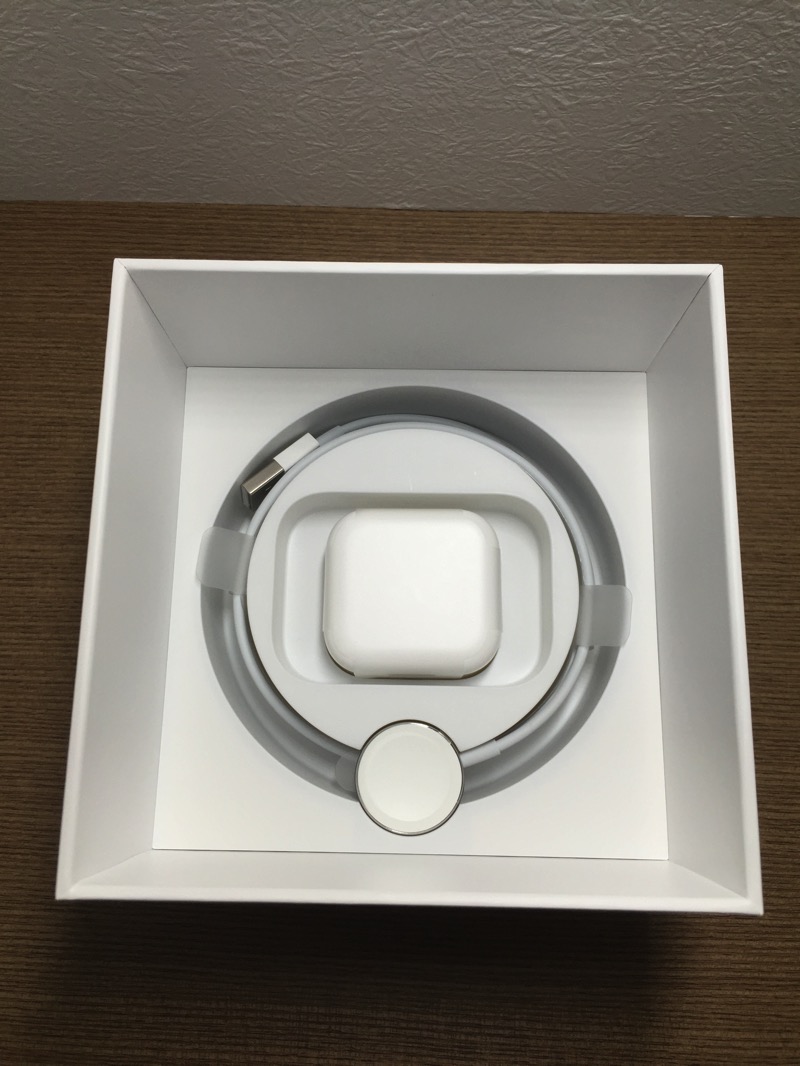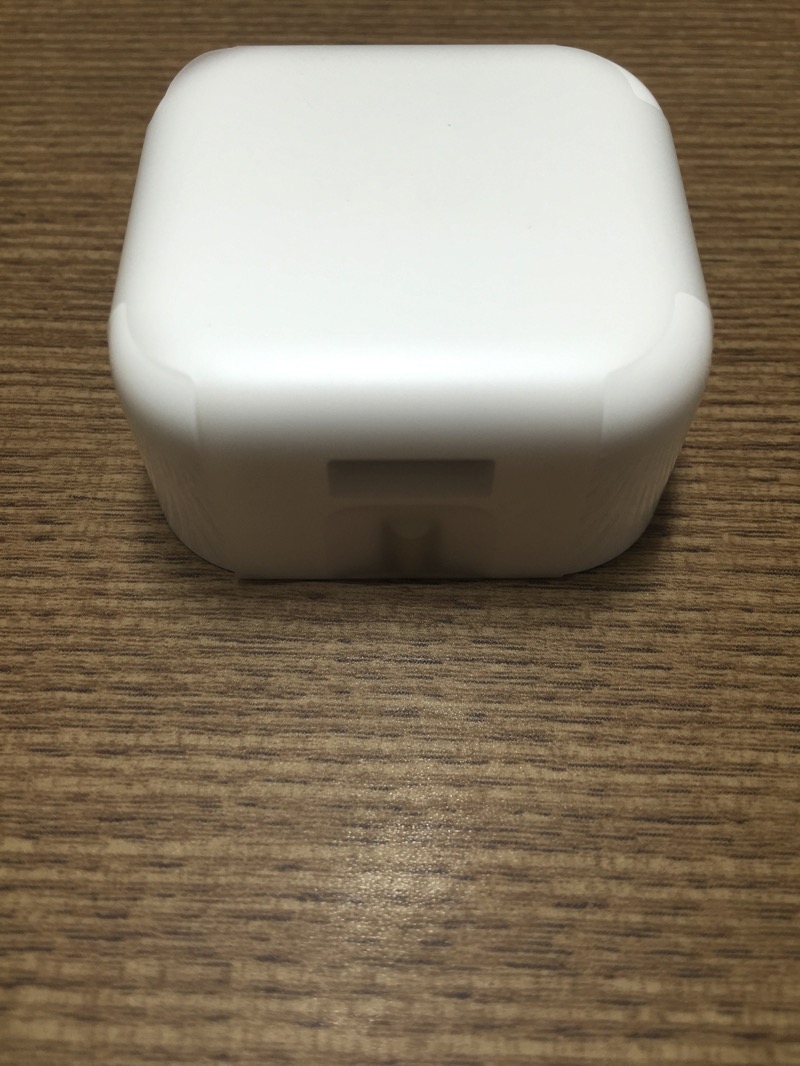 Now the 5W charger comes with collapsable plug pins. Unlike some other similar plugs, the pins can be flexed / collapsed via the good spring mechanism.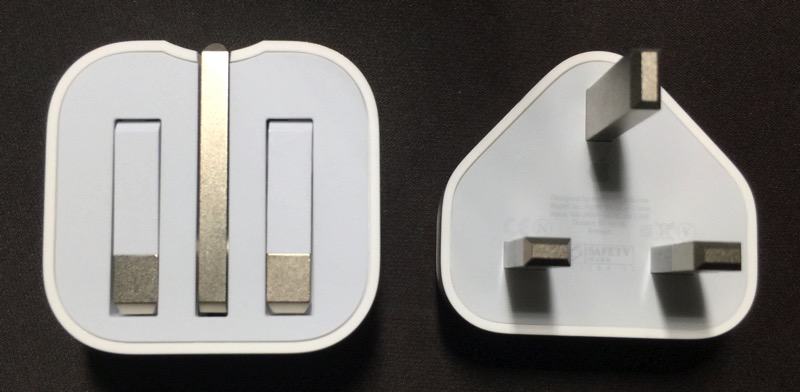 Unfortunately, the new charger plug is now thicker than the previous model.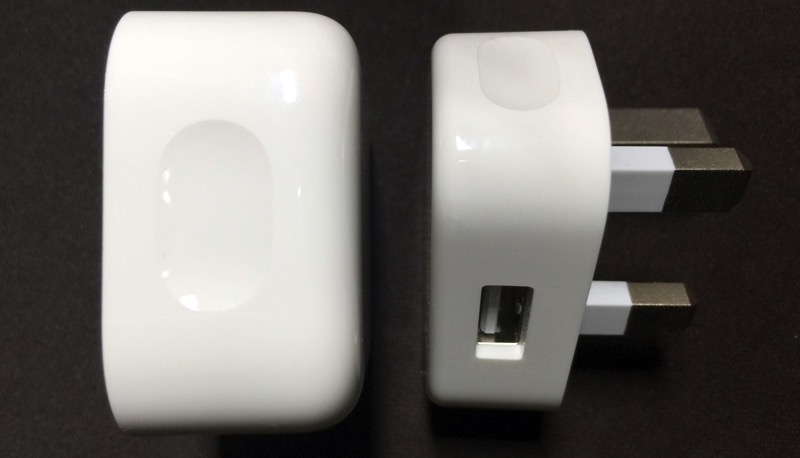 It will not be surprising to these plugs offered and packaged for the subsequent series of iPhones and iPods.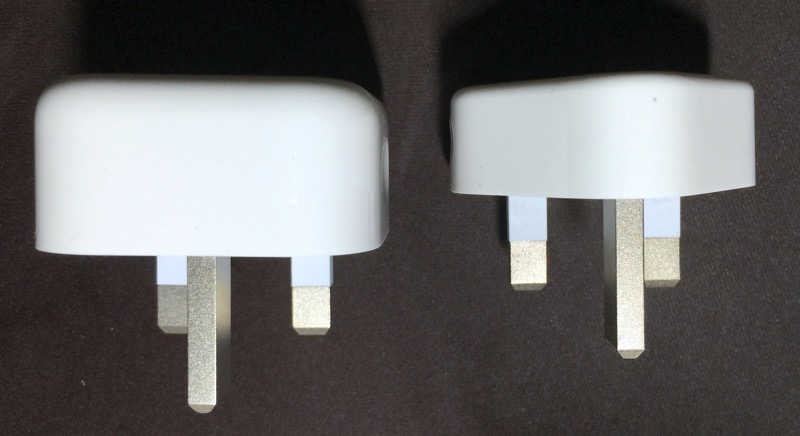 CLOSER LOOKS ON THE APPLE WATCH (EXTERIOR)
The black classic buckle goes pretty well with the Apple Watch Stainless Steel model. The weight is just right, not too light (for stability on hand) or too heavy (as a weight drag on the wrist).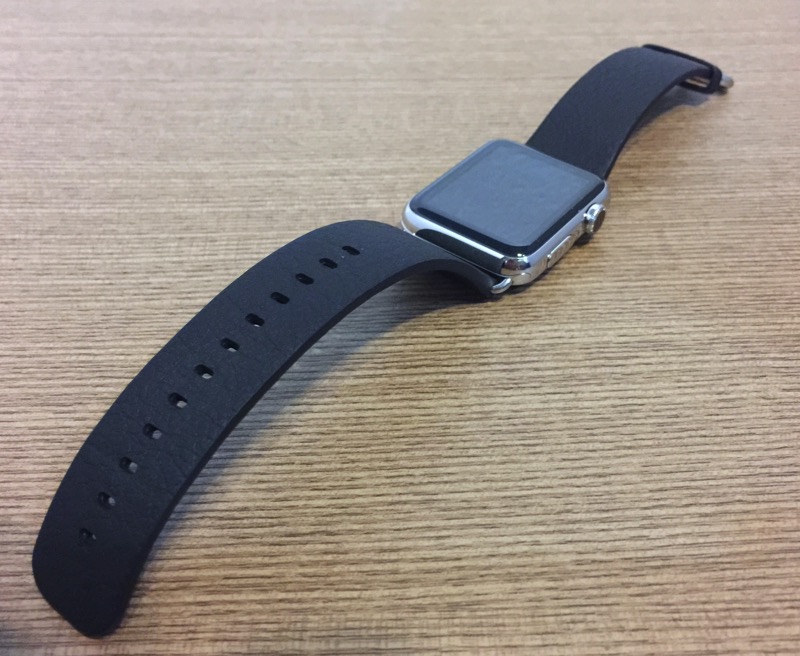 The interior back of the watch reveals the HR sensors, very much akin to the mechanical assemblies through the traditional luxury watches.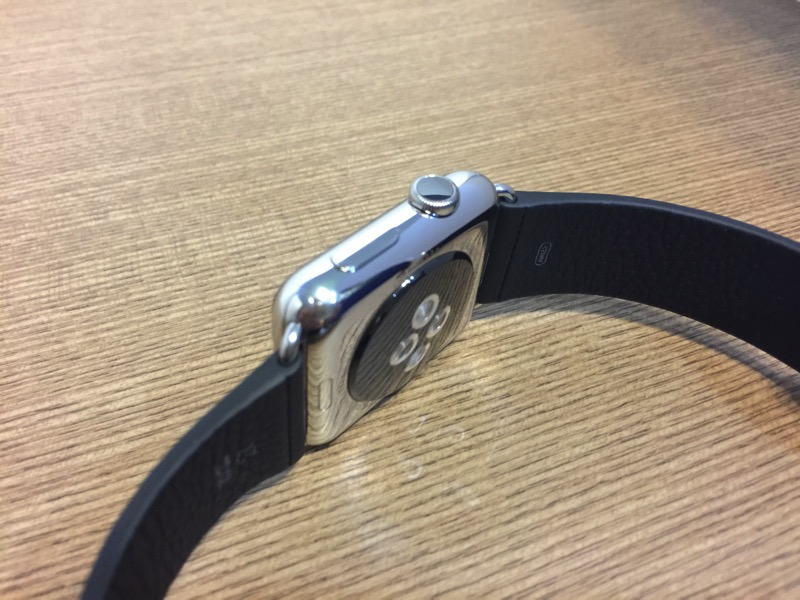 The important microphone slits and speaker slit is located at the side of the watch.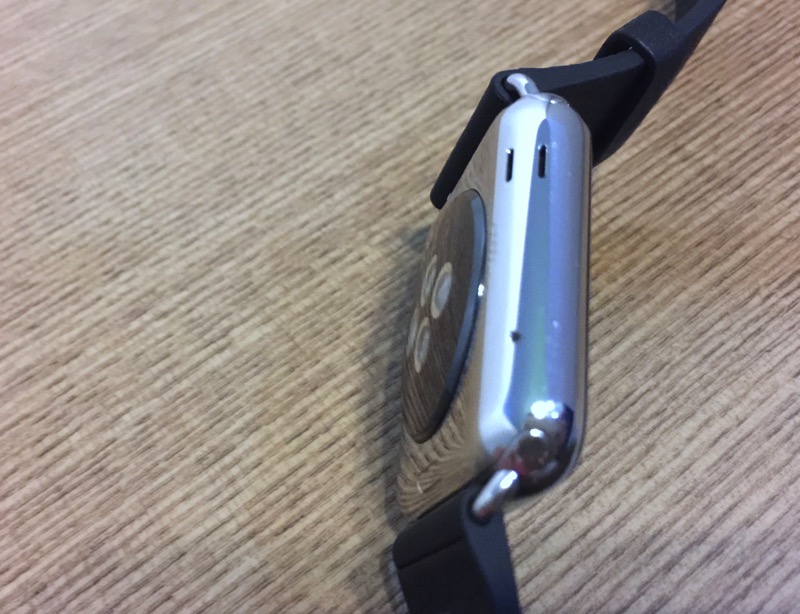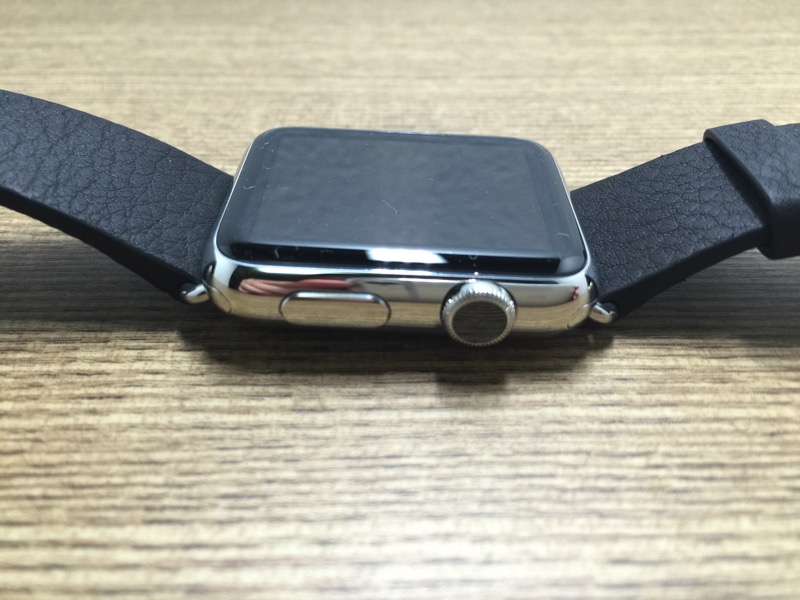 The famous Apple Watch digital Crown control is located on the other side of the watch, next to the side button. Both buttons usage can be summarised as below: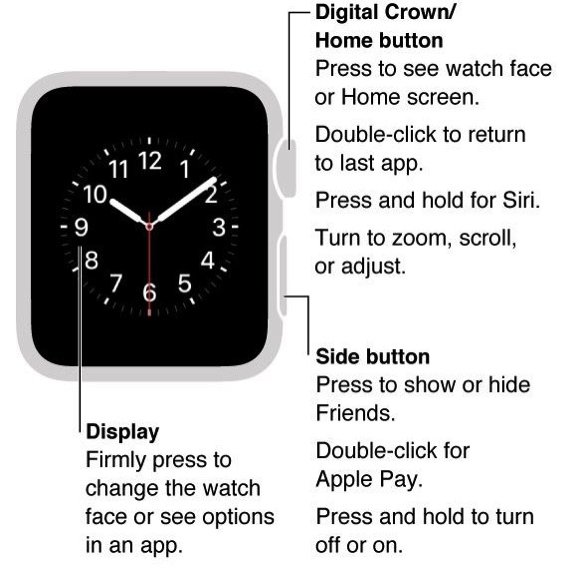 Overall, the leather buckle served well. The leather feels decent and pretty water resistant. My only complain is it does not look luxurious leather enough for more formal occasions but that can be solved by swapping to more 3rd party straps in time to come.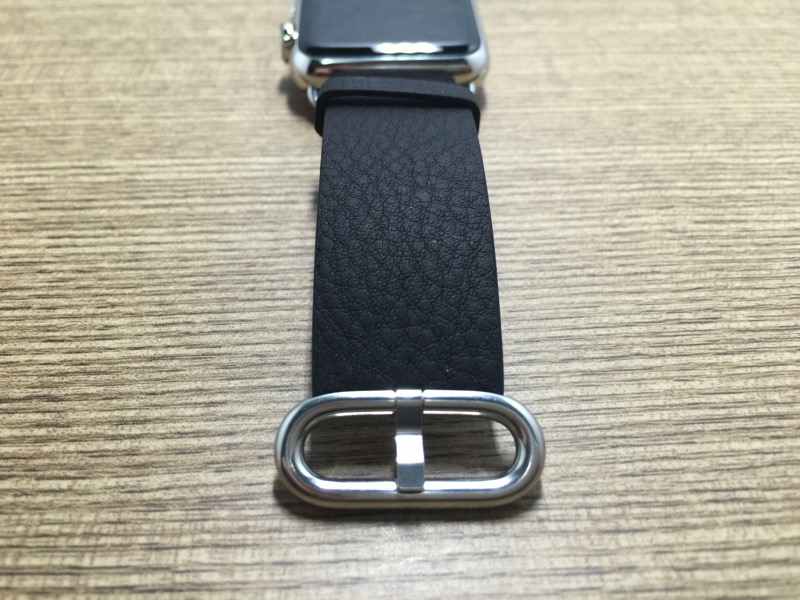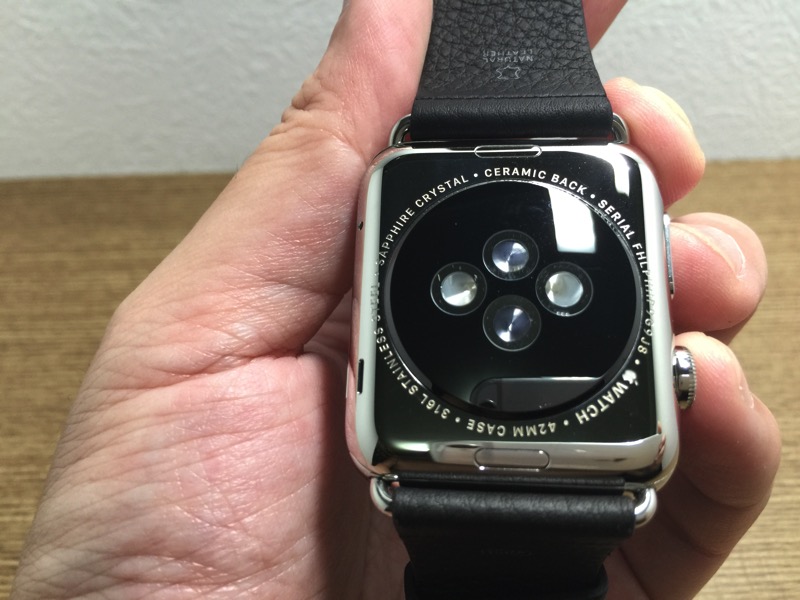 COMPARISONS (BETWEEN VARIOUS APPLE WATCH MODELS)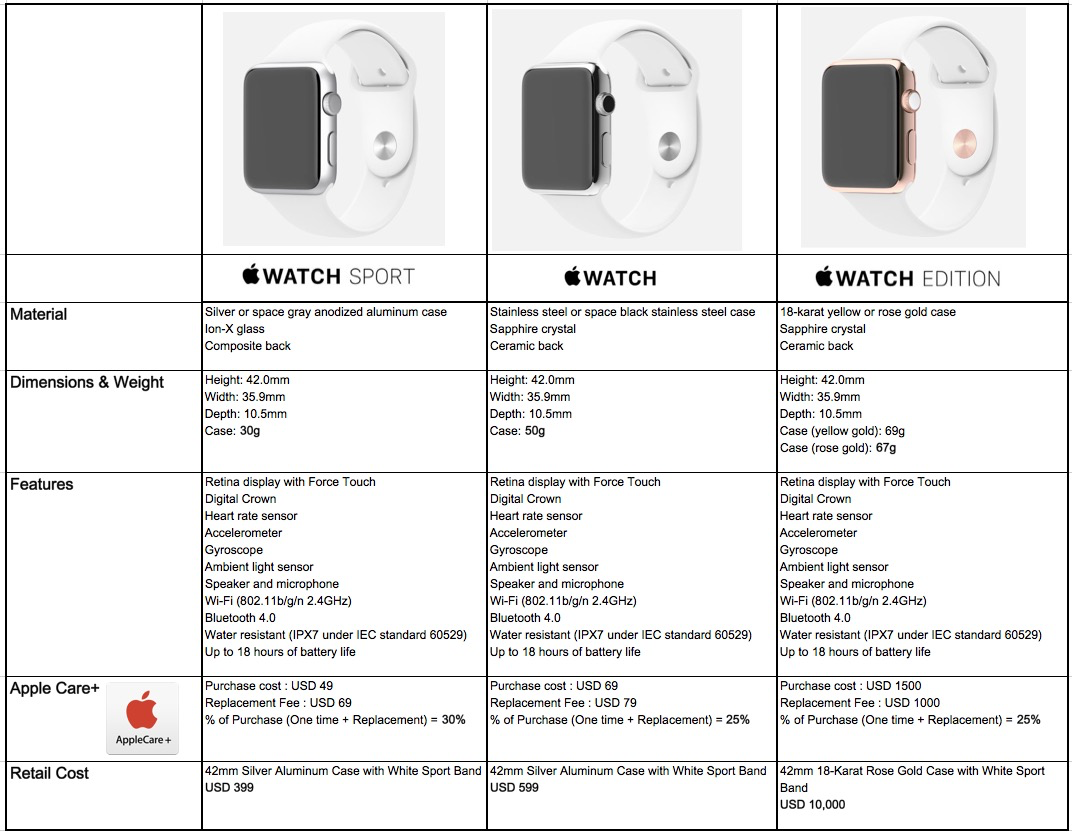 I have attempted to summarise the key differences in the above table. Generally, if one is looking at the most cost effective option, the Watch Sport is the choice. For more durability, one should consider either the Watch or Watch Edition. I must say, the Watch pricing will be most optimal for most professional users – much better built for additional USD 200 (or less USD 10 per month for 2 years usage). The apple care+ (inclusive of 1 incidental replacement) is also undoubtedly priced higher for Watch Sports considering it is more prone to damage vs the other 2 models. For luxurious requirement, the Watch Edition is the way to go but be prepared to fork out much more pennies.
Of interesting note, all HR sensors are made of composite. But the Watch and Edition have a ceramic coating over the composite sensor. The Sport doesn't have this coating.The ceramic coating will insure the sensor doesn't wear over prolonged use.
COMPARISONS (BETWEEN VARIOUS OFFICIAL APPLE WATCH STRAPS)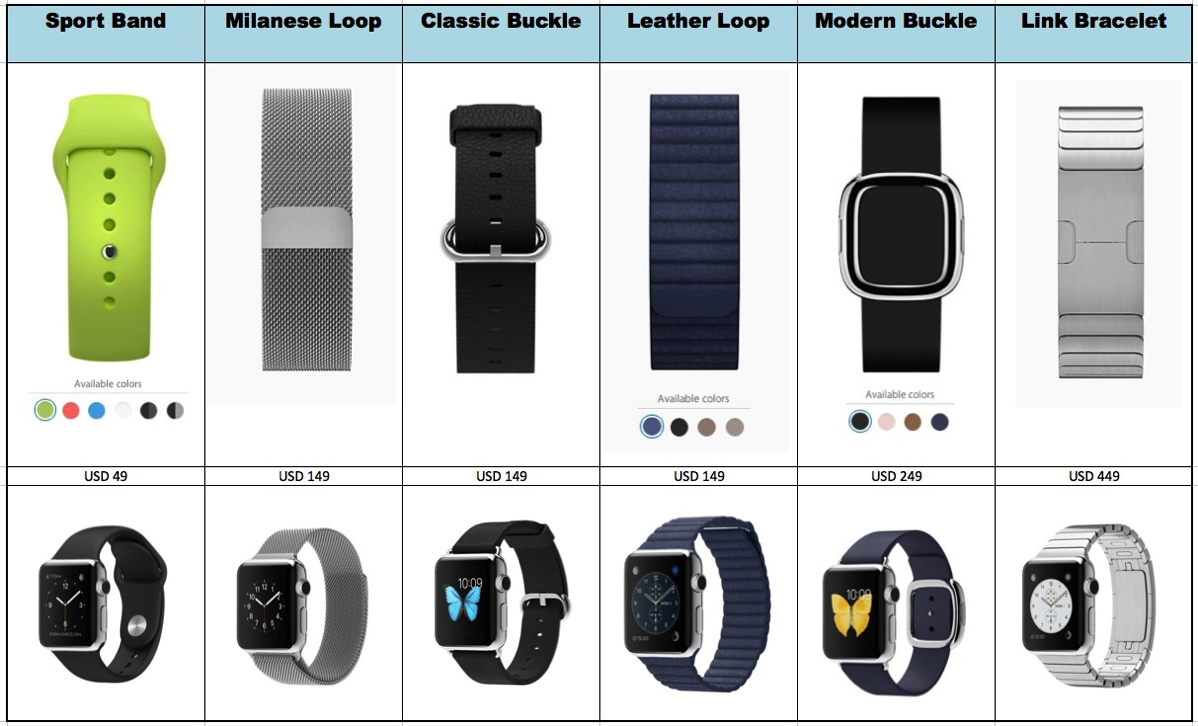 Personally, I would reckon the Milanese loop does look good for professional ladies while Modern Buckle or Link Bracelet will go well with professional guys.
SETTING UP THE APPLE WATCH
I must say the overall setup experience is very good. Apple has made the whole process simple yet interesting for any normal users (possibly to those gadget dummies too).
1. Setting the watch language: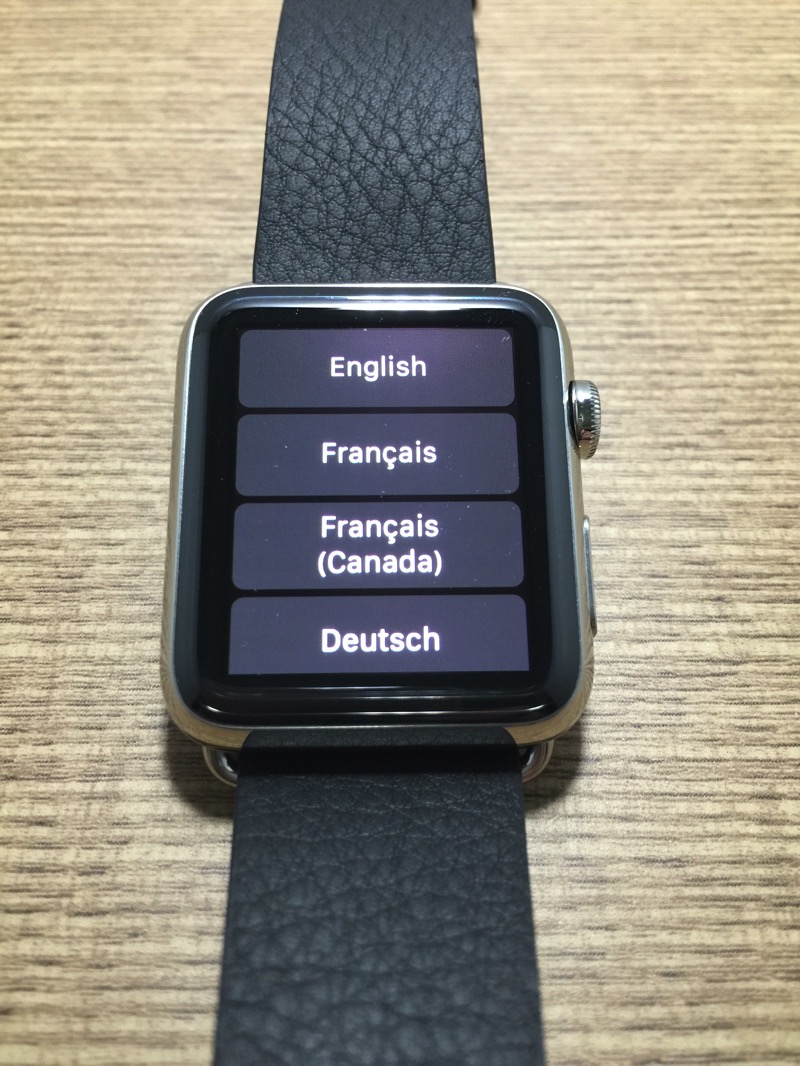 2. Awaiting pairing with iPhone: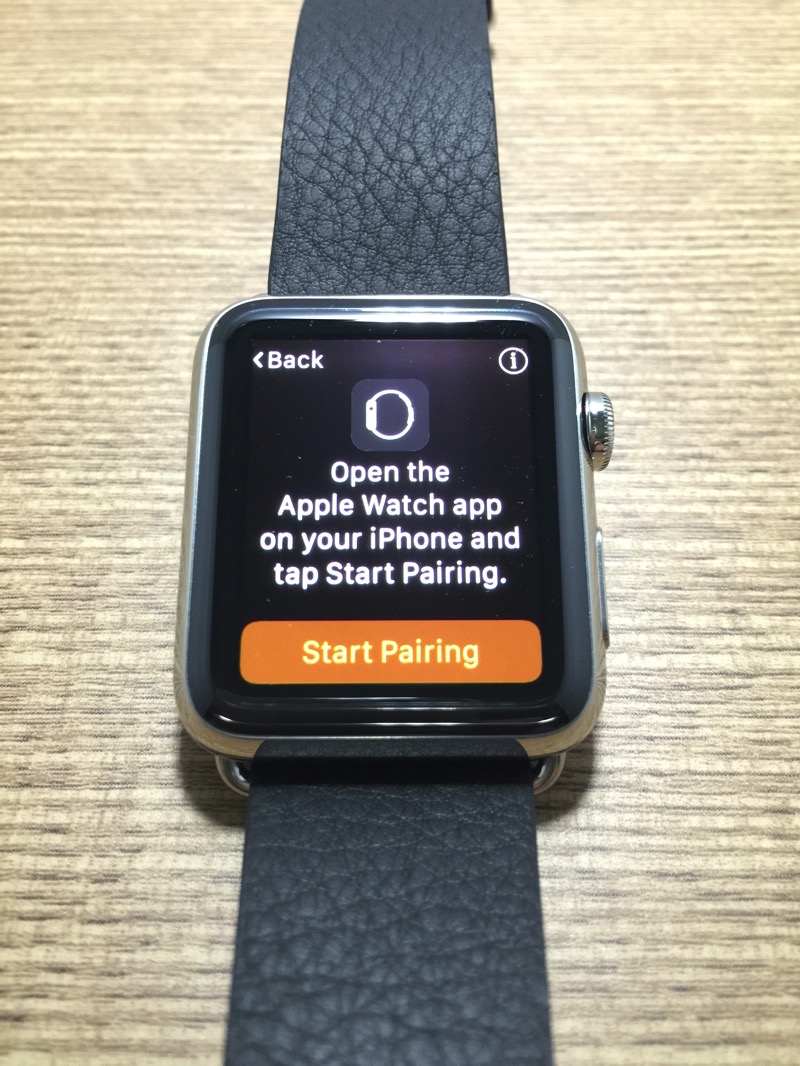 3. Apple Watch app is pre-load for all iPhones on iOS 8.3 onwards: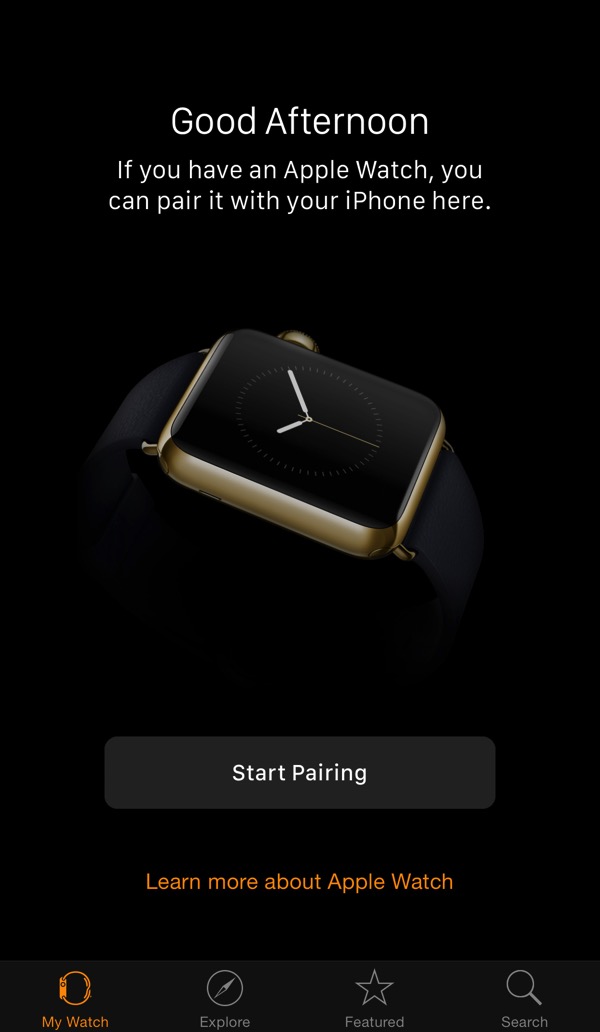 4. This is the most interesting step. Totally new. Instead of the typical "Detect bluetooth device, key in code' process, Apple has replaced it with the 'Scan pattern' on watch with the Apple Watch app. Much like the QR code registration but a live wallpaper uniquely generated by the watch on screen.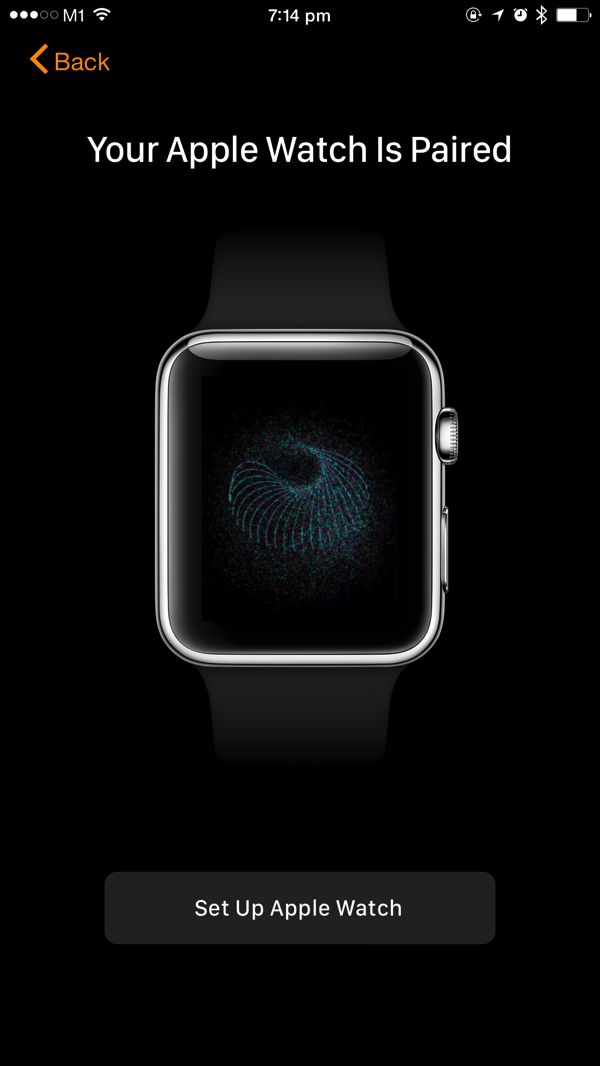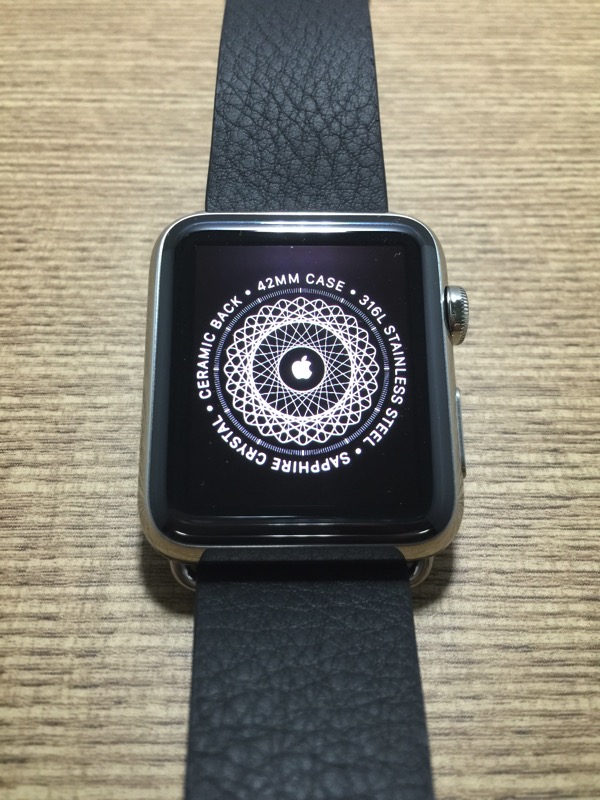 5. Setting the wrist preference is important for the Apple Watch to determine how it handles the gyro when one is looking at the watch.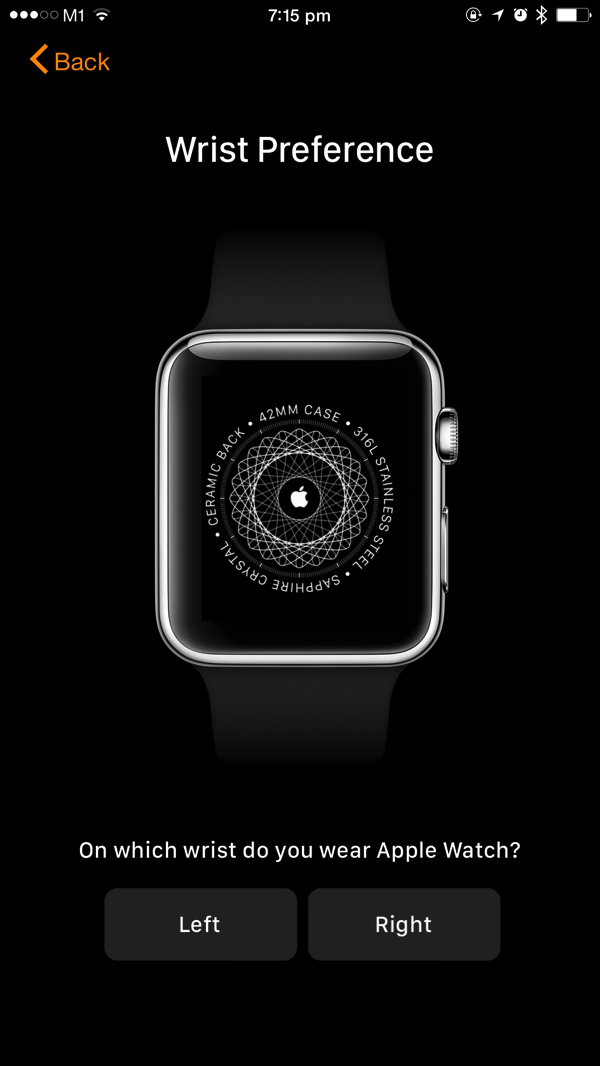 6. Once again, this will be the same Apple ID for all the apps & payment facilities. Surprisingly, there is no complicated registration process for the new Apple Watch since all that is handled through the assigned Apple ID.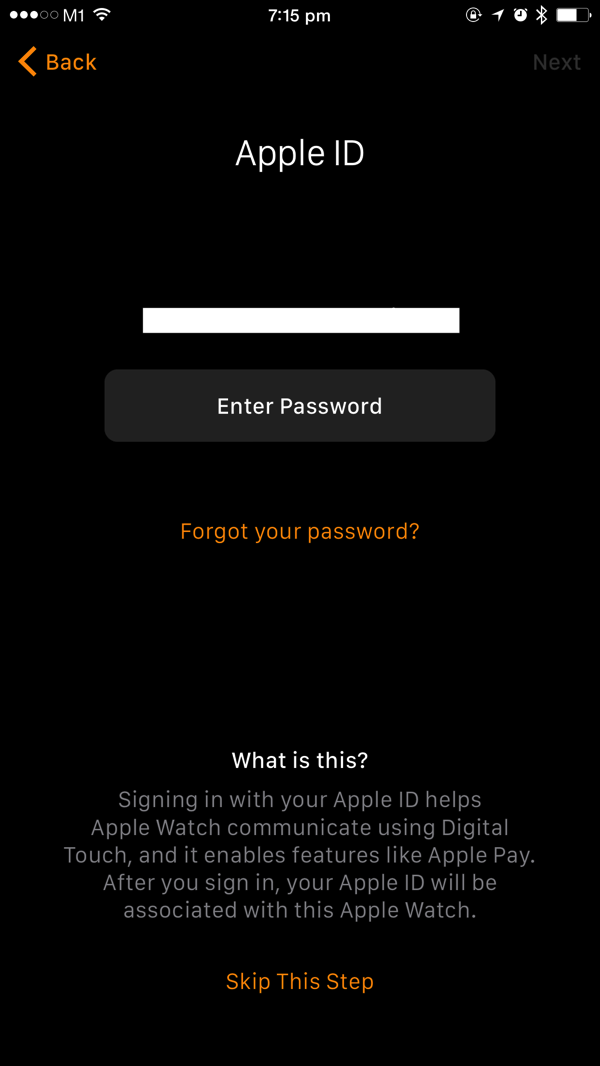 7. Securing the Apple Watch is as important as the iPhone. Since the Apple Watch will be other conduit to access the iPhone apps or data. Sadly at this stage, there is no Touch ID.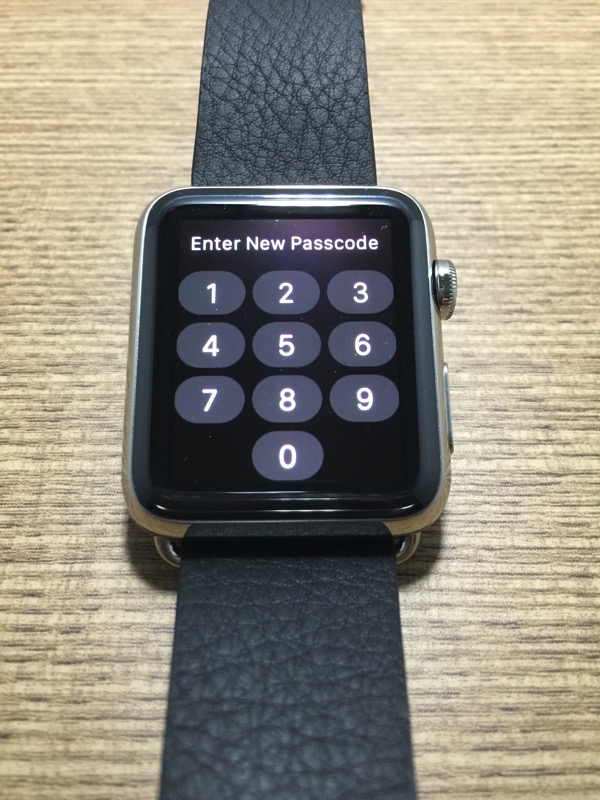 This feature is pretty cool. Unlocking the iPhone will also unlock the associated Apple Watch. This is similar to Xiaomi via its bluetooth unlock with another associated Mi Band. However, the Apple Watch can detect if it was first placed on the wrist. Unfortunately, this method is not fool proof if the skin tones are too interfering esp if one is having a tattoo.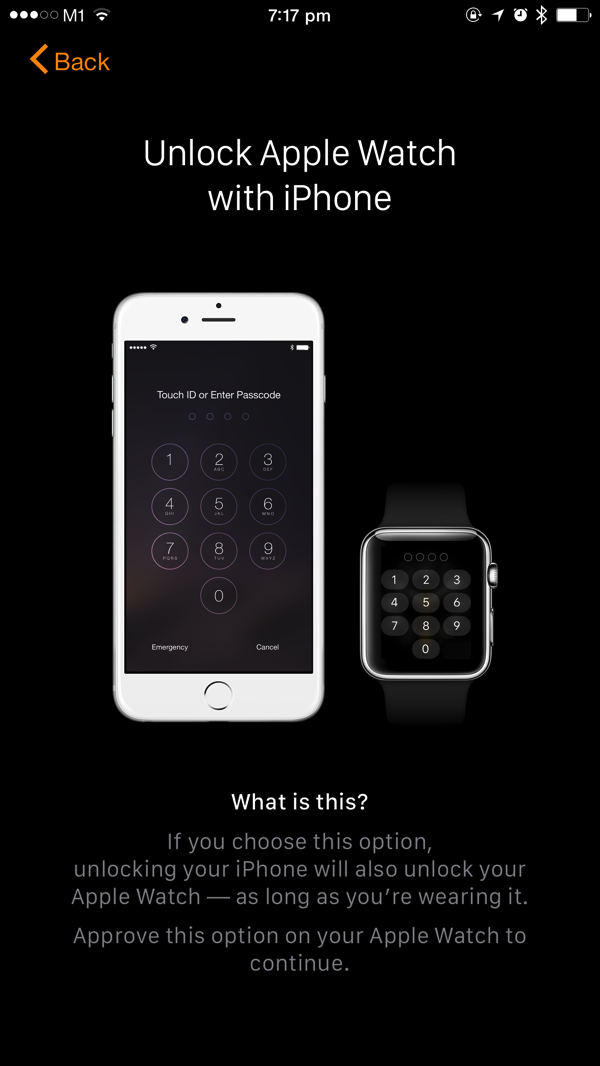 8. The new installation process also allows one to by default install all the Apple Watch compatible apps. By way of installing the app on Apple Watch, the app icon will be placed on the Layout View (depicted below) and the live feed to be made available through Glances. Glances allows quick access to each app information by swiping through each app on the Apple Watch.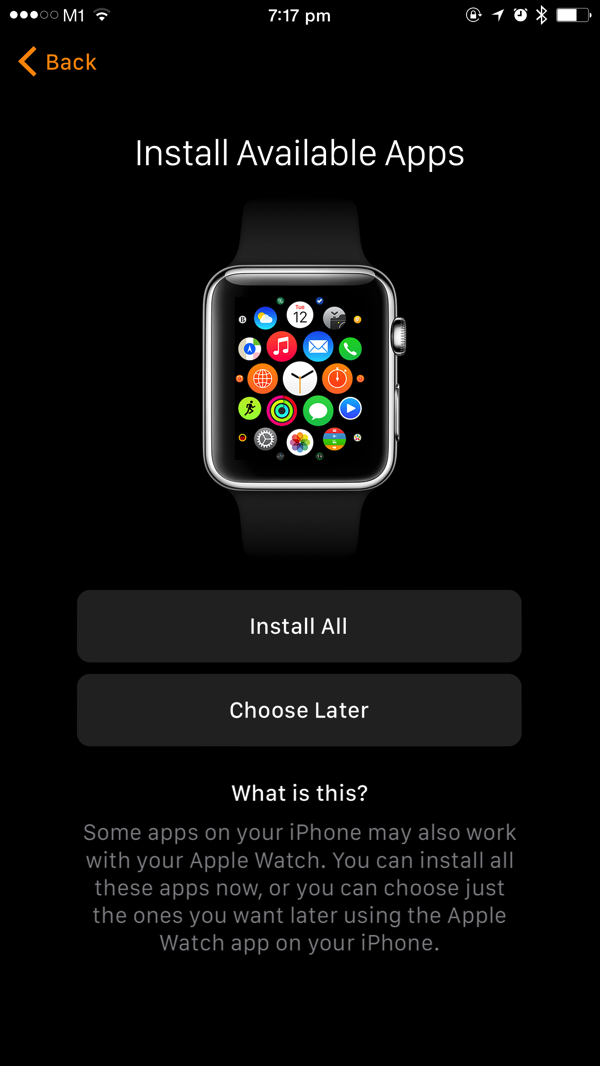 A full installation will take a short while, the installation elapsed time will also depend on how many apps are to be installed in Apple Watch.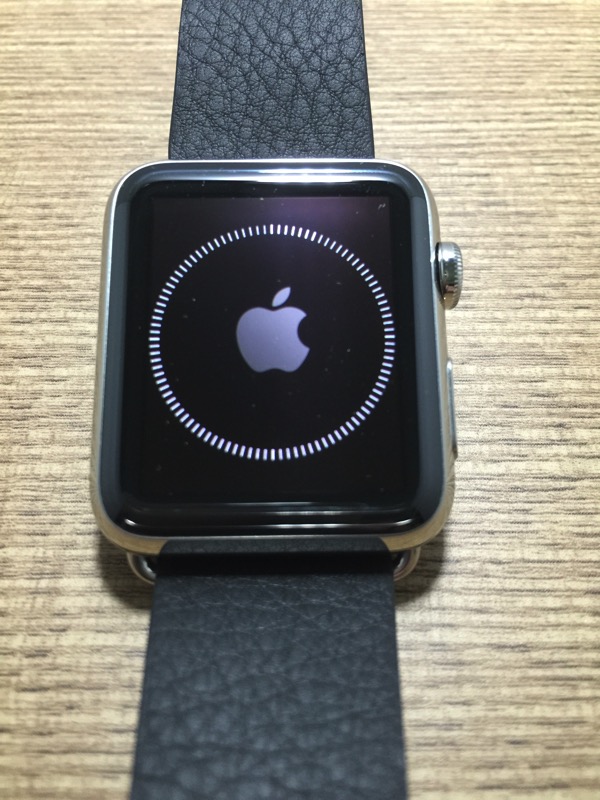 9. Setting the clock face – Apple Watch comes with a variety of clock faces to cater for the different needs and preferences. I would not be surprised if the devkit will be made available for 3rd party developers to design more interesting watch faces.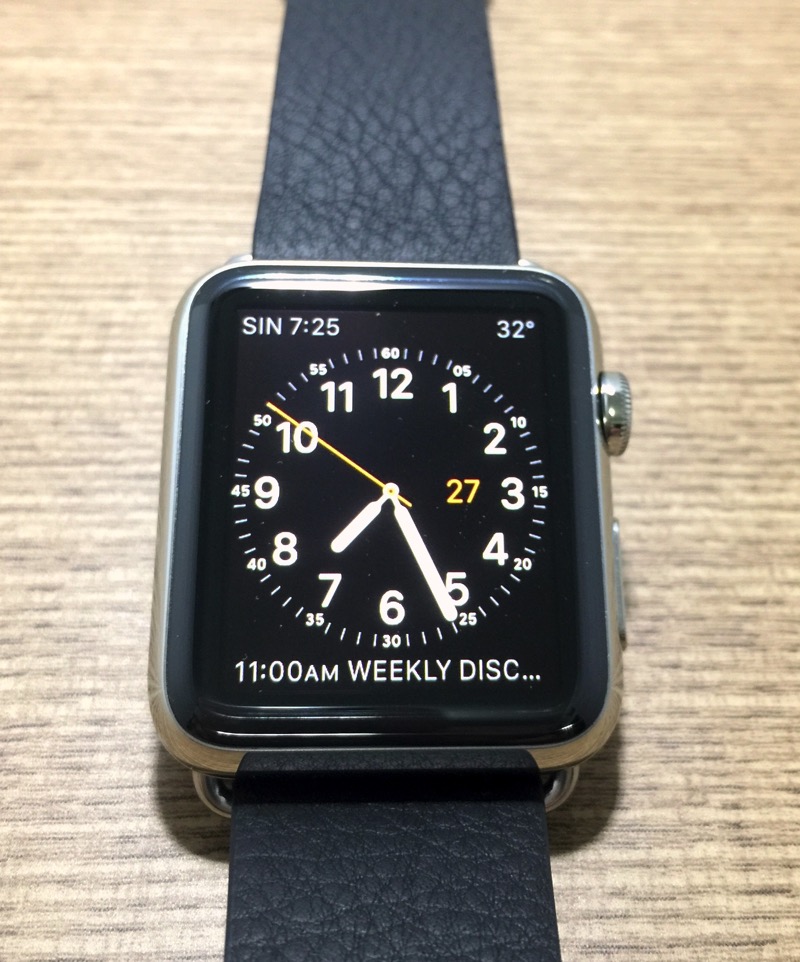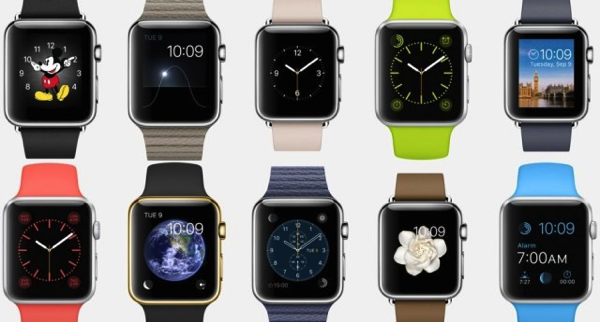 The new apple layout to navigate the installed apps has invited series of controversial reviews. Personally, I do find it to be a fresh approach to organise the app logos. The new digital crown has greatly facilitated the zoom in/out of this layout views. But getting used to it will require some time and efforts for most new watch users.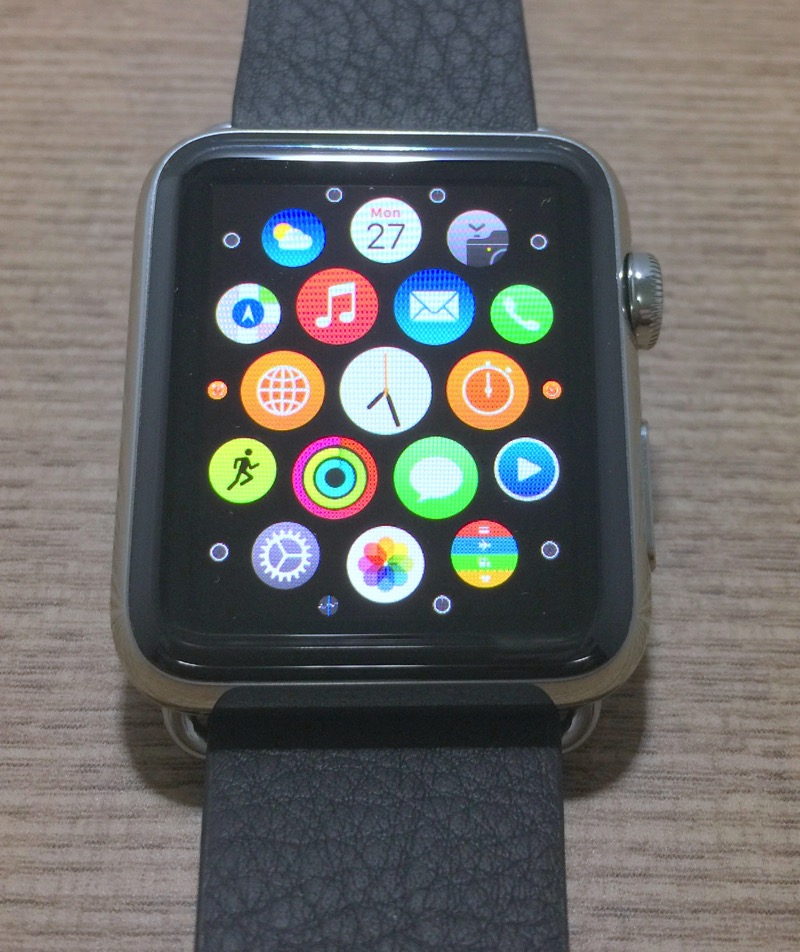 Even with a smaller wrist compared to regular guys, the 42mm fits nicely. My only conclusion is that the 38mm version is more apt for very petite wrists, akin to wearing a Casio Baby G.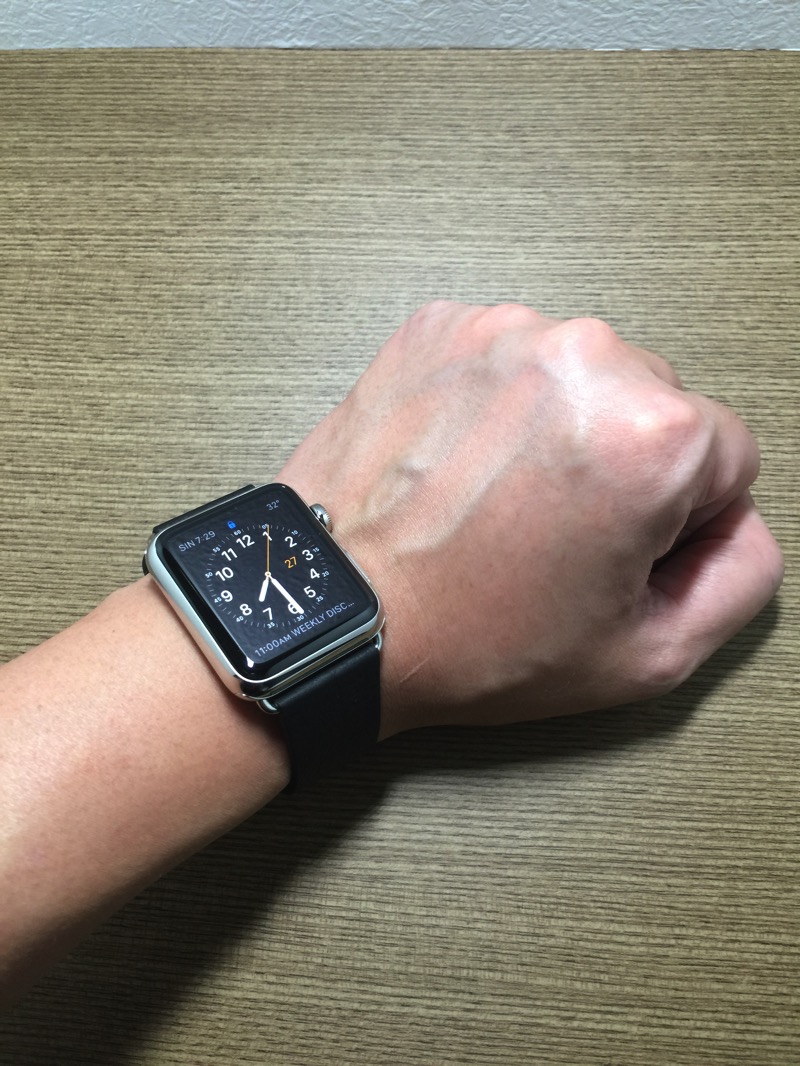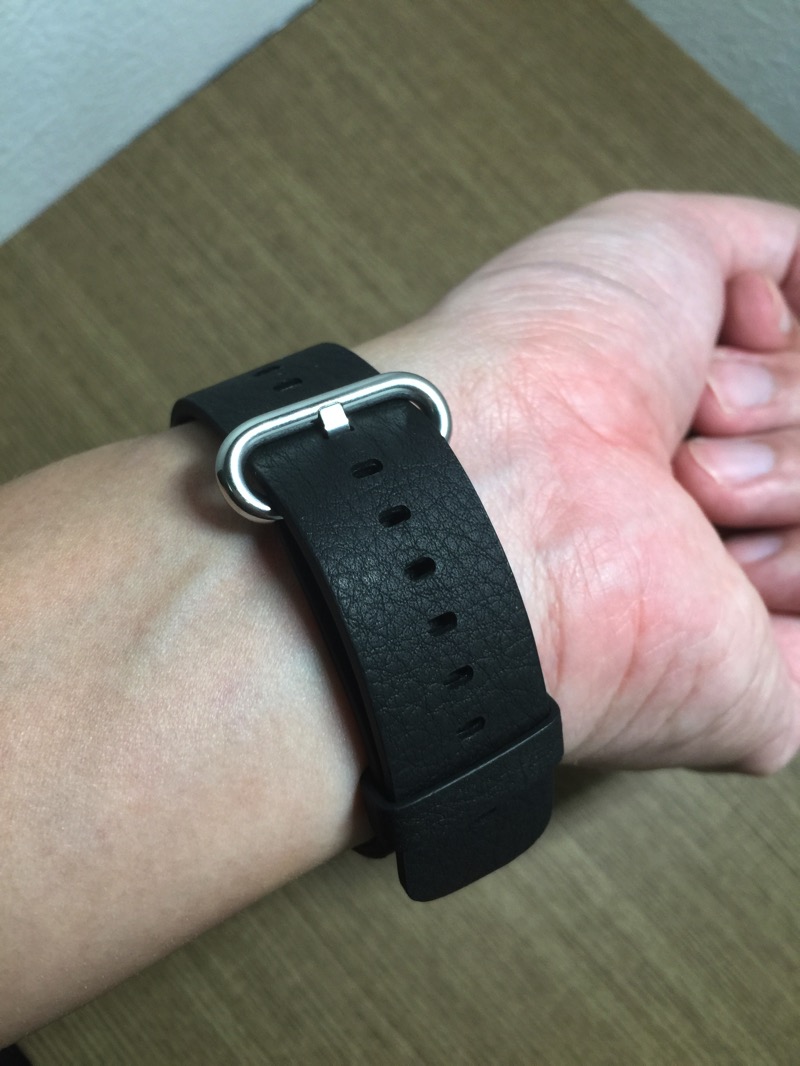 The patented magnetic slot-in & latch mechanism to interchange the watch strap is a very innovative design for Apple Watch. It opens up infinite possibilities to custom the overall looks of the Apple Watch. That said, it will be easier to find matching strap for more neutral the Stainless Steel model than the matt Sport Watch or the gold Watch Edition.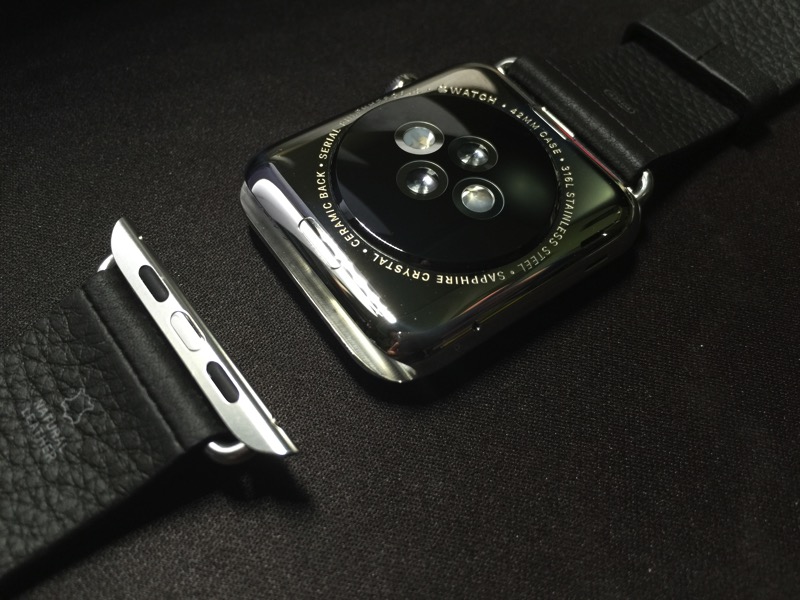 FITNESS WORKOUTS
Besides providing the smartwatch functionalities, Apple Watch also attempts to cater for fitness tracking. It attempts to record primarily distance, time and calories for each of the supported workouts i.e. Run, Cycle, Walk, Elliptical, Rower, Stair Stepper etc. The workout app is Apple first foray into the fitness arena. Though it is pretty decent, but there is still much room for improvement.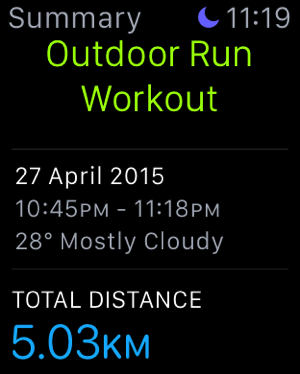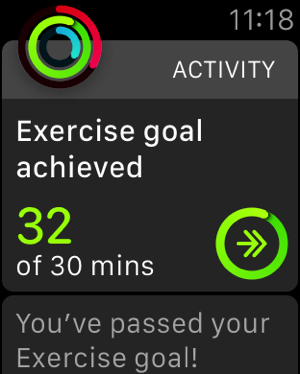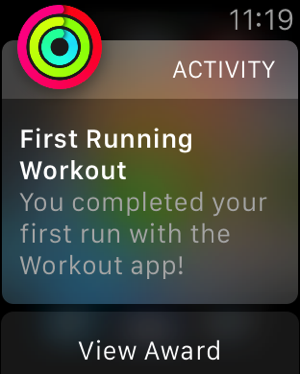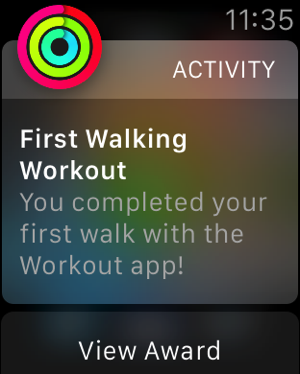 It provides basic forms of motivation for the user (via Award badges) but it still does not allow social sharing to leverage on peer motivations.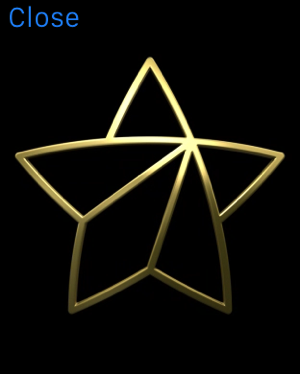 Various statistics views throughout the workout:
1. By distance: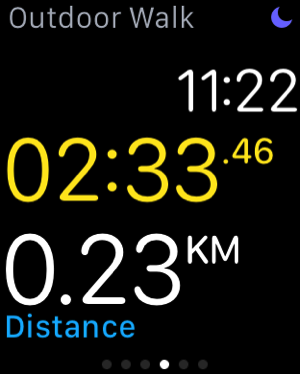 2. By Pace: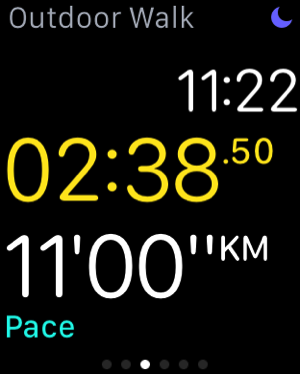 3. By Heart Rate: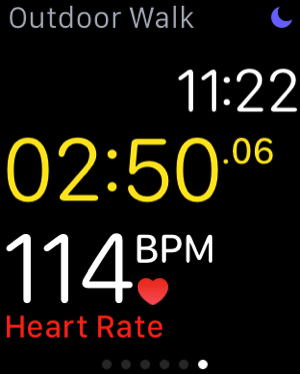 4: By Calories: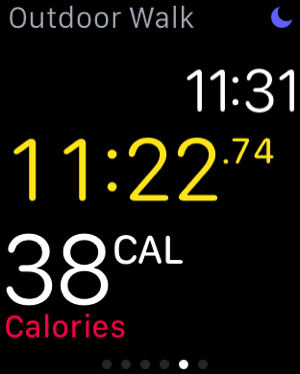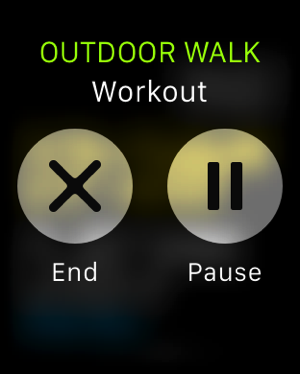 ACCURACY OF FITNESS TRACKING
By default, Apple Watch will depend on the connected iPhone GPS to measure location and thus establish distance. I have attempted to do a field test by bring along a Fitbit Zip. The results are quite impressive. Apple Watch tracks very closely to the Fitbit Zip in terms of steps.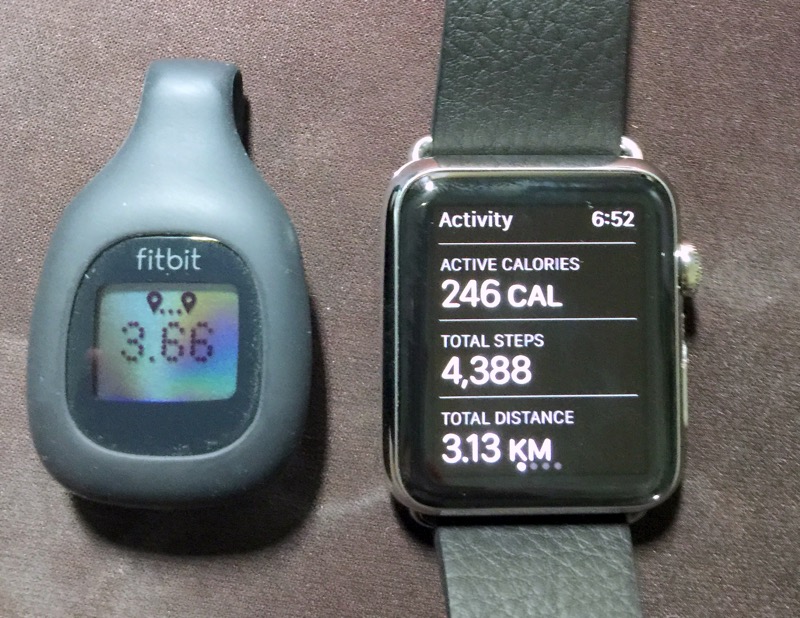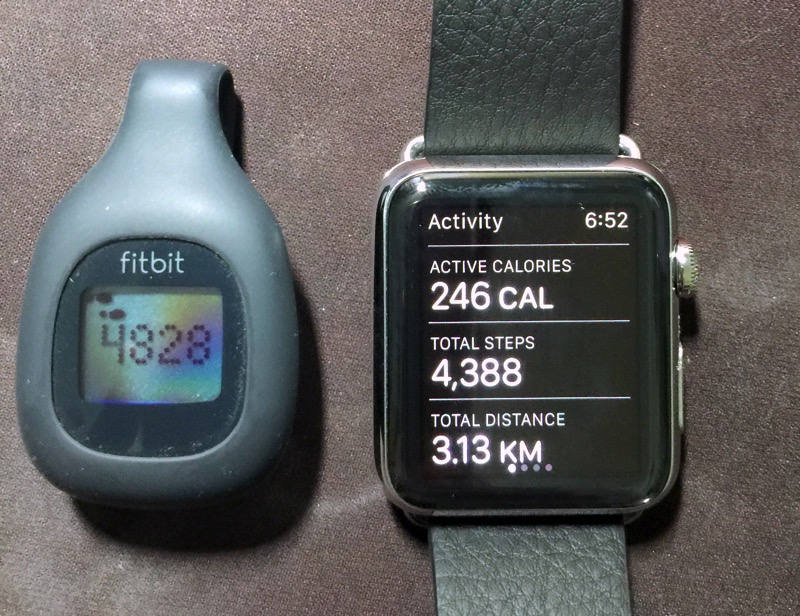 After some calibration runs with Apple Watch & iPhone, it is possible for Apple Watch to estimate the actual distance covered even in event that the iPhone GPS is not available. Thus, one can technically run without bring along the iPhone.
Indeed, one writer (ZDNet – Matthew) managed to test the Apple Watch against other GPS trackers. Once again, I am impressed with the accuracy of Apple Watch without an accompanying iPhone GPS:

Heart Rate monitor is also pretty accurate. It is close to that measured by my Fitbit Charge HR.
APPLE HEALTH DATA
To conserve battery life, Apple Watch will sync the recorded data back to iPhone Apple Heath every 4 hours. Personally I would prefer a shorter period (say 1-2 hrs).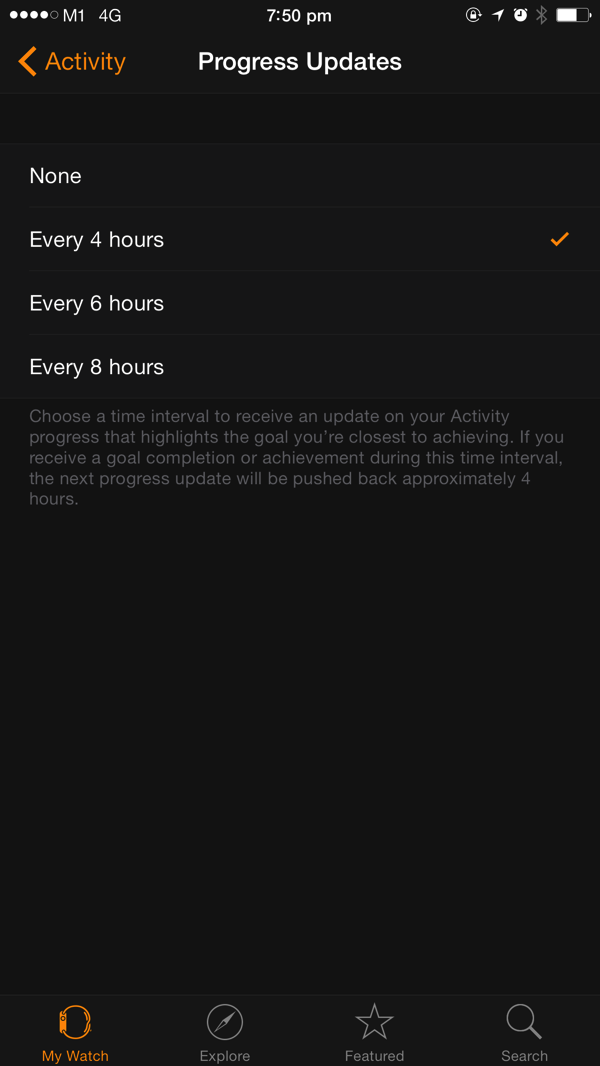 All fitness data are represented nicely on the Activity chart:
1. Red – Movement (essentially based on Steps tracking)
2. Green – for Workout (Sync automatically with Apple's Workout App)
3. Blue – for Stand (there is also built in notifications to alert you to stand if you are sitting down too much)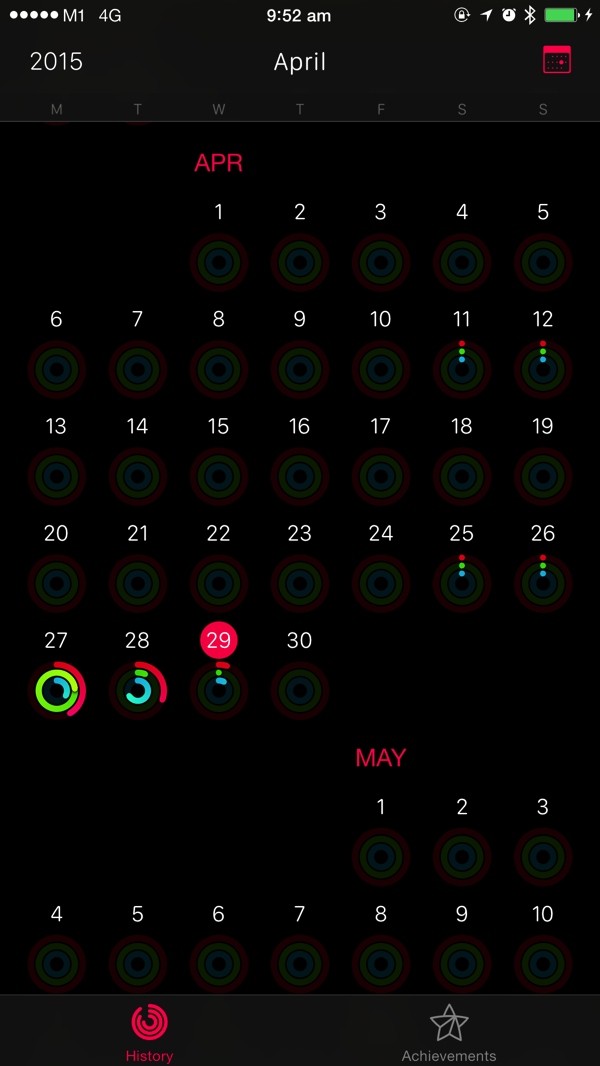 One good news for Fitbit users. Now you can sync the Apple Health data generated by Apple Watch back to Fitbit account. Thus, you can still continue to make use of Fitbit app and yet being able to use Apple Watch. Sync Solver app illustrated below: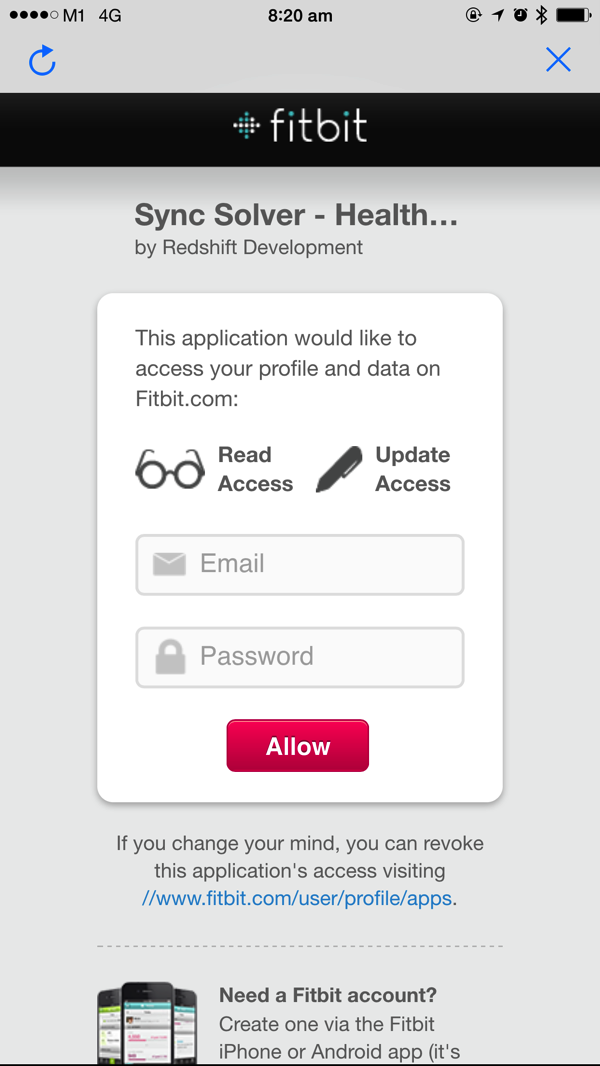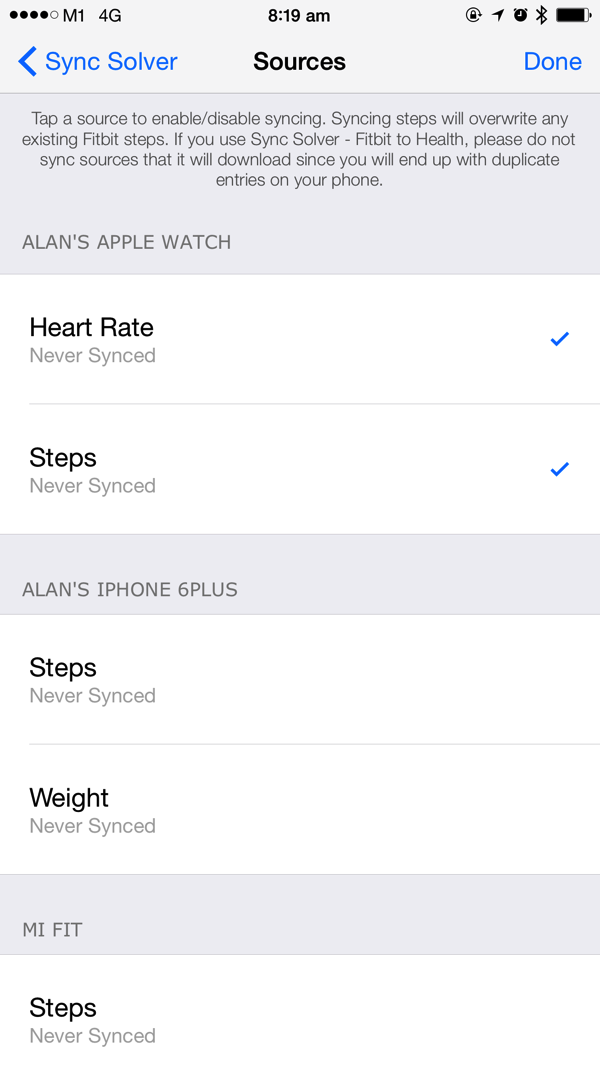 BATTERY TESTS
The largest concern for most users for wearable is battery life. In this test, I have established these key test parameters:
a. Start of the first day morning (7am) with a fully charged (100%) Apple Watch
b. For each single day, it mimics a typical working professional day-to-day activities. For me – 50% notification checks (News, Calendar events etc), 20% messaging (iMessage, Instagram, Line, WhatsApp etc), 20% viewing time, 10% other misc apps.
c. No charging until the watch is flat
d. Watch is removed from wrist end of day (~8pm)
e. x1 workout (Outdoor Run) with tracking enabled
1. Day 1 – mid day (84% remaining)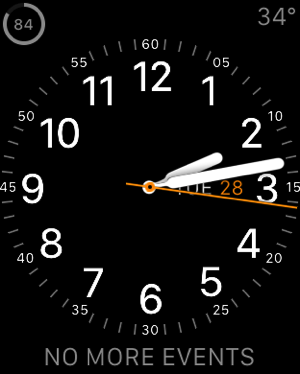 2. Day 1 – Evening (70% remaining)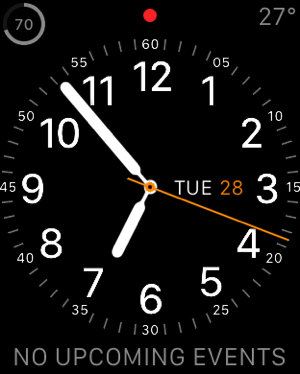 3. Day 2 – Morning (36% remaining)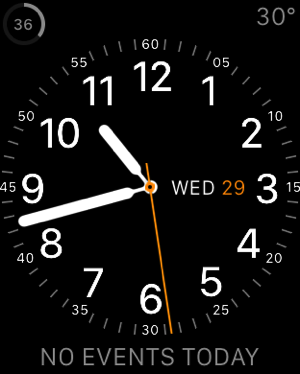 4) Day 2 – Evening (17% remaining)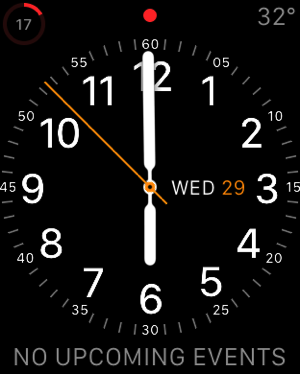 5) Day 2 – Outdoor Run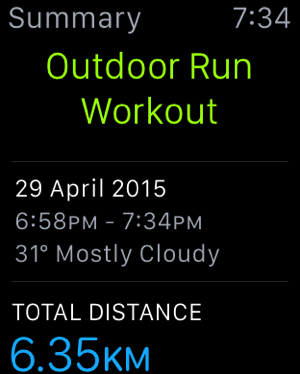 6) Day 2 – end of test (3% remaining)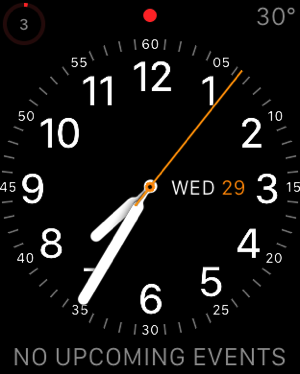 Even though the Apple Watch can only last for 2 work days without any recharging, it is still considered decent and acceptable. Most of us would unstrap the watch by end of day and it will be the fine opportunity to recharge the watch by the bedside with the MagSafe induction charger. Yet, I would not be sacrificing the glorious colour display (vs the lower res Pebble Time) nor the smartphone app features (vs Microsoft Band).
The final resort when charging is not readily available, you can set the watch into 'Power Reserve' mode which let you have a clock only display for another few days. No so desirable but extremely useful especially you are on a long haul flight.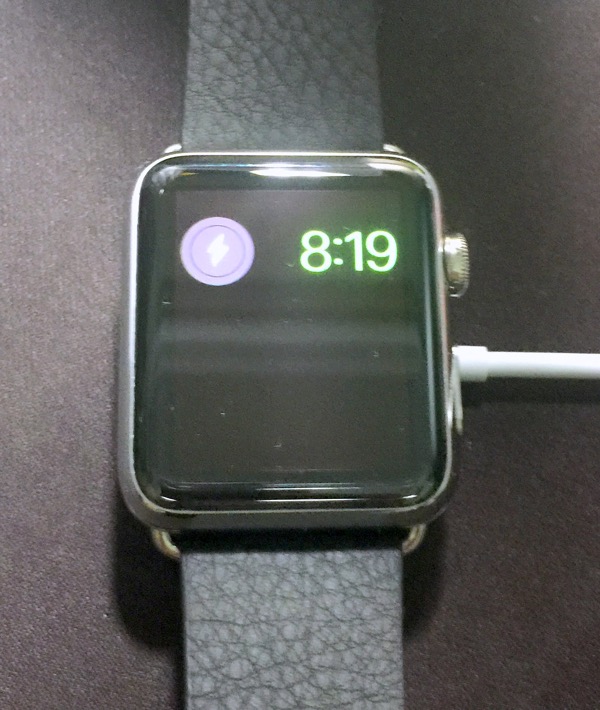 Official battery life specifications for Apple Watch:

CONCLUSIONS
The new Apple Watch does pose some threats to the existing smartwatch and fitness tracker providers since it serves both functionality. As for the traditional Swiss mechanical watch industry, it is still very pre-mature to make a good statement since Apple has yet proven itself in the luxury market place.
PROS
1. Beautiful coloured display
2. Works seamlessly with existing iPhone apps [a plus point for the existing Apple Developers too] 3. Both stainless steel or the gold case weight feel just right
4. Accurate fitness tracking even when operated without iPhone GPS [though need few calibration runs] 5. Decent battery life (~2 days) and useful power reserve mode [to operate in clock only mode] 6. Decent waterproof (for quick rinse after workout or short shower, unlike my previous Fitbit Charge HR which failed miserably)
7. Able to easily swap and change new wrist bands
8. Responsive touch screen
9. New taptic engine reproduces tap feel on wrist very well whenever there is any incoming notifications
10. Unique Digital Crown control is well built & smooth to use (Scroll navigation and Zoom)
CONS
1. The more luxury Watch Edition price point is quite high, considering Apple has yet establish the needed branding to garner such premium
2. Battery conserving features can be too aggressive. Display turns off too readily (not configurable) though the display run on on the gesture too look at the watch is very useful.
3. Not compatible with other phone OSes e.g. Android or MS Phone
4. Both the new Activity and Workout apps are very basic. There are definitely rooms for further enhancements (e.g. social sharing support, export to other 3rd party trainer apps etc)
5. 42mm is still small for those who have wrists larger than normal users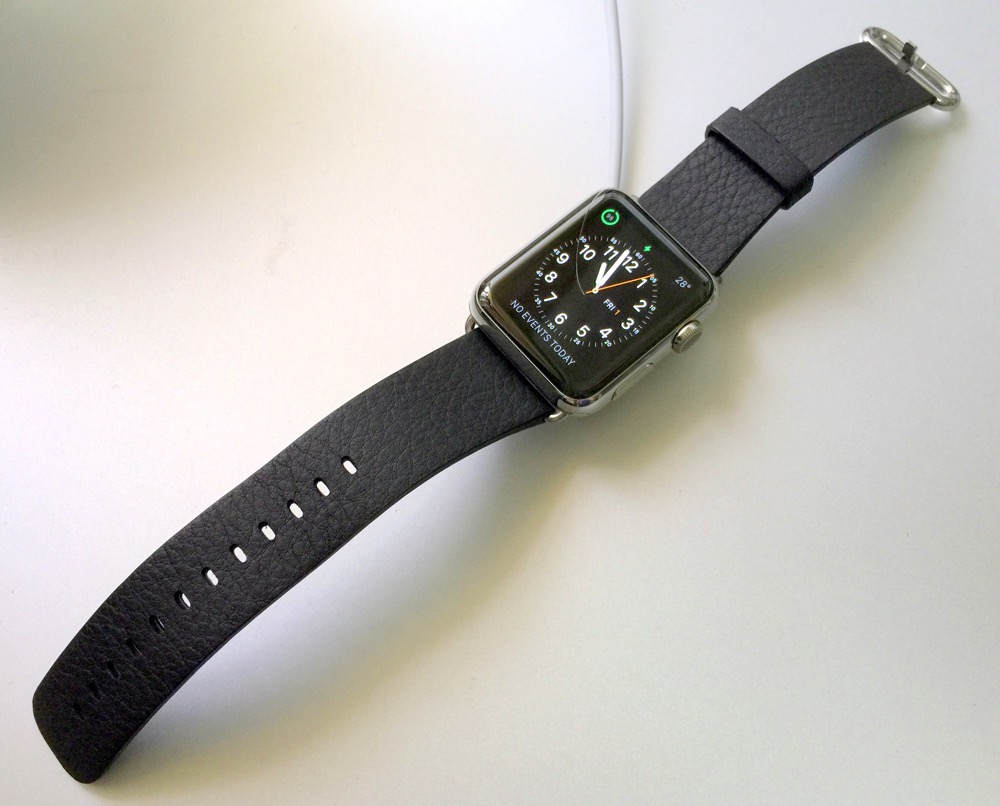 Illustration – Apple Watch vs the others (L to R) : Pebble, Tom Tom Run Cadio, Microsoft Band, Fitbit Zip, Fitbit Charge HR, Mi Band
So which model you will be keen to get?
My final tips:
1. Get the Apple Sports Watch if you are just keen to try it out as first time wearable user.
2. Get the Apple Watch (Stainless Steel) – most cost effective to aggregate your existing trackers to this watch. It is also made with better materials for longer durability (> 2yrs).
3. If you have lots of spare cash, then the luxurious Watch Edition is definitely your first choice.
Have fun & do share your thoughts and reviews too!
Read other related posts:
Follow us on:



Share this article on: