In the midst of Osama Bin Laden's death, there were strong market reactions on Monday. It would seem that the 13% plunge of Silver on Monday trading to $42.20 an ounce earlier was the effect of the news. Sadly, this is only the partial trigger. Monday was the first full session after the increase in margin requirements. Initial margin requirements for silver increased to $14,513 per silver futures contract, from $12,852. Maintenance margins increased to $10,750 from $9,500.
That was effective from the close of trading Friday, said CME Group Inc., which owns Comex. The higher margin requirements follow margin increases on Tuesday that preceded the latest jump in silver futures, to a 31-year high. Silver futures rallied 5.5% last week. The increase in requirements for the second time in a week "drove out a lot of the small speculators, they had to liquidate," said Matt Zeman, head trader and strategist at Kingsview Financial in Chicago.
Silver has risen 49% so far this year, and it has hit a string of 31-year highs this year and in 2010. A 1980 nominal record settlement of $48.70 and a record high of $50.35 for spot silver are still the standing high marks for the metal.
On Tuesday, the Silver is trading at $43.42, down more than 5% from previous close.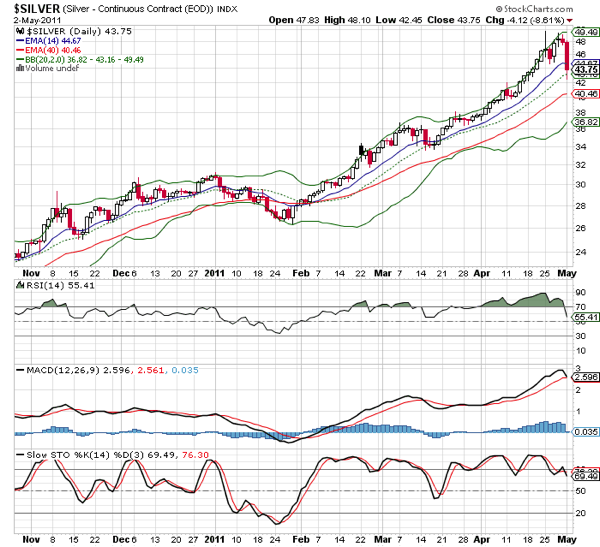 On Silver Technical Chart, strong support should form at $40.5. Now there should be some sell through as most indicators are overdue for needed correction at overbought levels. MACD has started to turn down. With a weakening USD at backdrop, it may be worthwhile to keep watch of accumulation on further drops to still ride on overall uptrend.
Good luck!
Read other related posts:
Follow us on:



Share this article on: