Voyager of the Seas is the lead ship of the Voyager-class of cruise ships operated by Royal Caribbean International. Although she was serviced on during 1998, Voyager of the Seas underwent dry dock refurbishment. These upgrades included the installation of an outdoor movie screen near the pool, replacing the inline skating track with a flowrider surf simulator, changing the Italian restaurant from Portofino to Giovanni's Table, and adding the Izumi asian fusion restaurant, Chops steakhouse, Diamond Club, digital signage, and ship-wide Wifi.
Having travelled on the Quantum-class, Voyager of the Seas is definitely a smaller version. Nevertheless, it is still well over 300 metres in length with 15 levels. Going on your first cruise can be both an exciting and daunting experience. It's not like a traditional holiday and there is so much that is unknown to those who haven't done it before. With tons of fun activities packed onboard, here are some useful tips to make your trip onboard a much more enjoyable and enjoyable one.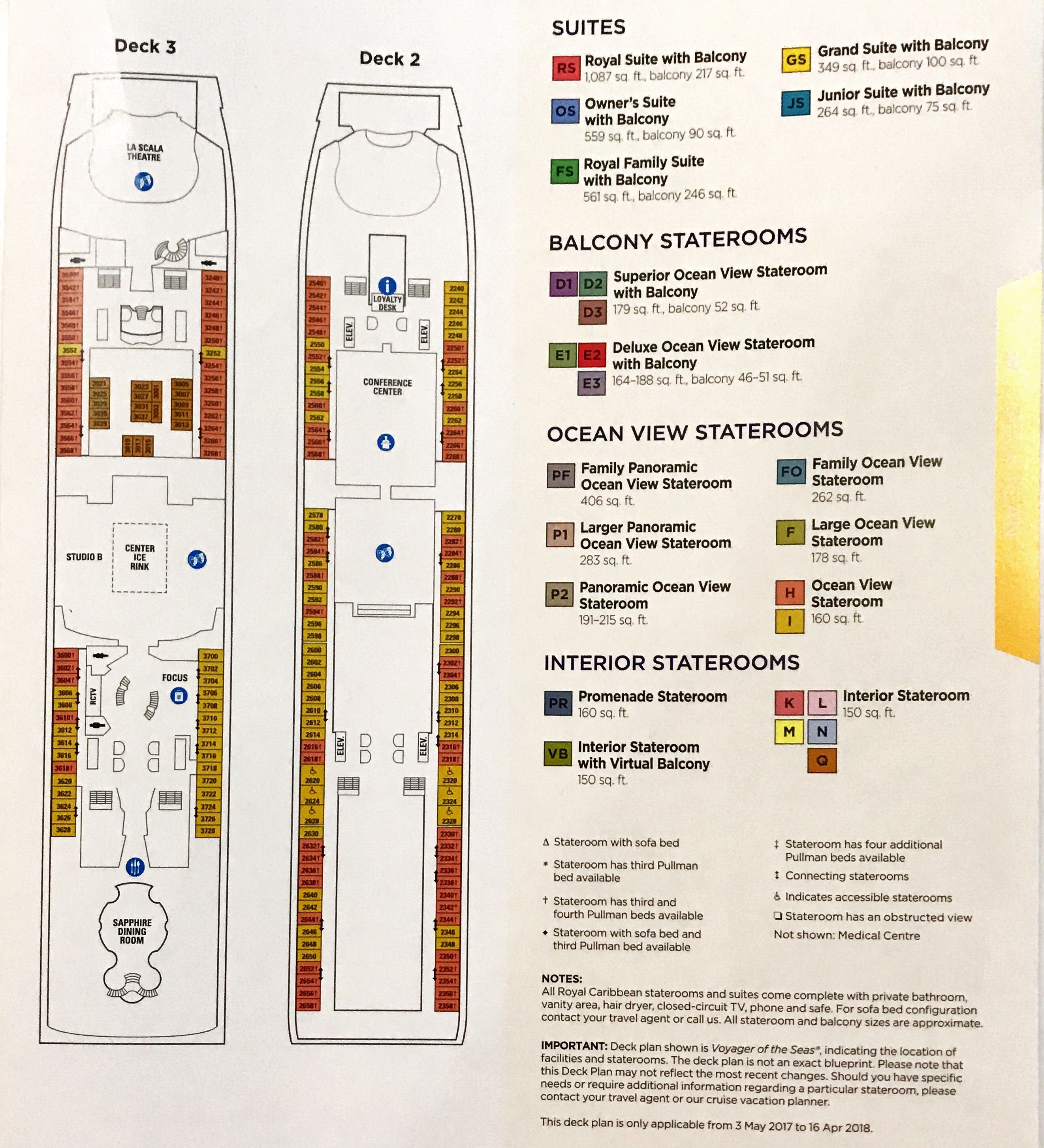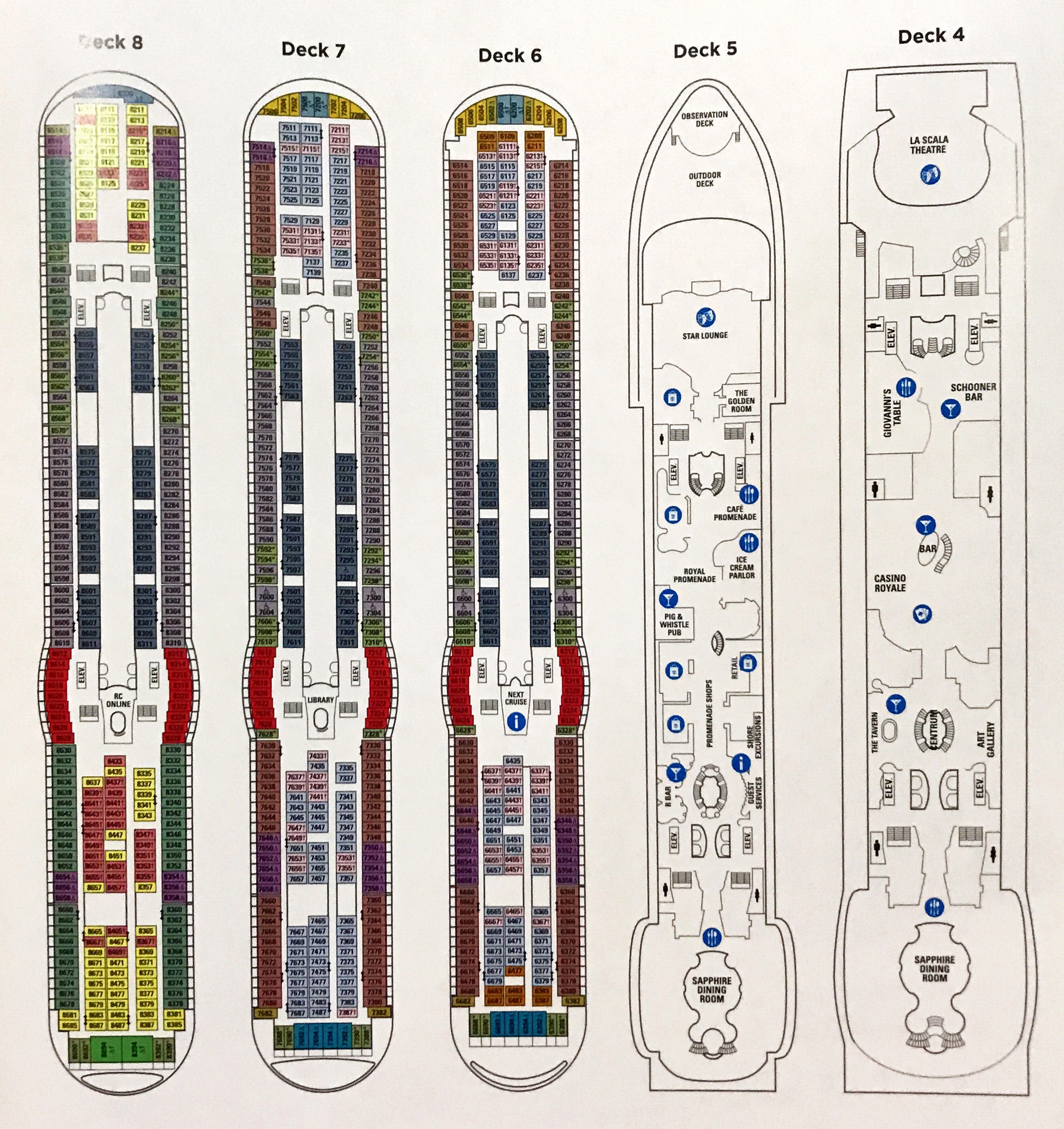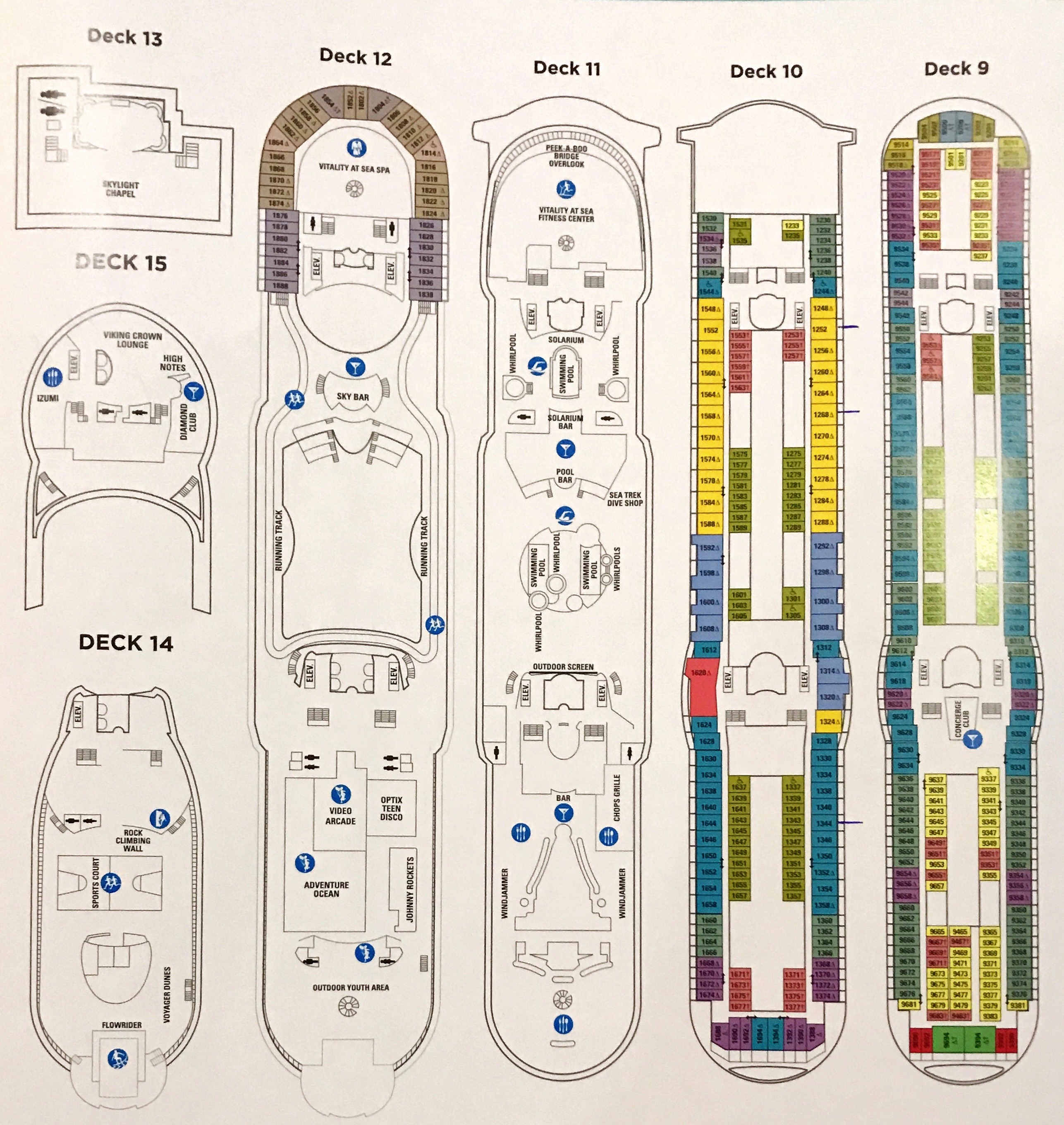 Tip #1 – Do your bookings and check-in early before set sail
Access the My Cruise Account (https://secure.royalcaribbean.com/mycruises/login.do) for major itinerary changes, weather announcements and any important breaking Royal Caribbean International news releases.
By completing the Online Check-In process, you will be able to speed up the boarding process. All you need is your reservation number. Do remember to tie your cruise reservation with your Crown Anchor Membership.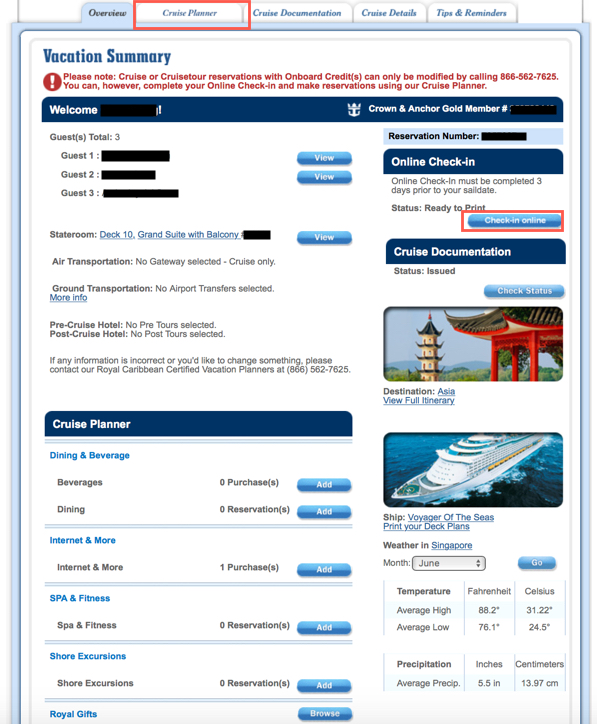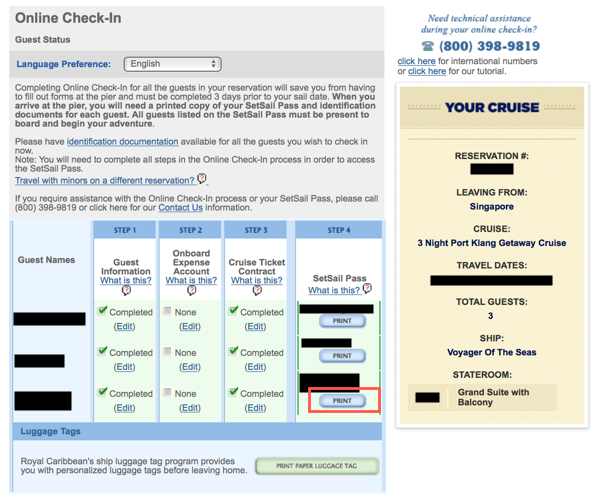 Using the Cruise Planner, you can also book some of the best Specialty Restaurants onboard by just paying a nominal top up. These restaurants are in additional to those which are already included within the standard cruise booking and offering complimentary meals onboard.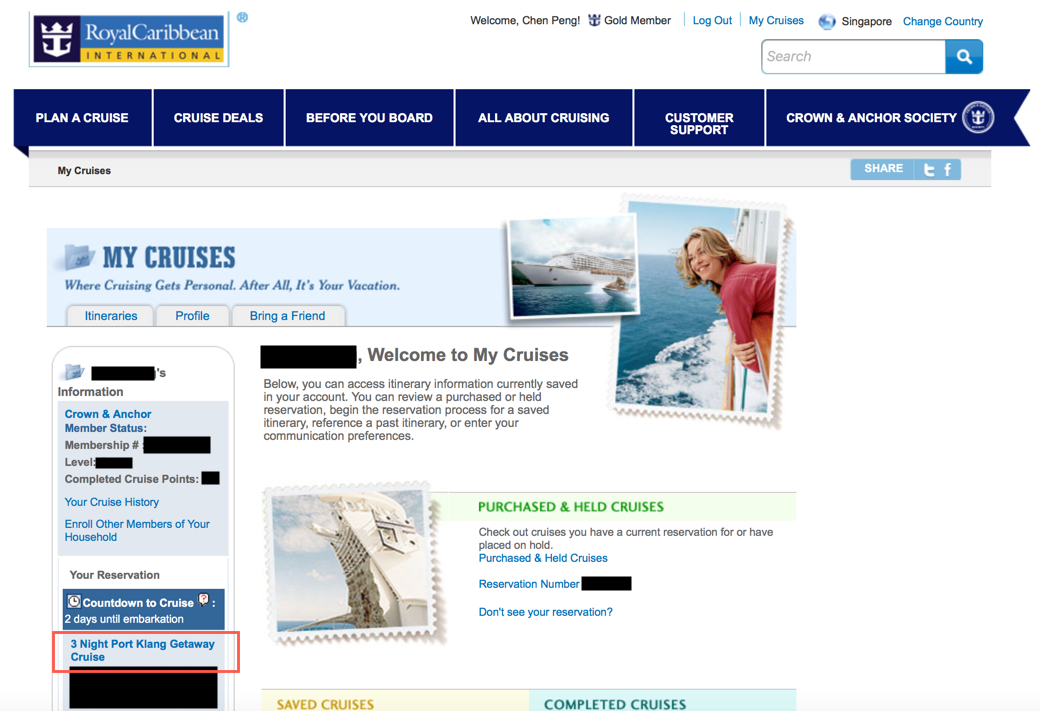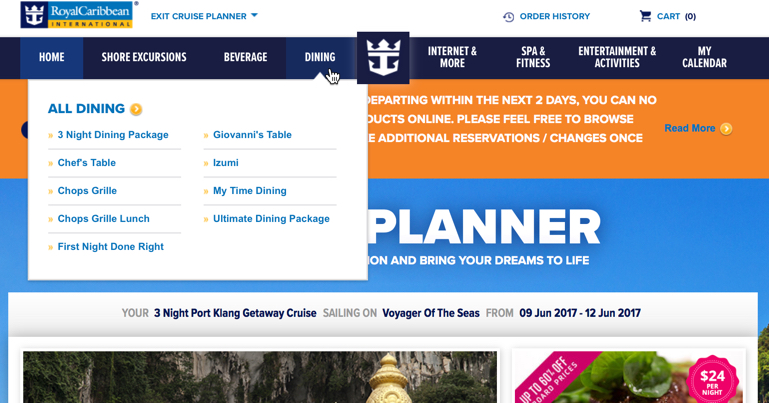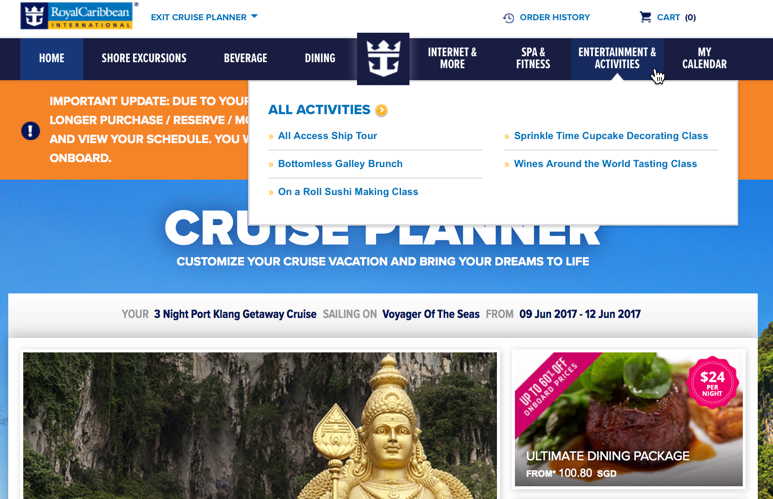 Tip #2 – Unlimited Wifi Internet Access onboard
Now Royal Caribbean offers unlimited data access onboard. The primary means of connecting to the internet is via WiFi that prevalent throughout the ship. The access to the internet onboard your Royal Caribbean ship is tied to the stateroom and account.
Voom offers guests the ability to stream music and movies, upload pictures, video chat with family and friends using FaceTime or Skype, check their email, lookup their stock prices, surf the web and stay connected with work via VPN.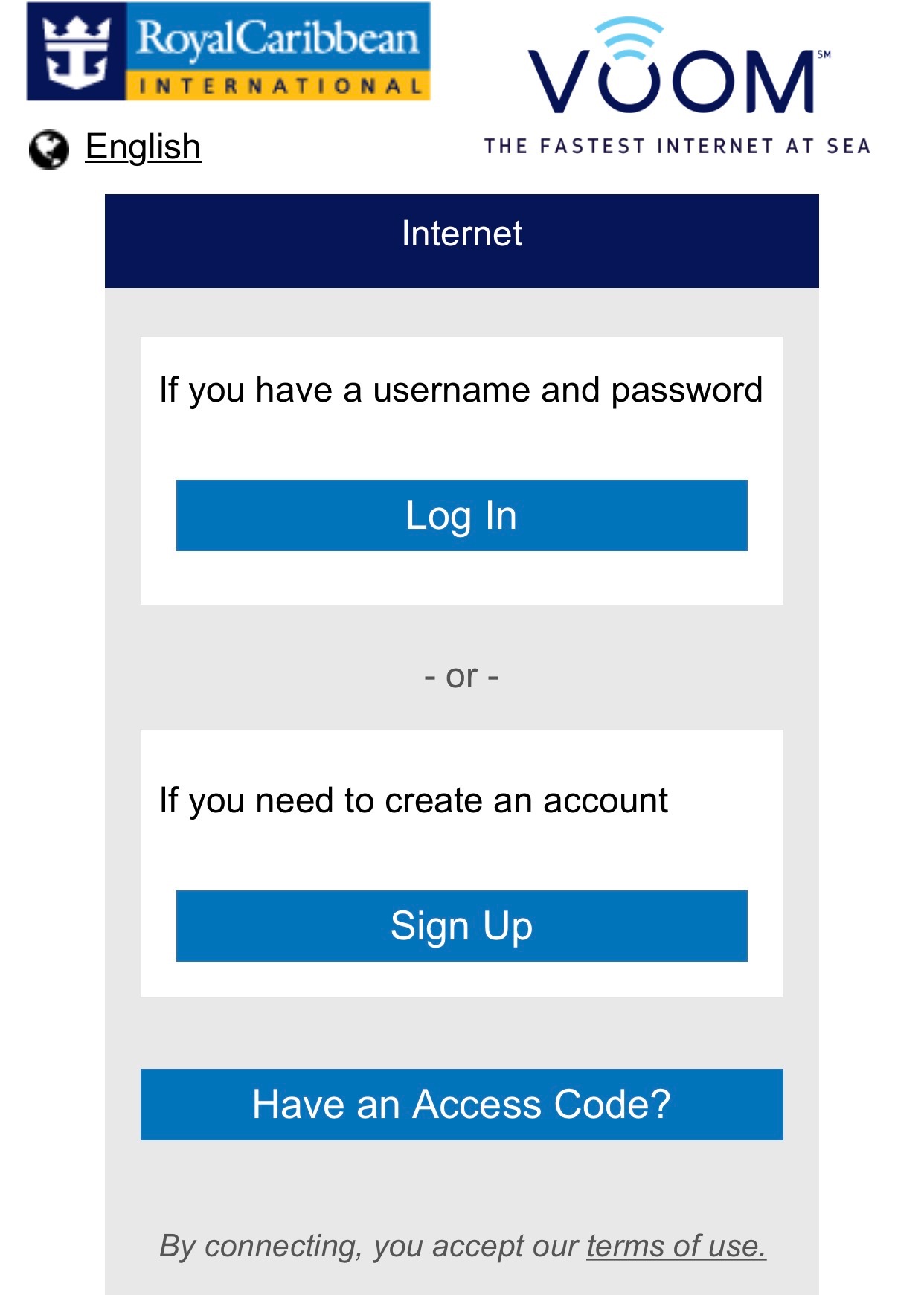 Royal Caribbean offers unlimited plans as follows for guests that purchase it onboard the ship:
Surf & Stream Voom

1 device: $17.99 per day, per device
2 devices: $15.99 per day, per device
4 devices: $13.99 per day, per device
Single Day Pass: $27.99 per day, per device
Surf

1 device: $12.99 per day, per device
2 devices: $11.99 per day, per device
4 devices: $9.99 per day, per device
Single Day Pass: $19.99 per day, per device
One may use as many devices, but whichever plan you purchase will limit you to the number of devices that may be connected at the same time.
To change devices, first log off the first device by typing logoff.com into your web browser.  This will log your first device out.  Afterwards, log back in with the other device.  You can do this as many times as necessary.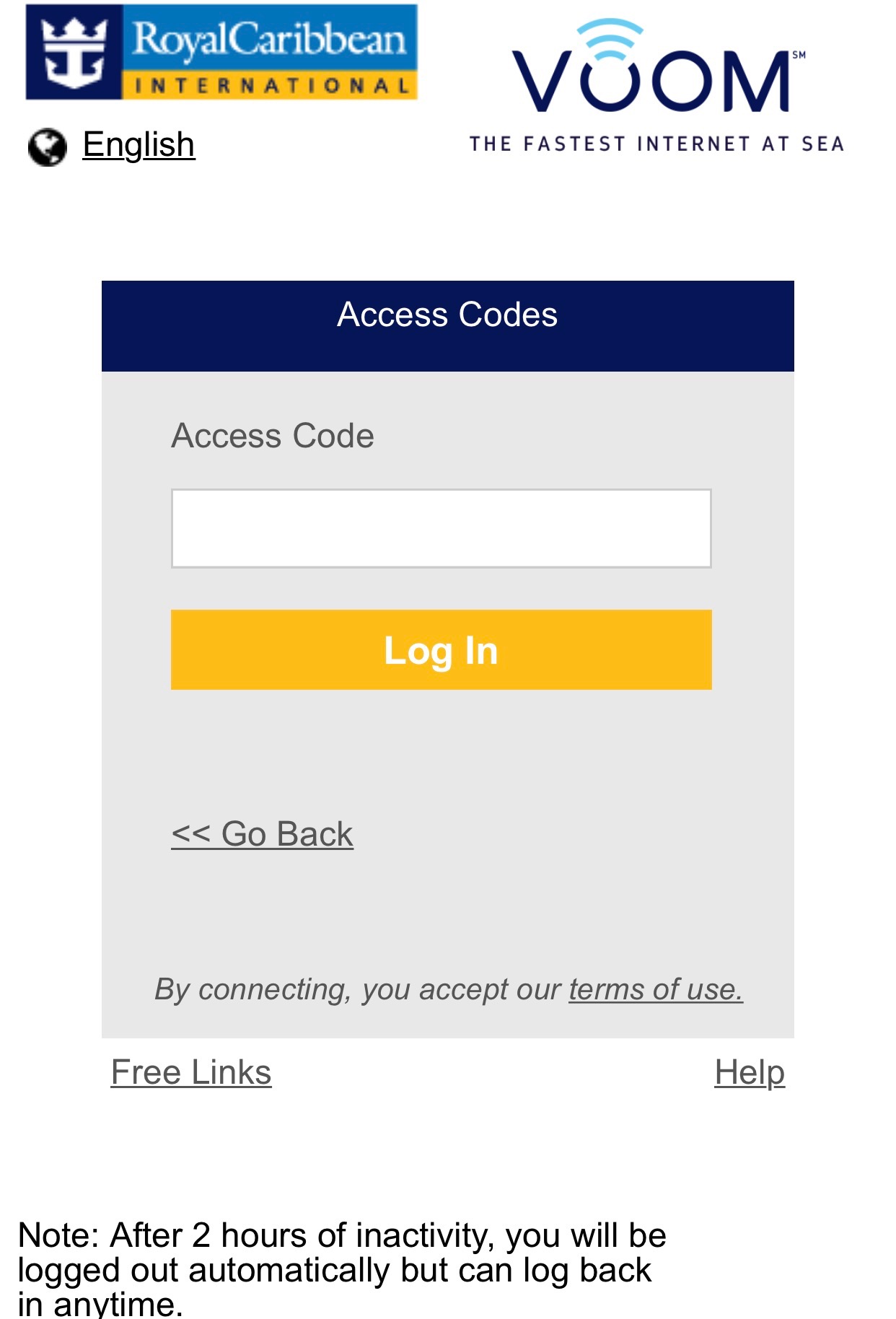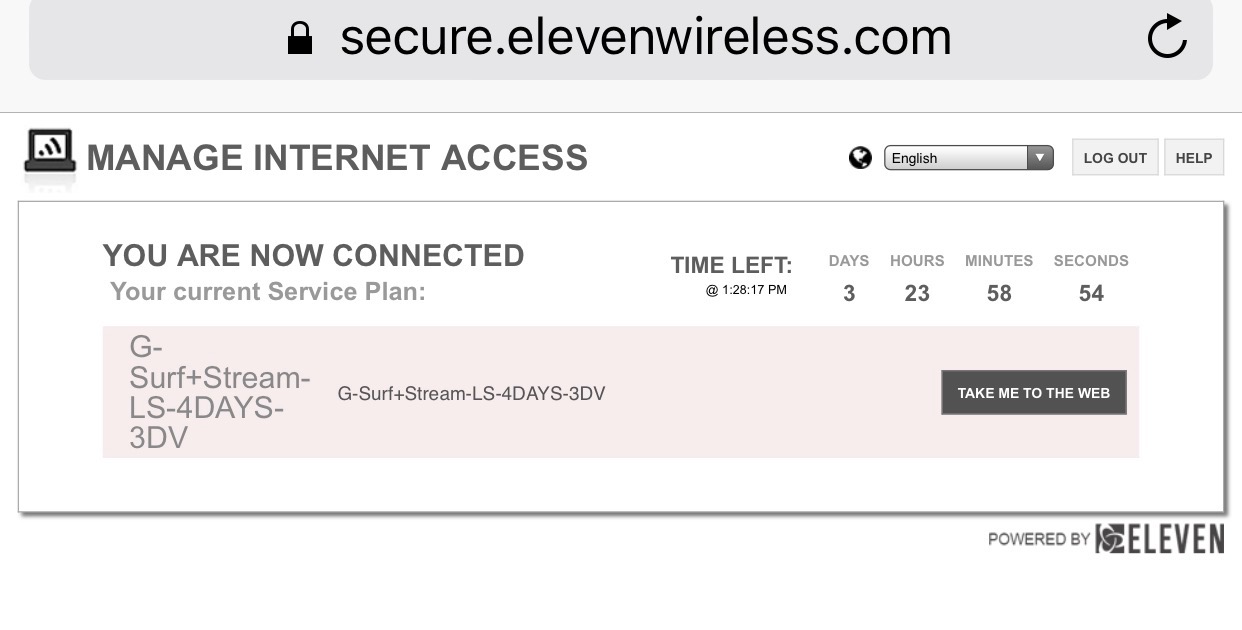 Based on my personal experience, the overall speed may not be as fantastic compared to broadband on land but you can get good signals throughout the ship even within the staterooms or even inside the toilets.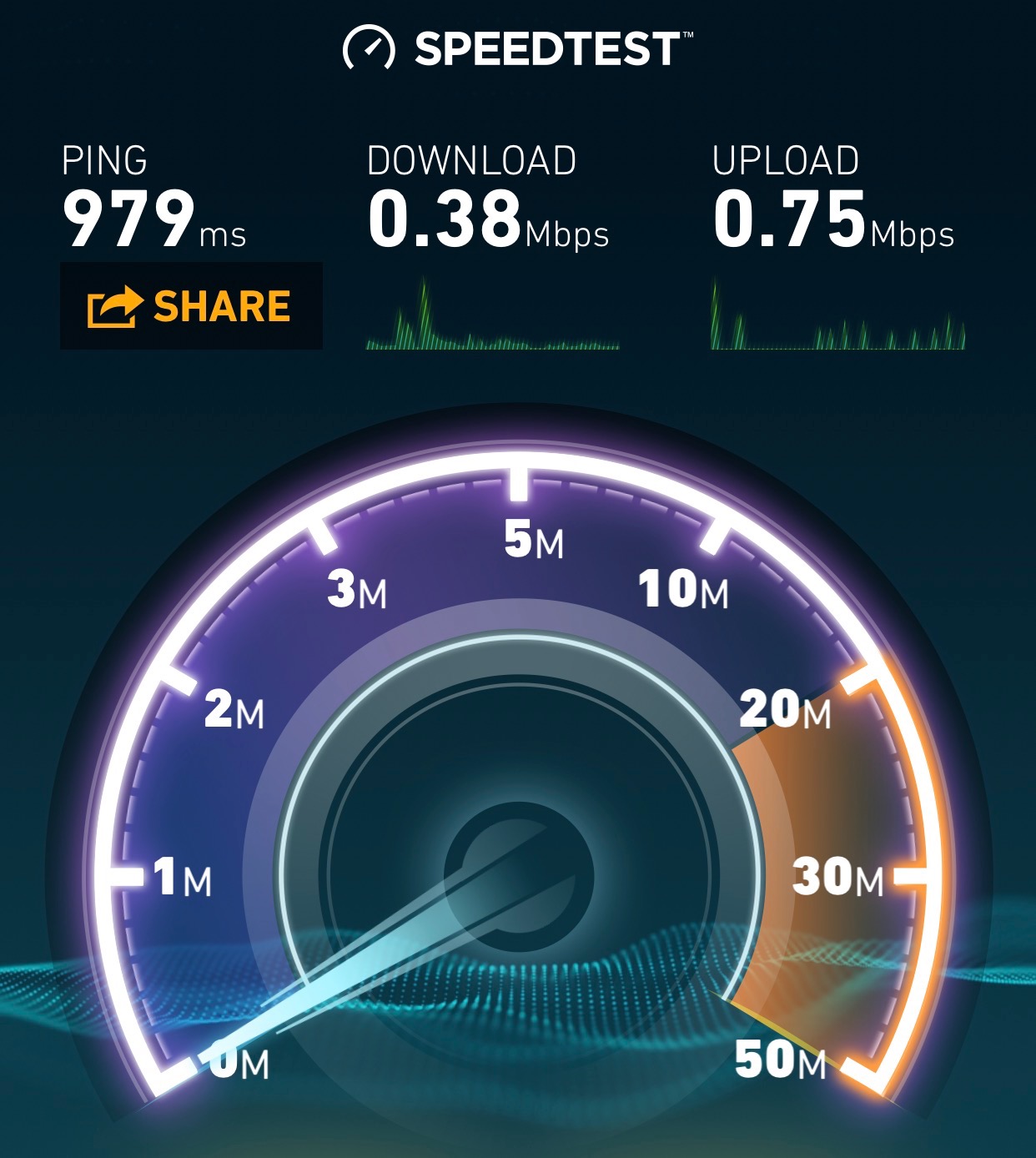 Tip #3 : Capture the precious moments onboard with the cruise unlimited digital photos package
Each cruise ship has a team of photographers that can be found at about every turn.  So whether you want a picture of you and your partner all dressed up for formal night, or just want a fun picture of your family and friends you can make sure your memories are captured by professional photographers who really do know what they are doing.
It is possible to sign up for the premium package and aim to utilise all the photo taking opportunities from the first moments of boarding the cruise to all the meal sessions on board. It will not be a difficult feat to clock in 40 pictures in a day or 120 pictures for an entire 3 nights duration to make this investment worthwhile.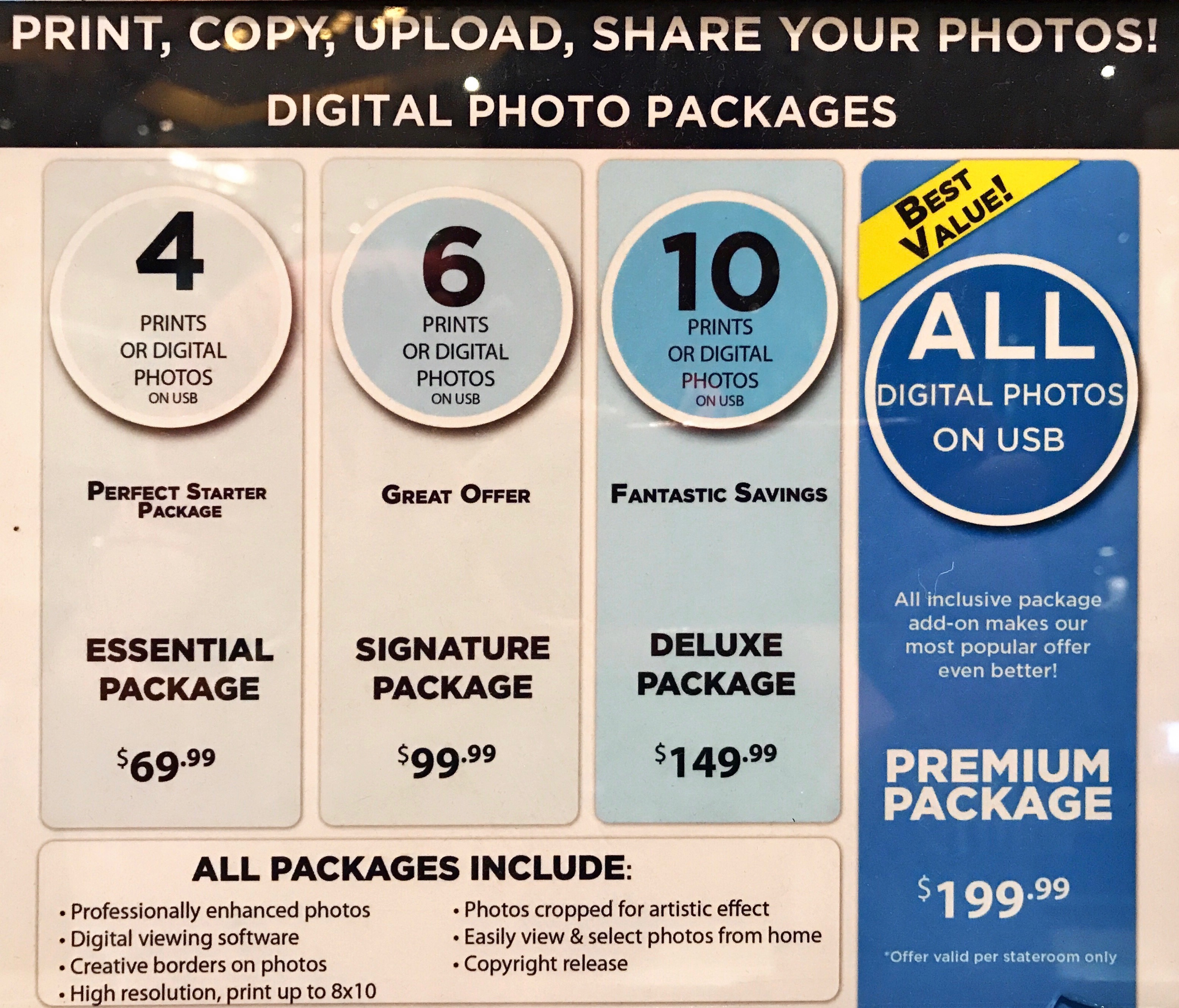 Other points to note:
The pictures are not only taken with high resolution quality but also quality lighting.
The backgrounds they use give the shots a nice touch.
It offers you a lot of convenience since you don't always have to have your camera.
Even if you don't buy any pictures, it's fun to check them out at the gallery so you should take every opportunity to get them taken.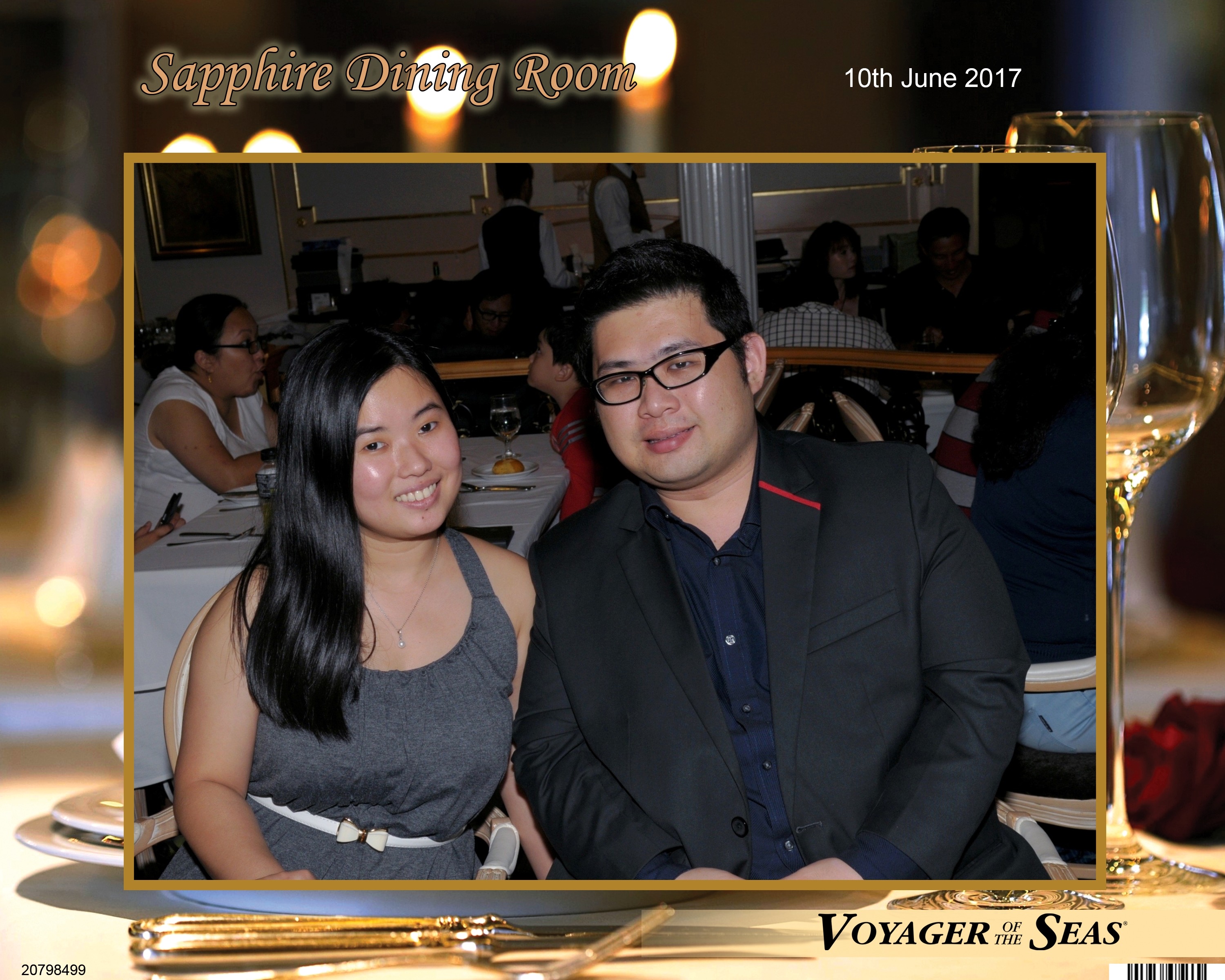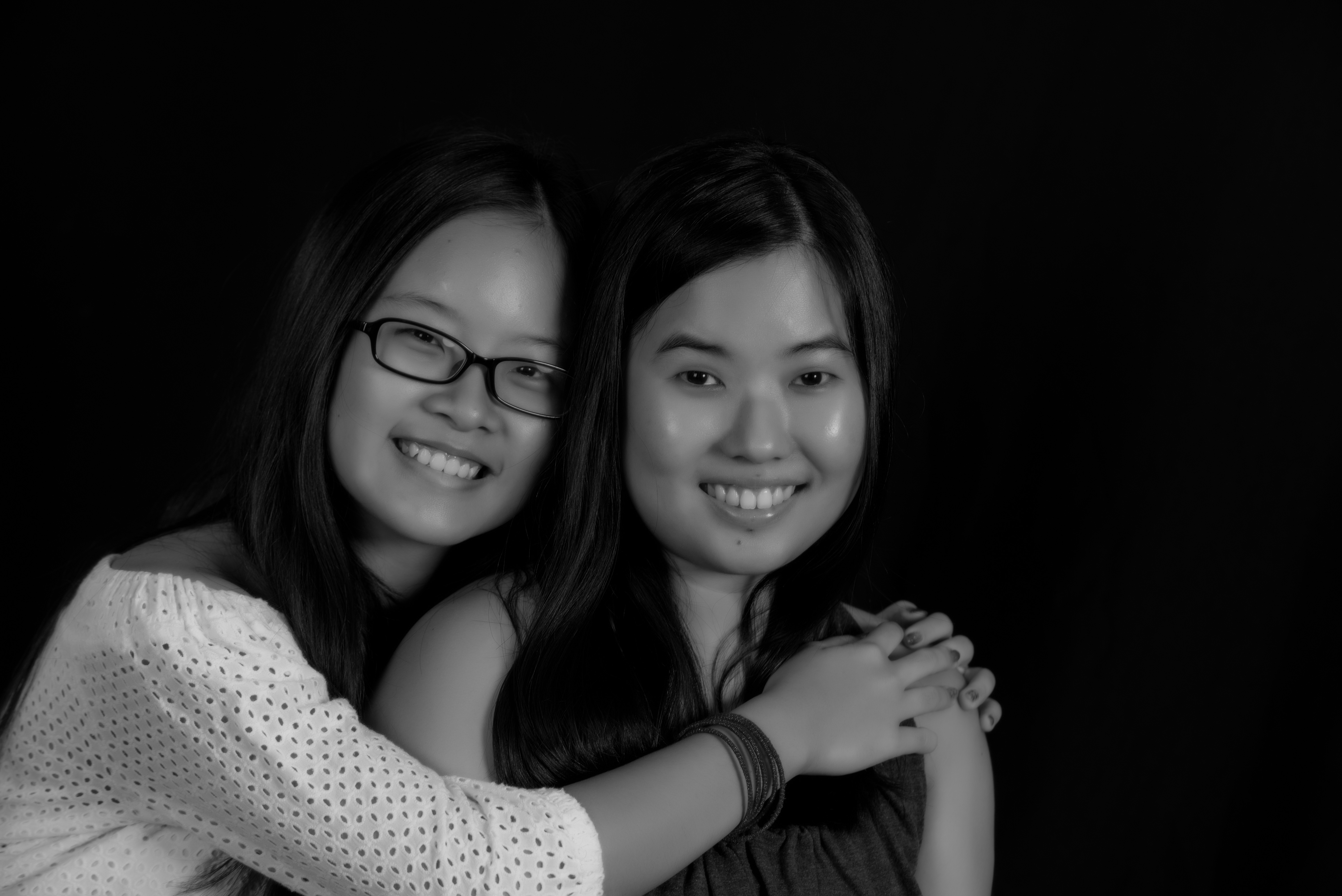 Royal Caribbean uses facial recognition software to "know" who is in each picture. This readily helps to automatically sort all the photos taken  and group them by stateroom basis. It is also advisable to plan ahead the various outfits on different days for the photo taking sessions especially on those nights where formal dressing is required. And there is special discount (less $20) if you book the package on the very first day.
Tip #4 : Communications onboard with long range walkie talkie
It is definitely not desirable to contact your family members using cellular phones when you are onboard since those calls will cost you a bomb. An easier solution is to bring some long range walkie talkie sets which should allow communications from one end of the ship to the other. Personally, I have tried a set from Xiaomi and they are great!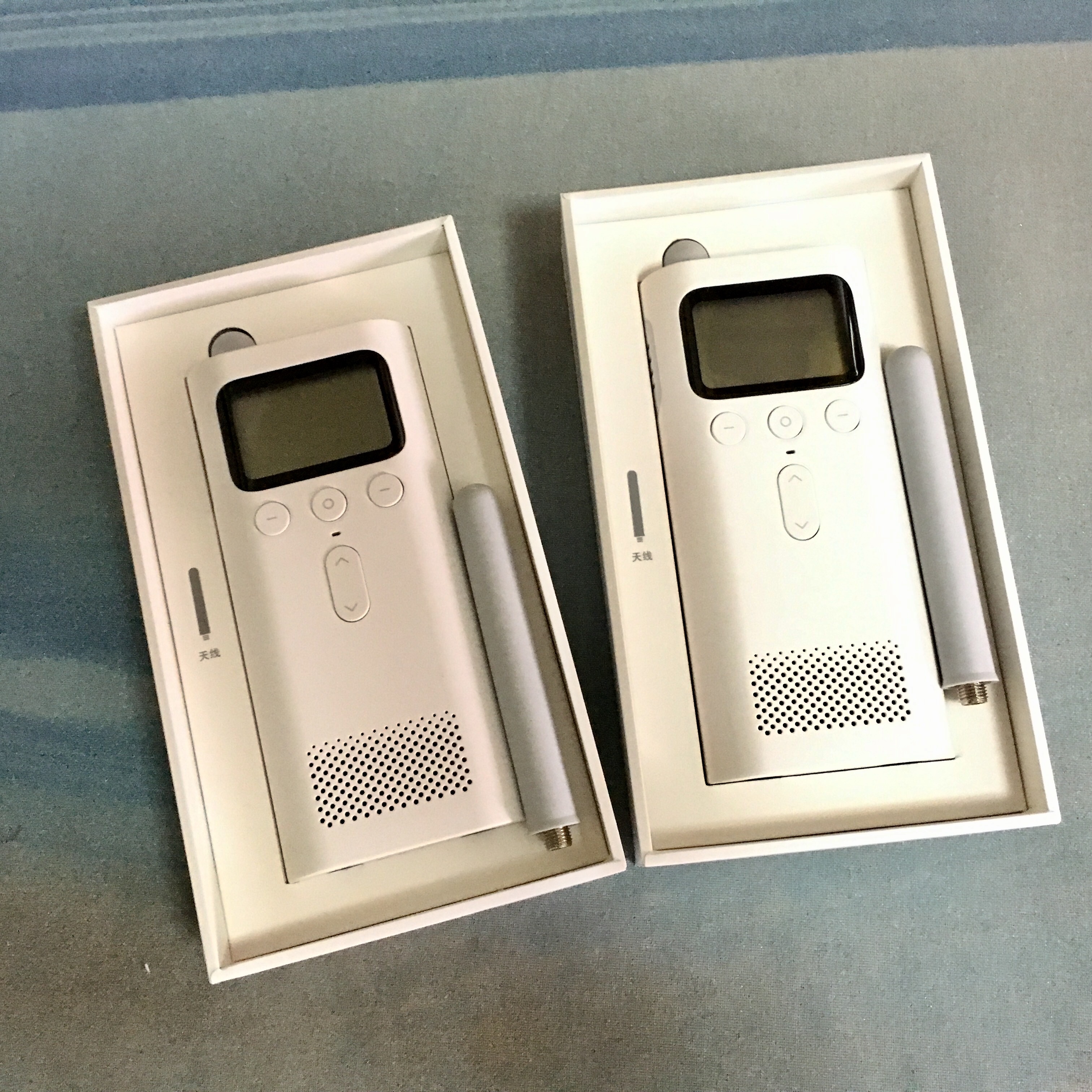 Tip #5 : Make full use of the Cruise Compass and plan each night
Royal Caribbean cruises are far from being boring! In fact, because there is so much to see and do on board, you may not get to do it all on your holiday! To help you plan your days, Royal Caribbean will deliver to your cabin, a daily newsletter called Cruise Compass. On the Cruise Compass you will find lots of information with everything from sunrise/set times to daily classes taking place on board to the schedule for the evening shows. There's so much included on these flyers and they are a great way of getting an overview of what's happening each day on board!
Here are the Cruise Compass for all the days for the 4days-3nights cruise along the Straits of Malaysia (Singapore > Port Klang  > Singapore):
a. Day 1 Cruise Compass (Royal Caribbean Voyager of the Sea)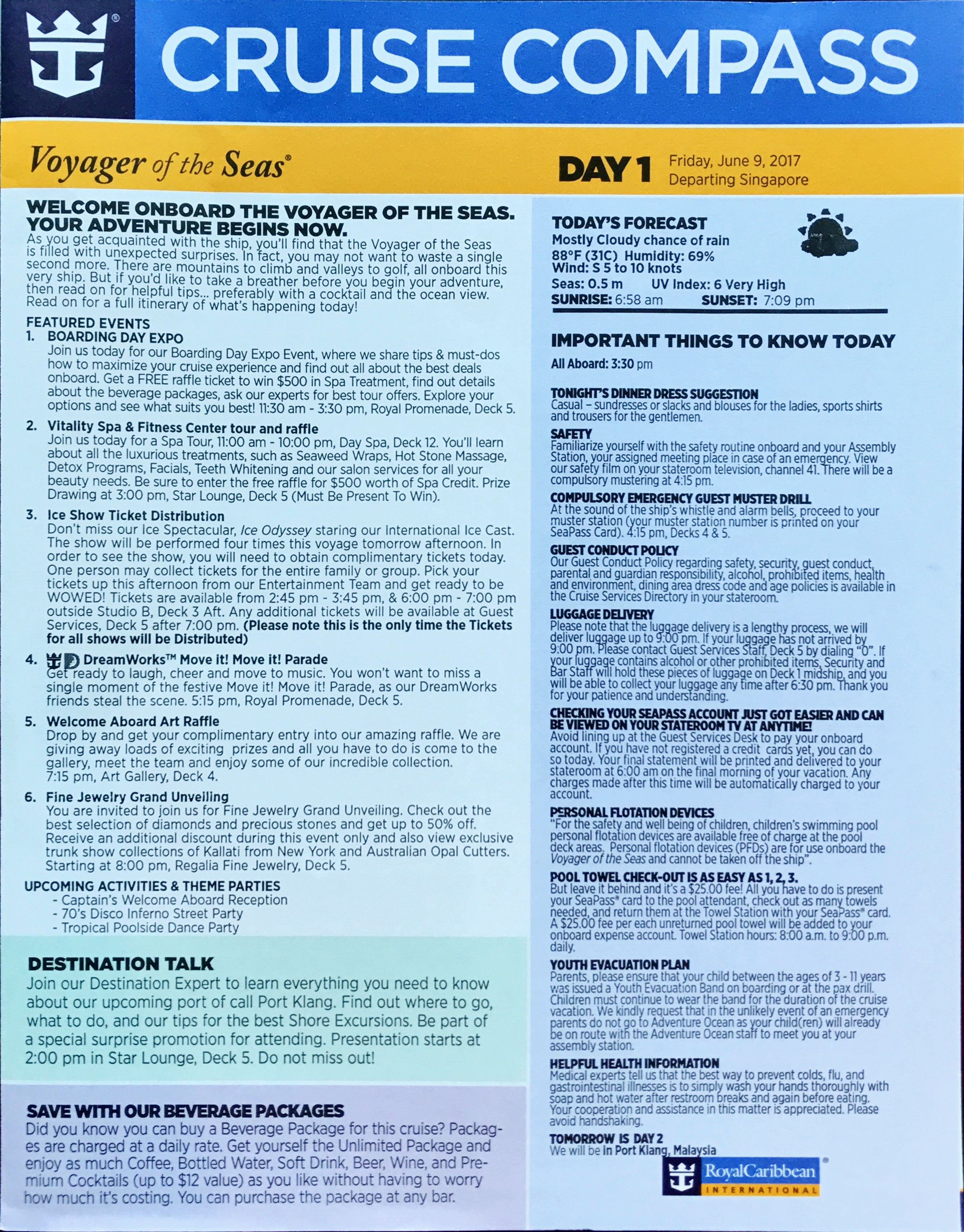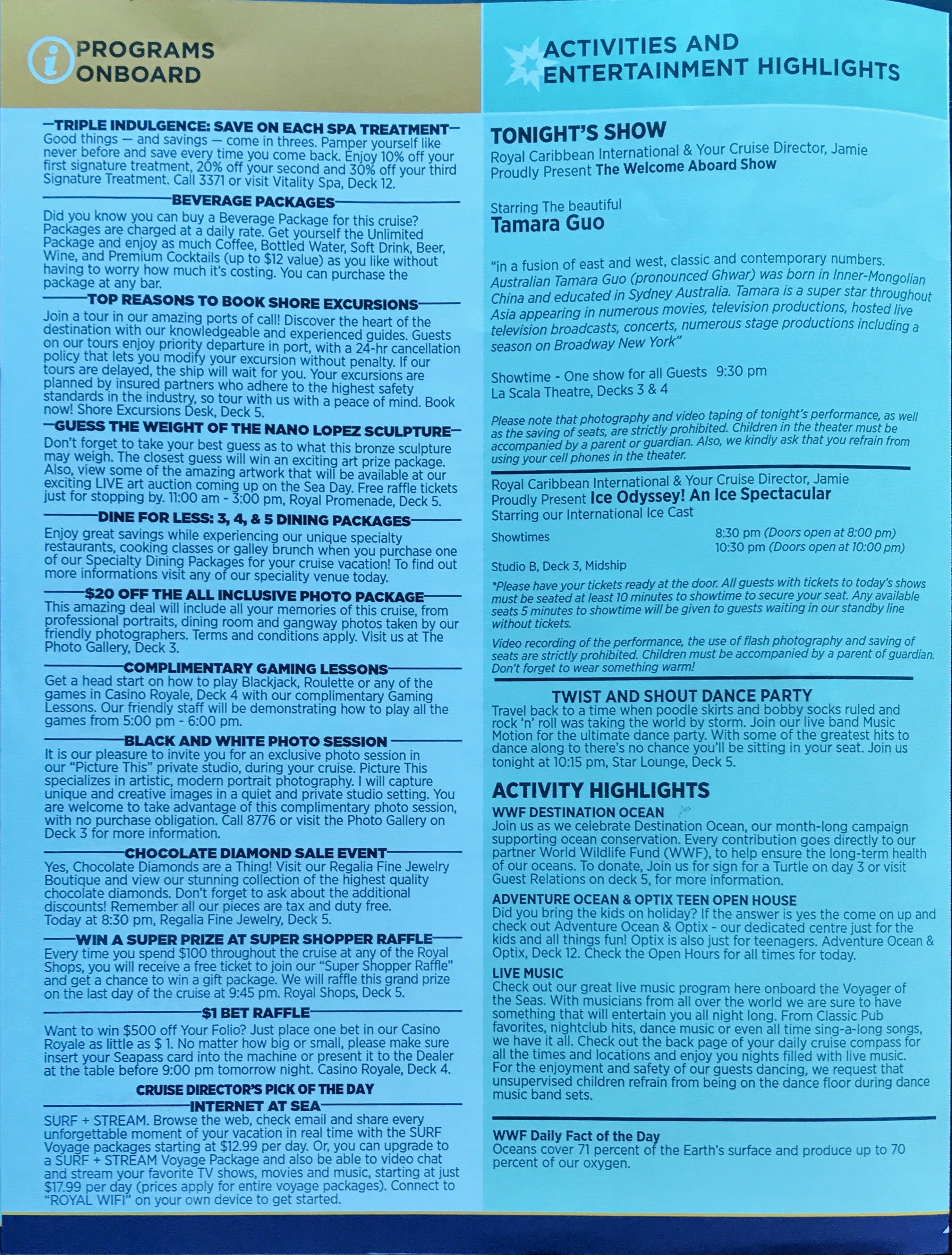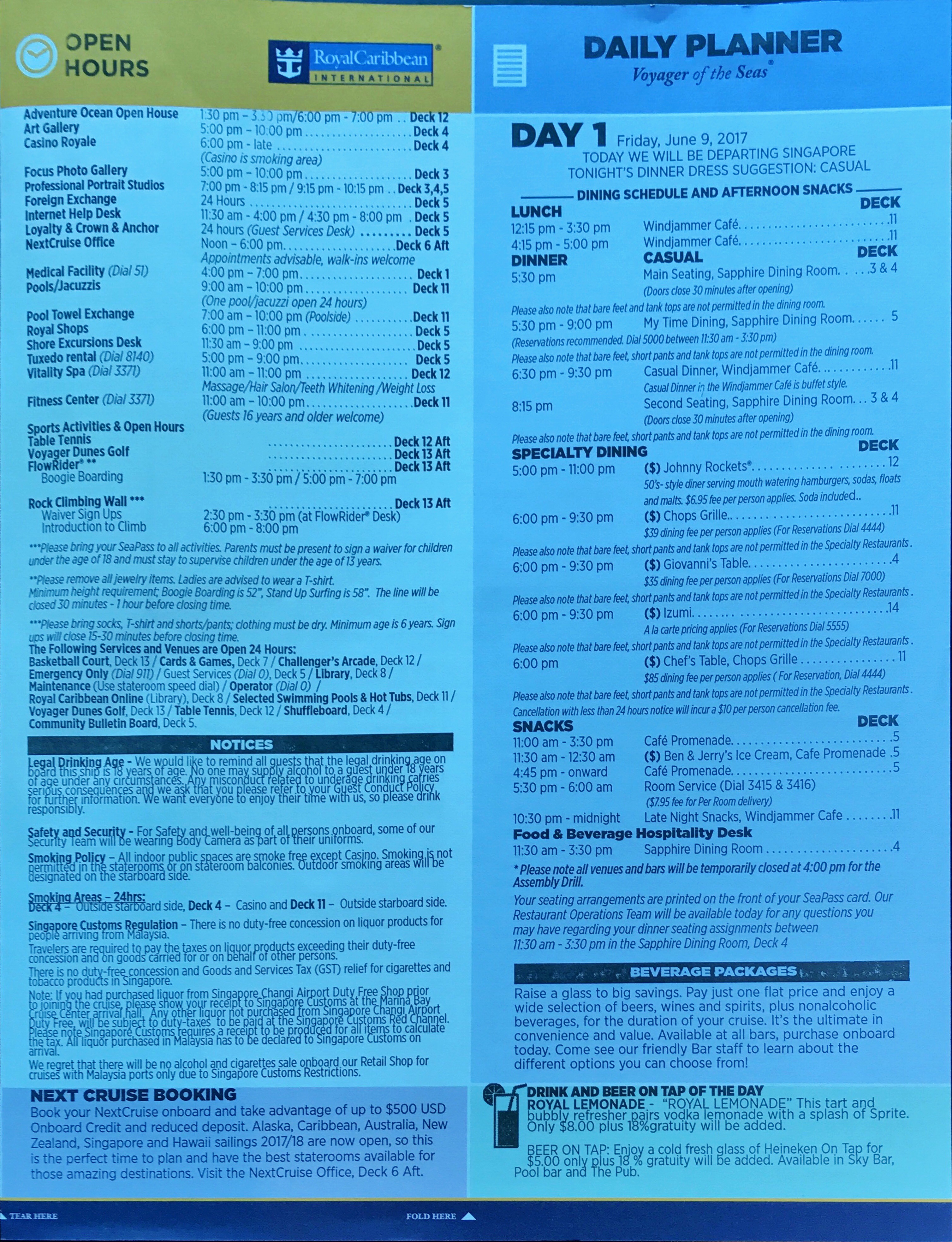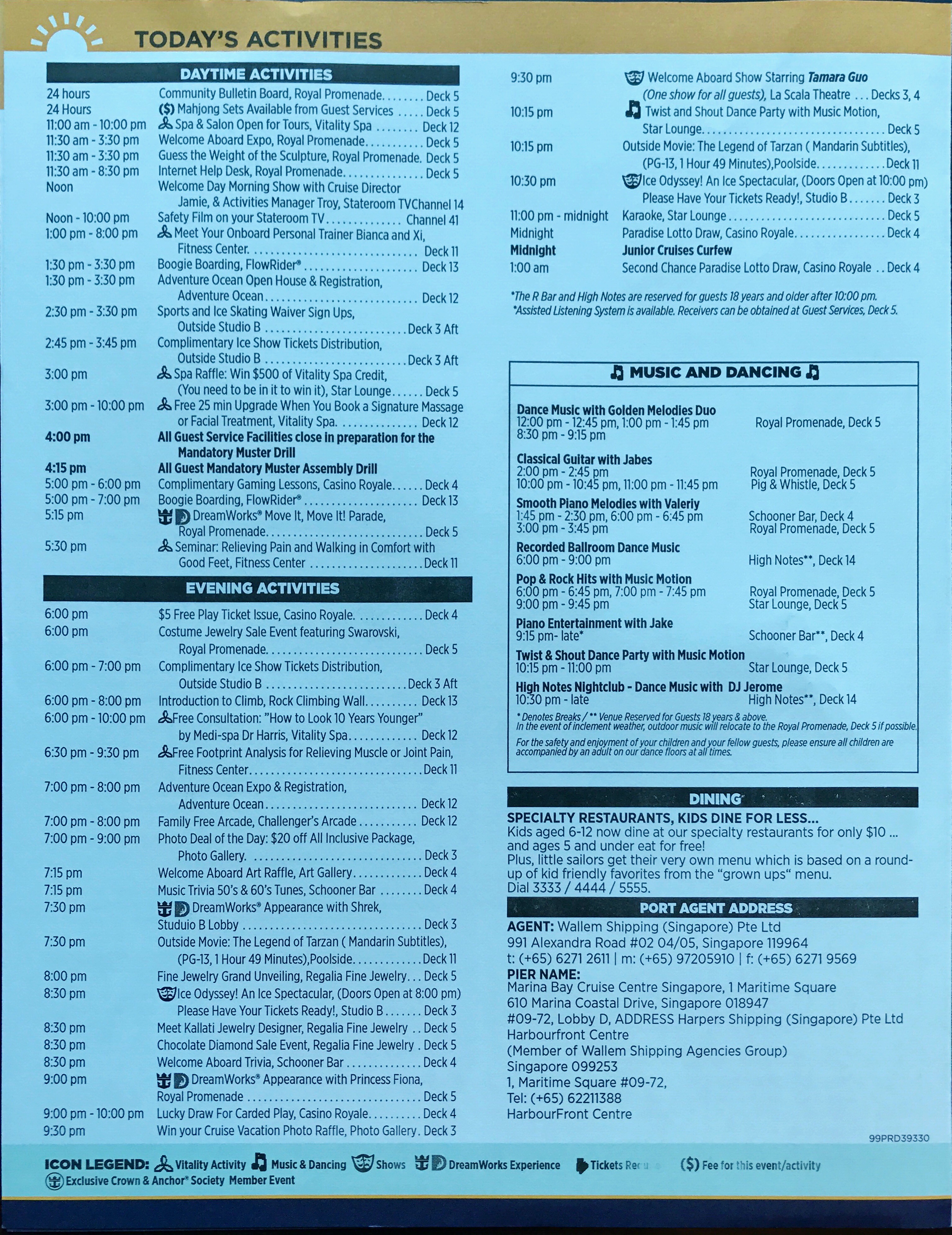 b. Day 2 Cruise Compass (Royal Caribbean Voyager of the Sea)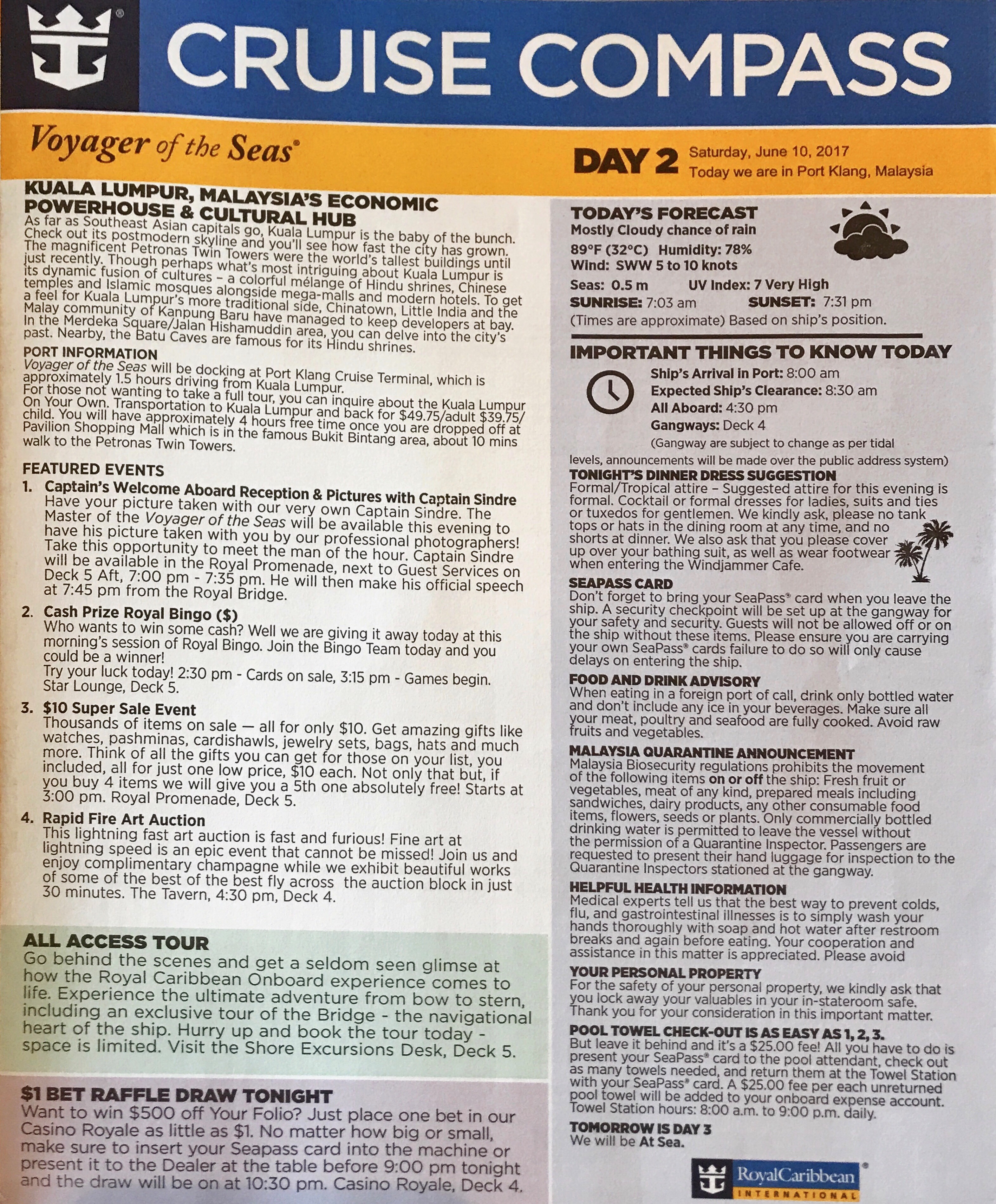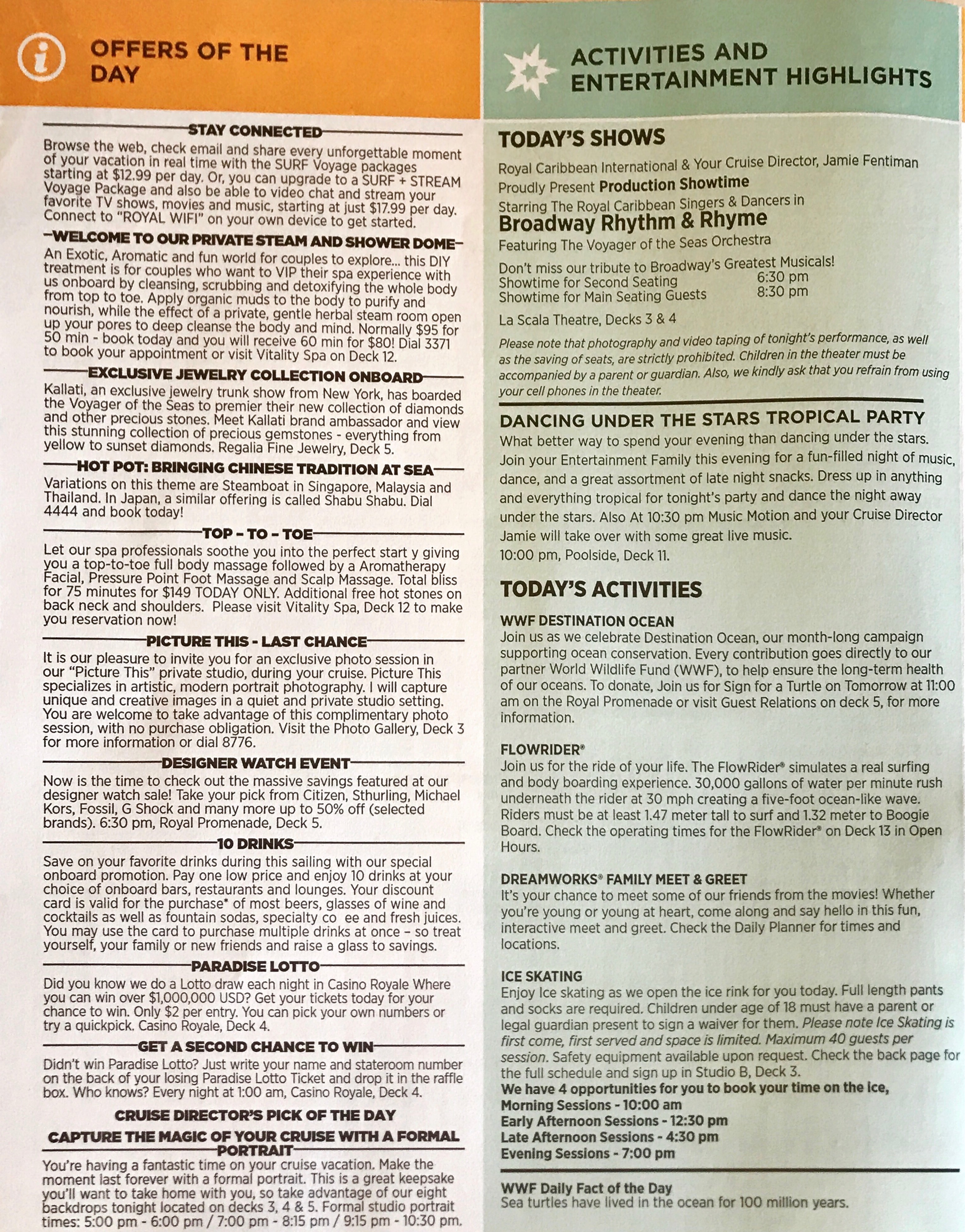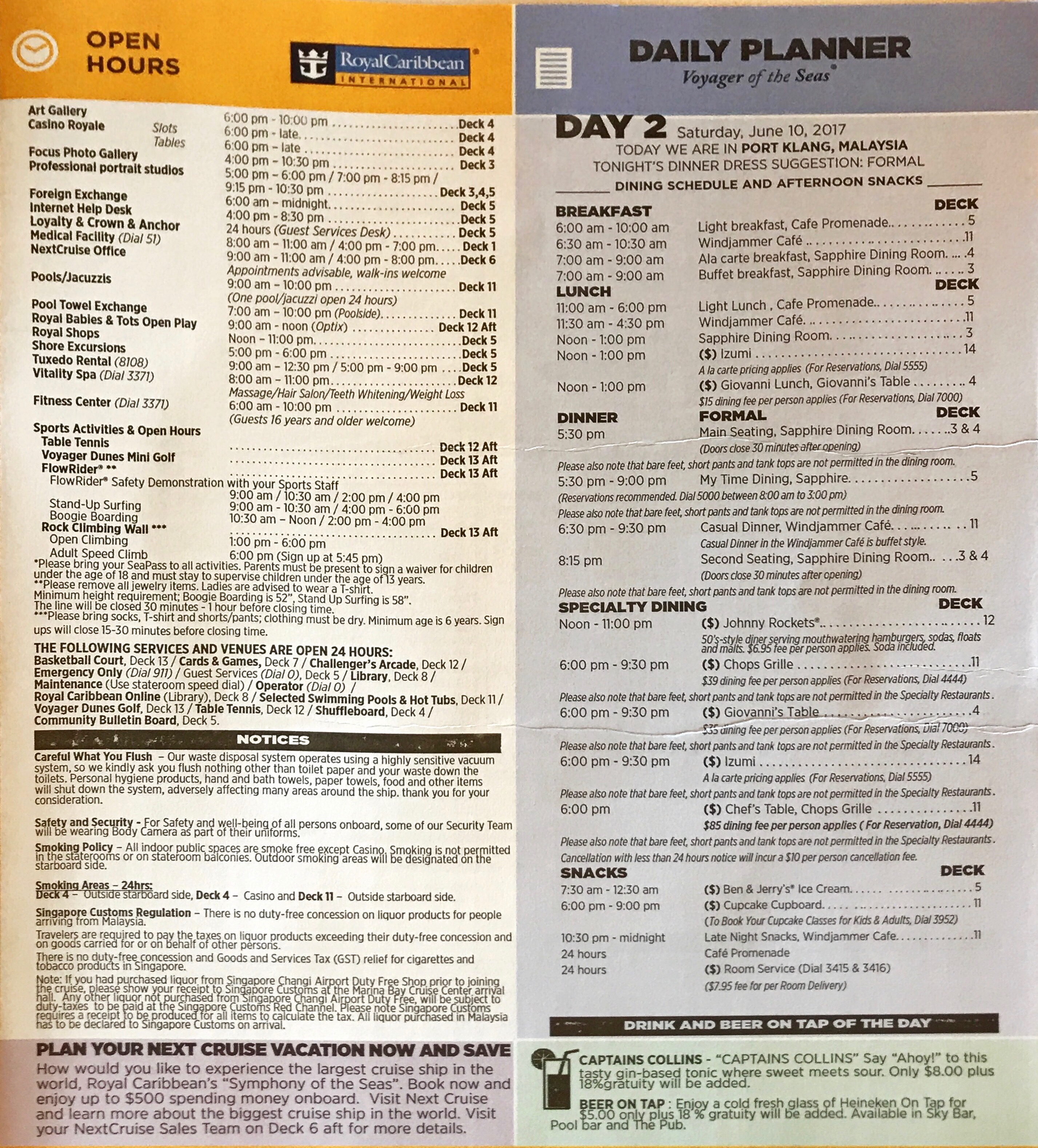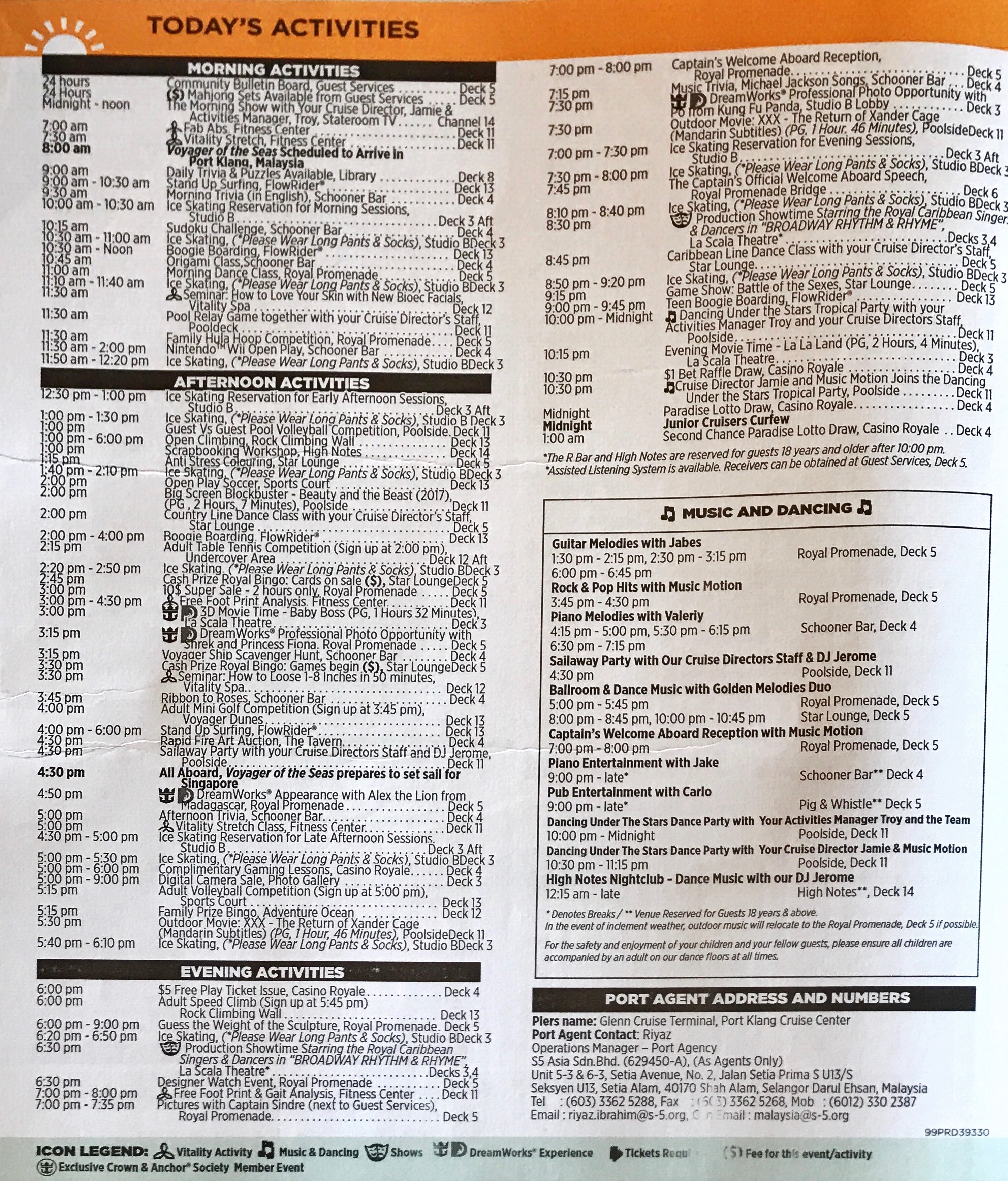 c. Day 3 Cruise Compass (Royal Caribbean Voyager of the Sea)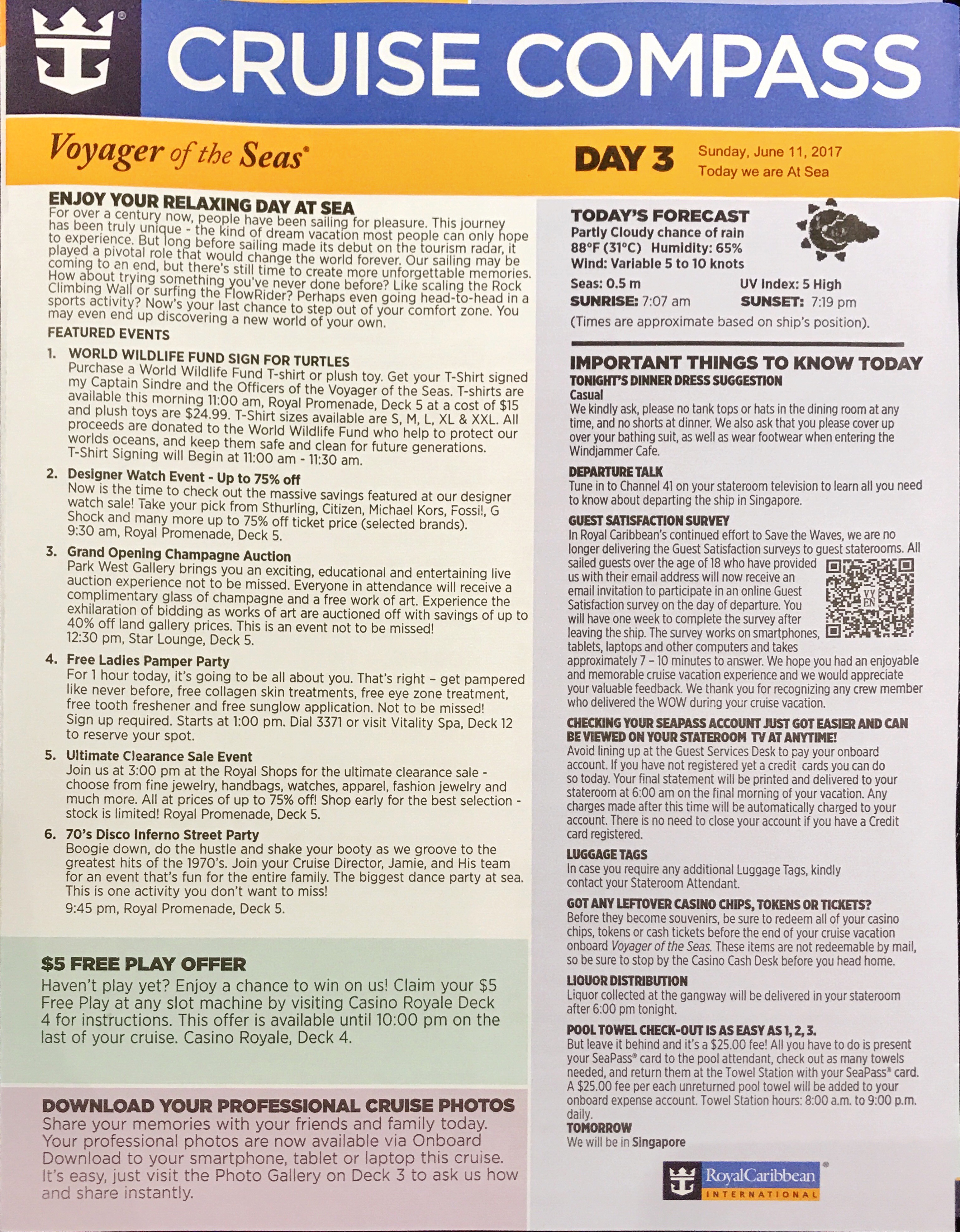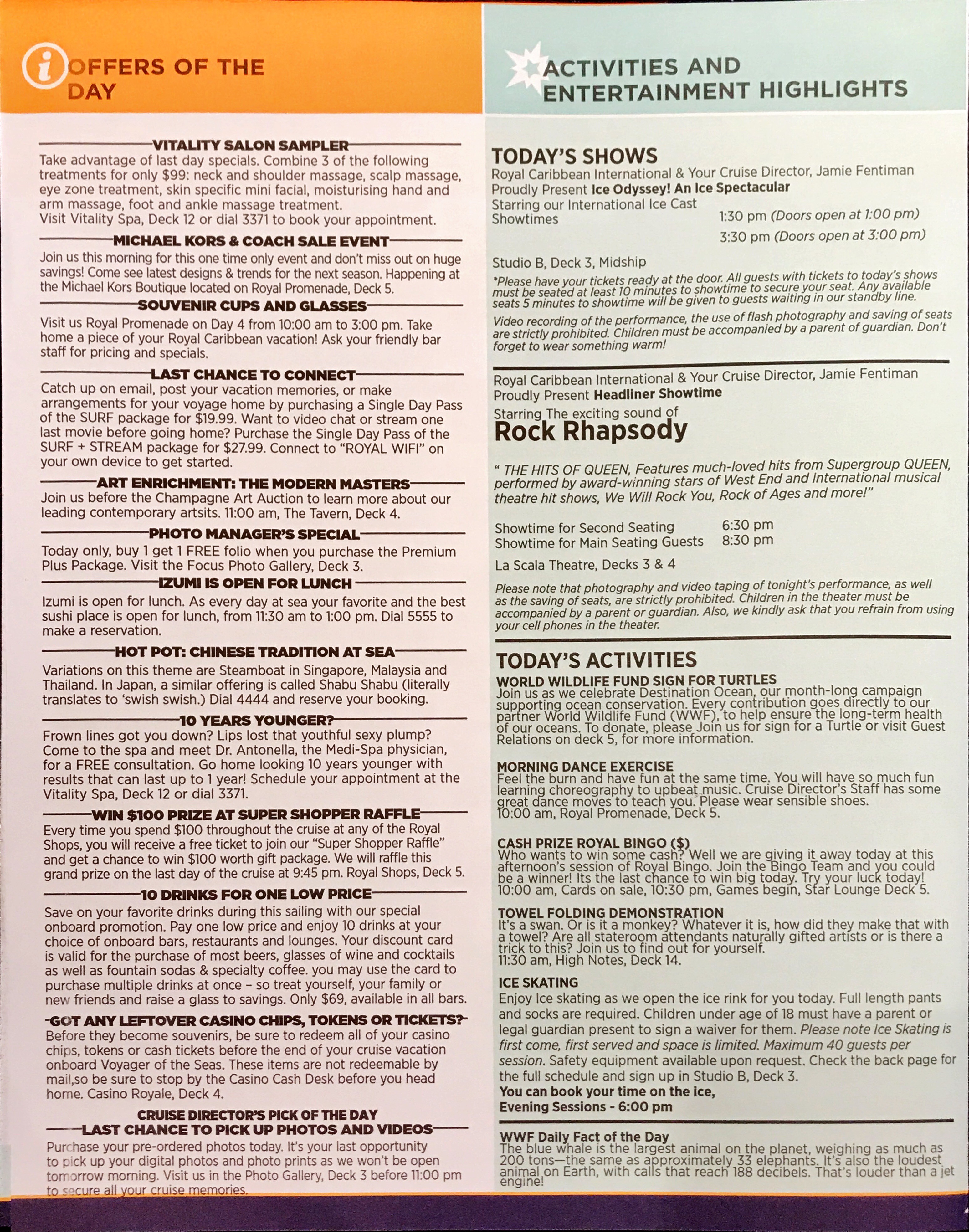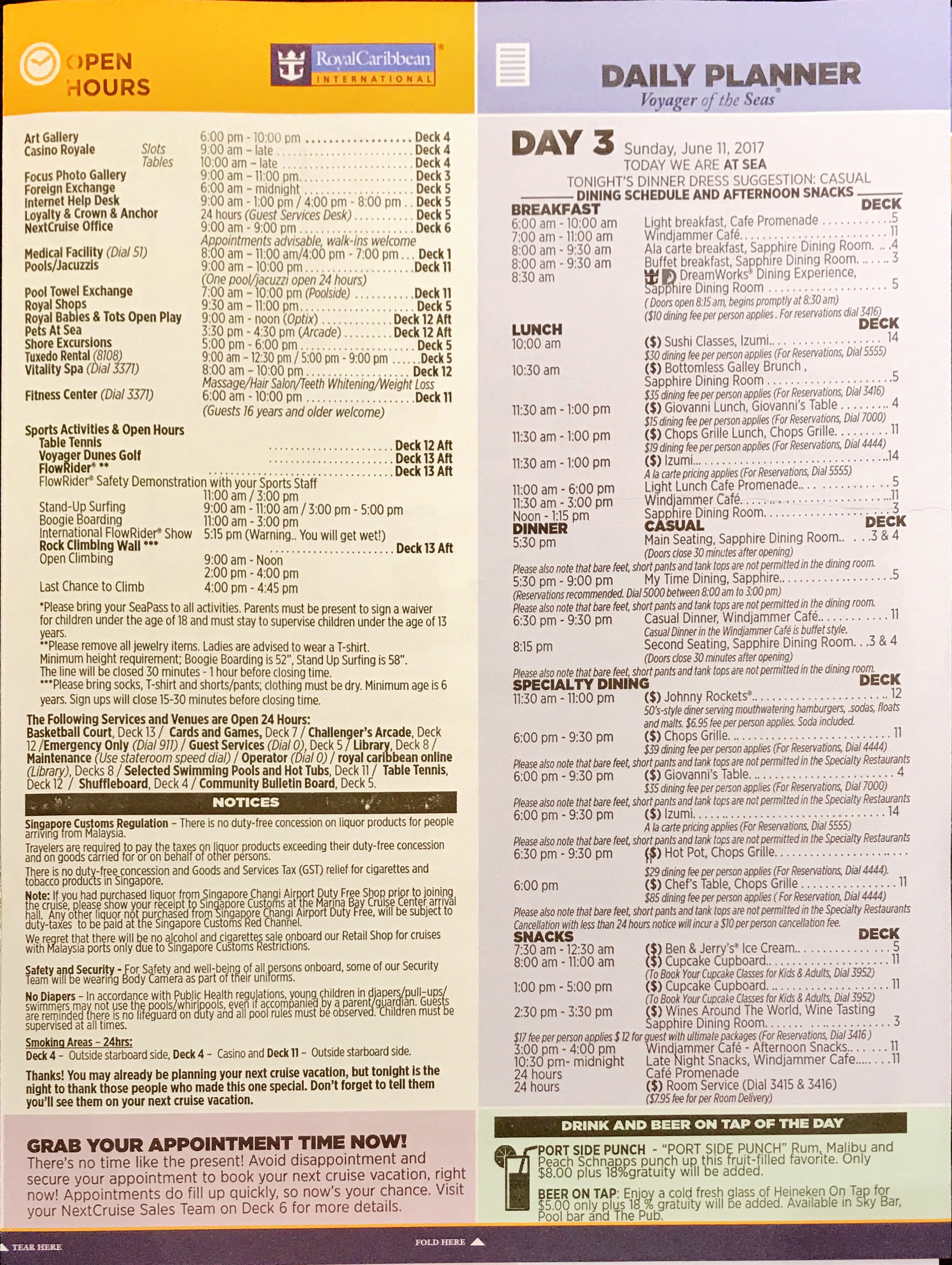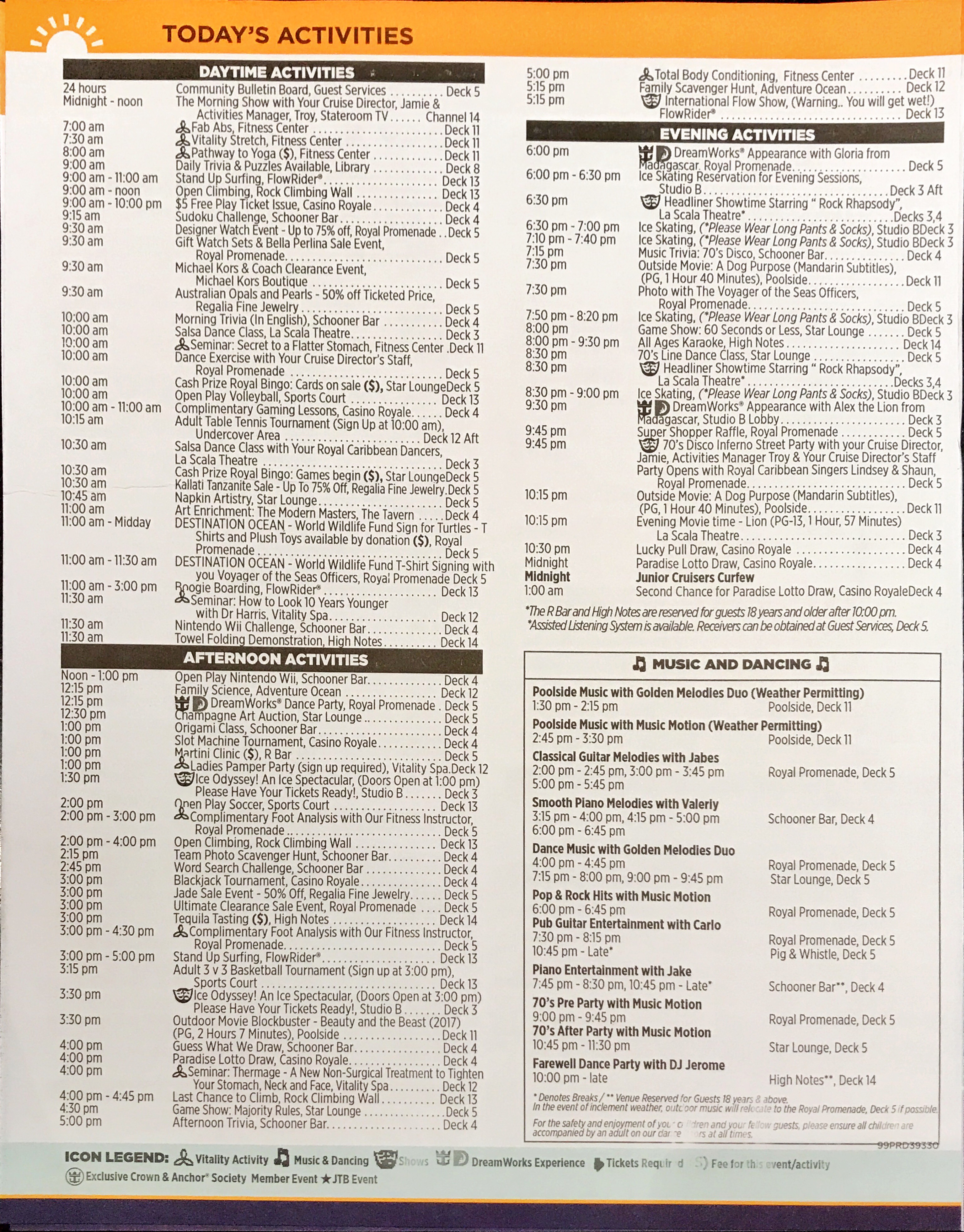 Royal Caribbean's cruises are splendid so the most important thing to remember is to have fun! Enjoy the shows, the food, the atmosphere, the ports of call, the spa, the pool deck, the bars and all of the other wonderful features of the ship! Cruises are one of the most seamless holidays you can take so unwind, relax and have a cruise holiday to remember!
Read other related posts:
Follow us on:



Share this article on: