Thinking of booking your next holiday during the Great Singapore Sale? Now there is even more reason to do so with UnionPay's exclusive travel deals to over 60 destinations worldwide on Singapore Airlines and SilkAir!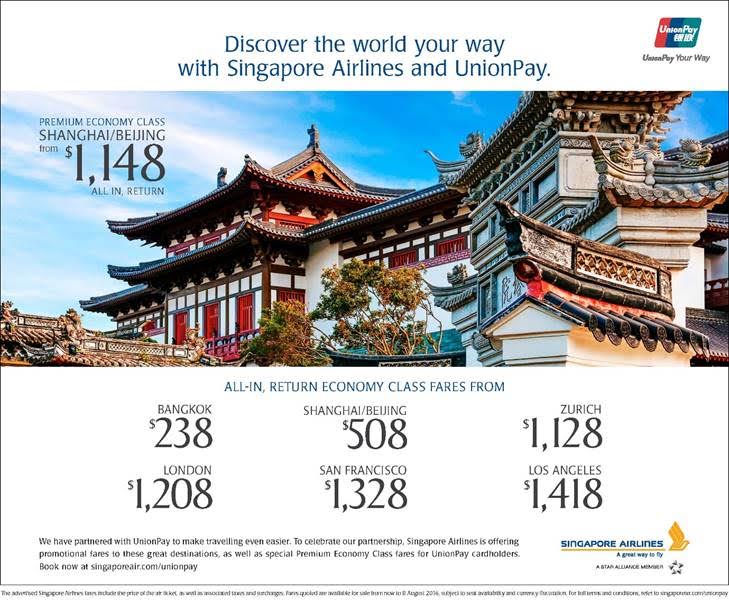 SINGAPORE AIRLINES EXCLUSIVE TRAVEL DEALS
From 14 July to 8 August 2016, UnionPay cardholders (with card number starting with 62) can enjoy special return airfares starting from S$158*, when you book your economy class flights online via singaporeair.com at least 30 days before departure.
Featuring a wide range of Singapore Airlines' flights to some of Singapore's favourite travel destinations in Asia, including Bangkok (from S$238), Denpasar – Bali (from S$278), Hong Kong (from S$248), Osaka (from S$668), Seoul (from S$668), Taipei (from S$528) and Tokyo (from S$618), aspiring travellers can stretch their dollar further with these lower fares booked through their UnionPay cards.
Other popular destinations featured include Perth, Melbourne, Sydney and Christchurch in South West Pacific (from S$498); Amsterdam, Frankfurt, London, Munich, Paris, Rome in Europe (from S$1,048); as well as Houston, Los Angeles, New York and San Francisco in America (from S$1,328).
Travellers can also enjoy special two-to-go fares when they book their premium economy class flights to Beijing and Shanghai on singaporeair.com. Starting from S$1,148 for a return flight to two of the top cities in China, simply grab a friend and jet set away in style!
SILKAIR EXCLUSIVE TRAVEL DEALS
Thinking of exploring the land of China? SilkAir is also offering exclusive UnionPay flight deals to Shenzhen (from S$548), Kunming (from S$618), Xiamen (from S$618), Chongqing (from S$628), Wuhan (from S$638) and Changsha (from S$658) when you book your flights via silkair.com at least 14 days before departure.
S$50 CASH BACK FOR BANK OF CHINA UNIONPAY CARDS
In addition to the special promotional fares, Bank Of China UnionPay cardholders will receive S$50 cash back when you charge S$1,000 or more in a single transaction to your credit card! Limited to the first 2,000 cardholders, now you can enjoy even more savings when you discover the world with UnionPay!
Visit http://www.singaporeair.com/unionpay to book your flight today!
*Terms and conditions apply. For the full list of terms and conditions, visit http://www.singaporeair.com/unionpay
Read other related posts:
Follow us on:



Share this article on: