I have cruised with a few cruise liners before and one of them is Royal Caribbean. Though my last trip onboard with them was more than a year back on Mariner of the Seas, I can still vividly remember the fun which we had onboard. So much so when Royal Caribbean last announced their maiden ship – Quantum of the Seas is making waves into Singapore, we immediately reserved our next school term vacation on board this ship.
PART A – How does it compare with Mariner of the Seas?
Royal Caribbean's newest vessel Quantum of the Seas set sail on its first Caribbean cruise on Sunday, Nov. 23 2014 in U.S. as the third largest cruise ship in the world. Stacking up just behind two other Royal Caribbean ships, Allure of the Seas and Oasis of the Seas, Quantum is 1,141′ long with over 2,000 staterooms, and capacity for nearly 5,000 passengers.

No doubt the ship is bigger and offer much more fun packed facilities and entertainment shows, the Quantum of the Seas fared palely when it comes to onboard service and engagement. Perhaps the newer team could not adequately handle a much larger crowd and the flexibility of Dynamic Dining has compromised the customised service from a dedicated team in the traditional dining hall.
PART B – Choosing the correct room type onboard the Quantum of the Seas
Essentially, the rooms onboard Quantum of the Seas are largely categorised into 3 main class – Stateroom (without Balcony), Stateroom (with Balcony) and Suites.
For budget travellers, the cheaper Stateroom without Balcony is an ideal choice. There are aplenty of choice when it comes to location onboard and generally they are also closer to the decks with the main dinning and promonade area. For those who wish to pay slightly more for a balcony view and slightly bigger interior area, one can consider Ocean Stateroom with Balcony. They are also located at mid to higher deck levels of the ship.
Lastly, apart from the much luxurious room & balcony space, all Suite guests (Grand Suites & above) are enrolled in the Royal Caribbean Enhanced Program. Some of the key benefits are: a. Better in room amenities b. Priority seatings & bookings for theatre shows c. Priority departure lounge d. Free use of Concierge Lounge & Bar e. Concierge service to book dining arrangements at Specialty restaurants f. Complimentary in room dining g. Complimentary pressing service on formal night
As the number of suites are limited, it is advisable to book well in advance.
You can also read more about the Royal Caribbean's Suite Enhanced Program.
We find the conceirge counter service is particularly useful to make hassle free reservations or changes. This is extremely useful when certain timeslots are not easily assessible based on the Dynamic Dining arrangements onboard.
To facilitate a more accurate choice of room types & location, you can refer to this useful summary tables for the 3 room types:
Summary Tabulation of Stateroom (without Balcony)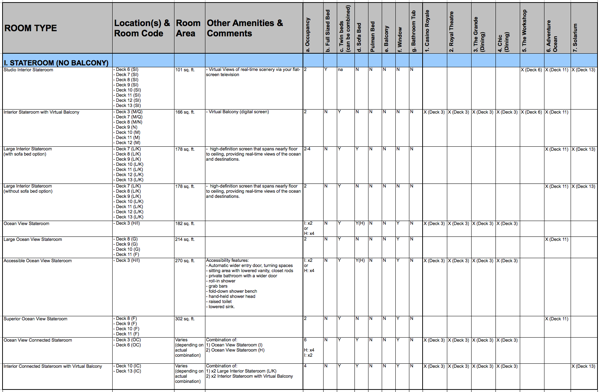 Summary Tabulation of Stateroom (with Balcony)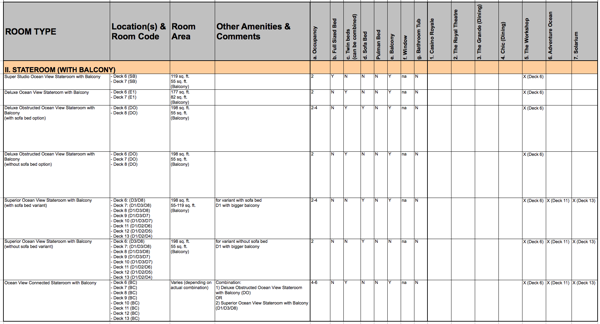 Summary Tabulation of Suites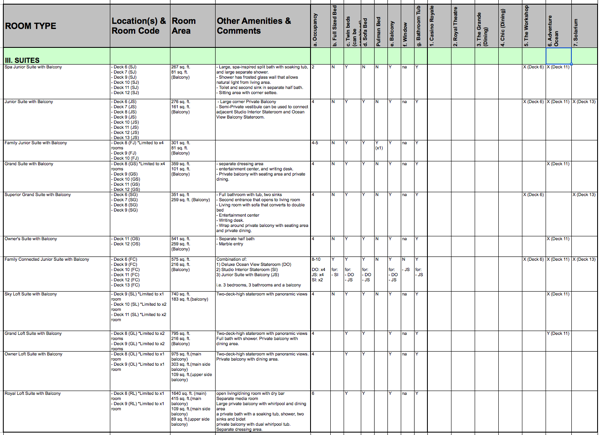 For our family trip onboard Quantum of the Seas, we have booked 3 different types of room. The respective booking price indicated to each room type can help to give you better understanding on the premium variance. Hopefully, this will help you to make a easier decision against your desired budget for your upcoming trip.
a. Stateroom (Ocean View, no balcony) : $3.3K for 4 pax
b. Stateroom (Interior, virtual balcony) : $2.2K for 3 pax
c. Grand Suite (with Balcony) : $4.8K for 3 pax
CruiseAdmiral has also compiled a great sectional representation of all the balcony view staterooms: a. Dark green ones – best views b. Yellow ones – average views c. Red ones – to avoid

From the pic. Section 2, 4 and 6 will be the most ideal with minimum stateroom affected. Likewise for Deck 10 & 11.
The undesirable ones typically have:
public rooms above and below – prone to noises
behind life boats – e.g. Deck 6
obstructed by ship struts (reinforcing structures)
PART C – Around onboard the Quantum of the Seas
Deck 3 (get the ship layout for Deck 3)
The Royal Theatre [Entertainment – entrance]
Casino Royale [Entertainment]
The Grande [F&B]
Chic [F&B]
Deck 4 (get the ship layout for Deck 4)
The Royal Theatre [part]
Kiehl's [Beauty Spa]
Michael Kors [Gift Shopping]
Diamond Club [Special Access]
Michael's Genuine Pub [F&B]
Sorrento's [F&B]
Regalia [Gift Shopping]
CafÈ Promenade [F&B]
Royal Esplanade Shopping [Gift Shopping]
La Patisserie [F&B]
Boleros [F&B]
Guest Services [Customer Service]
Silk [F&B]
American Icon Grill [F&B]
Deck 5 (get the ship layout for Deck 5)
The Royal Theatre [part]
Focus Photo Gallery [Customer Service]
Chops Grille [F&B]
Schooner Bar [F&B]
Izumi Japanese Cuisine [F&B]
Bionic Bar [F&B]
Wonderland Imaginative Cuisine [F&B]
Shore Excursions [Customer Service]
Next Cruise [Customer Service]
The Via [F&B]
Hublot [Gift Shopping]
Bvlgari [Gift Shopping]
Jamie's Italian by Jamie Oliver [Gift Shopping]
Vintages [F&B]
The Cafe at Two70 [F&B]
Two70∞[Viewing Gallery – entrance]
Deck 6 (get the ship layout for Deck 6)
Two70 [part]
The Workshop [Activity area]
Deck 7/8/9/10 (get the ship layout for Deck 7, Deck 8, Deck 9, Deck 10)
Deck 11 (get the ship layout for Deck 11)
Adventure Ocean [Kids – entrance]
Deck 12 (get the ship layout for Deck 12)
Adventure Ocean [Kids – part]
Concierge Club [Customer Service for Suite Guests]
Deck 13 (get the ship layout for Deck 13)
Solarium [Activity area]
Conference Centre [Business]
Deck 14 (get the ship layout for Deck 14)
Solarium [part]
Devinly Decadence [F&B]
Sea Trek [Shopping]
Pool and Sky Bars [F&B]
Outdoor movie screen [Entertainment]
H2O Zone [Entertainment]
The Living Room [Kids]
Coastal Kitchen [F&B]
Windjammer Marketplace [F&B]
Deck 15 (get the ship layout for Deck 15)
Running Track [Activity Area]
North Star [Activity Area]
North Star Bar [F&B]
Arcade [Kids] Fuel Teen Disco [Kids]
SeaPlex [Activity Area]
Sea Plex Dog House [F&B]
Rock Climbing Wall [Activity Area]
Vitality at Sea Spa and Fitness Center [Activity area]
Deck 16 (get the ship layout for Deck 16)
RipCord by iFly [Activity Area]
FlowRider [Activity Area]
PART D – What to expect for the ONBOARD ACTIVITIES?
1. North Star North Star observation arm will take you more than 300 feet above the ship, offering a genuinely thrilling 15-minute 360 degree view of both ship and sea. The orb-like observation capsule that transports passengers from Deck 15 skyward to another world high above the ship.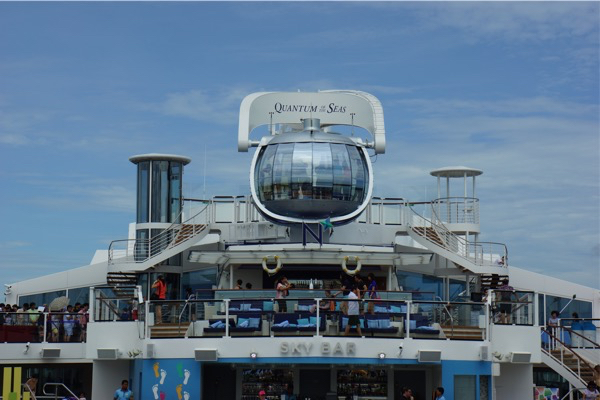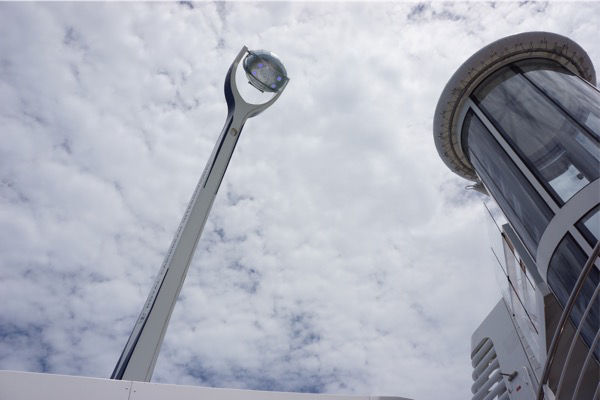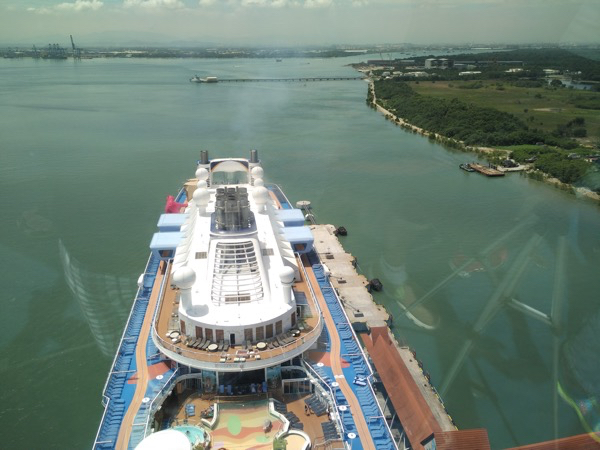 2. RipCord by iFLY Onboard Quantum of the Seas, one can now have the opportunity to feel what it is like to fly by experiencing Ripcord by iFLY, at no additional cost. Included in the cruise fare is a complimentary 1 minute flight session in this wind tunnel with an experienced flight guide. Basically, for iFly, it is a specially designed flight chamber in which you fly and is powered by a vertical wind tunnel that creates a cushion of air allowing you to float. This session is available to pre-book in your cruise planner or can be booked once onboard the ship pending availability. One can also purchase an additional 2 minute flight for $40 to advance his skills and fly like the pros.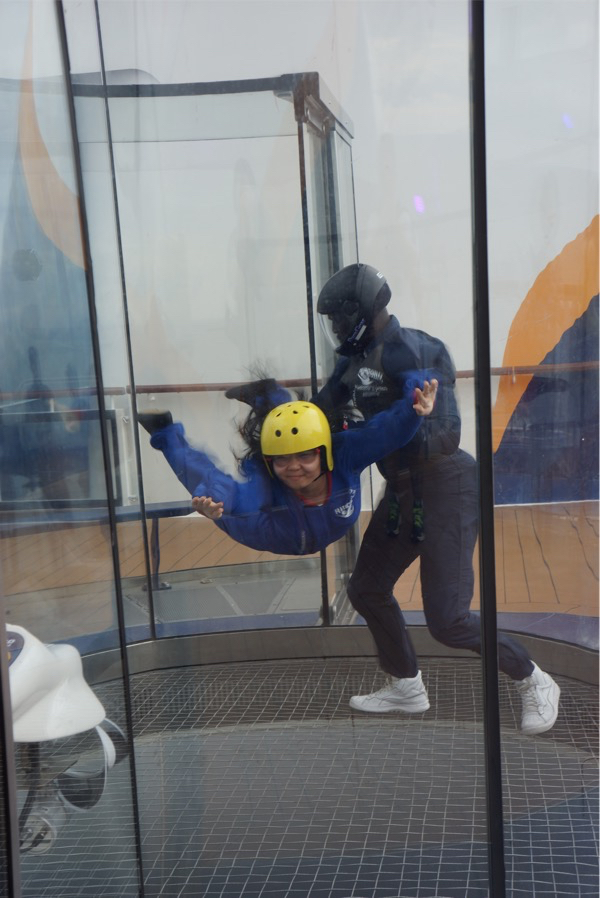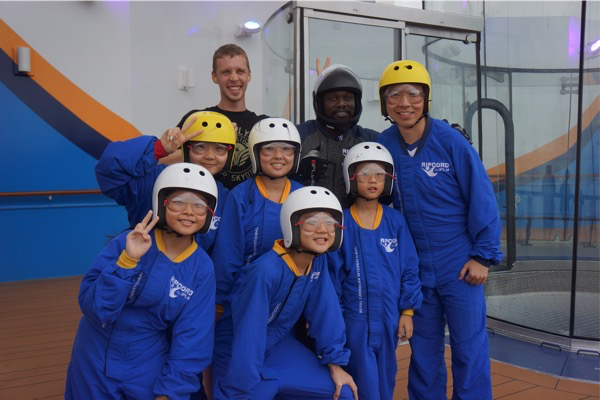 3. SeaPlex This multi-purpose SeaPlex sports center houses some of these entertainment such as bumper cars, rollerskating, a trapeze workshop, a giant Xbox entertainment center, and full basketball court. The court also is the place for dodgeball, volleyball, circus trapeze training, and roller skating. It is a distinctive sporting venue that will inspire guests to let loose and connect with their playful sides.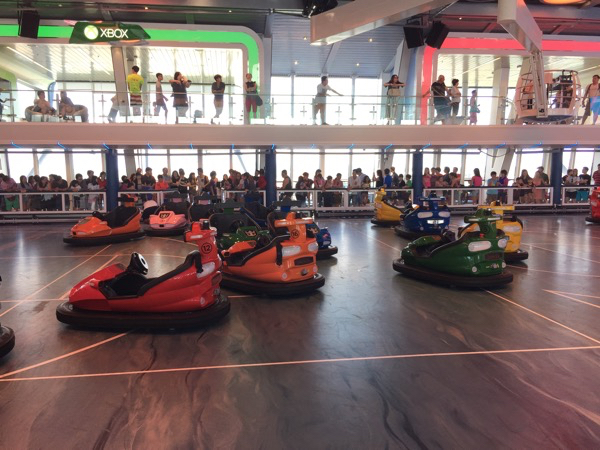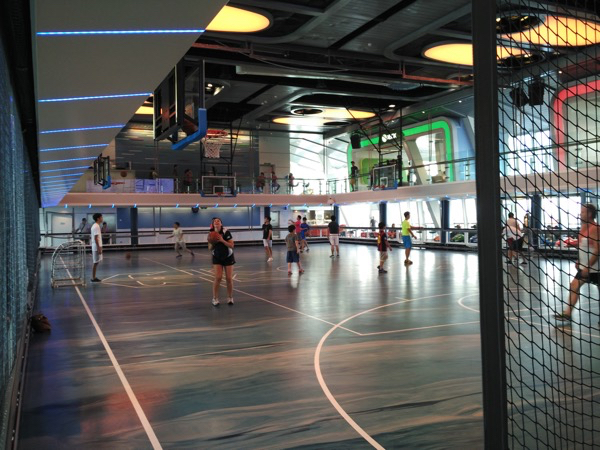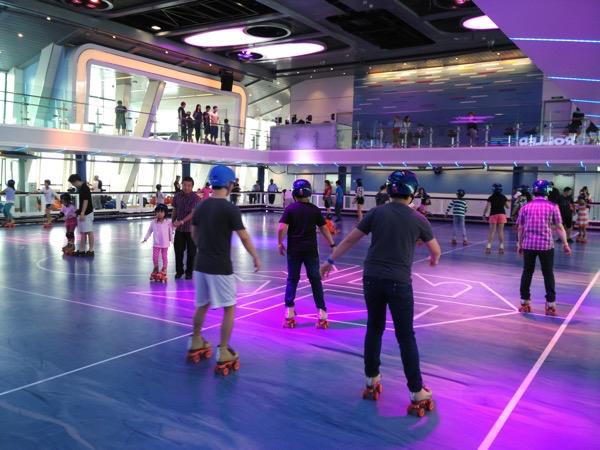 4. Rock Climbing The stern of the ship includes a rock climbing wall to challenge any indivdual to the heights and stamina to scale the wall. From beginners to speed climbers, everyone can also enjoy an unparalleled view from 40 feet above deck. This is included in the fare with no additional reservation is required.
5. FlowRider Royal Caribbean is the only line to boast FlowRiders on board, and Quantum also has the signature surfing simulator at the rear of the ship on Deck 15. One has balanced on your two feet or face down in the 30-miles-per-hour surf, a pretty interesting chance to catch a wave right onboard. For those who are not into this sport, one can also cheer on his friends from stadium seating with prime wipeout views. Private lessons are also available to pre-reserve for a fee.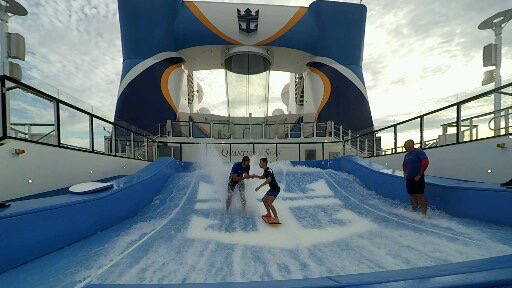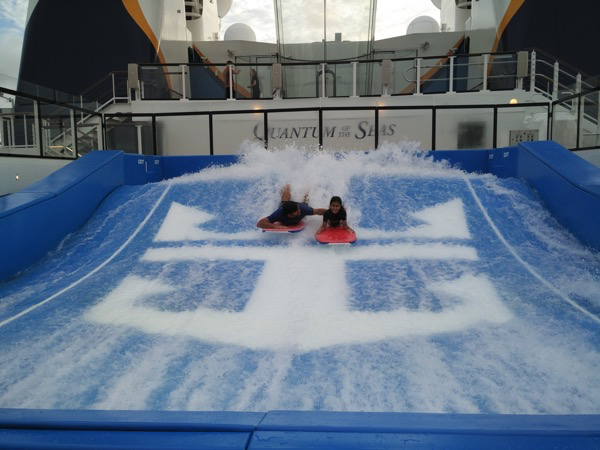 6. Fitness Center It is known that the former NFL player Dhani Jones had been named as the experience adviser for sports and fitness on Quantum of the Seas. The Vitality Fitness Center is located all the way forward on Deck 16 with a huge bank of windows surrounding it. This ensures sufficient natural light floods the space during the day. Treadmills and ellipticals are lined up facing the windows giving of the amazing views at sea or in port when one is doing intense workouts.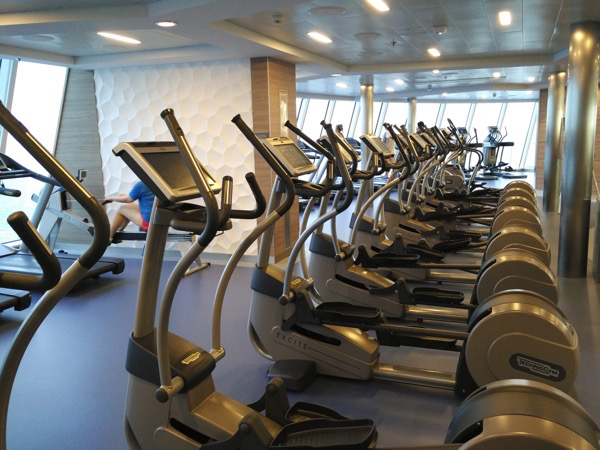 The workout space itself is massive, and itís set up in three tiers: – Large space at the top reserved for weight equipment – Second smaller tier for stationary bikes – Lowest level for fitness classes, including TRX suspension training and Pilates.
Thereís also a small area just for stretching. Here, youíll find mats, exercise balls, BOSU balance training equipment, light weights and foam rollers. The TechnoGym equipment is also high-quality and user-friendly. All these are free to use and no reservation is needed.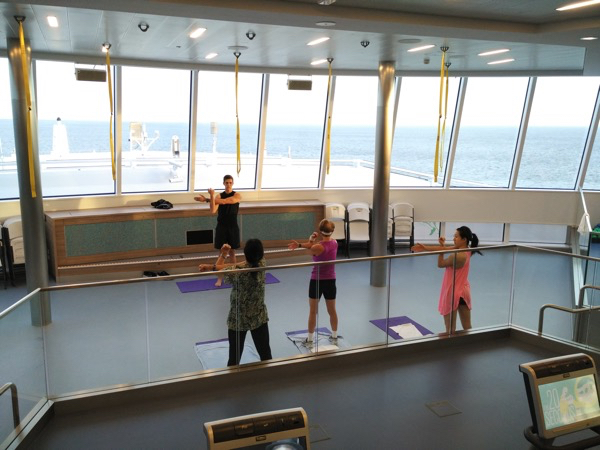 Occasionally, there will be fitness classes organised in the Fitness Center – Yoga, Pilates, spinning, sculpting etc led by experienced instructors. Fee applies for some classes. (Sample calendar of Fitness Club events on my cruise)
PART F – What to expect for the FOOD & DINING?
Royal Caribbean has implemented Dynamic Dining onboard Quantum of the Seas. This would replace the traditional dining experience that cruisers will reserve directly with the main dining rooms for the standard meals. Instead, now the ship has multiple dining venues with various culinary inspirations and unique menus. These different restaurants include a mix of complimentary and up-charge venues.
To facilitate bookings on Dynamic Dining, there is an online reservation system on Royal Caribbeanís website – the Cruise Planner, where you can make all the reservations. With this system, you can make reservations at any restaurant for your time preference, which can be different each night. You can also link different cabins or members of your party to allow you to make reservations for varying groups. If you do not wish to have all these hassles, you can wait until you are onboard the ship to make reservations or just ìwalk upî to a venue at a given time. Just like a restaurant back on land, you can just show up and based on availability either be sat or put on a waiting list.

Complimentary Restaurants:
1. Silk 
This pan-Asian restaurant sports a modern dÈcor with lots of red and tan and gold accents throughout the restaurant. The food is reminiscent of Asian American restaurants with a mix of Eastern flavors.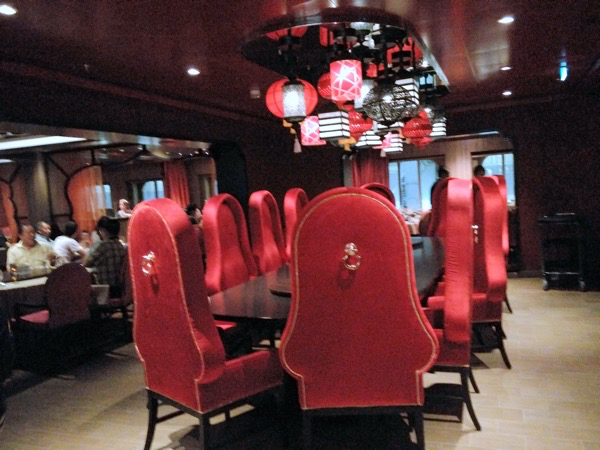 Type of Food :
Pan-Asian Meals served : Dinner
Dress code : Smart Casual
Cost : Complimentary
Overall Rating (0-Lowest, 5-Highest) : 2.8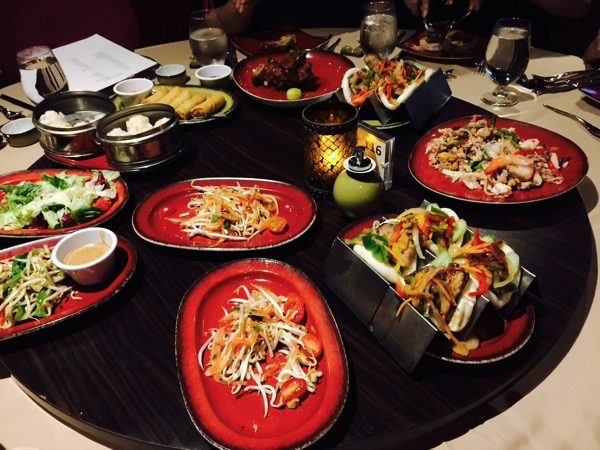 [Download
Full Menu for Silk Restaurant
]
2. Chic
This restaurant had more of a main dining room feel than Silk, with decor similar to that found on other ships. Its modern menu contained many familiar cruise dishes, like crab cakes and Caesar salad, but these dishes were slightly different than what is typically found in the main dining room of a cruise ship. The appetizers at Chic to be the true stars with decent entrees and desserts.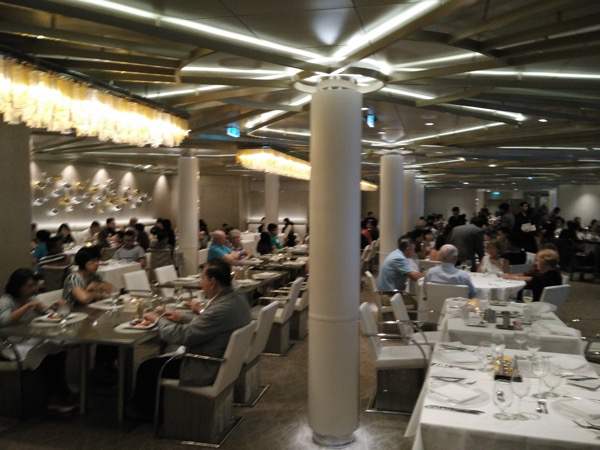 Type of Food : American
Meals served : Dinner
Dress code : Smart Casual
Cost : Complimentary
Overall Rating (0-Lowest, 5-Highest) : 3.6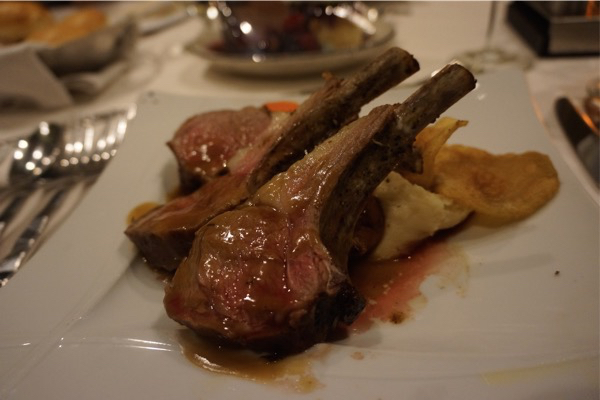 [Download
Full Menu for Chic Restaurant
]
3. Grande
At this complimentary restaurant, formal attire is required. Dresses for the ladies and coats for the gentleman. The decor is similar to Chic, reminiscent of a typical main dining room found on other ships.
Type of Food : American/Italian
Meals served : Dinner
Dress code : Formal
Cost : Complimentary
Overall Rating (0-Lowest, 5-Highest) : 3.9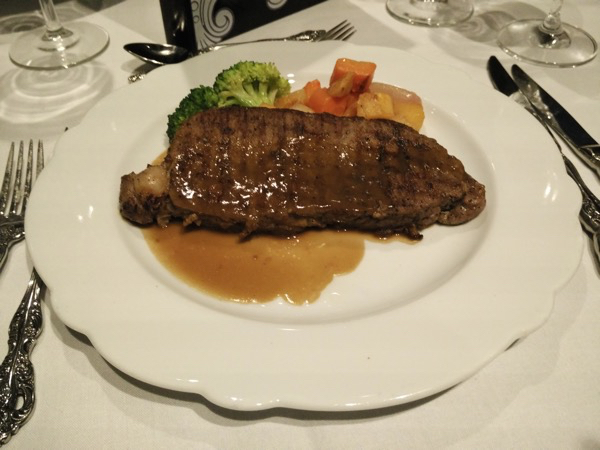 [Download
Full Menu for Grande Restaurant
]
4. American Icon Grill
The inside of American Icon Grill has less of a traditional main dining room feel than Chic or Grande, possibly due to the Americana style artwork on the walls. It does have a more intimate feeling than some other restaurants onboard. This restaurant will let you feel great with its home-cooked feel and taste.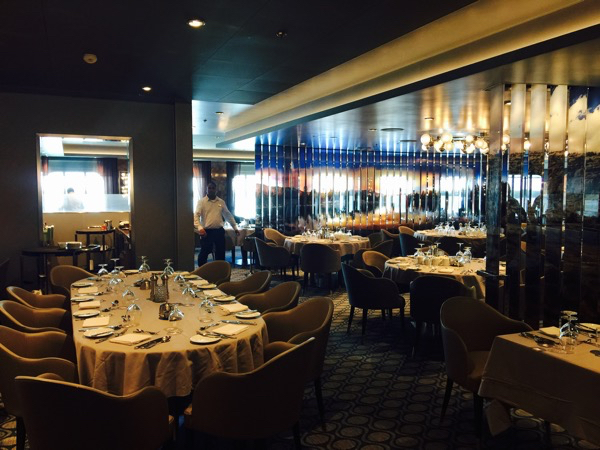 Type of Food : American
Meals served : Dinner
Dress code : Smart Casual
Cost : Complimentary
Overall Rating (0-Lowest, 5-Highest) : 3.8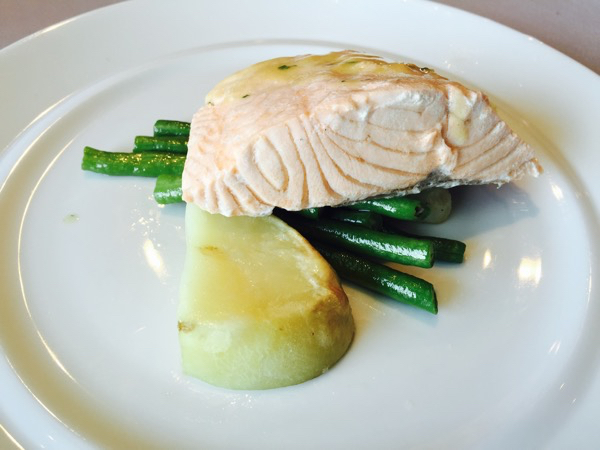 [Download
Full Menu for American Icon Grill Restaurant
] 
5. Coastal Kitchen
Coastal Kitchen has a capacity of 128, and it is only made exclusive to people staying in the shipís suites. It serves a blend of Mediterranean and California cuisine. The menu is generally healthy, and cuisine from grilled salmon to tasty flatbreads.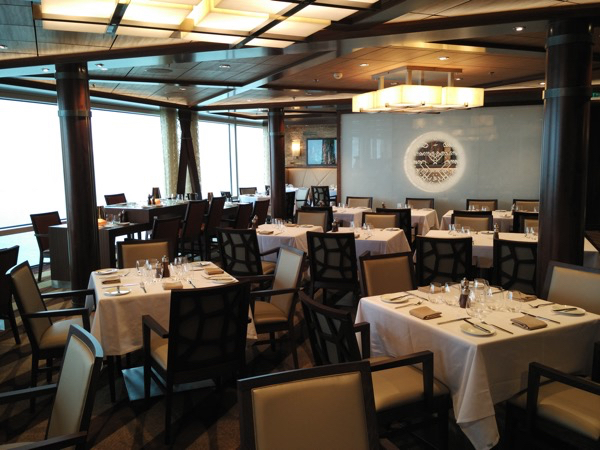 Type of Food : Snacks & Drinks
Meals served : Breakfast Buffet, Lunch, and Dinner
Dress code : Smart Casual
Cost : Complimentary (only for Suites passangers)
Overall Rating (0-Lowest, 5-Highest) : 3.4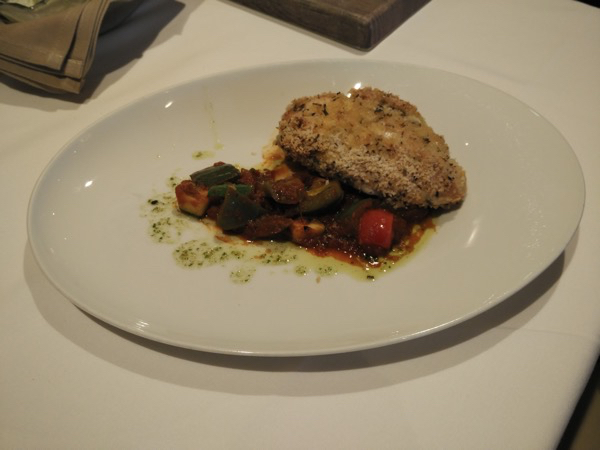 [Download
Full Menu for Coastal Kitchen Restaurant
] 
6. Windjammer
The Windjammer buffet features stations, offering a range of dishes for breakfast, lunch and dinner. No frills dining to cater for all walk in guests. There's a small alfresco dining area off the Windjammer's aft.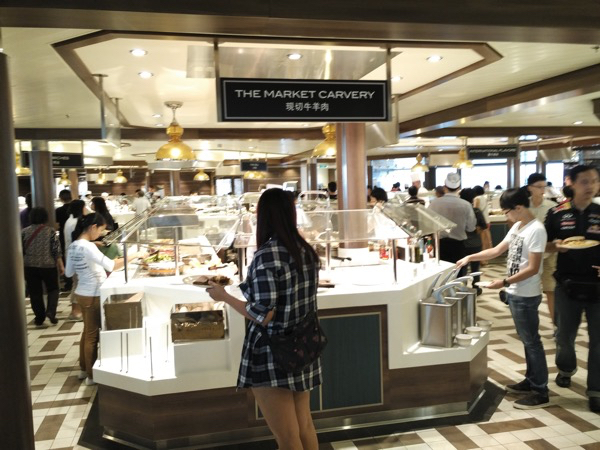 Type of Food : Continental
Meals served : Breakfast, Lunch, and Dinner
Dress code : Casual
Cost : Complimentary
Overall Rating (0-Lowest, 5-Highest) : 2.5
Up-Charges Restaurants:
7. Jamieís Italian, by celebrity chef Jamie Oliver
It has a very relaxed atmosphere with decor similar to a restaurant you would find in a metropolitan area, like New York City or downtown Boston. With pops of color, the funky yet casual feel is perfect for a low key dinner. The restaurant is very wide open, and you have the option to dine ìal frescoî with tables that are essentially in the Via. Many of the dishes are similar to what you would find in an Italian-American restaurant with a hearty, rustic flavor.
Type of Food : Italian
Meals served : Lunch, Dinner
Dress code : Casual
Cost : $15 (Lunch), $25 (Dinner)
Overall Rating (0-Lowest, 5-Highest) : Not evaluated during trip
[Download
Full Menu for Jamie's Italian Restaurant
]
8. Devinly Decadence
This healthy alternative restaurant was created especially for Quantum of the Seas in partnership with executive chef Devin Alexander, known from her work on the Biggest Loser television show. The menu consists of entrees that clock in at under 500 calories, along with low calorie starters, desserts, and cocktails. Devinly Decadence is a perfect option for those looking to stay fit while on their cruise but is really a great dining spot for everyone.
Type of Food : American Healthy Cooking
Meals served : Breakfast Buffet, Lunch, and Dinner
Dress code : Smart Casual
Cost : $20 per pax
Overall Rating (0-Lowest, 5-Highest) : Not evaluated during trip
[Download
Full Menu for Devinly Decadence
]
9. Chops Grille
Chops Grille is Royal Caribbean's American-style steakhouse. It is not designed to be a formal fine dining venue but rather its mission is to serve as a relaxed American-style, high quality steakhouse. The room itself is intimate with accents of dark wood paneling and earth-toned leather backed chairs around the white linen covered tables.
Type of Food : American
Meals served : Dinner
Dress code : Smart Casual
Cost : $35 per pax
Overall Rating (0-Lowest, 5-Highest) : 3.9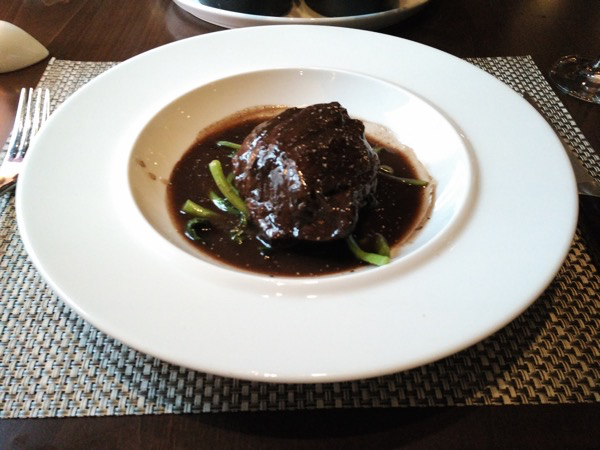 [Download
Full Menu for Chops Grille
]
10. Izumi
It offers ala carte pricing pan-Asian menu, though the bulk of the items are Japanese.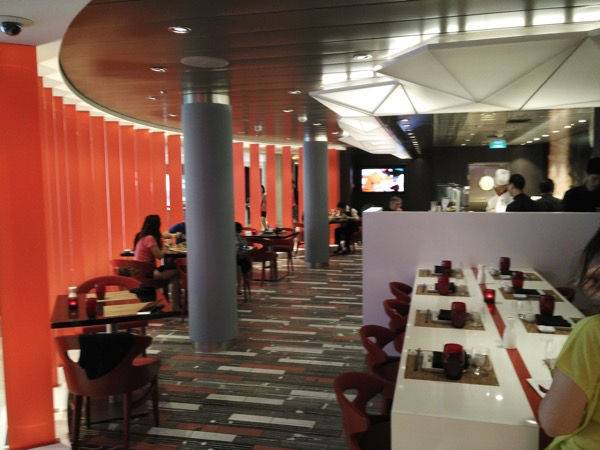 Type of Food : Pan Asian, Japanese
Meals served : Lunch, and Dinner
Dress code : Smart Casual
Cost : Ala Carte
Overall Rating (0-Lowest, 5-Highest) : 3.9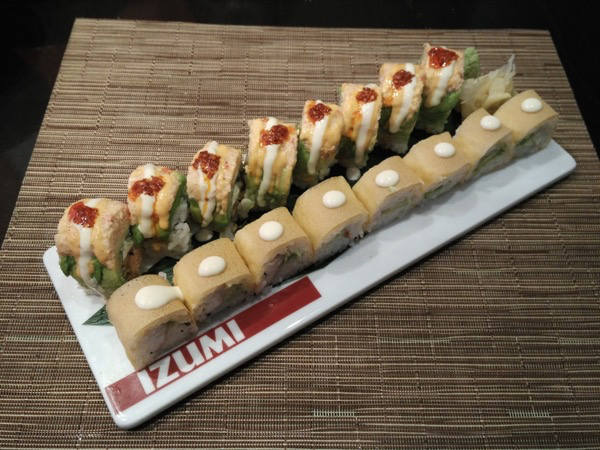 [Download
Full Menu for Izumi Restaurant
]
11. Wonderland
From the moment you walk on the ship at Deck 5, you are greeted by the exterior of this unique restaurant. The restaurant has almost a Disney-like feel, bu not in a childish way. From the furniture, to the table settings, and even the menu, once you enter this restaurant you are in a completely imaginative world. The tables and chairs are very inventive and unique, with lots of different patterns and shapes. The plates and cups are all different and even the utensils are oddly designed.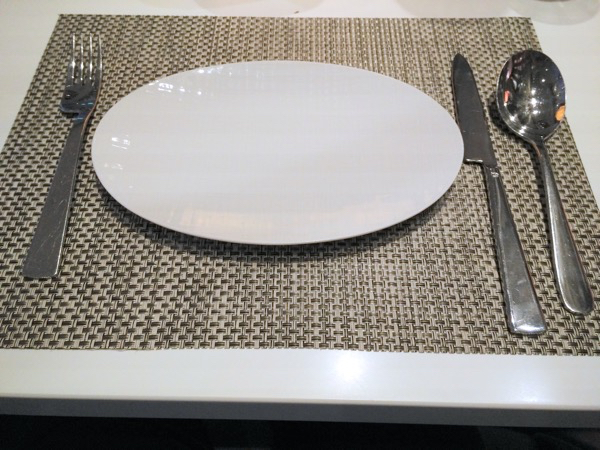 Menu is designed around five elements: Sun, Fire, Ice, Sea, and Earth. The first three elements consist mostly of small plates, which you can consider starters, whereas the last two elements tend to be comprised of larger plates that can be shared among multiple individuals as entrees. Sun plates are comprised of vegetables prepared different ways, the Ice elements are all cold appetizers, and the Fire elements are all warm starters.
Type of Food : Creative / Hybrid
Meals served : Dinner Dress code : Smart Casual
Cost : $45 per pax
Overall Rating (0-Lowest, 5-Highest) : 4.6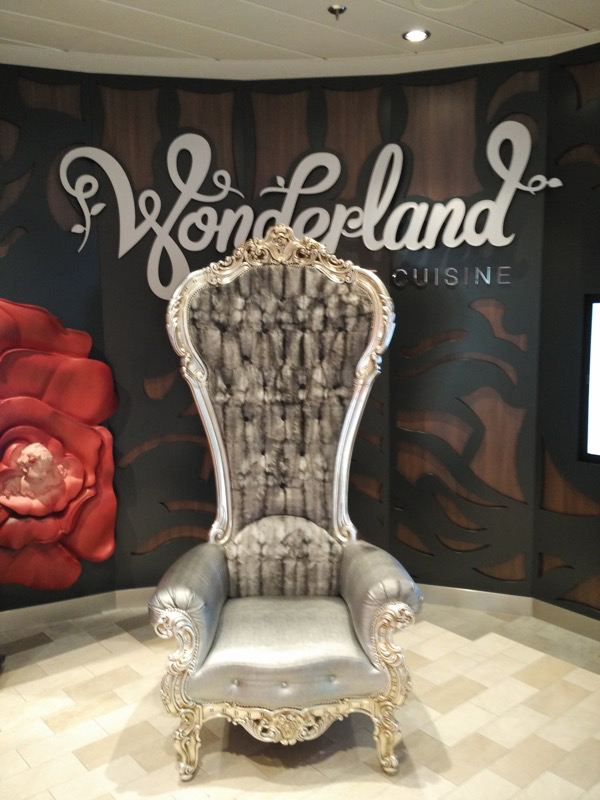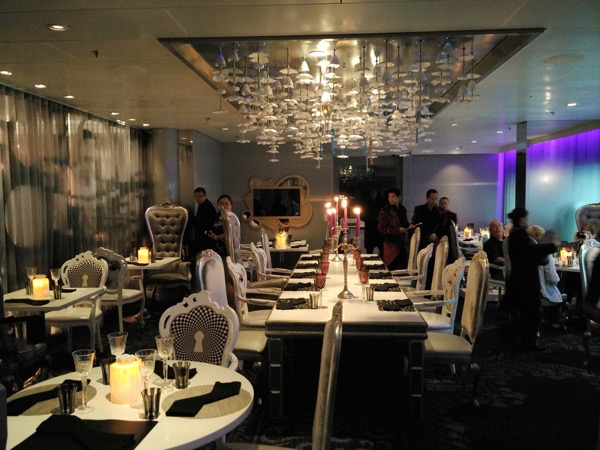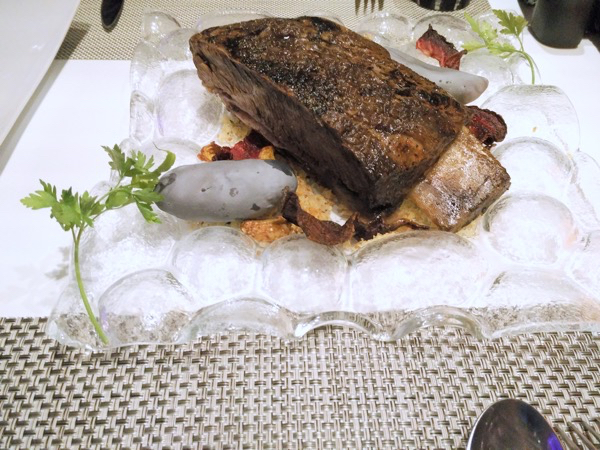 [Download
Full Menu for Wonderland Restaurant
]
Cafes:
Apart from the mainstream restaurants serving the main meals onboard, one can also head to the various smaller cafes located at various parts on the ship. Typically, they operate on longer hours and they are very useful whenever you feel like having a tea break or night snacks.
12. The Cafe @ Two 70 Tucked behind entertainment space Two70 and one can pop in for healthy bites like made-to-order salads, or grab some soup and either a hot-pressed or cold sandwich. Breakfast is served from 7:30 a.m. to 10:30 a.m. and includes continental items like muffins, bagels and fruit, as well as breakfast burritos. The cafe reopens for lunch/dinner at 11:30 a.m. and closes each night at 7:30 p.m.
13. Sea Plex Dog House This food truck at sea, located in the SeaPlex, offers a variety of gourmet hot dogs, including a classic Coney Island frankfurter and chicken hot dog made with apples.
14. Cafe Promenade Another of Royal Caribbean's signature spots for casual snacks, the Cafe Promenade on Quantum is located across from Michael's and in between Sorrento's and Quantum's souvenir shop for all things Royal-branded. There you'll find a selection of freshly brewed roasted coffee and fluffy pastries. You can also order sandwiches at lunchtime.
15. Sorrento's Sorrento's Pizzeria, located right next to Michael's, offers free slices during lunch, dinner and late-night. They've got all the usual suspects — cheese, meat, vegetables — or you can have them whip up a custom-ordered pie, including gluten-free pizza. There's lots of seating and is also the perfect spot to refill your soda cup if you've purchased a soda package.
16. La Patisserie Based on ala carte pricing, there is a delicious assortment of bonbons and truffles, along with danishes, cookies and cakes, priced by the piece. This is also the only place on the ship to get Starbucks coffee, espresso and cappuccino.
PART E – What to expect for the ONBOARD ENTERTAINMENT?
1. 3D Movies Watch for dragons overhead and robots all around in the 3D movie theater, where you'll enjoy larger-than-life presentations of DreamWorks Animation films plus other hit new-release movies.
2. The Dreamworks Channel Spend some time hanging out in your stateroom and relax to programs on a dedicated channel provided especially for you by DreamWorks Animation.
3. Two70 Performances are equally exciting and include a special-effects laden, acrobatic and dance extravaganza called Starwater that is performed in the technologically advanced Two 70 lounge; the same venue can also present virtual concerts by big-name acts on its giant Vistarama video screens.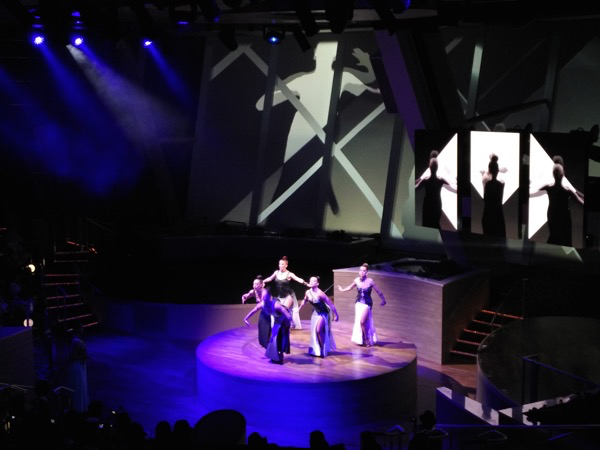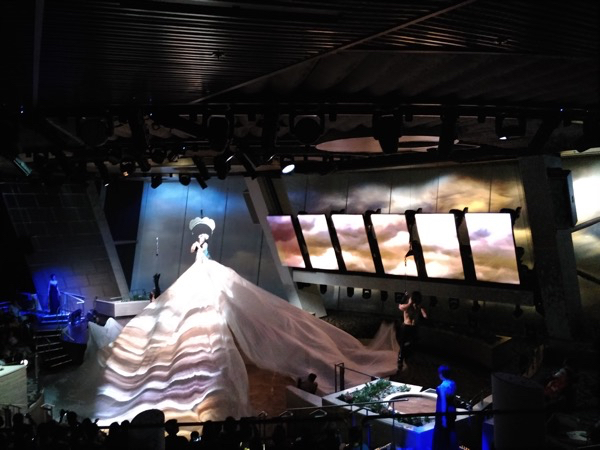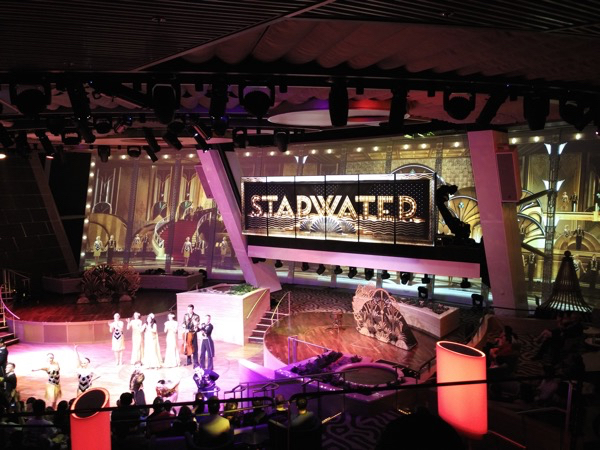 4. Theme Nights When the sun goes down, the excitement flares up with theme nights onboard. From masquerade balls to '70s or '80s night, there's always an element of surprise in our themes. Themes vary by sailing.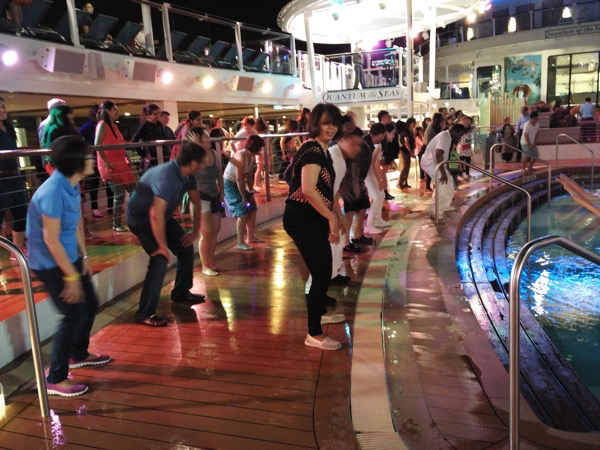 5. Performances at Royal Theatre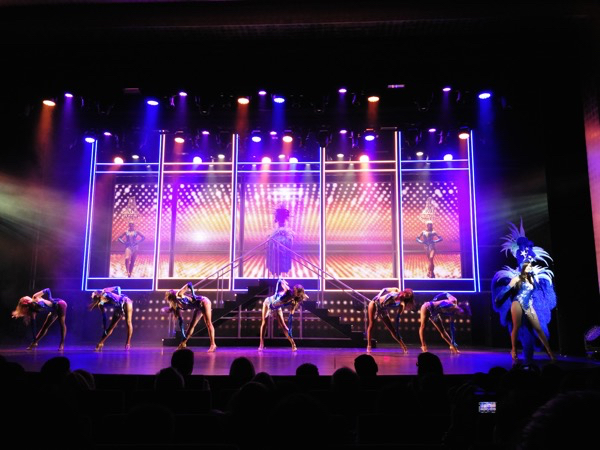 PART G – What else you can adventure onboard?
1. Jogging Track The Jogging Track is an outdoor circle track located on Deck 12. It is open to everyone; proper shoes are recommended. For those counting, 6.3 times around the track equals one mile or 4 rounds for 1 kilometer.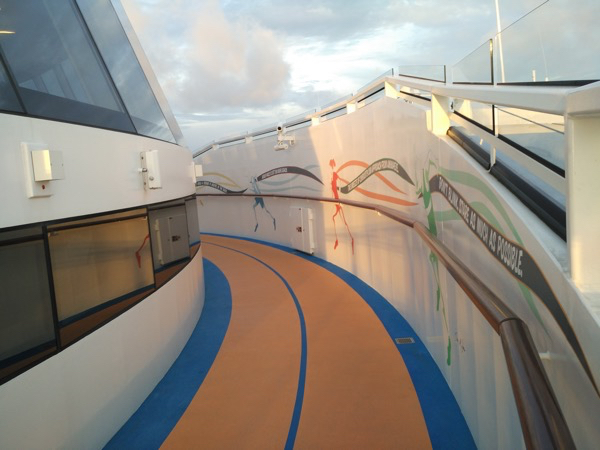 2. Royale Casino Test your luck at one of those jackpots or cards table and you could be in luck for that night!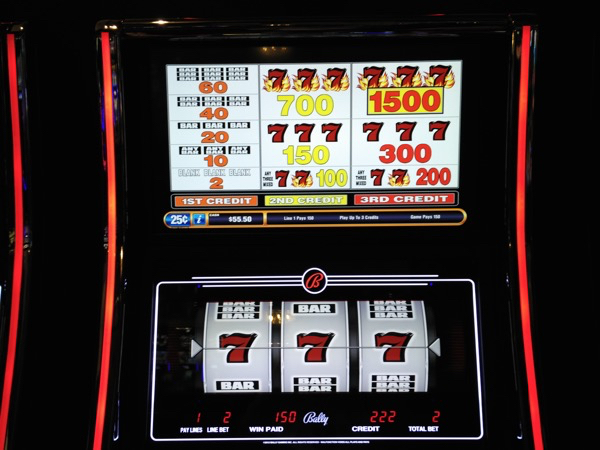 3. Pool Deck After a long day of activities, it maybe wise to soak up in the pool under the Sun or savor the shade on expanded pool decks, featuring complimentary loungers, live music, and the opportunity for a frosty cocktail. But do note that consumptions from the bar is chargeable.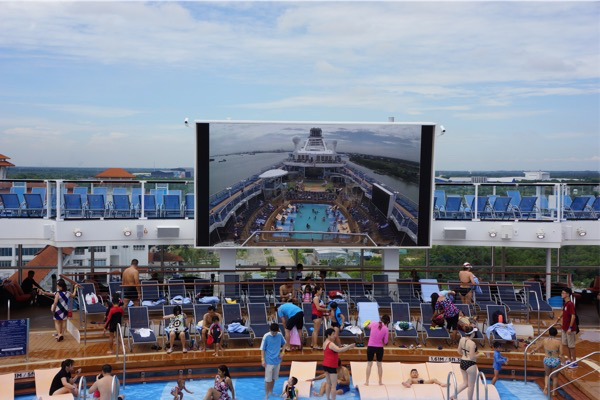 4. Vitality Spa 5. Duty-free Shopping onboard : They carry brands like Cartier, Kiehl's, BVLGARI and Hublot etc). and the best deal is everything is available tax- and duty-free, with a savings of up to 25% off U.S. retail prices.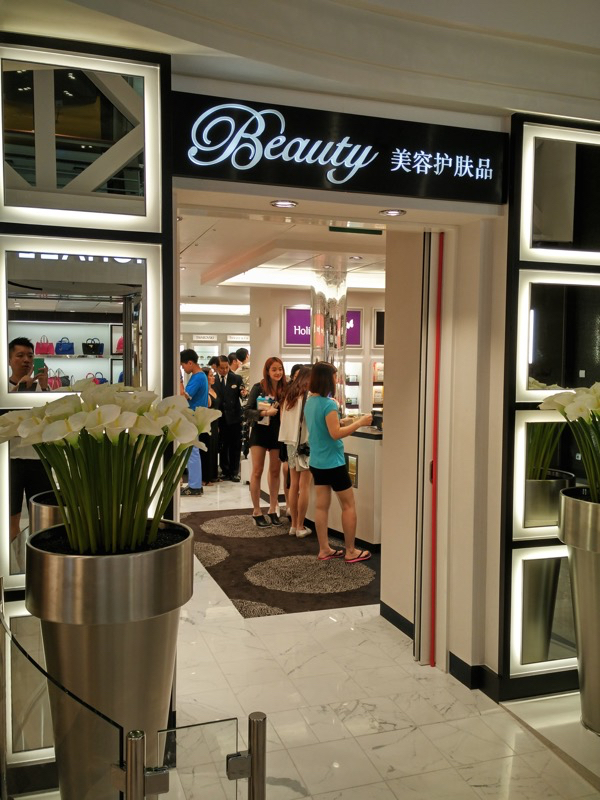 6. Game Arcade 7. Photo taking : Official photographers are spread around the ship to capture all the interesting moments for all guests. All photos are available for purchase at a per piece or bundled cost. Refer more on photo packages.
8. The DreamWorks Experience : One of the fun is to locate all the Dreamworks characters which will appear at allocated timeslots throughout the journey onboard.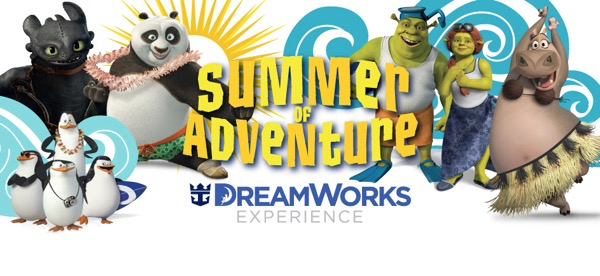 You are able to interact live with your favorite characters from Shrek, Kung Fu Panda, Madagascar, and other DreamWorks Animation films. If you are a big fan of Dreamworks characters, you should reserve a seat at the All-Characters breakfast. This is only available on :
Quantum of the Seas
Allure of the Seas
Oasis of the Seas
Freedom of the Seas
Liberty of the Seas
Voyager of the Seas
Mariner of the Seas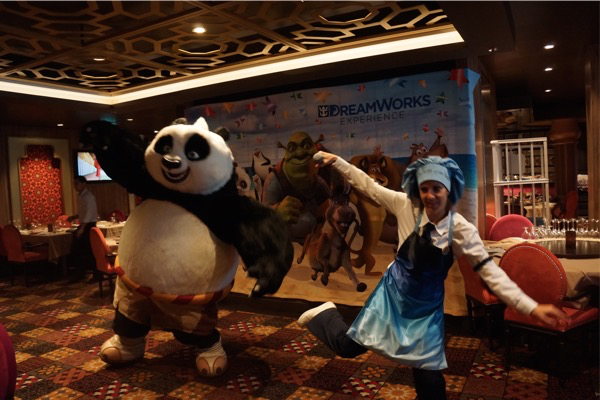 PART H – Useful guides & tips
1. Create myCruise account
Creating one online myCruise account facilitate the online management of all the cruise reservations in one single dashboard. Guests who reserved their cruise on royalcaribbean.com already have a username and password to access their My Cruises account information. Guests who reserved their cruise by phone or through another travel agency will need to set up their My Cruises account on royalcaribbean.com. Thereafter, you can tag the offline reservation ID to the account.
Within there, you should first setup all the Guests information. This will allow you to easily pre-fill those information during the course of doing online checking and online reservations prior the actual set sail.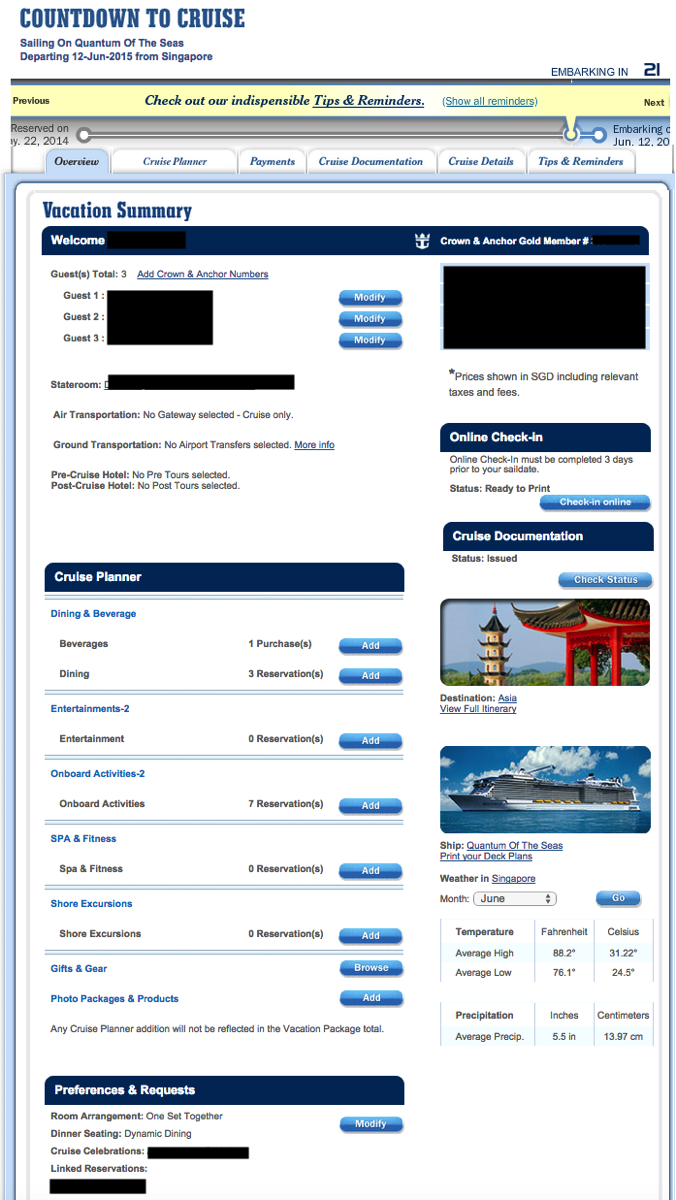 Once you have assigned the upcoming cruise reservation to your newly created myCruise account, you should be able to see it appearing on the bottom right corner within the myCruise account. (as seen above pic).
2. Online Check In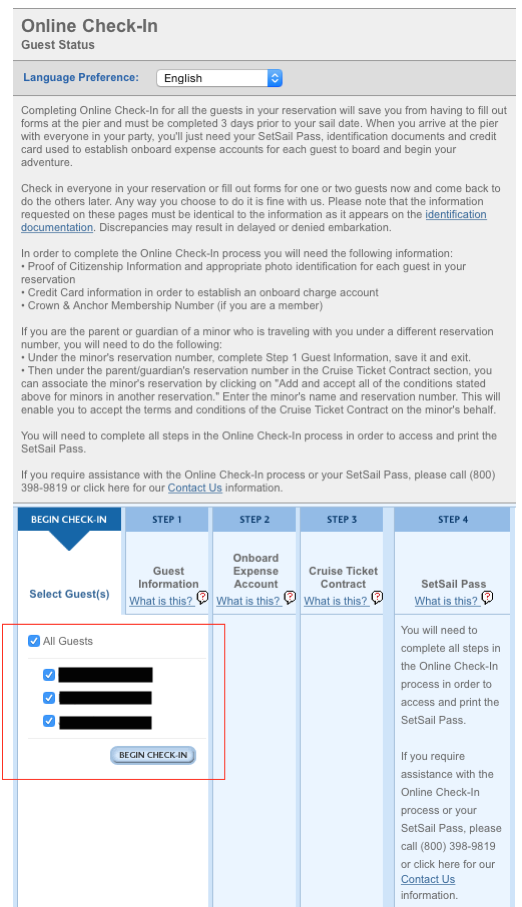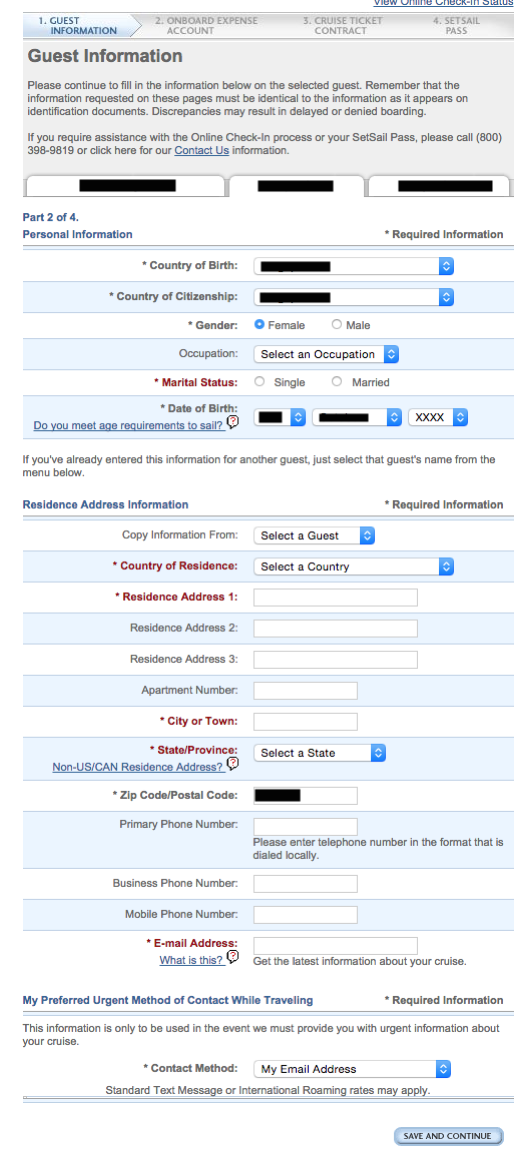 3. Onboard Wifi Check your email. Surf the web. Stay in touch. Bring your laptop onboard and enjoy 24/7 Internet connectivity throughout the ship. Per minute rate applies. Refer more details on onboard wifi plans.
4. NextCruise Consultation Meet with a consultant while you're onboard to reserve your next Royal Caribbean cruise, and you can enjoy reduced deposit and instant onboard credit.
5. Enrol into the Crown & Anchor® Society
Joining the Crown & Anchor Society membership will allow you to enjoy these features:
Member Benefits – Enjoy special benefits while onboard that make your cruising. From onboard discounts to exclusive events and a dedicated Loyalty Call Center there to assist you.
Special Offers – Exclusive offers available only to members including Crown & Anchor Exclusive Rates for select itineraries, Onboard Booking Bonus to save your next Royal Caribbean cruise and Crown & Anchor® Preview Sale for advanced notice of upcoming sales.
Member Cruises – A chance to mingle with other members on special cruises to exciting destinations. (more applicable to US & European cruises)
Member Stories – Read about the other members' s adventures onboard
x1 cruise point will be award for each day of cruise. For suite members, the awarded cruise points will be doubled. More informations on the various membership tiers can be found here.
6. Guests with Special Needs To consider Accessible Staterooms – Every ship in the fleet features accessible staterooms, with features like wider doors, lowered vanity and closet rods, ramped thresholds, grab bars, benches and more.
To bring along Medical Equipment – Royal Caribbean has a variety of complimentary special equipment available onboard, depending upon availability, such as shower stools, commode chairs and transfer benches.
7. Timelines towards SetSail day
To avoid rush & disappointments, here are some key milestones & activities to take note before the actual SetSail day:
6months – 1 year prior : Plan & Book Cruise vacation, Check validity of travel documents
5 months prior : Flight / Hotel bookings (if needed to transit)
3 months prior : Book ground transfer (if required)
2 months prior : Cruise Planner – Book shore excusions
1.5 month prior : Cruise Planner – Book Dining arrangements (especially the hot favorite ones)
1 month prior : Cruise Planner – Book Beverage package, Theme customisation of the staterooms (if needed) – Book Activities
3 weeks prior : Online Check In
2 weeks prior : Prepare all needed onboard items & clothings
1 week prior : Print out all required documents
by 4 days prior : make any final adjustments to all reservations Actual SetSail Date : Enjoy your well deserved vacation!
* Tip: Do check your Cruise Planner regularly within the last 8 weeks prior the SetSail date as there will be more options made available for reservation online for shows and dining. Some of the popular seating timeslots are very limited.
8. Sample daily itinenery (Compass Guides for 4 Days 3 Night cruise)
Day 1
Day 2
Day 3
Day 4 (Departure)
Teens Guide
Baby & Tottlers Guide
Among all the rush to cover the activities onboard, it is always nice to stop by and observe the simplest beauty of nature…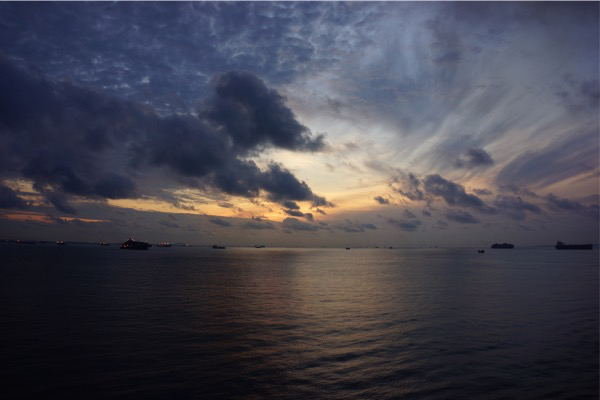 Read other related posts:
Follow us on:



Share this article on: