Right after 2 months when M1 launched the very first SIM-only mobile plans (M1's mySIM), Singtel joined the bandwagon to offer similar plans – SingTel SIM only plans. A contract-free mobile plan that starts from $20. This plan targets those who want a cheaper option for a phone line, instead of paying for a phone plan along with a subsidised cellphone. The SIM-only starter pack comes with 3GB of local data, 2GB of Singtel Wi-Fi at 550 locations, and free incoming calls and SMS.
Customers can also opt for additional local data, which starts from $5 for 1GB or pay for talktime, starting from $5 for 200 minutes or additional SMSes starting from $5 for 1,200 messages.

But is it truly as good as it claims to be? Lets look further in a quick comparison below. For discussion sake, I have chosen a configuration of the Singtel SIM only plan to match to a Singtel Combo Plan with a new iPhone 6S handset sign up. i.e. COMBO 3 postpaid plan.
Table 1 : Overview of the new SingTel's SIM only plans (source : SingTel website)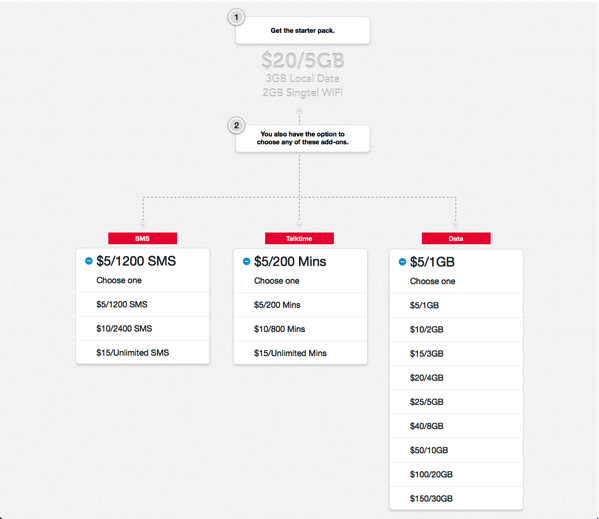 To match a Singtel Combo 3 Postpaid plan, there is a need to top up the SIM only starter pack:
a. Starter Pack : S$20 (3gb local data, 2gb Wifi data)
b. Local SMS : S$5 (1200 local sms)
c. Outgoing calls : S$10 for 800mins of local outgoing calls. Since it is more expensive with – $5 (200mins local outgoing calls) + $16 (excess 100mins, excess local call is charged at 16.05 cents per minute)
The total monthly charges = S$35
More Singtel's mobile T&Cs can be found here.
Table 2 : Overview of existing SingTel's Combo plans (source : SingTel Shop website)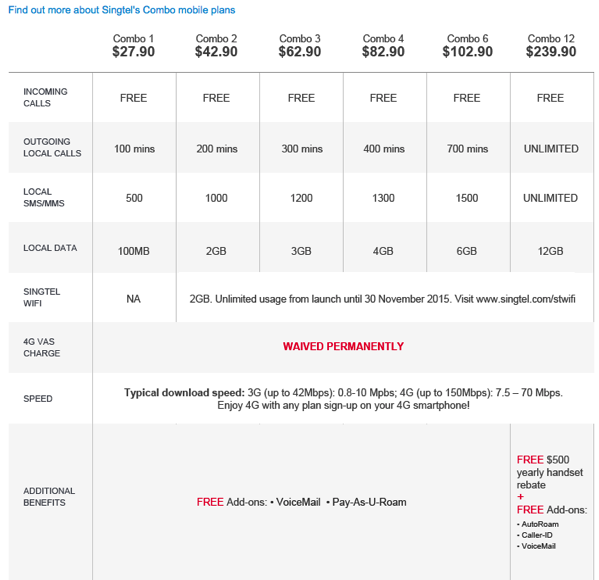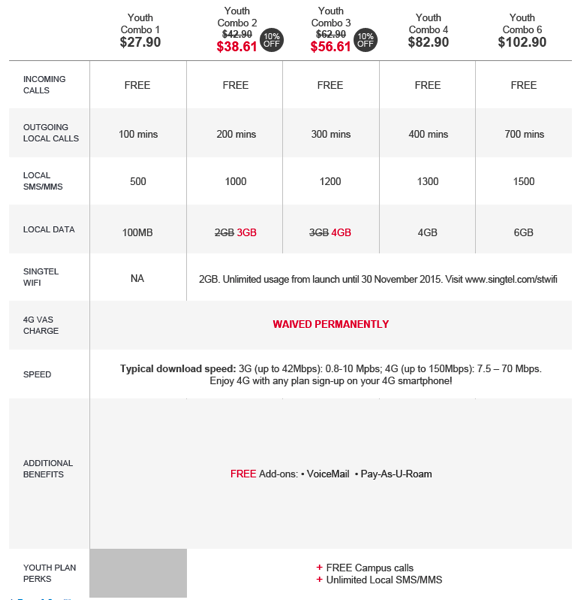 Table 3 : Handset purchase cost for various iPhone bundled sign ups (source : M1's online shop)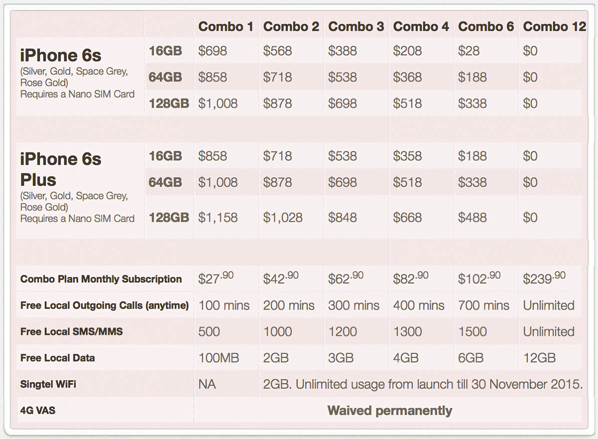 Item 4: iPhone regular retail price (source : Official Apple online store)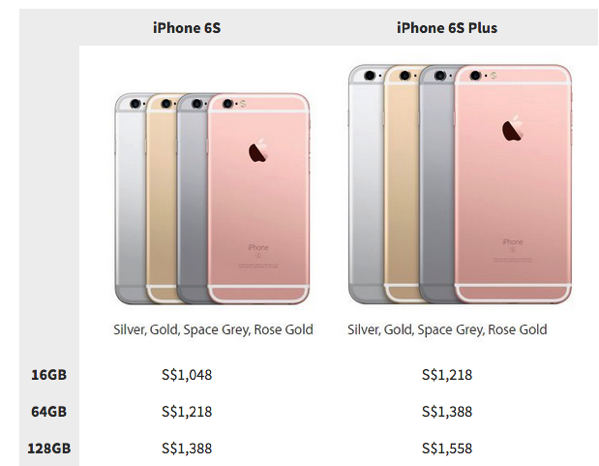 Summary of cost benefits analysis:
1. The closest iPhone Plan (iCombo 3) against the most comparable SIM Only Plan:
Combo 3 = $62.90 per month.
2. Rebate for new iPhone set purchase = $1048 – $388 = $660 over 2 years or $330 for 1 year or $27.5 per month.
3. Price premium of Combo 3 Plan excl iPhone set rebate = $62.90-27.5 = $35.4 per month.
Thus from cost perspective, the premium of Combo 3 Postpaid Plan ($35.4) vs the comparable SIM Only Plan, is a mere $0.40 per month.
Extra benefits of Postpaid plans (i.e. Combo Plans):
a. Youth discounts (10% on Combo 2 & 3) and Pay-As-You-Roam service
b. Ability to add on data sharing via MobileShare plans
c. Corporate discount (under CIES) is applicable (starts from 20%) – e.g.in this analysis, the Combo 3 will become $50.32 and the base cost without handset subsidy will be cheaper than SIM only plan.
Extra Benefits of SIM Only Plans:
a. Shorter lock in period (per month vs the 24 months of standard data plans)
b. No restriction in getting your desired handset
c. If you own SingTel home broadband/fibre service, Mio TV service, there will be further discounts as explained below. But SIM Only plans are not entitled for any Corporate plan or Bundled services discounts.

In conclusion,
a. Get the Singtel SIM Only plan if
– you are currently not on Corporate Plan schemes (CIES) as the hefty 20% discount would make the regular Combo plans much more attractive from costs perspective OR
– you are not prepared to be lock in for longer period (i.e 2 years) OR
– wish to mix and match your plan with more local data bundle (up to 35gb of data, incl 2gb of Wifi data)
b. Get the regular Phone bundled postpaid plan if
– you are under CIES corporate plan
– want to treat it as an interest free phone purchase instalment plan
– you are already on higher Combo plans with more loyalty based rewards (up to $500 yearly handset rebates)
For more latest information on Singtel's plans, please visit Singtel's website.
To note: all data are accurate as at the point of compilation (20th September 2015).
All prices are quoted in Singapore Dollars (S$). To simplify computation, gst is not included in all payable values.
Read other related posts:
Follow us on:



Share this article on: