The Central Bank of Singapore announced Thursday this week (14/4/2011) that it had tightened its monetary policy further, re-centering to a higher level the mid-point of the band it uses to guide the trade-weighted Singapore dollar exchange rate.
The Monetary Authority of Singapore (MAS) said it will "re-center the exchange rate policy band upwards. The exchange rate policy band will be re-centered below the prevailing level of the Singapore dollar NEER (nominal effective exchange rate)."
After the announcement, there is a knee jerk rise the Singapore dollar against the U.S. dollar, to S$1.2454, from around S$1.2555 earlier in the same day session.
This came within my expectation made 6 months back when exchange rate is around S$1.34 and with this announcement, my short term target of $1.25 is reached. I should expect the rate to test another historical low of $1.22 within the next 6-7 months.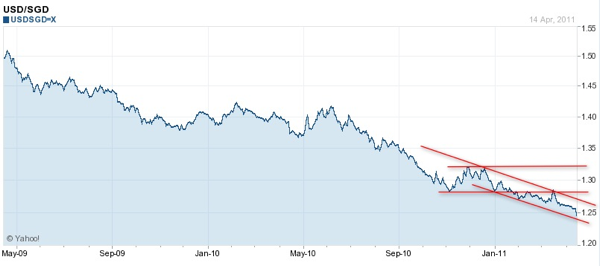 Near term support will be towards $1.24. Resistance will be at $1.26 and $1.285. Watch out for more strength when the overall Singapore Stock Market recovers in coming quarters.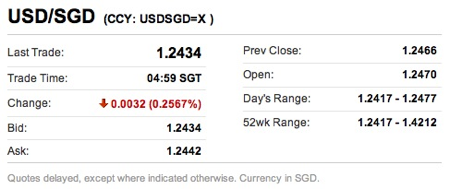 Meanwhile, its good time to buy things from US Online shops and tour in the States!
Read other related posts:
Follow us on:



Share this article on: