Earlier this week, Snap through Morgan Stanley, Goldman Sachs and J.P. Morgan managed to sell 145 million shares in Snap at $17 a share and raised a total of $2.45 billion in cash.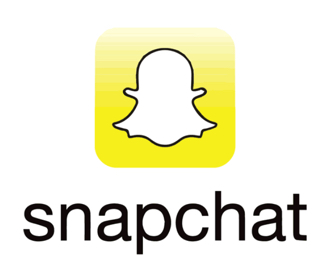 Much to some surprise, Snap actually managed to close at $24.48 at Day 1 of IPO, up $7.48 per share or a good 44% jump from its offer price of $17.
In fact, this first day jump is bigger than Alibaba's, Facebook's and Google's.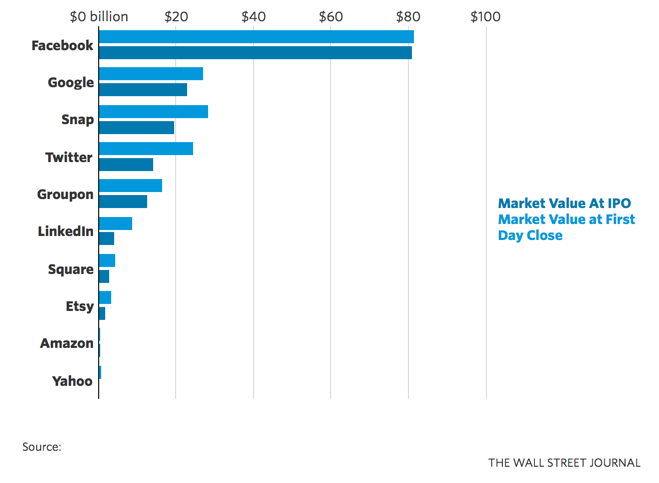 What can Snap offer?
Snap offer Snapchat app which allows their users to send and receive texts, photos and videos – collectively known as "snaps" – among fellow users of the app. A user can choose to add a series of snaps to a "story," which is publicly viewable by anyone following that user. Alternatively, users can choose to privately send snaps directly to other users. In both cases, photos and videos have a maximum duration of 10 seconds.
Various aspects of SnapChat include:
a. SnapKids – one sandbox area where the kids safely use Image sharing feature
b. Discover – Allow advertisers to share curated content, image and videos.
c. Roll : Collection of the past 24 Hours images.
d. GeoFilters : Filters for images used by users along with their images to be sent to receiver.
Big revenue storyline
Snapchat's demonstrated appeal to the coveted 18 to 34-year-old demographic and it reaches 41% of this cohort in the U.S. every day. Advertiser can create a story then put up an interesting ad placement within the story watched by the user. Then these SnapChat placements are will be Snap's prime source of revenue after their sponsored filter revenue line.
Tough reality
Of worth noting – During 2016, Snap actually posted a net loss of $515 million and negative cash flow of $678 million. It makes some wonder how long the cash proceeds of $3.1 billion can last with such high rate of burning cash. Without new injections or better revenues, the cash hoard should only last for 5 straight years.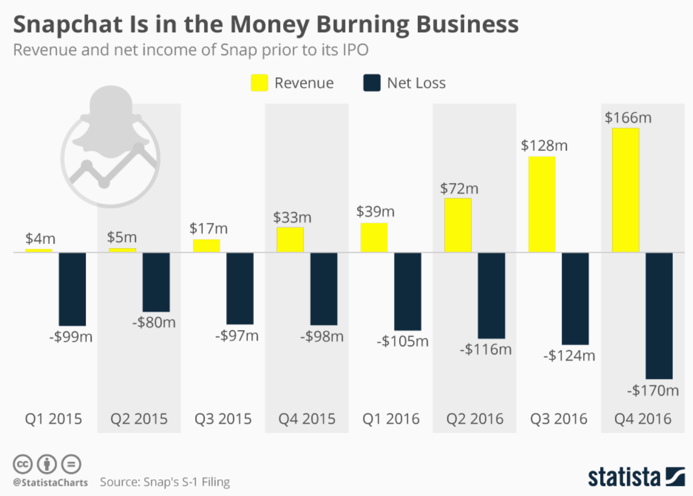 Similar to some Technology stocks, SnapChat is also ridiculously valued higher than some big Fortune 100 companies which can consistently bring in real revenue and cash.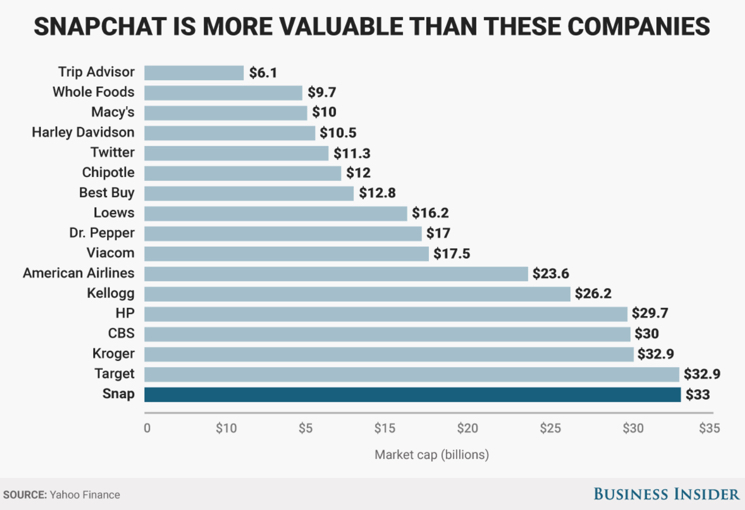 Snapchat's advertising avenues fail to translate to usable data and information as to the effectiveness of the advertisements.
The overall intrusiveness and inefficiency of the advertisements will also further deter user engagement, and in turn, deter user growth. Already by now the average daily users are showing signs of decline.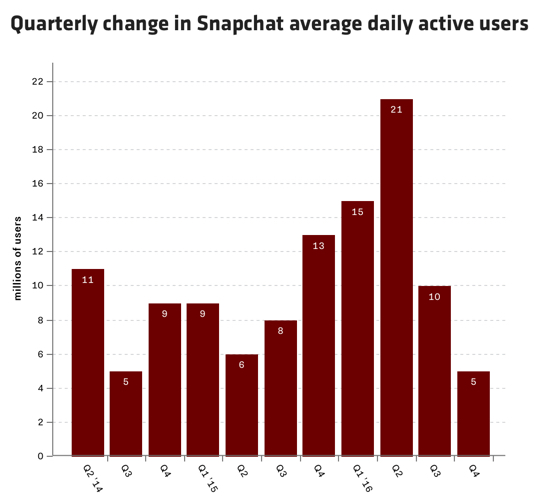 With all these considerations, lets see how long this initial IPO price jump can last especially when the initial euphoria fades.
Read other related posts:
Follow us on:



Share this article on: