On 4th Oct 2011, during the "Let's Talk iPhone" greatly anticipated event, Apple officially introduced the iPhone 4S, the company's next-generation iPhone offering a completely redesigned interior with a number of new features.

Here is a quick comparisons of Apple iPhone 4S Specifications vs iPhone 4S and the other common smartphones: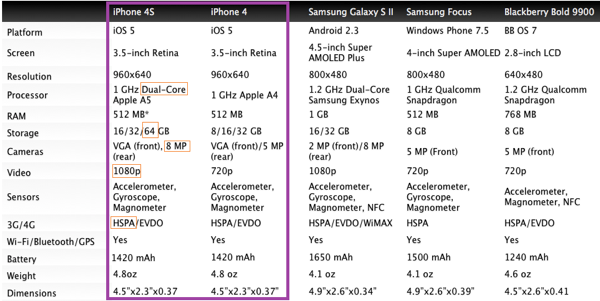 The key differences are illustrated on red boxes.
Of special mention, Apple has built significant antenna upgrades into the iPhone 4S, saying in the press release announcing the phone that it is the first phone to intelligently switch between two antennas to send and receive. The new Siri feature will make it much easier to interact with the phone while driving.The system works contextually, allowing you to have an actual conversation with your iPhone and control important functionality within the iPhone 4S (e.g. calls, calendaring, alarms, search etc)
The iPhone 4S is also a world phone supporting both GSM and CDMA technologies, and also supports HSDPA download speeds of up to 14.4 Mbps, twice that of the iPhone 4.The iPhone 4S also included Bluetooth 4.0 for improved short-range wireless interfacing. Video can also be recorded at Full HD 1080p with real time image stabilization. The sensor takes in 73% more light than the iPhone 4, allowing for much better low-light performance. It also doubles the maximum HSDPA data speeds to 14.4 Mbps Which means faster connections, faster loading and reloading, and faster downloads.
iPhone 4S Release Date
The iPhone 4S will be released to the US, Australia, Canada, France, Germany, Japan and the UK on Friday, October 14. Customers can also pre-order iPhone 4S on October 7.
By the end of October, iPhone 4S will roll out to 22 other countries including Austria, Belgium, Czech Republic, Denmark, Estonia, Finland, Hungary, Ireland, Italy, Latvia, Liechtenstein, Lithuania, Luxembourg, Mexico, Netherlands, Norway, Singapore, Slovakia, Slovenia, Spain, Sweden and Switzerland.
Looking at the past launch dates (in US):
iPhone 4S – Oct 2011
iPhone 4 white – Apr 2011
iPhone 4 – June 2010
iPhone 3GS – June 2009
iPhone 3G – July 2008
There is a high probability that the new iPhone 5 release will be quite a wait. Especially it is going to be very different in form factor.
So, will you upgrade your existing iPhone 4 to the new iPhone 4S or wait for the mysterious rumoured iPhone 5?
Written by Alan Soon
Read other related posts:
Follow us on:



Share this article on: