Finally, I have got my hands on one cool drone – Phantom 3 Advanced developed by DJI. Drones are typically referred interchangeably with UAV (unmanned aerial vehicles). They are aircrafts which can be remotely controlled or fly autonomously through in-built software-controlled flight plans assisted by GPS.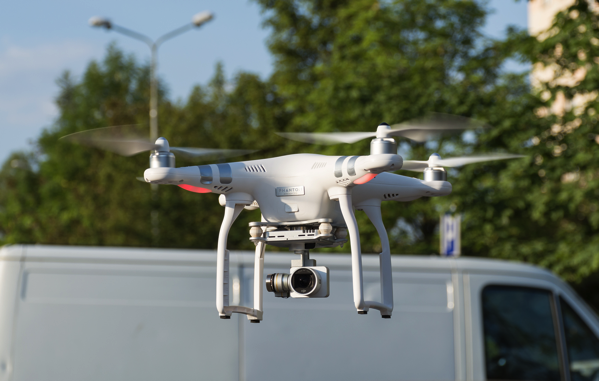 Drones are becoming more popular as their prices become more competitive for the masses – ranging from US$50 to few thousands dollars in investment.
Perhaps the most compelling attraction to own a drone is having the ability to shoot bird's-eye-view photos and videos which in the past, is unavailable to photographers and filmmakers without elaborate access to cranes, or to ultralight aircraft or helicopters in establishing those stunning aerial shots.
Some common Drones manufacturers:
3D
ROBOTICS
AIBOTIX
AIRDOG
BLADE
DJI
HEXO
LILY
PARROT
QAV400
QUANUM
SKYBOTIX
SKYJIB
SPRITE
STORM
DRONE
Personally, for entry users like us, one need to just consider the quadcopter (i.e. with 4 rotors system). Units with more rotors are too complicated or expensive when there is no real need for extra lift capacity.
After my recent trip to Macau, I chanced upon some displays on DJI's Phantom quadcopters. Upon some fact finding, DJI has a reputation of producing drones which are extremely easy to fly.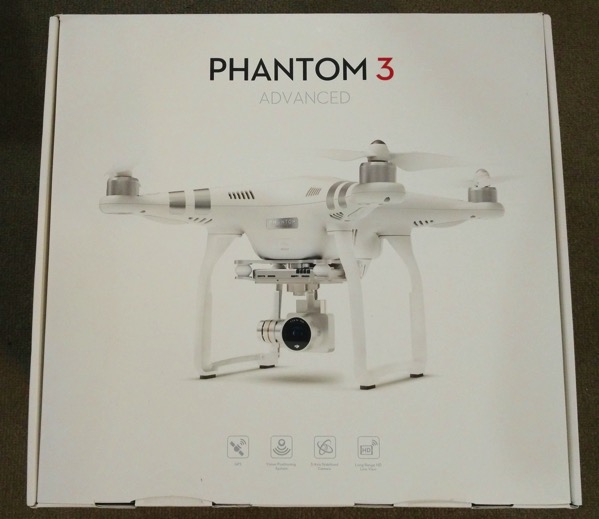 Their Phantom series drones are highly advanced, with integrated GPS for safe flying, intuitive controls and a brilliant tablet or smartphone app that gives you a live view from the camera mounted underneath its four rotors.
However, for those who are living in Singapore, it is important to take note of the new Unmanned Aircraft (Public Safety and Security) Bill which the Singapore Parliament established in May 2015. It aims to regulate the use of drones with a clear set of rules. Essentially, permits must be obtained for:
a. Flying a drone within 5km of an airport or air base, and for flying one higher than 61m above mean sea level.
b. Flying a drone that weighs more than 7kg, as well as for commercial purposes.
c. Conducting specialised services like surveying, aerial advertising or the discharge of any substance from the drone.
d. Flying within security-sensitive locations (e.g. Military camps etc) and special event areas (e.g. National Day Parades)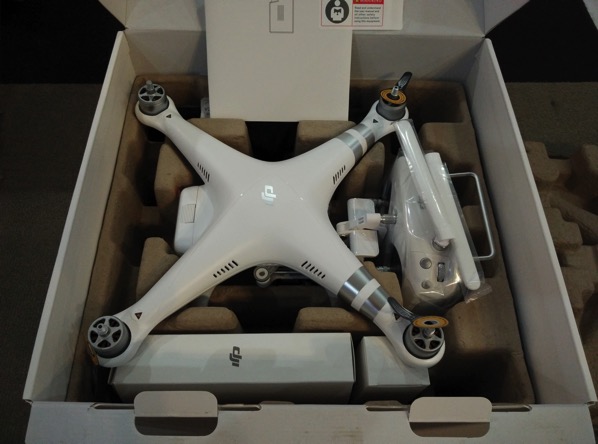 The full retail set of Phantom 3 Advanced comes with the aircraft body, remote controller, 2 sets of rotor blades, charging adaptor, stickers and operating manual.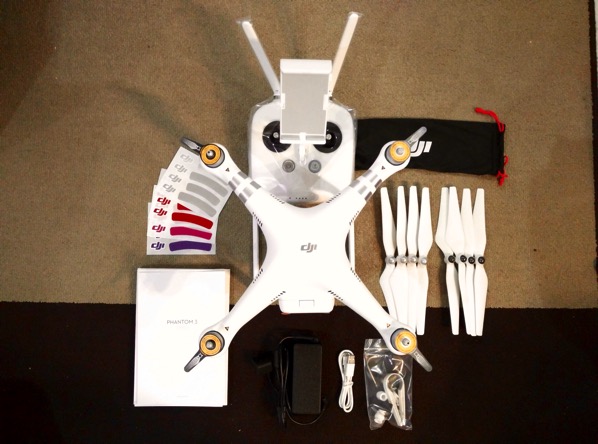 It is important to note that Phantom 3 comes in four different models.
DJI's Phantom 3 Professional comes standard with follow-me, GPS waypoints, point-of-interest, optical-flow and ultrasonic sensors (for hight and position hold when no GPS signal is available), 4K video recording, 20 minute flight times and more.
The Phantom 3 Advanced will do everything that the Phantom 3 Professional can do, but at 1080p instead of 4K.
The Phantom 3 Standard is the cheapest Phantom 3 you can buy. It has a cheaper controller design, no optical-flow or ultrasonic sensors, but it still has follow-me, GPS waypoints and shoots 2.7k video.
The last model which came out a few weeks ago is the Phantom 3 4K. It has a lot of great features of Phantom 3 Standard but with 4K video recording and priced to a Phantom 3 Advanced.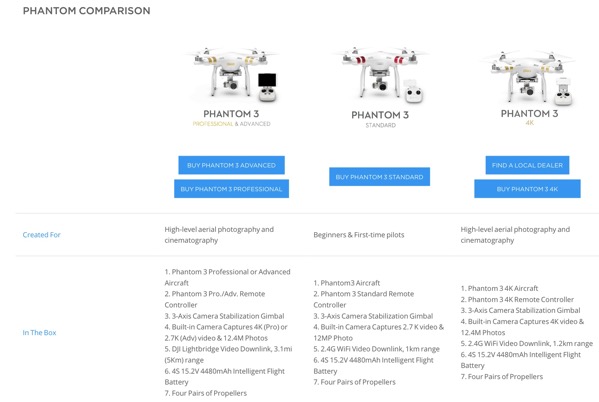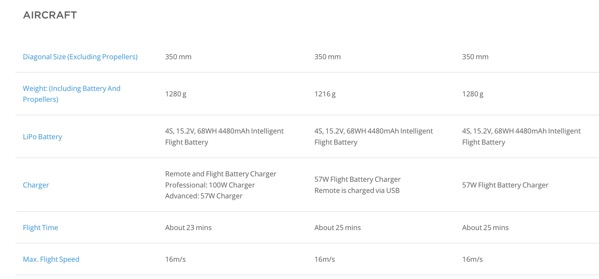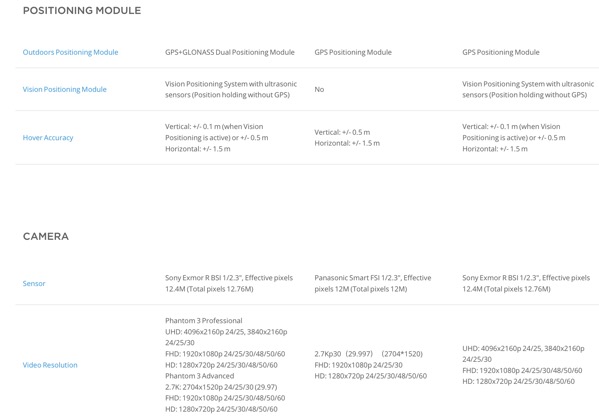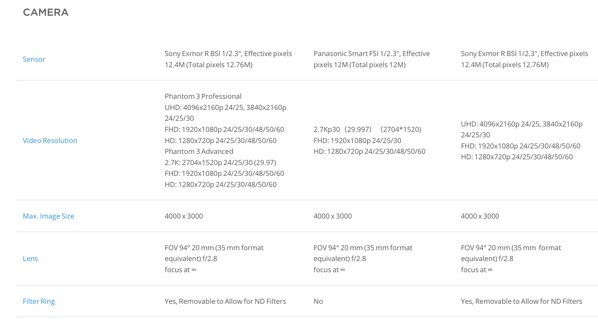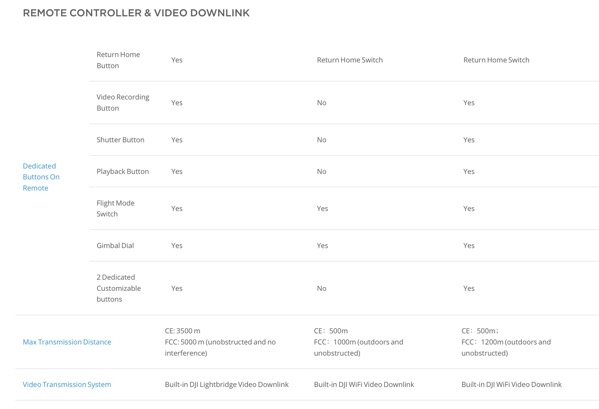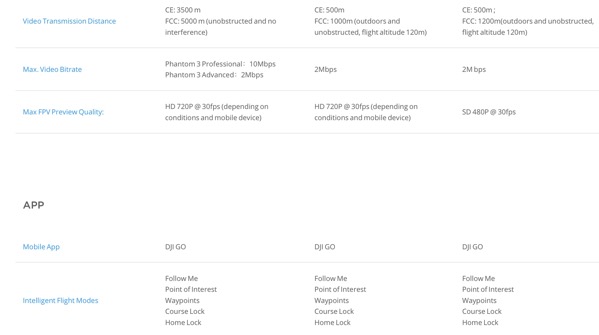 Based on my assessment, I would prefer a longer distance for link communication over the 4K recording. As such, I went for the Phantom 3 Advanced which coincidentally the specifications are very similar to the Professional series.
Phantom 3 Advanced has a white sturdy plastic body, 4 rotors and fixed landing legs underneath. It's light to carry around and can even fit into a bag pack when you remove the rotor blades.The body built is very sturdy and the drone can easily survive small bumps and crashes without any problems. You can also replace its rotor blades incase you break them.
The three-axis gimbal on its belly provides wonderful stabilization to camera in roll, pitch and yaw directions keeping the video looking smooth even with sudden control stick movements or unexpected wind gusts.
The camera can also perform a 90 degrees tilt for a vertical shot downwards during the flight journey. One aspect to note – the camera is permanently attached to the gimbal, thus there is no option to hook on another camera. But the Phantom is already a good one to start with.
The camera features a Sony-made 12-megapixel 1/2.3-inch CMOS sensor behind a new f2.8 20mm lens (35mm equivalent), which gives you a 94-degree field of view.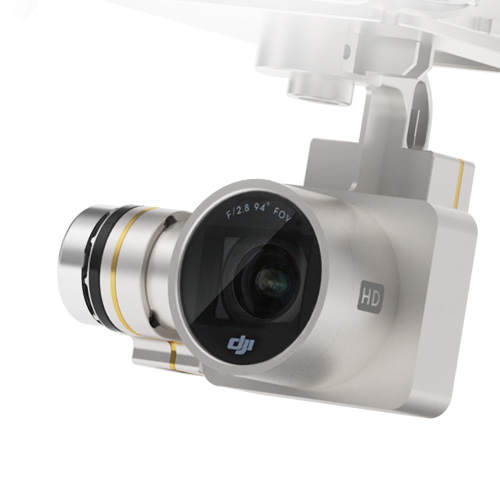 Sitting to the back of the gimbal is the new Vision Positioning System, a set of sensors to help the Phantom 3 hover while indoors when GPS isn't available. Those sensors which face downwards make use of the patterns on the floor for the drone to lock on to. However, this indoor positioning method is only effective up to a height of 3 meters.
In GPS assisted mode, the Phantom Advanced had no problem fixing onto 8 satellites or more within 20 secs during most of my test flights.
As for the controller (RC), it comprises of 2 main control sticks and a clamp to attach your smartphone or tablet on. It also features buttons to adjust the camera's settings and for beginning and ending recording.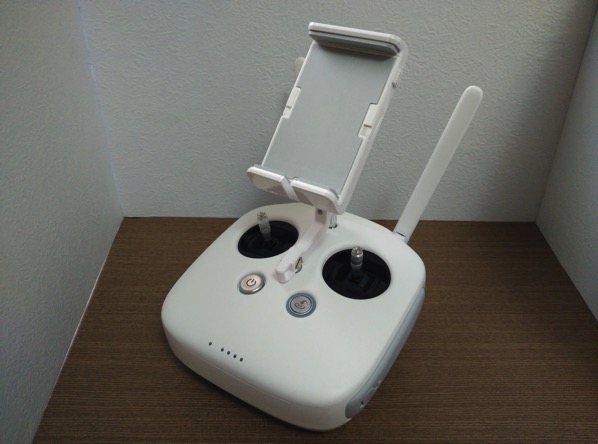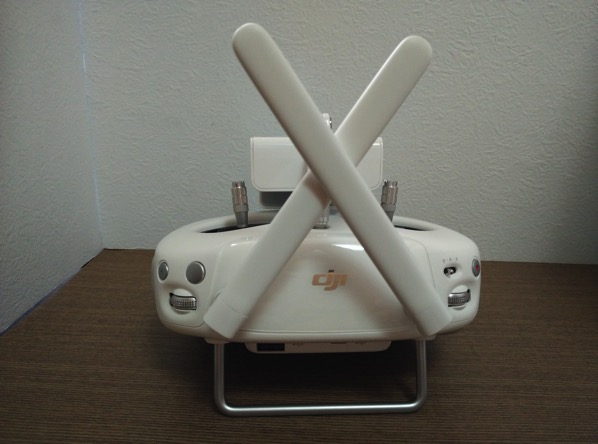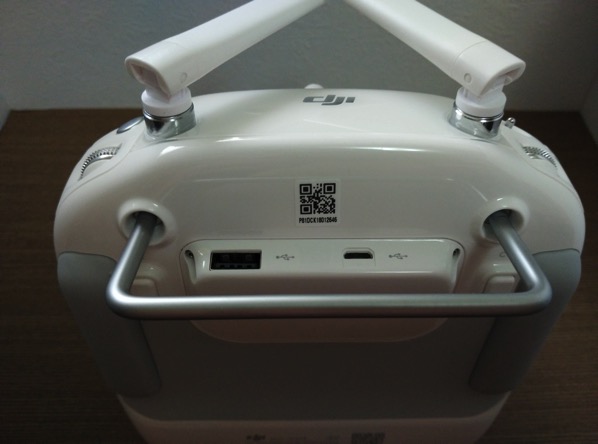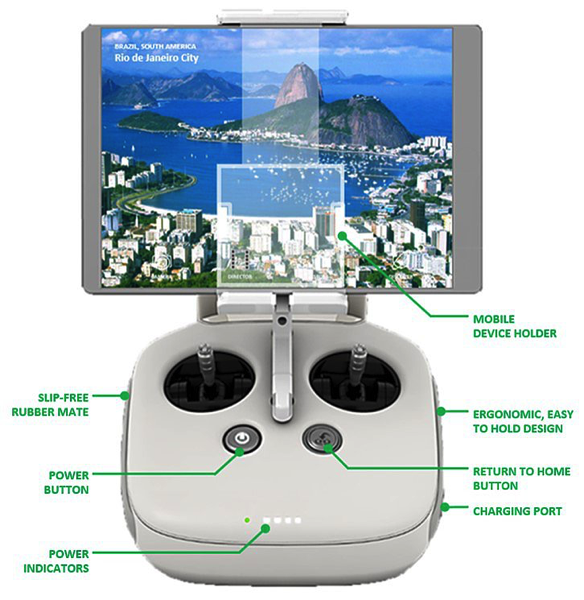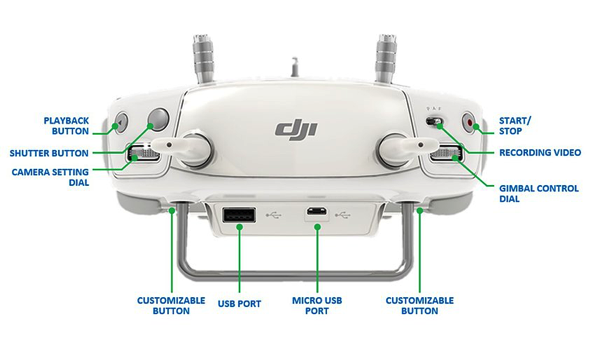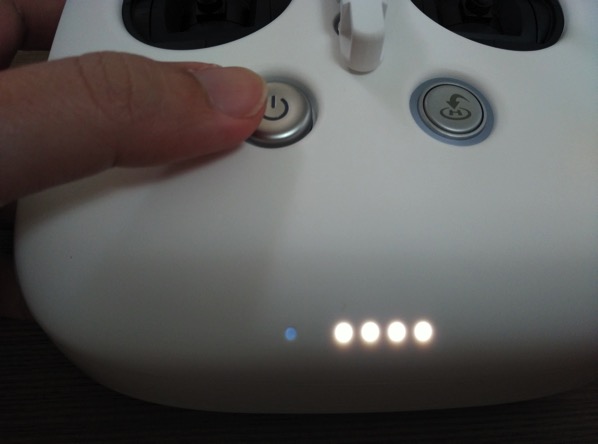 The aircraft and the controller makes use of DJI's Lightbridge technology to achieve better image transmission between the sky and ground. Lightbridge allows for a continuous connection back and forth between the two with good flight range
Setup was simple—all we had to do was connect a smartphone to the remote controller via its proprietary USB cable, power on the drone and RC, and then launch DJI GO, the new flight control application, on the phone. It'll also keep your device charged while you use it for flying, too.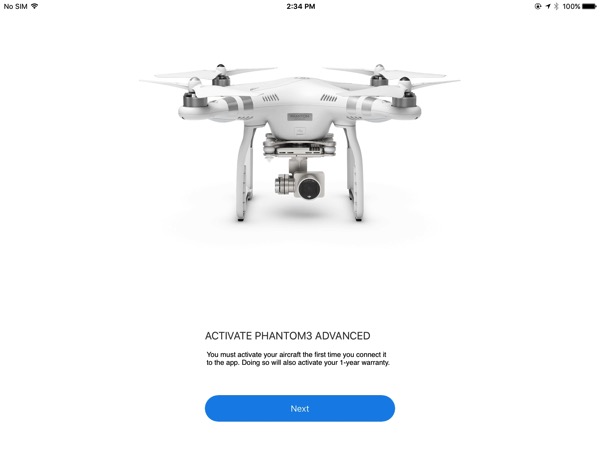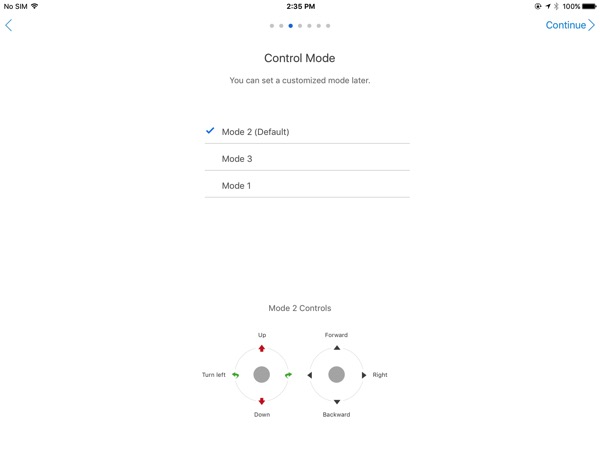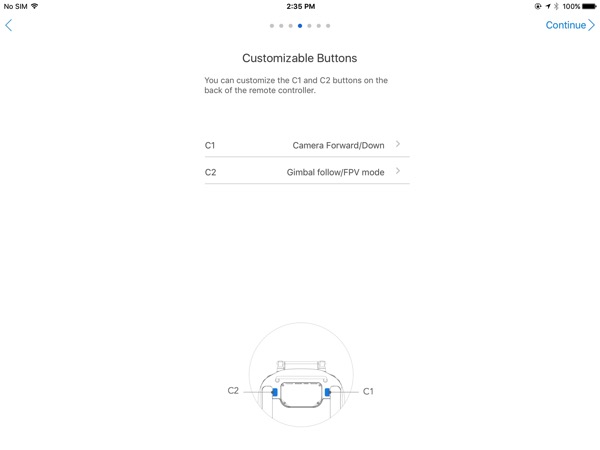 One tap brings you into camera view mode, and all that's required is a compass calibration—the process of turning the drone through a full 360-degree rotation horizontally and vertically—and a brief warmup period.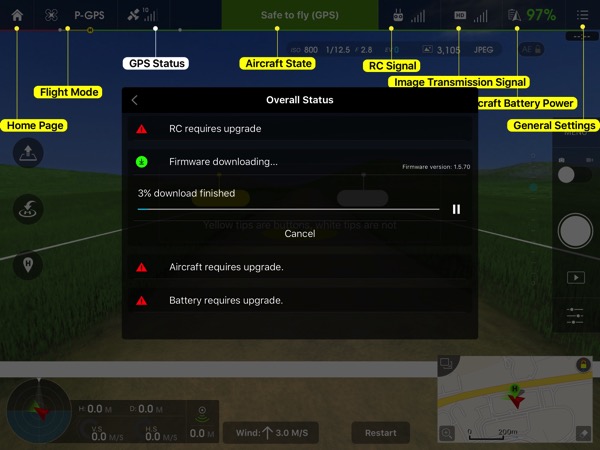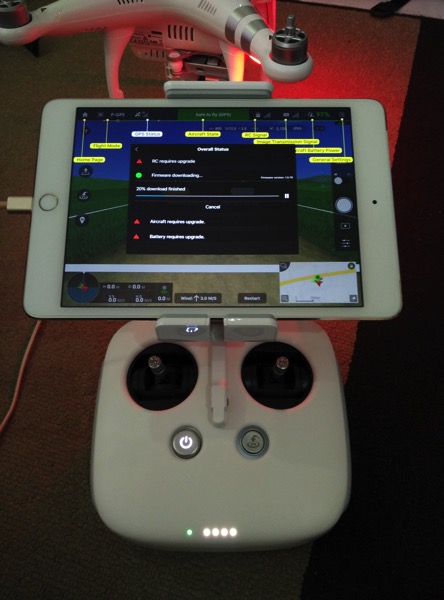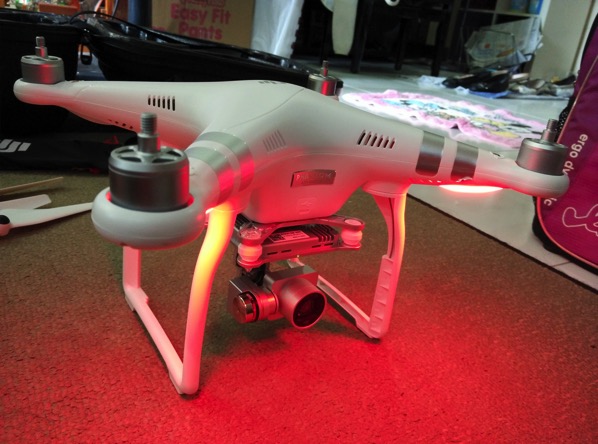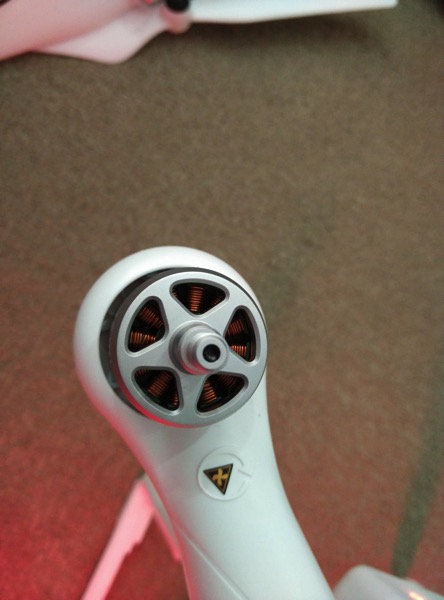 The microSD expandable slot can take in a Class 10 64gb storage card which is more than sufficient for a good flight full HD recording and ultra sharp camera shots.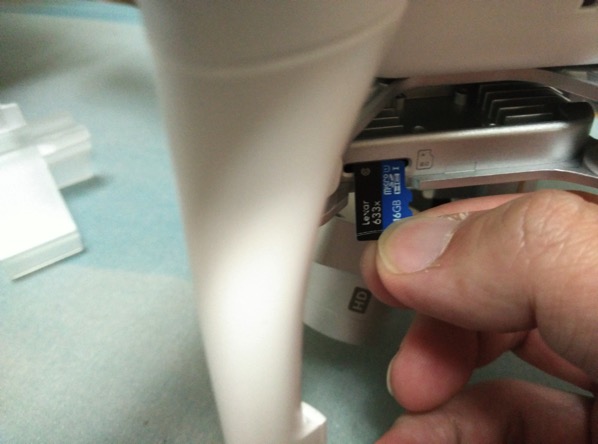 It is extremely important to calibrate the IMU and Compass with every new flight takeoff (after a long power off) and especially after a flight crash). This is to make sure there is minimal drifting for the aircraft.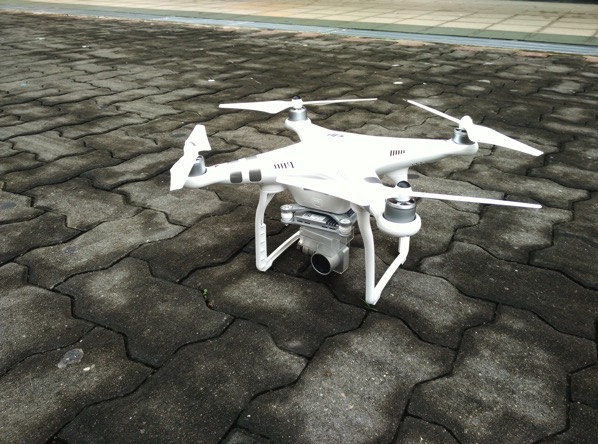 Phantom 3 line has also been augmented with GLONASS (the Russian equivalent of GPS) so that the drones have even more satellites to lock on. The more satellites the Phantom 3 can connect with, the better it will be at hovering in place without any input from the pilot.
The controller's device mount can handle phones and tablets of various screen sizes up to 10" ones e.g iPad Air 2, Samsung Tab S2.
In addition to a first-person view from the camera, you get access to complete camera controls, meters for signal strengths, GPS and battery life and access to settings for the whole system. It will also notify you if a firmware update is available for either the aircraft, smart battery or the controller.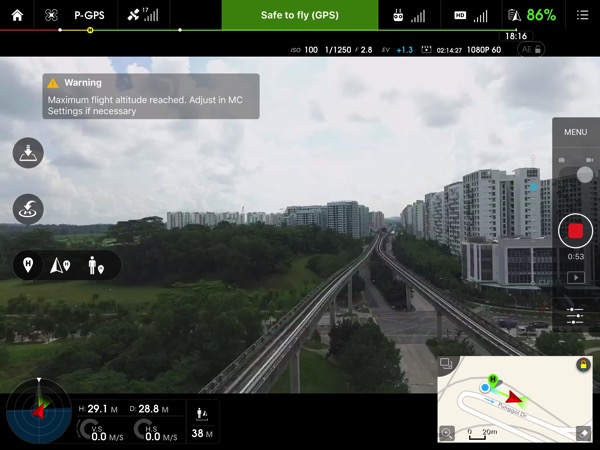 For first time Drone operator like myself, some of the cool features are: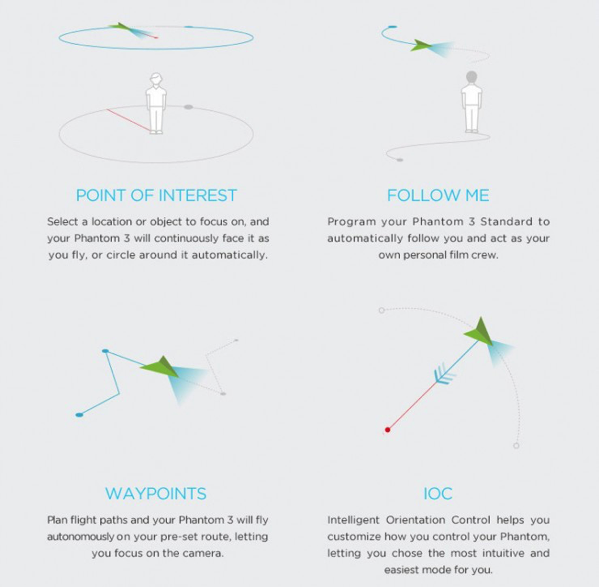 a. The app can also be used for automated take-offs and landings. Take note that the aircraft will hover on spot only it is in GPS flight mode. In other modes, the aircraft will drift and it will require experienced operator to keep the aircraft in a steady location.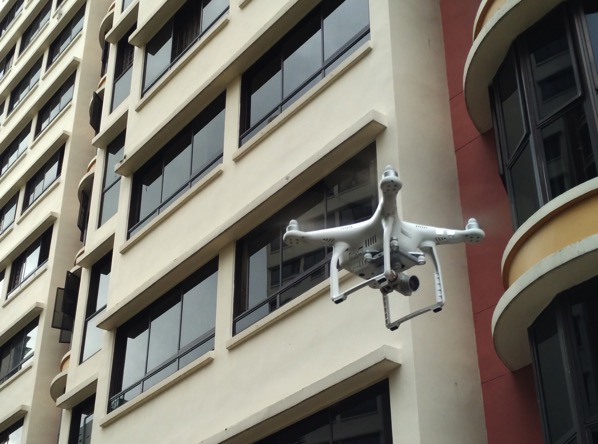 b. Waypoint navigation lets you set up a multipoint path for the drone to follow while you control the camera.
c. Point of Interest (POI) flight planning allows you to autonomously fly a circle around a subject, keeping it centered. The operator only needs to set the point of focus, altitude, distance and speed and the drone will do the rest.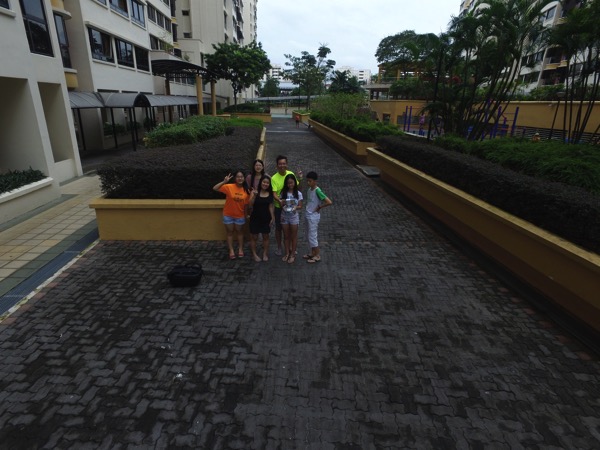 d. Follow Me sets the drone to track your movement based on your orientation at a fixed altitude and distance.
e. Auto Return Home – When GPS is available, your Phantom 3 remembers the exact spot that it took off from. Tap a button to have it return right back home.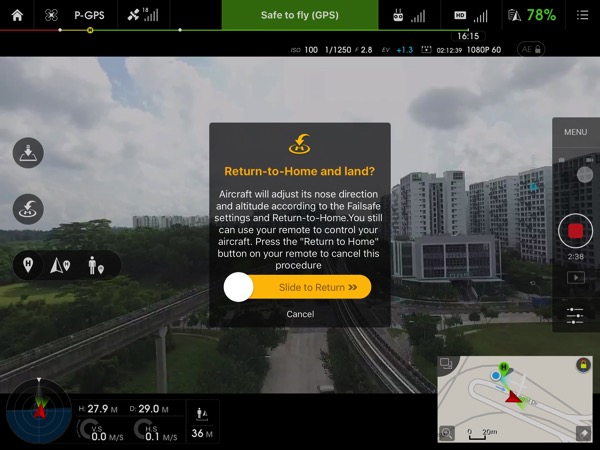 f. Failsafe – If the Intelligent Flight Battery gets low, if the Drone loses the connection or for any reason, the aircraft will automatically return to the takeoff point and land safely.
g. Stream live video taken from the Phantom 3 directly on to YouTube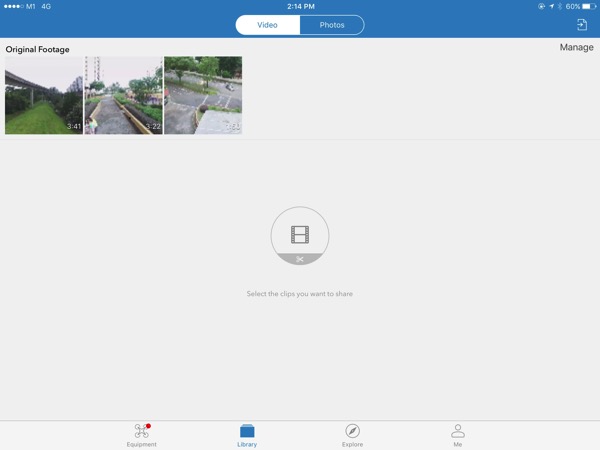 Based on the standard 4480mAh battery, the Phantom 3 Advanced can have a total 23 minutes of flight time.With the Intelligent Flight Battery, it has built-in sensors that let you know the status of your battery in real time, so you always know how long you can continue flying and when it's time to recharge.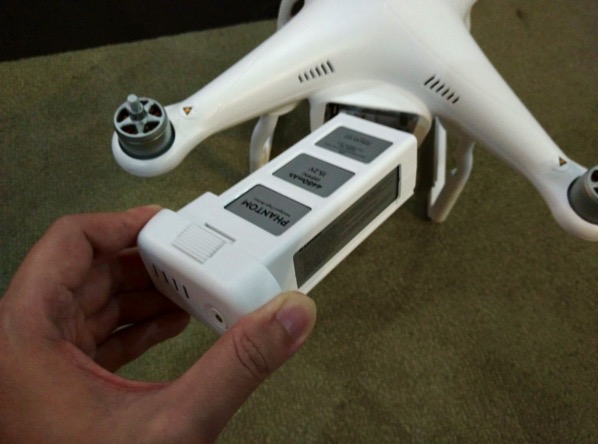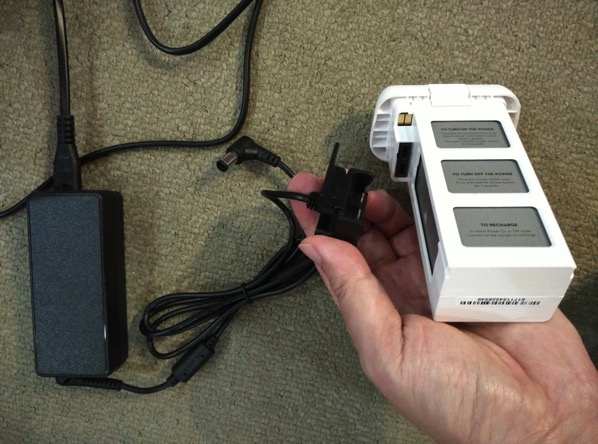 In short, the Phantom 3 Advanced is a brilliant way to get into aerial photography, with intuitive controls. It's worth the investment if you're looking to produce some stunning aerial video or photos in situations or areas where it will be challenging or impossible to do so.
 My last bundle came with a sturdy backpack to transport the aircraft and its accessories to any destination for some good flights.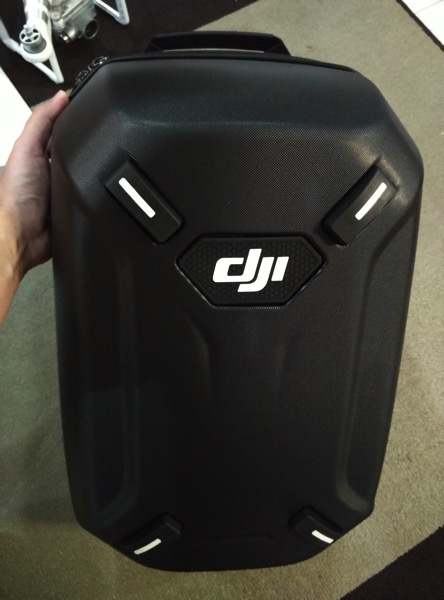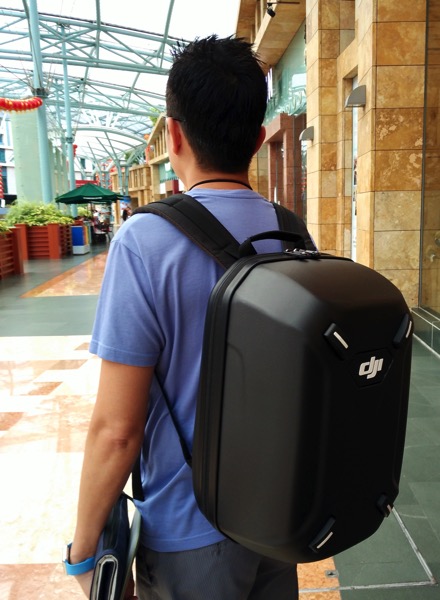 PROS:
a. Features rich with multiple intelligent flight modes.
b. Easy to operate basic flight operations for new pilots.
c. Minimal assembly before flight.
d. Clear & sharp photos & video footages with the 3 axis gimbal system.
e. Sturdy (able to take small flight crashes).
f. Key aircraft components can be purchased (cheaply) online for needed replacements e.g. rotor blades, gimbal frames etc.
CONS:
a. Investment can be a tad pricey for casual pilots but the price is pretty competitive if you compare with other commercial drones with similar features.
b. Though pre-sales customer support is good, it is gathered from some forums on slow post sales/technical support.
c. Short flight times (~20 mins) before a need to swap the battery.
d. Some of the key features will require outdoor operation where good GPS signals are present.
DJI also provides tons of information, videos on various segments to get folks to be more proficient in flying the Phantom 3 aircrafts.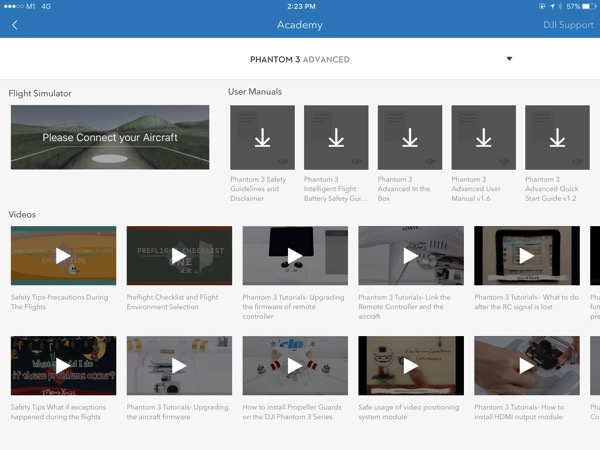 Here is a simple video recording from my Phantom 3 Advanced during its first takeoff – I must say it does feel jittery at the start:
You can also take advantage of the ongoing Promotions from DJI for their Phantom drones now. Head to their official store here.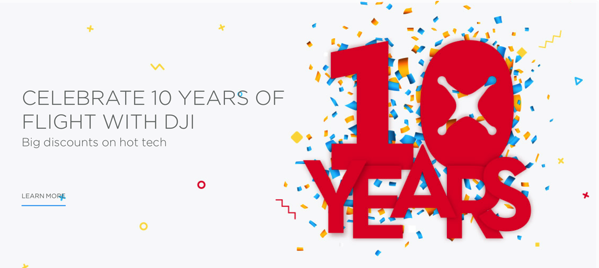 Read other related posts:
Follow us on:



Share this article on: