As usual, having access to cellular data roaming in the country of visit is important to traveller like myself. In the recent trip, I have managed to subscribe and try out Optus 4G prepaid data sim card plans.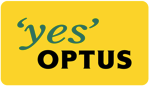 Getting the prepaid cards is very straightforward as the retail store is located opposite the exit of the international arrival hall.
Contact Details:
Phone : 03 9335 4455
Web : www.optus.com.au
Opening Hours : 06:30am – 2:00pm, 06:00pm – 10.30pm – Closed between 2pm & 6pm.
Essentially, there are 2 standard prepaid plans for regular travellers worth considering:
A) Optus prepaid mobile broadband plan

APN: connect
user : <none>
p/w : <none>
This allows hotspot & multiple connections using mifi / modems.
B) Optus mobile prepaid plan ($2 4G plan)

This is suitable for those who need local calls & data. The only downside is the max limit of 1GB/day even though you have sufficient value recharge.
There is also a telco restriction on the use of mobile hotspot service.
In terms of compatibility of the 4G+/LTE network with the installed devices, it is important to take note of the frequencies supported:

For some telco, it is quite similar to the frequency setup in Singapore:

Read other related posts:
Follow us on:



Share this article on: