Since earlier last year, Xiaomi (小米) has been announcing a slew of smart home appliances. The latest and yet most innovative consumer grade smart device is the Xiaomi Water Purifier (小米净水器). The Xiaomi Water Purifier is available for purchase from Xiaomi online store for RMB 1,299 (S$300).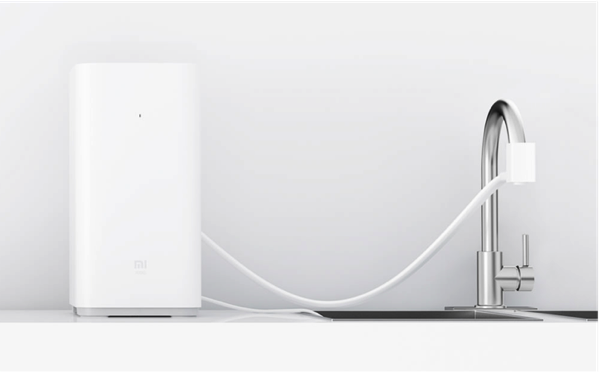 Xiaomi Water Purifier falls into Xiaomi's IoT (internet of things) category of products as it can controlled using your smartphone (both iOS or Android). This further expands the company lineup which already includes diverse products such as power chargers, lamps, air purifier smart bands and more. The bigger aim is to reduce plastic footprint from those purifier storage tanks.
The new  water filter machine comes in one big regular boxed parcel – not light at all if you can compare readily to the normal rubric cube. The 17kg weight definitely warrant one to ship in by shipping line.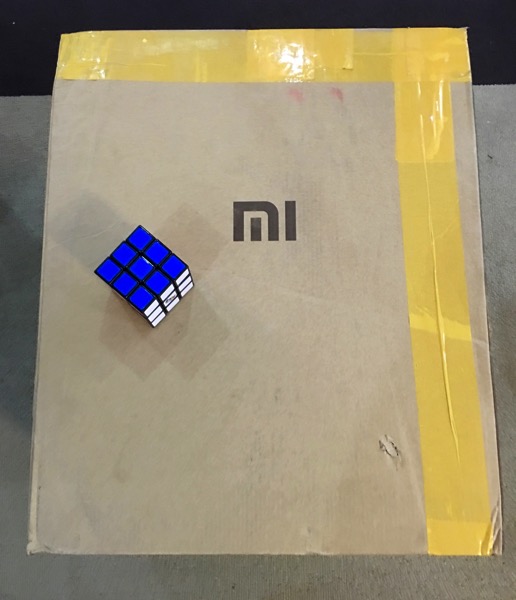 The full set comes with the water filter machine and starter set of x4 filter tubes. The connectors pack allow the inlet tube to be attached to practically all types of tap used in all households.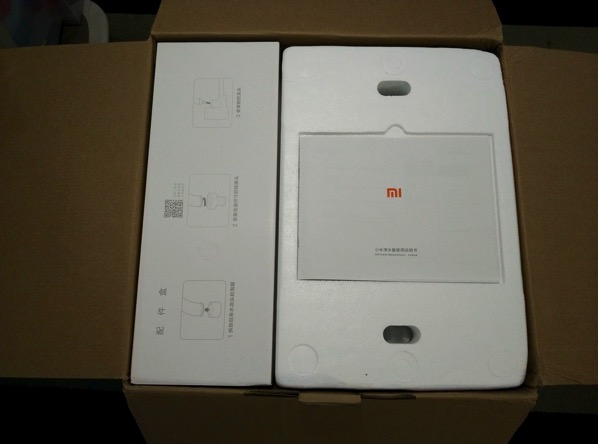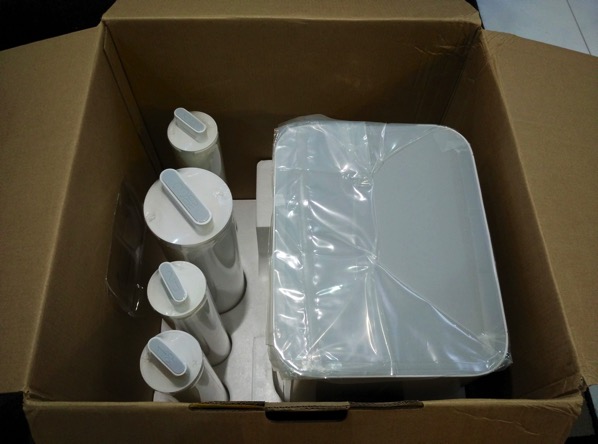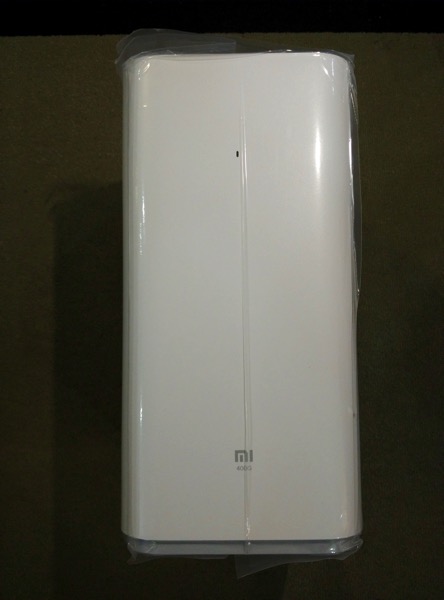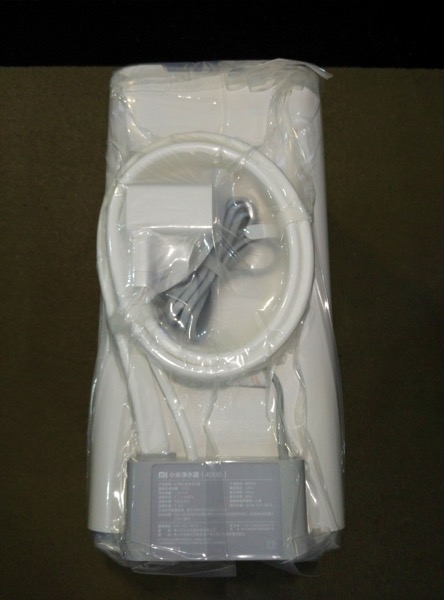 The four filter tubes are well labelled and came sealed from factory to ensure the filters can be operated for intended shelf life. All inlet and outlets for each filter are located at the bottom of each filter tube.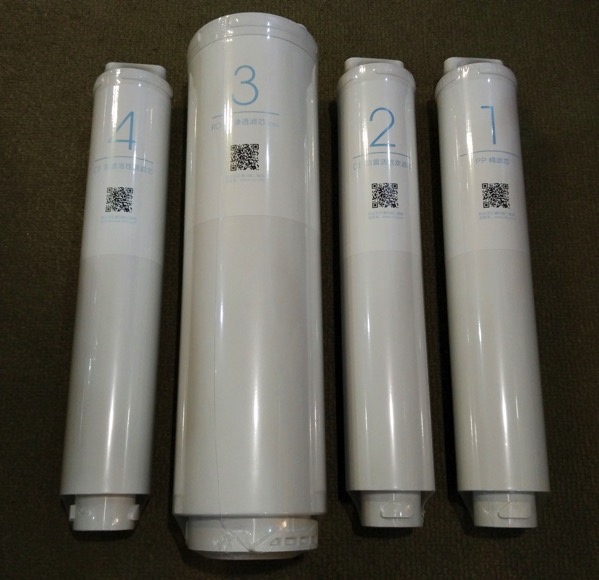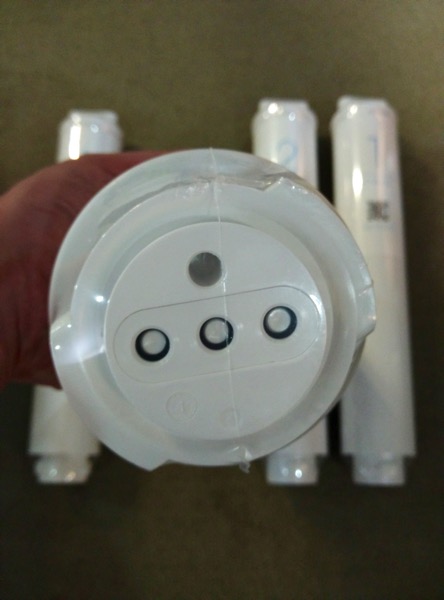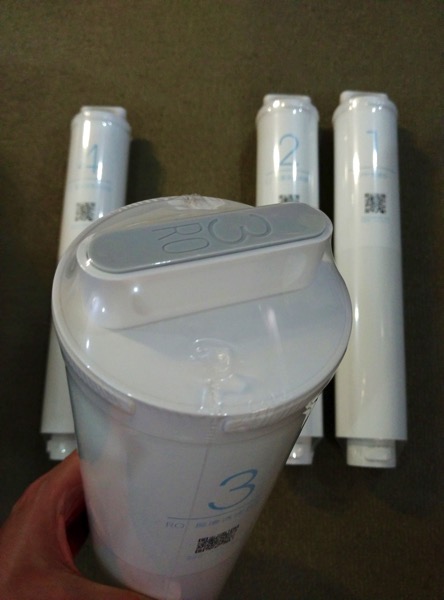 Installation is also pretty straightforward. It's designed to sit on top of your bench and attach to your existing tap so that you don't need to modify your existing setup to use it, which is great if you don't own your house.
There are x6 connector adaptors provided together with a tap diameter measuring kit.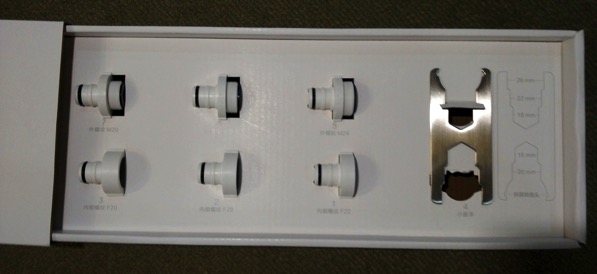 All the cables & outlet tubes are located neatly at the back of the filter machine – Inlet tube (left), Discharge tube (Centre), Power cable (Right).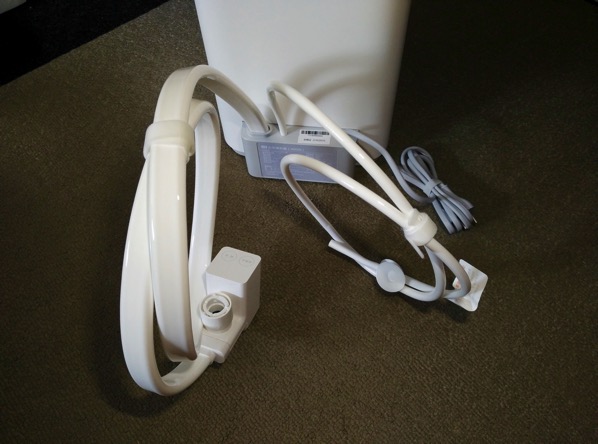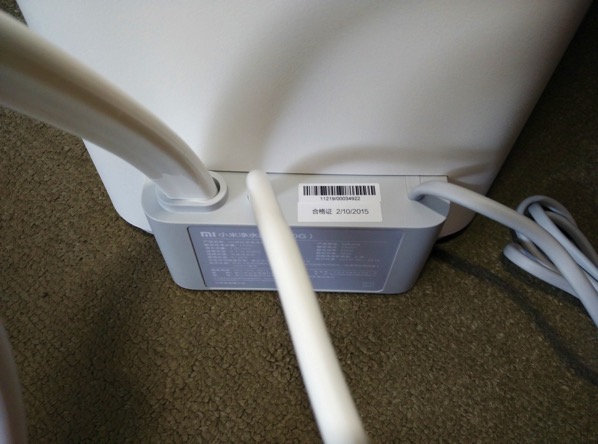 The main tap control is located at the inlet connector which allows one to switch between regular tap water flow (non-filtered) to dispensing filtered water. All the control cables are nicely concealed with the inlet tube, routing into the main filter machine.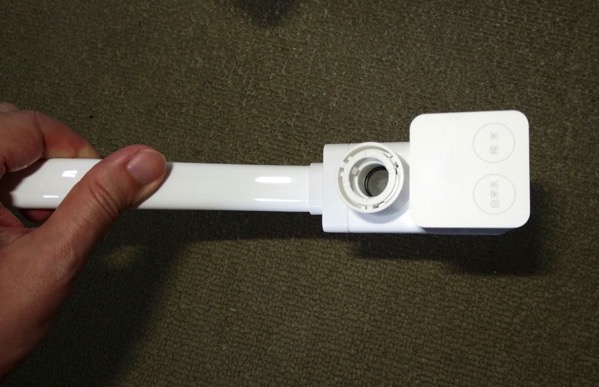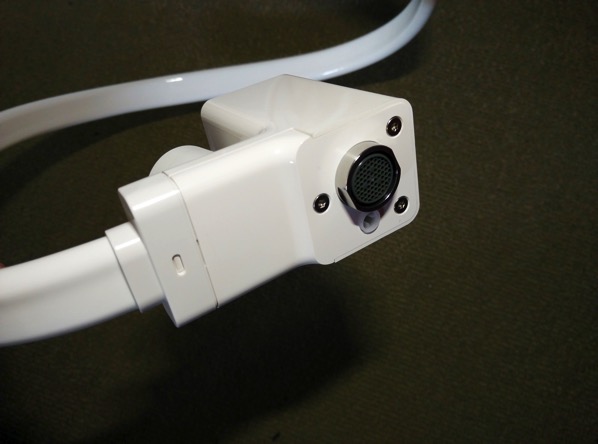 As part of reverse osmosis, the remaining non-filtered water will be discharged from this discharge tube. Xiaomi strongly advises to pipe this 'discharge' water to a collector so as to recycle for other usage e.g. water the plants, wash dirty cutlery etc.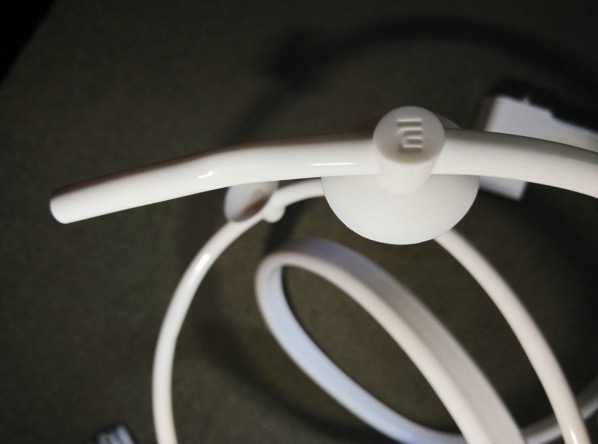 Installation Step #1 – To attach the connector adaptor.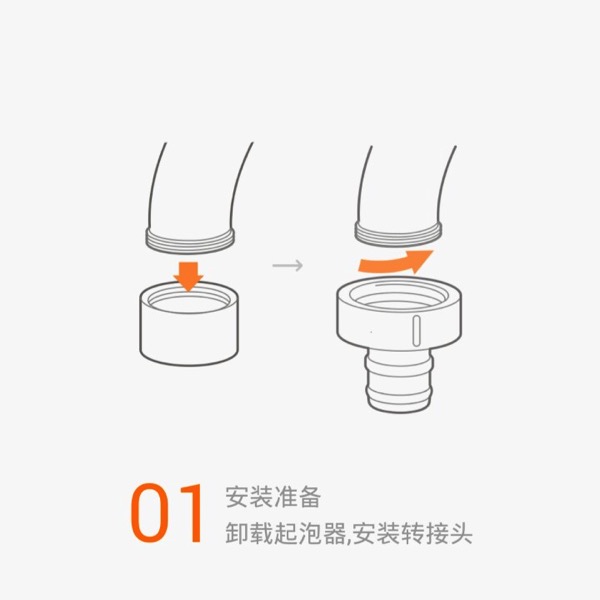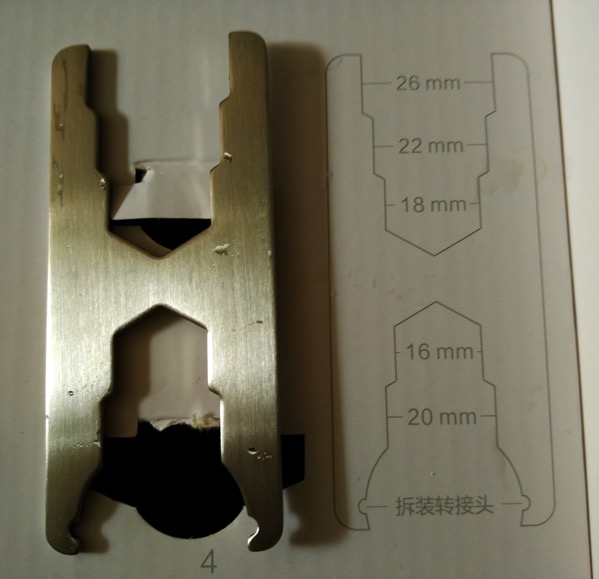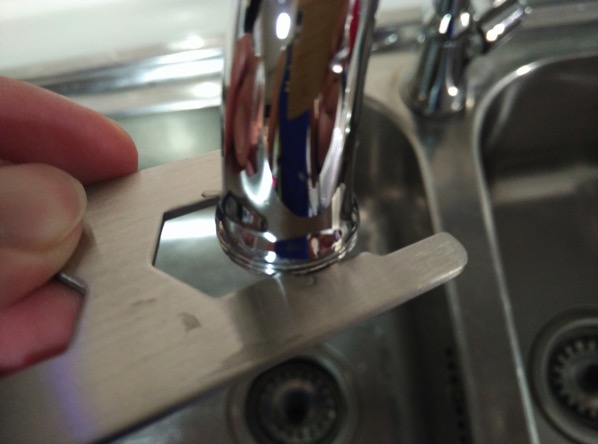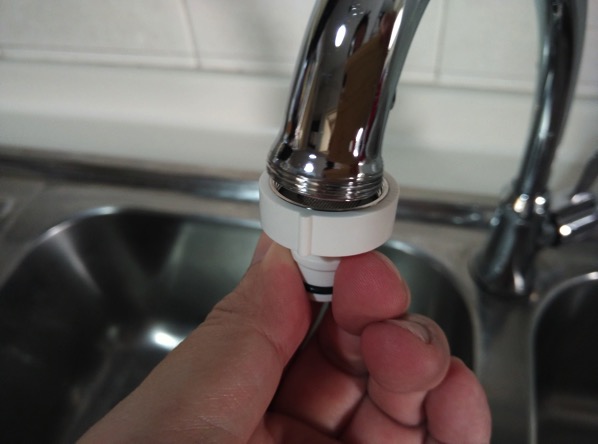 Installation Step #2 – To attach Xiaomi water filter control head with the inlet tap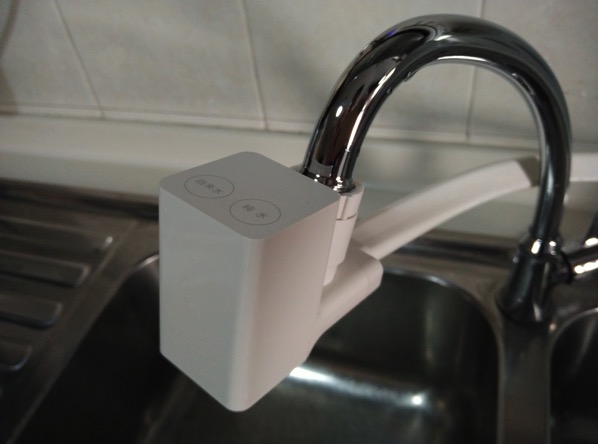 Installation Step #3 – To attach the the discharge tube next to the sink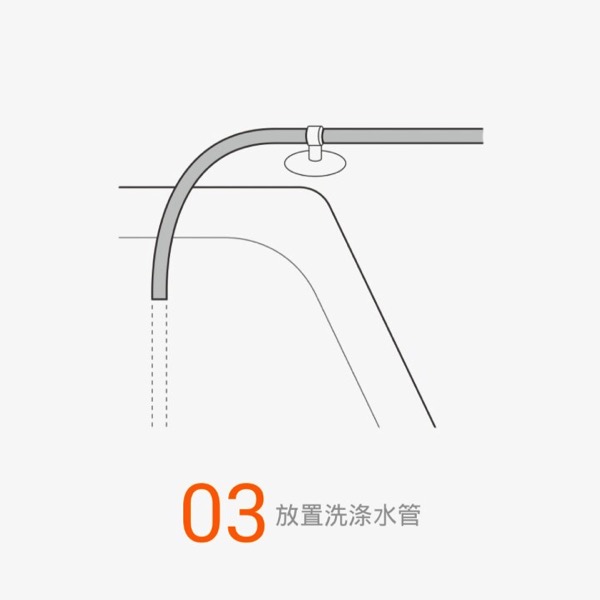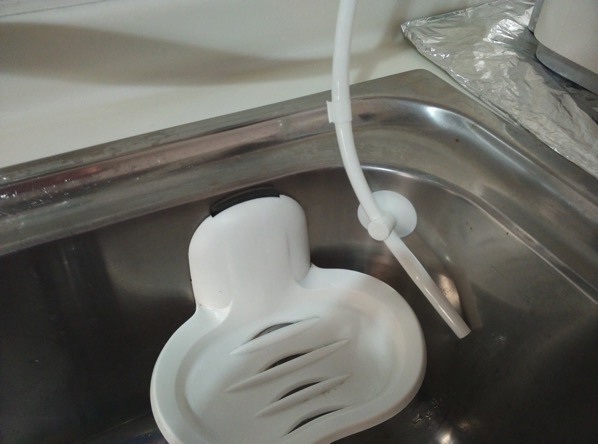 Installation Step #4 – To install the filter tubes within the main filter machine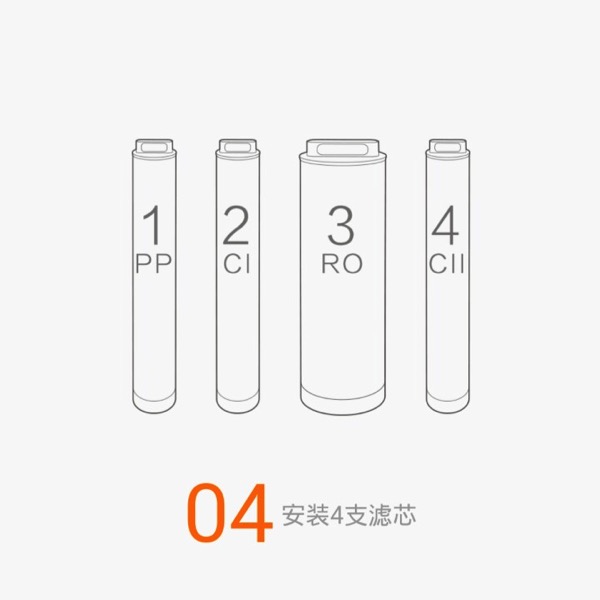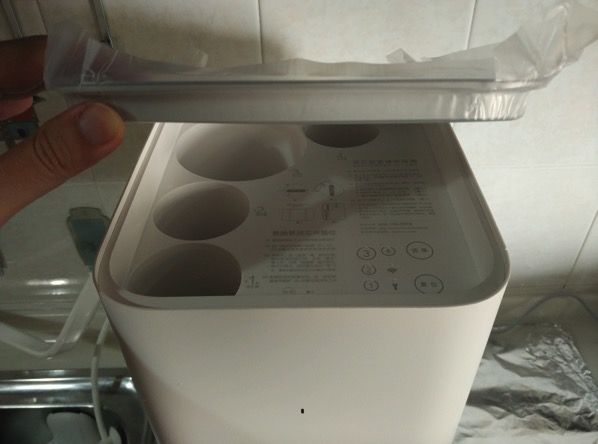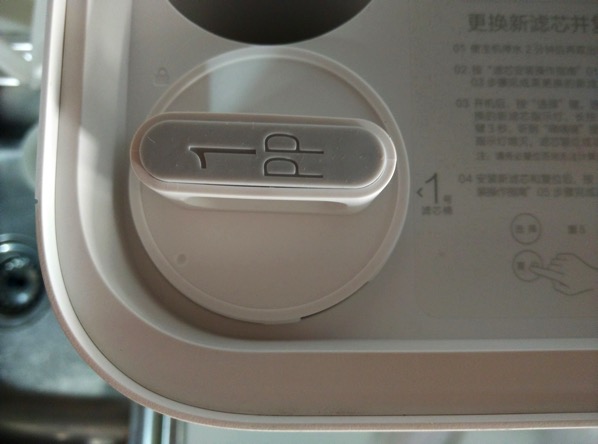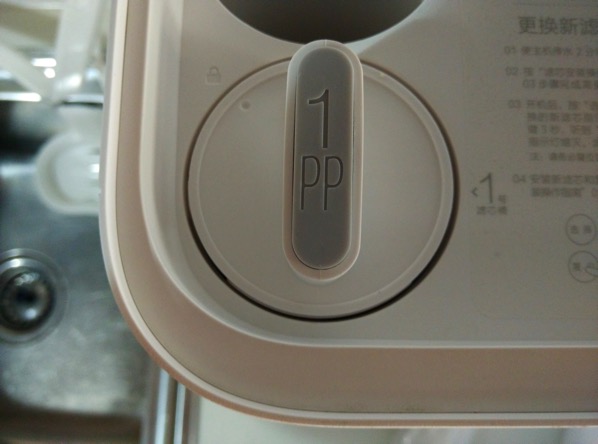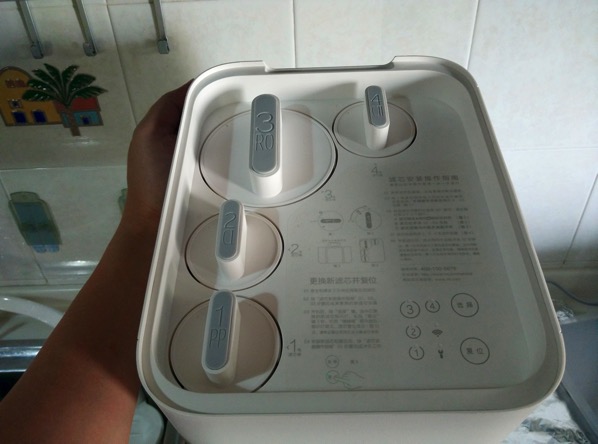 Installation Step #5 – To attach the power source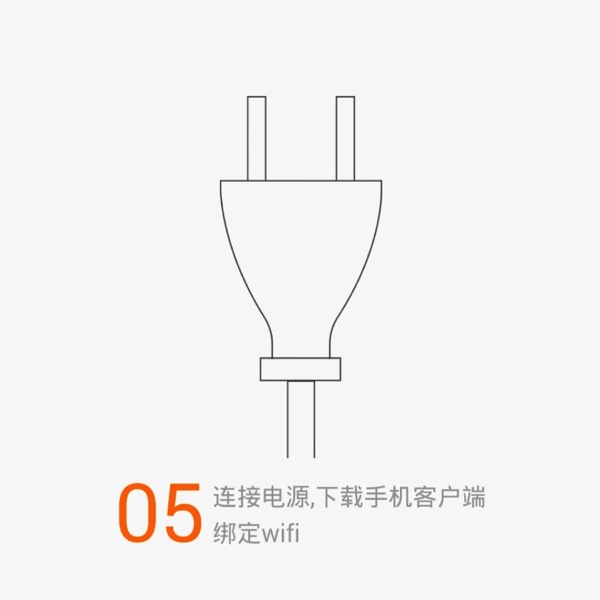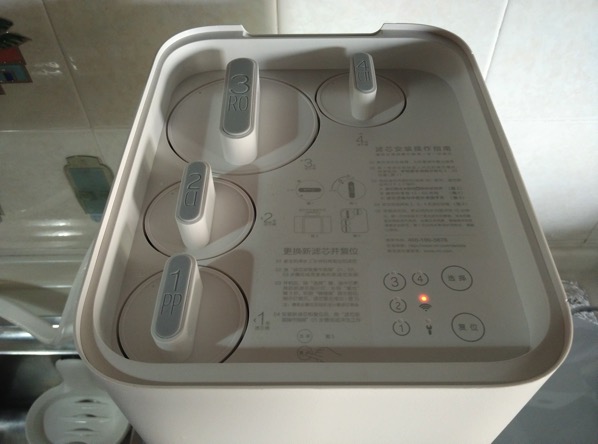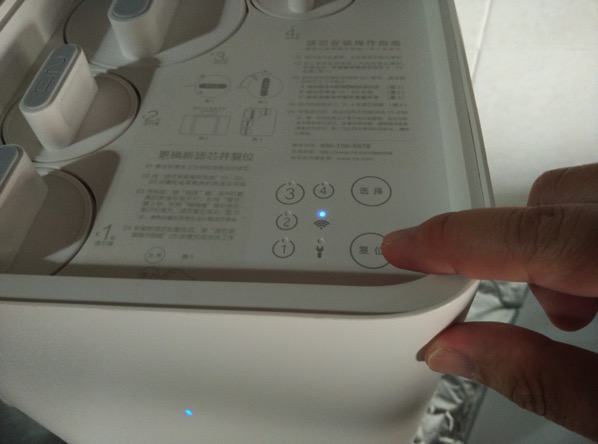 Installation Step #6 – First time run in of tap water (takes approximately 10 mins)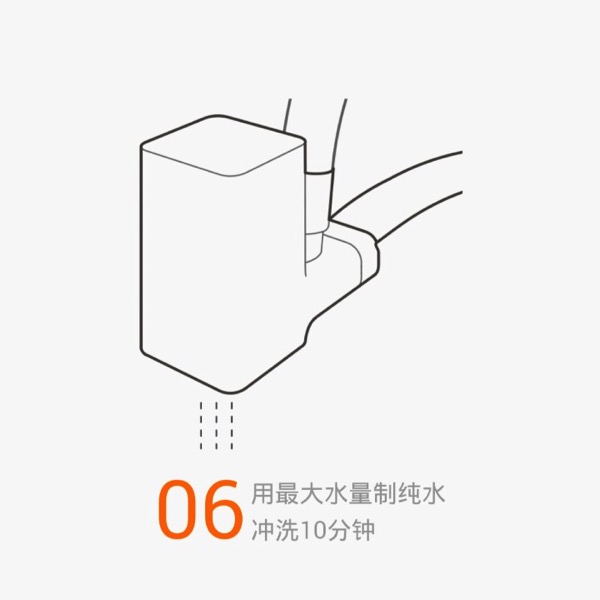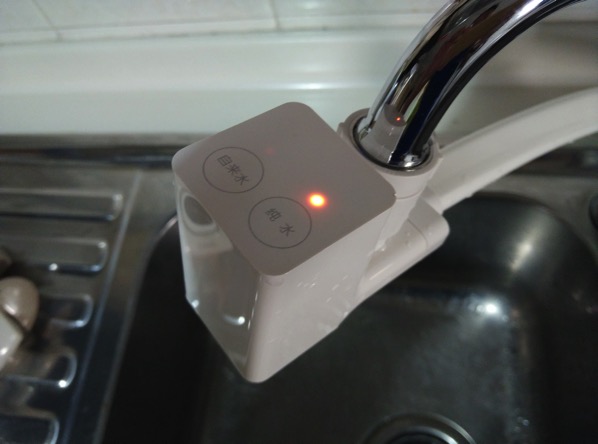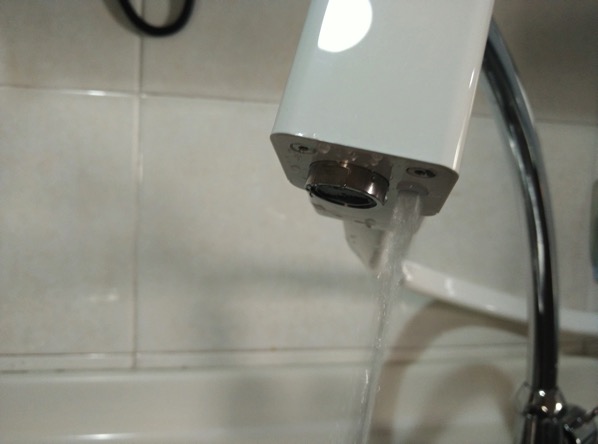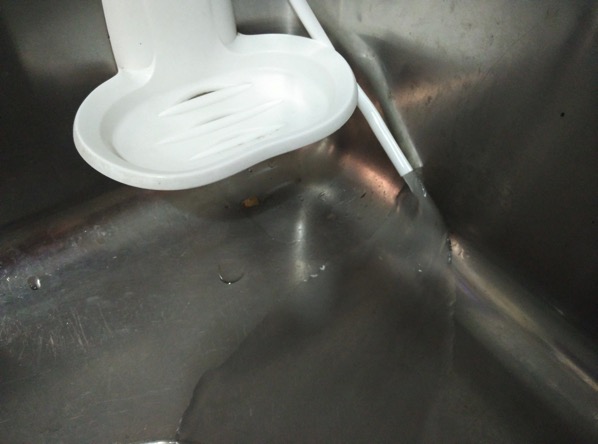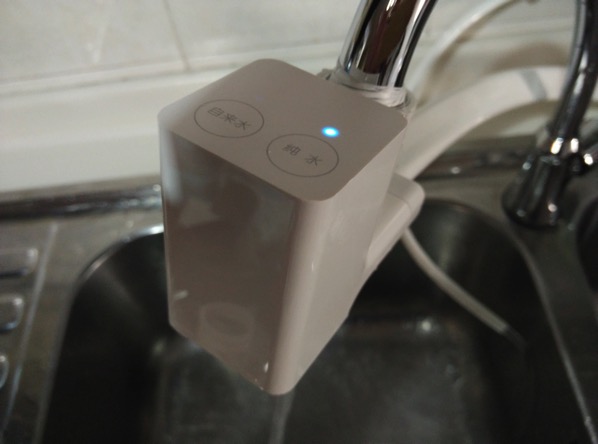 The purfier puts all the setup hassle at bay by directly connecting to your tap and with 205x260x410mm dimensions won't take away much space.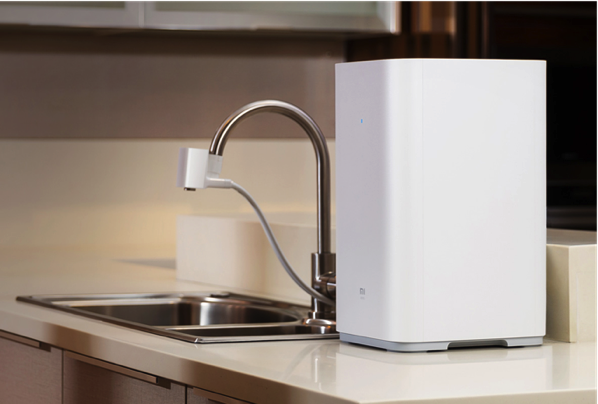 Installation Step #7 – Connect the Xiaomi water filter with the accompanying Xiaomi Mi Home app
Just like other products of Xiaomi's connected ecosystem, the purifier can be controlled via smartphone. An installed app gives real-time data on the purity of the water and reminds users to change the filters.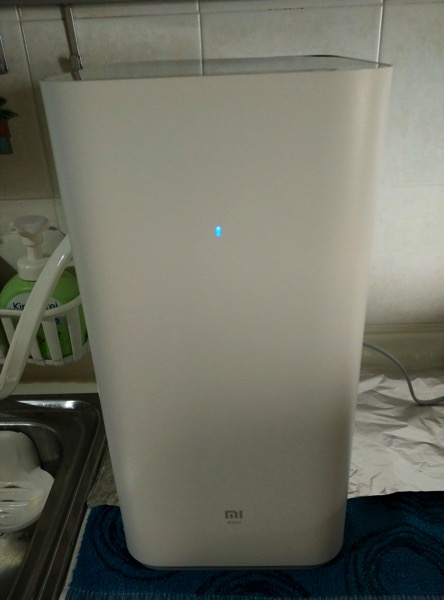 For the initial power up, the Xiaomi water purifier can automatically be detected via the Mi Smart Home app. Thereafter, it can be configured to join the existing home Wifi network.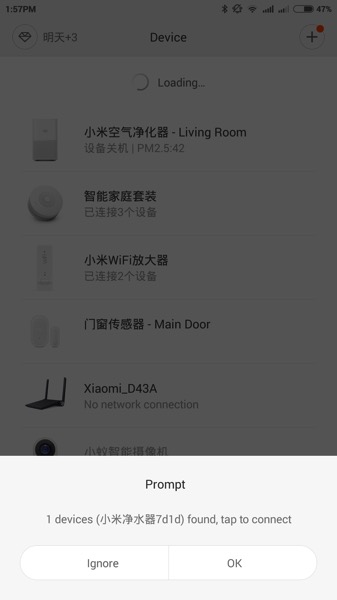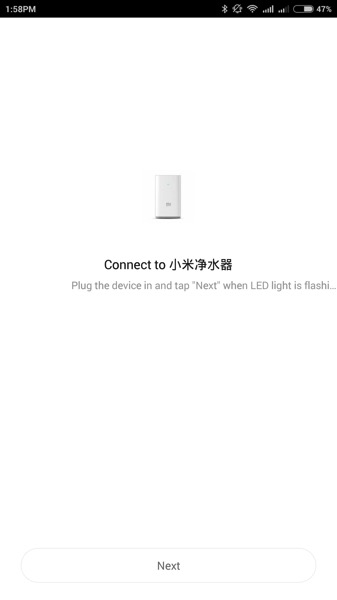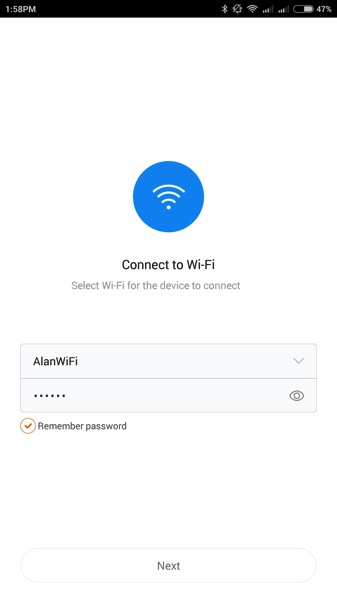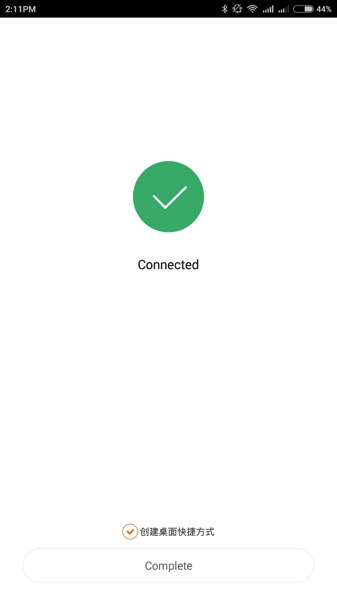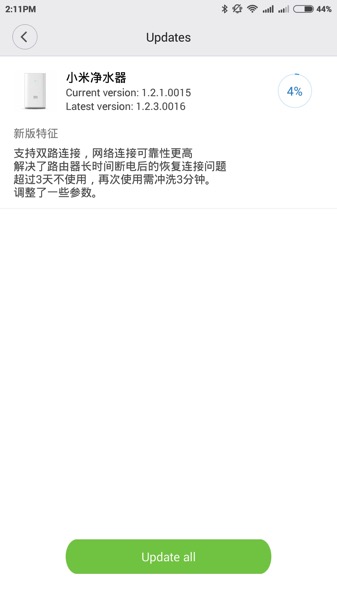 One of the benefits is the inclusion of a TDS measuring kit within the machine. One can determine the TDS level for both the inlet tap water source and that of the filtered water. It even records the water consumption over time (both filtered and non-filter tap water).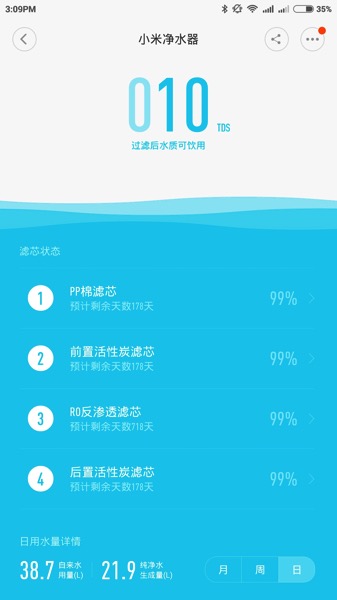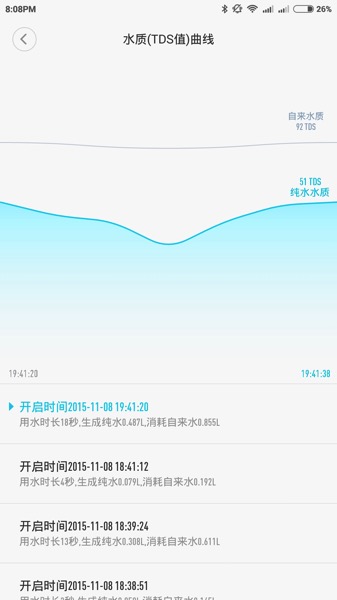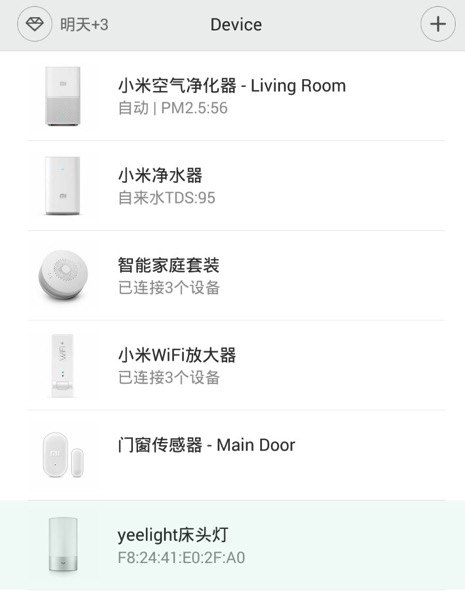 More details on Xiaomi Water Filter technology & configurations 
There are four filters — a cotton filter (Label tube #1), two activated coconut carbon filters (Front label tube #2 and Back label tube #4) and a RO membrane (label tube #3).
While the first filter cleans sediment rust, and other such impurities from water, the carbon filters reduce discoloration and odour and improve the taste. The RO membrane filters heavy metals, bacteria and other organic matter. Xiaomi claims that such RO method can produce cleaner, tastier drinking water than competing water filters.
The water purifier is also smaller and more compact than similar products and eight times faster than a standard purifier.
The recommended replacement period for the filter tubes:
Tube #1 (Cotton filter) – every 3-6 months, cost per tube = RMB 59 (S$ 14)
Tube #2 (Carbon activated filter) – every 6-12 months, cost per tube = RMB 69 (S$ 16)
Tube #3 (RO membrane) – every 18-24 months, cost per tube = RMB 499 (S$ 117)
Tube #4 (Coconut Husk carbon activated filter) – every 6-12 months, cost per tube = RMB 69 (S$ 16)
For a 2 year usage period, the total expected filter replacement cost =  S$56 + S$32 + S$117 + S$32 = S$ 237 or ~S$120 per year (40% of initial machine  cost).
Total cost = S$537
In comparison to the competitor OSIM uPure 2 (tap filter kit):
Initial kit cost = S$139
filter medium (replacement every 5 months) = S$39 x 5 = S$195 or ~S$100 per year.
Total cost = S$334. However the quality of water filtration (via microfilter method)  is less effective compared to Xiaomi water filter using RO technology.
Pic of OSIM uPure 2 tap filter kit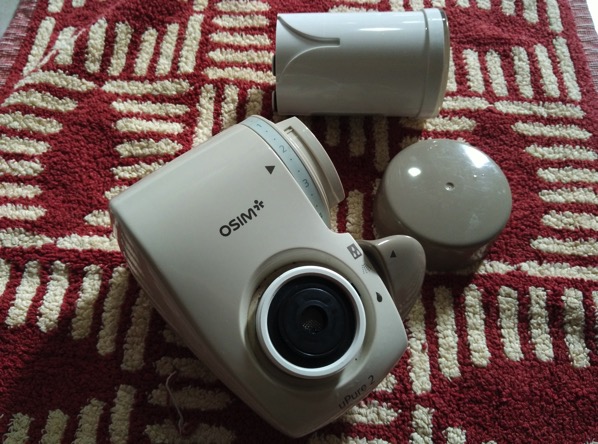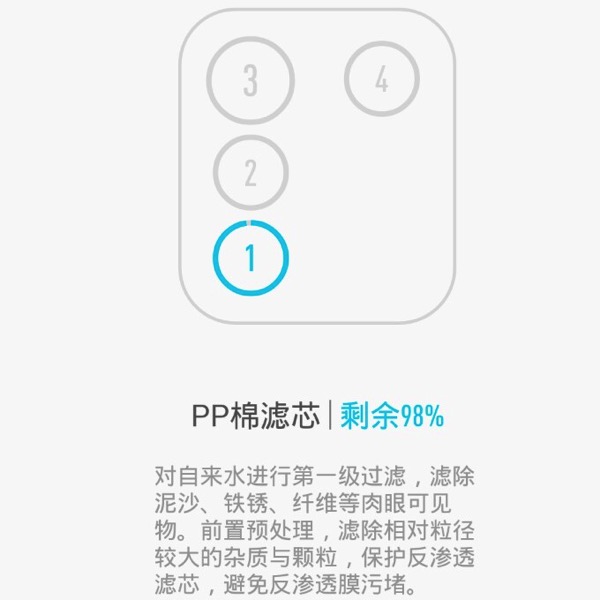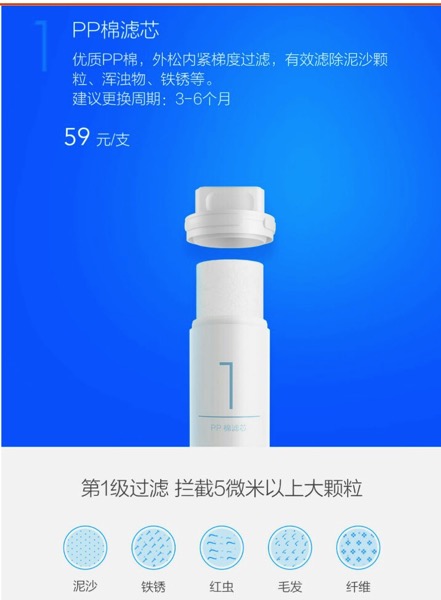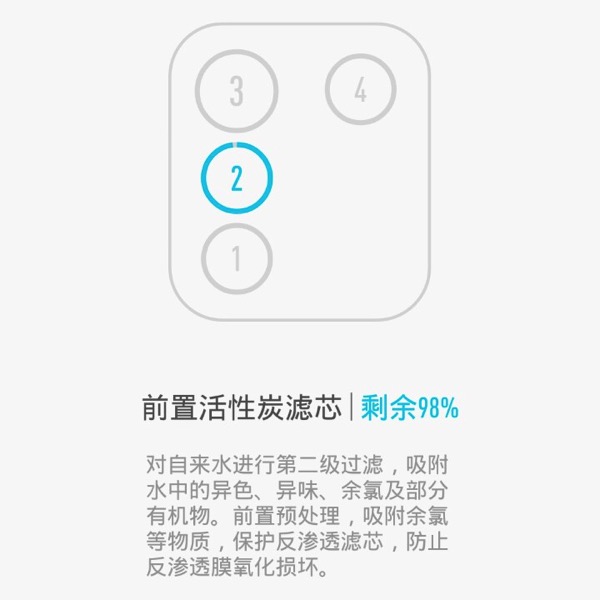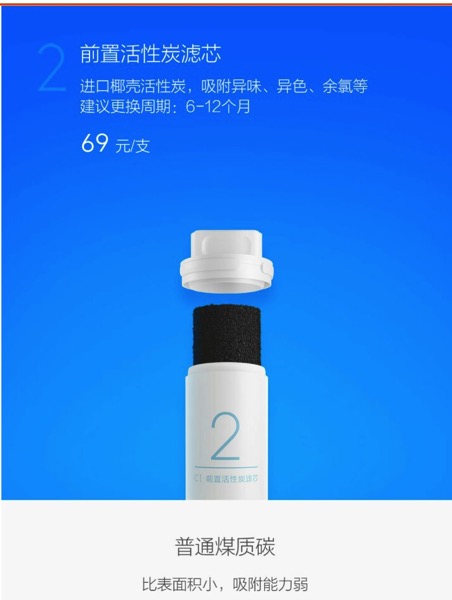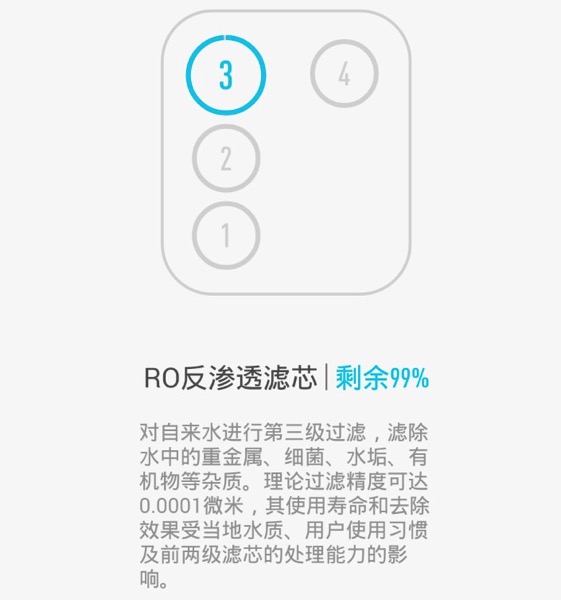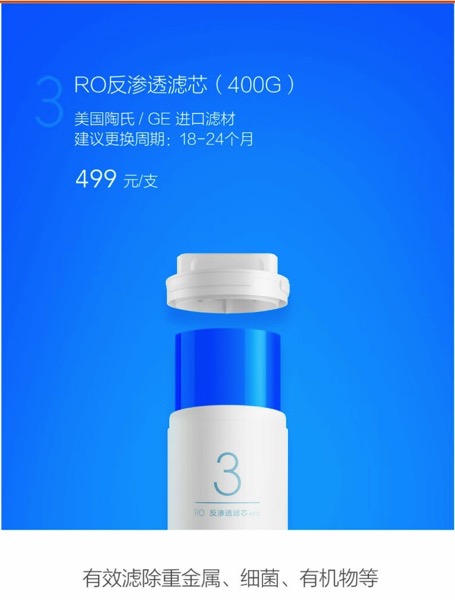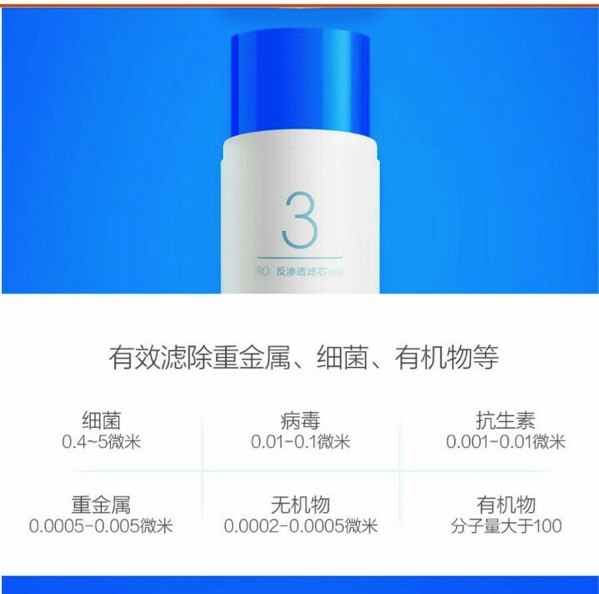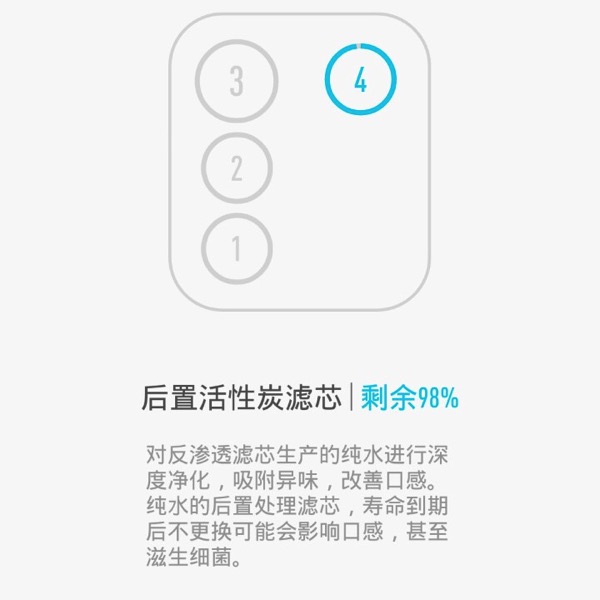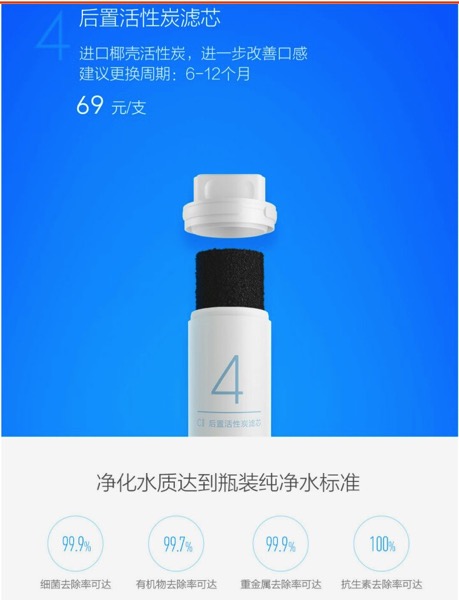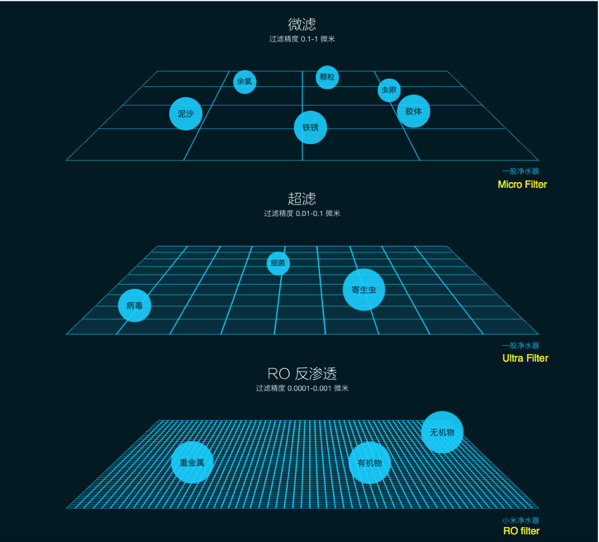 Overview of RO (Reverse Osmosis) water filtration technology
Xiaomi water purifier works on RO technology. Let's take a closer look at this technology since it is typically made available in commercial setup.
RO move water molecules from a region of higher solute concentration to a region of lower solute concentration (hence the name Reverse Osmosis). It does this by using the pressure of the incoming water to push it across the membrane, while leaving the dissolved solids and other impurities behind.
The remaining water and solids are discharged through another outlet (see below image).

In case of drinking water, solute refers to the dissolved salts and minerals such as Calcium and Magnesium (referred to as Total Dissolved Salts or TDS) that are present in unfiltered water.
RO-based water purifier is really useful only if the water supply in your home has high levels of TDS and impurities:
If the TDS is less than 150 ppm, a UV purifier is enough to ensure good quality water. (UV light destroys over 99.9% of bacteria, viruses, and protozoa)
If the TDS is between 150-300 ppm, a UV purifier is still quite adequate, although a RO purifier will enhance the taste of water.
If the TDS exceeds 300 ppm, then it is recommended to install a RO-based water purifier
If the TDS exceeds 500 ppm, it is strongly recommended to get a RO-based purifier.
Pros of RO filtration:
a. Clean & effective: Does not make use of other chemicals.
b. Removes all impurities: Apart from dissolved solids, it can also remove pesticides, metals and chemicals which contaminate water.
c. Multi-stage purification: Multiple stages can be chosen based on need and can effectively filter out both living and non-living impurities, remove doors, enhance taste, etc.
d. Energy efficient: RO filtration does not require electricity (although other components such as the UV lamp or pump require it).
Cons of RO filtration:
e. Excessive water wastage: For every litre of water that is purified, an equivalent of water are discharged as "waste". However, this discharged water can be used for mopping the floor, watering the plants, washing utensils and the car, etc.
f. Can remove essential minerals: Natural drinking water contains some essential minerals like Calcium, Magnesium and Potassium which are good for the body. When using a RO purifier, do ensure that the output TDS level does not dip below 30-40 ppm so that some minerals are retained.
g.  Expensive : RO water purifiers are currently quite expensive.
In conclusion, for the Xiaomi water purifier has its strengths within the consumer space but not without some downside:
PROS:
a. Relatively cheap in view of adopting a superior RO filtration method
b. Can be monitored via Mi Smart Home app – Usage, filter replacement alerts and realtime water quality level etc
c. Good built and decent zen design
d. Energy efficient and low operating noise level
e. Ease of installation & setup
f. Easy to replace filter tubes at individual tube basis
CONS:
a. Limited worldwide availability & warranty support (now it is only available in China & India)
b. Could be an overkill if the water source is already relative clean (e.g. TDS < 100 as of that in Singapore)
c. Quite a weight (~15kg)
d. Not easy to get replacement spare parts
e. Cables are not easy to hide if you need a clean kitchen look
Read other related posts:
Follow us on:



Share this article on: